CONDITIONING QUESTION
by
the24karathounds
on 10 June 2012 - 21:49
What is the best way to build muscle and stamina. we water race coon hounds thought i could get better info looking out side the coon dog world.
by
the24karathounds
on 10 June 2012 - 22:24
well may be if i tell you all what we do now with them. All dogs are hunted for 2 hours three times a week. We hunt them in hilly timber with creeks river,and ponds. in the water race they have to swim 365feet to 600feet and could have to do this up to 5 times depending on number of dogs entered. we always seem to get drawn in last heat and our dog does not get much of a rest before he is back in the water again. so he runs out of steam towards the end.
by
desert dog
on 11 June 2012 - 21:27
If you have hounds, You have probably heard of dog drags. It's a sport heavy in the south and midwest. Some of the best conditioned dogs are in this sport. Most conditioning of any animal is as much your feed as it is your exercise. For indurance or speed you don't want to build large muscle mass, it is only good for short bursts. Lean, flexible, high rate of oxygen absortion is what you want for water races. Feed a diet higher in protein,that will go through your dog quick, easy to digest. Dog should be hungry most of the time, Not starved just hungry. It keeps your dogs sharp and wanting to work. I would run your dog and swim your dog starting at smaller distances then building up distance and speed. Use your running for indurance and short water sprints for speed. The last 2 days before trial increase carbohydrates, no work"just rest" only half of your feed in morning of the trial. Every morning and night after working your dog, rub him down at first easy for a couple of minutes, increase every day. Never work your dog till he is done in or exhausted. You want to be building up not tearing down. It should take about 10 days if your dog is not fat or to soft when you start.
hank
by
the24karathounds
on 12 June 2012 - 03:05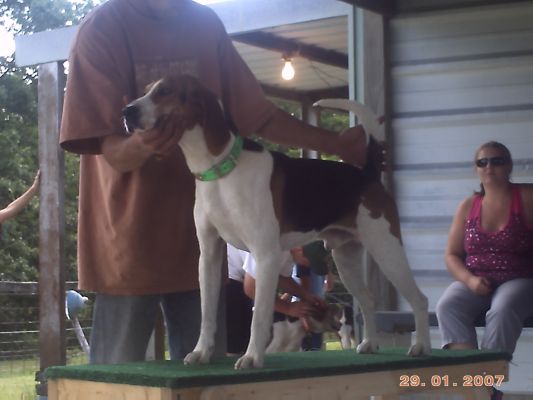 Think you Hank. Every one i talk to who water races just says swim them. That is the dog we water race.
by
desert dog
on 12 June 2012 - 04:57
Any single action that is repititious, is not good for total dog. Swiming and running will work different muscle groups. The running is for flexibility. Much like running uphill produces power and running downhill produces speed. It is the balance that brings both. Conditioning is really nothing more than perfect health, but you can only keep them there for a short period of time with out them going stale from training. You build up, rest to store energy to peak, then they will go stale. you have to add variety to keep building. The more important thing is their diet, and amount. All you're top trainers used to say it's all in the feed cup. Watch what goes in and what comes out as their stool is how you can best determine their condition.
hank
by
alboe2009
on 12 June 2012 - 06:00
Good posts Hank. Initially I was going to state to OP that in my eyes he's asking for two different things. And for me I would take stamina over muscle anyday. And with top stamina there will be enough muscle IMO to complete the task at hand. If the opposite, might burn out before completion of the task.
by
Pirates Lair
on 12 June 2012 - 06:06
Just to add to Desert Dogs good post;

It is not only Physical Conditioning. Psychological Conditioning is just as crucial.

As he said

"Any single action that is repetitious, is not good for total dog"




Constantly changing their physical and psychological training keeps them sharp and challenges not only the dog, but the Handler.


JMO


Kim
by
the24karathounds
on 12 June 2012 - 12:34
Think you every one for the info. I think this mite be how i go about this from what every one has told me. I will take my Frost dog to the lake to swim and play with my friend lab a few times a week. when i do this i will also teach him to retrieve a floating ball at first then a base ball so he has to dive for it. I will start hunting him in new place every time i take him out (at lest 3 times a week). i will walk him a then run him up and down hills. I will do some tracking work with friends hiding. But the most important thing is his food. I feed him a 27/17 dog food now with a egg a blue gill one beef rib every day. I will start getting a Cal supplement for him on days of water race. The only reason he need more mass is to make a grand show CH. It seems really hard to win against dogs that are not worked and IMO fat.
by
magdalenasins
on 04 July 2012 - 20:06
Try a spring pull and a flirt pole, both need very little time for a lot of exercise. :)
You must be logged in to reply to posts