Main > How About You...Do You Do It? (17 replies)
by
beetree
on 05 June 2012 - 22:55
No, the cat does, LOL The dog has his "couch", the beat up old one he shares with the kids in their "area".
by
ggturner
on 05 June 2012 - 22:59
LOL bee. My cats sleep wherever they please, including on the dog beds.
by
macrowe1
on 05 June 2012 - 23:07
Ha mine does sometime, if the boyfriend isn't home or if I'm sick (or just lazy haha). She loves to lay in the bed
by
ggturner
on 05 June 2012 - 23:20
My male gsd, Jack, is more likely to crawl in bed. Recently, my hubby was working out of town during the week and Jack slept in the bed with me a lot while my hubby was away.
by
starrchar
on 05 June 2012 - 23:36
No, but before the DM progressed she used to jump on the bed and we'd cuddle for 20 minutes or so and then she'd jump down and go to her own bed. When hubby was away, she'd stay a lot longer and occassionally through the night. Our other dog has no interest at all. THe cat used to sleep on the bed every night, but she has passed away, so no foot warmer any more :(
by
Dawulf
on 05 June 2012 - 23:39
If I'm not in it, my dog almost always is.... when I am sleeping though, I will let her join me every now and then, but since summer is coming, it is hot enough already at times... Every time she starts to pant she shakes the whole bed and wakes me up, so I usually tell her to go sleep in her kennel. She is cooler in there anyway.

Plus the cat likes to sleep with me... so long as there isn't a big ol' dog in her spot. LOL
by
Ruger1
on 05 June 2012 - 23:50
Yes, He is allowed, but he chooses to sleep on the floor at the foot of the bed instead. As soon as I wake up he jumps in and we cuddle..:)..
by
laura271
on 06 June 2012 - 00:06
I guess I'm the meanie here. Our two GSDs aren't even allowed upstairs (the bedrooms are located there). When they hear my husband's belt buckle jingle in the morning, they both go completely nuts at the bottom of the stairs. They know that sound signals that he's just about to come downstairs. It's pretty hilarious!
by
isachev
on 06 June 2012 - 00:11
Absolutely YES!!! Out of the 4 that sleep in my room, only 1 will sleep for about an hour, then she hit's the floor for the rest of the night.

by
3Shep2
on 06 June 2012 - 00:30
Two on the bed-two on the floor on either side of the head of the bed and two in the crates in the "dog room" whom would be on the bed if at liberty . . . . .
by
EuroShepherd
on 06 June 2012 - 00:46

A few years ago my home was under renovations and I had to sleep on a cot in my kitchen. During the winter I often had 1 or 2 of my GSDs, my chihuahua mix and 2 cats (back when I still had cats) piled on top or around me, all of us trying to squeeze onto a lil wal-mart cot. Sometimes it was pretty uncomfortable, sometimes it was pretty cozy and I thought it was pretty hilarious too, I wish I had photos of it.
Currently only 2 of the GSDs in our household sleep on the bed occasionally, all 3 of my little dogs (my chihuahua mix and two young dachshunds) sleep under the covers with me every night.

I enjoy cuddling with my dogs, I don't want to do it on the floor so my pets are welcomed on the couch or bed (as long as they save me room!)
by
Ninja181
on 06 June 2012 - 00:47
No not on the bed, has his own bed. But only sleeps in it half the night, moves back and forth to the front of my bed.

Once you wake up he tries to kiss you to death. LOL
by
Red Sable
on 06 June 2012 - 01:25
No. Not allowed on the couches or bed.
by
yellowrose of Texas
on 06 June 2012 - 03:16

No Not allowed on couches or bed or in bedroom


I have plush white carpet in MASTER> Tile in the rest of house

YR
by
yellowrose of Texas
on 06 June 2012 - 03:33
My son is a different story..


Dog in his lap in recliner, dog in his bed and dog in his truck

LOL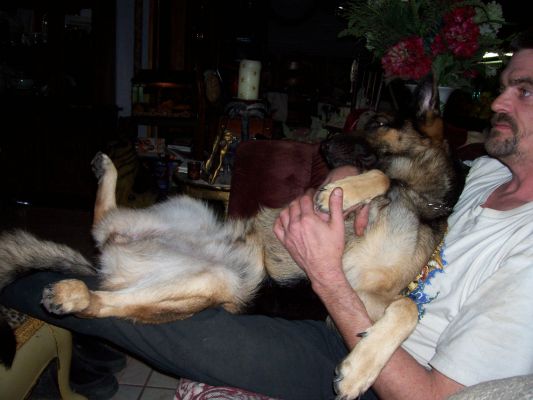 by
VKGSDs
on 06 June 2012 - 12:26
The dogs are free at night but rarely does anyone sleep on the bed. We have a queen sized bed and my husband is 6'4" so there's no room, plus I think the dogs get too hot. Usually my dogs start out on the bed with me while I'm reading but they leave.
by
Niesia
on 06 June 2012 - 17:39
Definitely NOT. No beds, no sofas and no chairs for my dogs. I don't even think they miss that. They have warm and soft sheep skin rugs for their use. They ride in the back of the car (SUV) - no jumping on seats allowed, in the truck - on the floor as a 'foot rests'...

Somehow we are loosing the war with cats and kids when it comes to sleeping with us on our bed... However cats are not allowed on sofas and chairs or a guest room bed and they know the rules. I would hate my guest to get up covered in cats or dog's hair....

Harsh - yes, some friends think we are freaks but honestly I hate going to somebody's house and coming out covered in their pets hair. I simply don't do to others what I hate having done to myself...

For the same reasons my dogs don't put their paws on visitors... My friend's golden ruined one of my best dresses by tearing it with his claws - and my friend was just laughing "he's so friendly"... I go to sit down on the sofa - golden muscles me out of it while covering me in his hair... "it's his favorite spot"... Should I continue... Now they wonder why we are soooo busy to stop for a visit. They used to bring him but we asked them to stop. We have cream furniture in the living room and their dog just loved bouncing on them with his muddy paws...

You must be logged in to reply to posts