Trainer prices...
by
Weezy
on 30 May 2012 - 18:19
What is considered an average price for training a dog to Sch 1 level from a good trainer?
Is it normally some kind of a set price or by the month as a rule?

And if anyone knows personally of a good trainer here in the USA that doesn't send the dogs back to Germany to get titled, I would appreciate you letting me know.

Thank you in advance.

Weezy.


by
macrowe1
on 30 May 2012 - 18:34
Where are you located? Are you part of a Schutzhund club? Usually good clubs will have some trainers in it who I'm sure would be willing to help. As for prices, depends on the trainer
by
Weezy
on 30 May 2012 - 18:52
Kansas. Yes I am a member of a club, great trainer, A good part time helper. I go on the weekend.

My Boy needs more than that to get his title for the protection phase of it. So just checking my options in trying to find a good trainer to take him on.
I have spoked to a couple and they said they would like to send my boy to Germany to work him and get him titled faster. He is already just over 3 yrs old, so once a week, isn't really cutting it.
Maybe I'm just getting impatient.
It would probably be better if we had a good helper more often to train with. It
seems like good helpers are hard to find/keep.
Weezy.

by
duke1965
on 30 May 2012 - 19:33
weezy , im in czech republic, but to give you an idea , we have rate per month and all inn , and in general, whatever is the cheapest at the end is what you pay , we train on daily bases so it goes pretty fast
good helpers are hard to find everywhere

by
Dobermannman
on 30 May 2012 - 20:22
Why do you want a title that someone else put on your dog?
The whole fun of the sport is training and bonding with your dog. You have no idea what kind of training methods will be used or if the "training" will be transferable? Will you be able to handlle the dog at future trials and will he listen to you? I"ve seen showline GSD's sent to Germany and come back as SchH III's and didn't seem to know what a two blind search was. Midnight trials and paper titles are a sad fact of life. Title your dog yourself and save your money

Thomas Barriano
Dubheasa Germania (11/05/99-08/11/08) SchH III M R Brevet AKC WD III AWD 1 STP 1 CD WAC TT
Ascomannis Jago (06/20/03) SchH III AKC WD III AWD I TT WAC
Belatucadrus (08/14/05) DS BH TT MR I
Flannchadh von der Bavarianburg (5/21/08) BH STP I

by
Weezy
on 30 May 2012 - 22:17
Duke1965, Thank you. Training daily or at least 3 times a week would help him considerably. He is a pretty quick study.

Dobermannman,
I don't really want someone else to title my dog, but a GOOD trainer & helper could do more for him than My ability in the field. I totally understand about getting SchH III titles and the dog comes back and never know how the heck they achieved it. I have seen that. I know to do it right, there are a lot of little steps to get to the big results. I know trainers that basically don't do those little steps, they are hard and push the dog heavily and possibly break the dog. A lot I can do as far as the basic obedience, it's the protection part I really don't have the ability or the help to accomplish.

I Really like the thought of saving my money or at least some of it. :)
I like a good trained dog too. I have owned a couple of them and they transferred to me very well. They were not titled except for a BH on one but was SchH 1 ready. I bought them that way.

My boy, I have raised, he is protective of me, we are bonded. Just think He deserves a Title before he is too old to get one. I appreciate your insight though. I am glad you are able to go and enjoy the training and titling of your dogs.
My boy is my avatar. here are a couple pictures of him at weekend training bitework.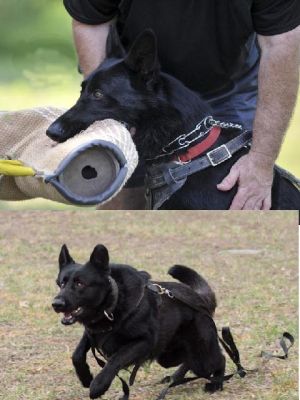 by
Dobermannman
on 31 May 2012 - 03:35
Weezy

Nice looking dog. You don't have to train 3x a week with a decoy to get a title. You don't even have to have access to a decoy (although it does make it a LOT easier :-)). Check out Michael Ellis DVD on Protection Training without a Decoy. You can do your own foundation by yourself with tugs and an occasional 2nd warm body to hold a tug/wedge. You'll need to find a real decoy at some point but I'd suggest doing your own foundation and then training once every 4-6 weeks with a Pro decoy to fine tune. NO training is better then Bad Traing
Check out Endeavor Dog Training Club in Las Alamos New Mexico. They rarely have a permanent decoy but have been pretty successful in both IPO and Mondio Ring
Good Luck

Thomas Barriano


by
Weezy
on 31 May 2012 - 19:05
Thank you to those that PM'd me. I appreciate it.

Dobermannman,

Thank you, I too think he is a good looking boy. :D
I will check out the Michael Ellis DVD.
We have done foundation work on him. He really seems to enjoy the biting the sleeve real well.
I agree with you, No training is better than bad training.
Thanks again.
Weezy

You must be logged in to reply to posts