German Shepherd Dog > The Sorrow of DM and other inheritable diseases (108 replies)
by
Abby Normal
on 26 May 2012 - 19:26
Superstyna
So sorry to hear about Smokie, another beautiful soul lost to this tragic disease. Yes I find that this thread is both sad and beautiful, and in some strange way gives solace.


Marjorie. I would respectfullly ask that we maintain this thread as a memorial thread since this is what is has evolved into, and allow it to continue to provide comfort for those suffering loss to DM. Any debate/argument regarding the disease itself can be raised/continued elsewhere. Thanks Beetree for doing just that.
by
Videx
on 26 May 2012 - 20:00
I agree with Abbey Normal.

by
marjorie
on 27 May 2012 - 01:46
Missie T (aka Windswept-Phenyx the Tempest)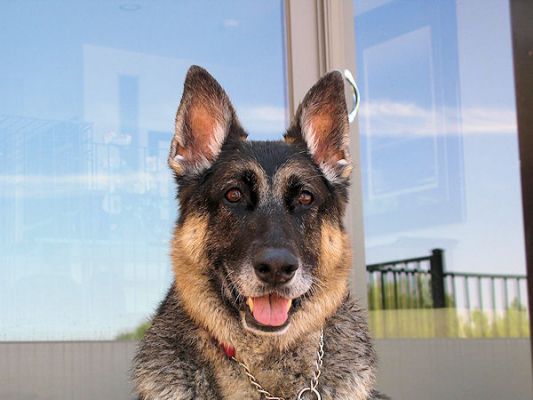 soft sweet soulful eyes
a smile always lit your face
a heart filled with love
my beautiful Missie T
the world will miss you...
an abyss lies before me
As I lay awake
in the quiet of the night
remembering u
tears flow as I say your name
hoping you hear me
I want so much to see you
and hold you again
just one more time in this life
till we meet again
(which I am sure will happen
on the other side)
My heart is so sad
a weight presses down on me
and I cannot breathe
wanting you with me so much
The DM monster
has struck again at my soul
leaving not a thing
but broken pieces of me
scattered in the wind...
Marjorie
http://www.gsdbbr.org
The German Shepherd Dog Breed Betterment Registry
BE PROACTIVE!
http://mzjf.com --> The Degenerative Myelopathy Support Group
by
starrchar
on 27 May 2012 - 02:31
Marjorie,

I am so, so sorry to hear about your Missie T's passing. My heart sank when I read your post and I can't stop the tears from flowing. I'm filled with such anger and sadness right now... another beloved dog being taken by the horrible DM monster. I know how hard you fought for your precious girl and I know she meant everything to you. Missie T was so lucky to have you caring for her. No one could've loved her more or given her better care.

Thank you for sharing Missie T's photo. She was such a beautiful girl. Her eyes were so sweet, loving and soft. It is easy to see that she was a very special girl. I know she will always be apart of you.

I know there is nothing anyone can say to ease the horrible pain and loss you are feeling right now, but please know I am grieving with you over this devastating loss of your precious Missie T.

God speed beloved Missie T. Please greet my sweet Shelby when her time comes- the DM monster is slowly destroying her body too. The two of you can run fast and free together...

Many hugs,
Char

Edited for spelling corrections





by
marjorie
on 27 May 2012 - 05:30
Thank you, Char for your kind and thoughtful reply. Yes, it tore my heart out to lose Missie T. I cant seem to pull out of the horrid place in am in right now. I dont know if it is that two go rounds with DM just broke my spirit, but for someone who rarely cries, I seem to have made up for a lifetime of not crying. Missie T was such a special girl, the house was full with people who wanted to be with her when she crossed over. She thought she was having a party, and kissed and snuggled all who came. Her smile was bright, and although I am assured in my heart I did not let her go one day too soon, or one day too late, I cannot come to terms with losing her. We fought a 6 yr battle, trying to keep the DM monster at bay, but in DM, there are no winners. My husband says there will be a special place in heaven for me, for the care I gave her. I dont care about that- I just want to know that one day she will be in my arms again, where I can bury my head in her beautiful thick furry coat. I have been beset by nightmares, where i dream I am looking for her and cannot find her. I keep calling her name. Casey James wakes me, as he seems to know he has to get me out of that dark, panicky place, and then reality sets in as he cuddles up next to me, seeming to want to chase my demons. She is gone from my life, and although I know that death could never break a bond forged by God, I simply cannot accept that I cannot see her again or hold her in my arms until its my time to join her. If I was ever attacked, left for dead and bled out slowly over a period of days, it would be less painful than living through DM. Maybe I am doing so poorly, now, because I held everything in check for 6 years, with an iron will, so as not to upset Missie T. Its so important to keep a good attitude because dogs are masters of body language. Now, the flood gates have opened, and everything that was locked inside is bubbling up to the surface. Its like ptsd, I think...

Many prayers for Shelby. I hope she has good days ahead for as long as possible. I know Missie T will be there to greet Shelby, when the time comes (hopefully not for a long time) along with Jack Flash and all the others who have gone before. I know they all have a bond, having lived through the same hell. Whenever I look up at the night sky and see a shooting star or a bright twinkling star, I imagine it is them racing across the heavens...

Marjorie
http://www.gsdbbr.org The German Shepherd Dog Breed Betterment Registry
BE PROACTIVE!
http://mzjf.com --> The Degenerative Myelopathy Support Group
by
Abby Normal
on 27 May 2012 - 07:31
A lovely tribute to Missie T Marjorie. She was a very lucky dog indeed, you put up such a fight for her and no doubt extended her life considerably. A beautiful photo, and anyone can see what a kind and loving girl she was.

What a wonderful atmosphere surrounded her when she left this world, 'she thought she was having a party' - bless her, she was, a party celebrating her wonderful spirit and the joy she clearly brought to those who knew her. That statement brought me to tears, but I thought, how wonderful for her to have so much special joy on her last day. For those of us who have to choose 'a day', as we unfortunately have to do with DM, we all try and make it special in our own way and I think Missie T had a perfect day.

Of course you knew the exact right time, but the loss is so hard to deal with. I think that a bond forged in adversity is the deepest. I hope your nightmares fade with time, but your bond with Missie T will always stay strong in your heart as it has with Jack Flash.

I am sure that your husband is right, there is a special place in heaven for you, and it will be walking beside Missie T and Jack Flash.
by
marjorie
on 27 May 2012 - 16:39
Thank you, Abbey Normal... She was truly a special girl. Her acupuncturist vet lives in my town (I got to him through Dr Clemmons- I didnt even know this Dr existed as he practiced about 30 minutes from here). He came to the house 3 times a week to check on her, and gave me his home phone to call, no matter what time of night I needed him. He always answered even if I had to call at midnight. His guidance and help were immessurable. His eyes teared up when he gave her the tranquilzer shot before the final one...

A word to all who must euthanize their dogs. Always ask for a tranquilzer shot to put them out before the euthanization injection. It enables a peaceful passing.I have heard horror stories, as founder of the DM Support group, from people who did not follow that procedure.



Marjorie http://www.gsdbbr.org The German Shepherd Dog Breed Betterment Registry
BE PROACTIVE!
http://mzjf.com --> The Degenerative Myelopathy Support Group
by
marjorie
on 27 May 2012 - 19:00
Wow- I just realized it wasnt 6 yrs Missie T was ill- it was 7 yrs! She made it to her 11th birthday!!!!

Marjorie
http://www.gsdbbr.org The German Shepherd Dog Breed Betterment Registry
BE PROACTIVE!
http://mzjf.com --> The Degenerative Myelopathy Support Group
You must be logged in to reply to posts