Off Topic > Word of the Day (22 replies)
Word of the Day
by
beetree
on 17 May 2012 - 16:53
Mockery, is mine.

It shrouds me like a diaphanous gown blowing and catching between my limbs, giving rise to the sweet ringing bells of mirth, pitiful as a disguise for joy.
by
beetree
on 17 May 2012 - 17:59
And get this... my DH has an interview with Mossberg, a gun maker, for an interview. Say what?
by
ggturner
on 17 May 2012 - 18:22
LOL--not mocking you by the way, bee. Do you want your hubby to get the job?


My word is dictatorship

Definition--absolute, imperious, or overbearing power or control.
by
beetree
on 17 May 2012 - 20:04
ggturner, there is only one way to answer that question:
If he wants the job, then I am happy for us.

I will have to take up skeet shooting or something.
by
Ninja181
on 18 May 2012 - 01:39
My word for today is:

Rodomontade:

vain boasting or bluster : rant
by
GSD Admin
on 18 May 2012 - 01:54
Like these?


by
GSD Admin
on 18 May 2012 - 02:06
My word of the day.

puerile
by
Ninja181
on 18 May 2012 - 02:09
My word for tomorow is:

Chargoggagogmanchauggagoggchaubunagungamaugg:

Nipmuck Indian meaning: You fish on your side of the lake, I'll fish on my side of the lake, and no one fishes in the middle.
by
Ninja181
on 18 May 2012 - 02:14
I just read a write up about a 112 year old woman. "Her tips for living a long life are: "Love everybody. Don't hate. Don't gossip."

Obviously she doesn't belong here.

by
GSD Admin
on 18 May 2012 - 02:23
Right because none of the group hates on anyone,

, only GSD does, right? The group doesn't gossip or spread rumors and we know how they love all.



You have a good night grasshopper.
by
beetree
on 18 May 2012 - 11:11
Grouper, my word for a new day.

Stealth hunter of the deep watches while the other fishes school and sleep; suddenly excised, I am surprised to be, supper.
by
ggturner
on 18 May 2012 - 20:30
Sympathy--the feeling of compassion for another especially in times of sorrow.

The husband of a friend of mine passed away today from a massive heart attack.
























by
Ninja181
on 18 May 2012 - 20:50
camarilla: a group of secret and often scheming advisers.



ggturner, sorry to hear about the loss of your friends husband.
by
beetree
on 19 May 2012 - 12:49
Chagrin, it is so nice to be given the opportunity to seize another day!

That is the feeling you get when you get all dressed up for the party and find out you are a day early.

Well, so we went out to dinner instead. Now, ladies, do I need to go buy a new dress or just use the steam clean and hope no one who saw me at the restaurant will be at the party? ... TONIGHT.

LOL, oh, some of you would have enjoyed watching me as I looked at the hostess lady with chagrin, and said, "Now, you know I can't go out there, he's going to kill me!" We both watched my DH as he turned around to depart, his body language saying it all.

(GG, so sorry for your sad new of your DH's friend.)
by
ggturner
on 19 May 2012 - 14:08
Proud

Felt very proud last night at our school's graduation ceremony. Proud of all of the graduates and their accomplishments. Proud that one of my former students just signed a teaching contract at our school for next year! It will be fun having a former student as one of my coworkers. Proud that one of my former students is now in vet school (Auburn) and another former student is getting his PhD in Pharmaceutical Research. Yet another is getting her PhD in Physical Therapy. And another a PhD in Mathematics. Another just got a master's degree in seminary school. One is at Georgia Tech getting a master's degree in electrical engineering. I love hearing about them and their accomplishements. They come back to see me and keep in touch through facebook.

Thanks for the condolences--I never met my friend's (one of my coworkers) husband, but I am full of grief for her and her family. They have 3 grown daughters and a grandson.
by
Ruger1
on 19 May 2012 - 14:31
ggturner,,I am sorry for your friends loss,,,

Bee,,lol that is a funny situation right there!!,,lol..

All dressed up with no where to go"..



I would wear the dress,,I would not care that someone might have noticed me in the dress the night before..If someone mentions it, use it as an excuse to tell this funny story..They will be so busy laughing they will forget all about the dresses repeat debut,,,lol...,)
by
beetree
on 19 May 2012 - 16:06
Ruger...I think that's why my DH kind of let me off easy last night... he's going to tell this story, oh, about a hundred times tonight, and it's only going to get worse for me as the night wears on! LOL

And to top it all off, for this same couple, we once never replied to an invite, and missed the party. Turns out it was lost in the mail, and she felt weird asking why I didn't reply. So this time she called me to make sure we would be there... (I guess I'm a lot of fun at parties, lol,) any way, this time, we sure weren't going to be even fashionably late! He also had a spare polo shirt, so he went inside to change, that helped even more. As he returned to the Hunt Club restaurant he looked at me and said, "I'm going to change. YOU stay there."

I wondered, where was I supposed to go? Knock that kid down, way over there in the pasture in my dress and heels and steal his pony?

But hey, I'm thinking, maybe I just wanted to break in my new shoes. OK, I'm going to freshen up the dress... it is fun and sparkly! There will be dancing, tonight!
by
Ninja181
on 19 May 2012 - 19:38
LOL Bee on going a day early.

I took the wife and Pango away for the weekend, we check in, I get the luggage out of the Pango-mobile, and inform the wife that I don't see the bag she keeps her medicine in. So we go all the way back home to pick it up. Just got back to the motel. What can you do?
by
beetree
on 19 May 2012 - 21:01
Exactly what you did do! LOL Somehow your story made me feel good! LOL Hope you all have a great weekend.



You must be breaking in the Pango-mobile, its virgin ride? Did Pango show his appreciation for you pimping his ride? I want to see that wheel cover when you get back!

Off to pRimping again, for myself! LOL

by
Ninja181
on 19 May 2012 - 23:12
Bee,

Still waiting for the spare tire cover and a few other items. But the outside is complete, the new tires and rims are on, I took a few picture of Pango at a cemetary where I let him run off leash. A lot of famous people buried here.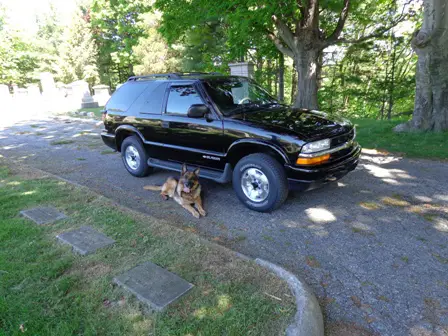 You must be logged in to reply to posts