Main > Shave the dog or not to shave.... (29 replies)
by
EuroShepherd
on 11 May 2012 - 02:30

*SHUDDERS* oh I HATE looking at a fur coated dog who has been shaved! hate, hate, hate it! It goes beyond pet peeve.
I just can't fathom why on earth a person would go out and buy a golden or chowchow or GSD or whatever and then have the poor dog shaved. Why on earth get that kind of purebreed if you're going to shave it?! I don't care what anyone says, part of buying a purebred dog is because you like the way the breed looks. There are PLENTY of hair breed dogs of all kinds of working abilities and temperaments to fit any need, buy one of them if you want to shave your dog!!!

Sunsilver, that was me with the pitiful champion persian cat.

In my experience, the show persian is much worse than the show collie. Though I will say that a show bred rough collie is most definently not suited to living a life as a working herding dog.
I worked for a year at a collie rescue before they moved their kennel to another county. I saw all kinds of coat wrecks come in. So many were because the dogs had been shaved. One dog I remember in particular had CARPET woven and matted into it's poor coat! The founder of the collie rescue was also a show breeder/handler who hated shaving collies too. We went to great lengths to carefully brush out the mats on these dogs.

I love grooming dogs, I especially adore brushing. I spend hours brushing my dogs, one of which is a thick longhair. I've groomed spaniels, retrievers, collies and schnauzers for the show ring. I've learned under some excellent master groomers and show breeder/handlers.
But I decided I did not want to groom dogs for a living because I didn't want to have to deal with clients who wanted me to do stupid things to their dogs.

(note to self, in the future if/when I raise another litter of puppies I need to ask potential buyers if they think they may ever have their GSD shaved...nix anyone who is ok with shaving a GSD!)
by
3Shep2
on 11 May 2012 - 12:46
Pictured in full coat after second body clip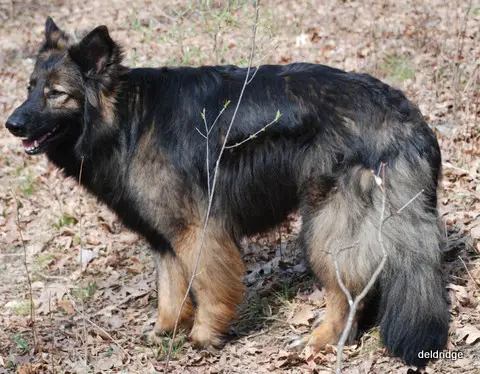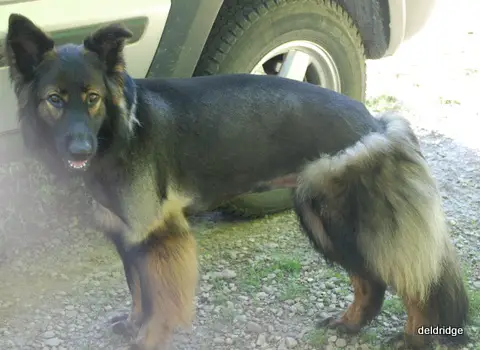 by
Niesia
on 11 May 2012 - 19:53
3Shep2,

Beautiful dog! Is there any reason why you leave main, legs and tail untouched?


by
Sunsilver
on 11 May 2012 - 20:41
I didn't get a pic of the two goldens yesterday, but the younger one's coat looked pretty normal. There was the odd patch of undercoat showing through here and there.

The older girl, who's 11, was a different story! She had almost no guard hairs, at all, and she was FILTHY! The owner said she thought she'd gotten into some oil (they run a large farm). She was also very matted, especially on the hips, where she lies down.

Her coat resembled a fluffy puppy coat, and the owner said people often thought she was a puppy.
by
3Shep2
on 11 May 2012 - 22:30
Niesia
Mainly just a style of cut although I felt leaving the feathering on the legs did offer some leg protection when the dogs charge through the woods-I always had my Maine Coon cut the same every year-picture of an older sister with her first clip and grow out and the cat.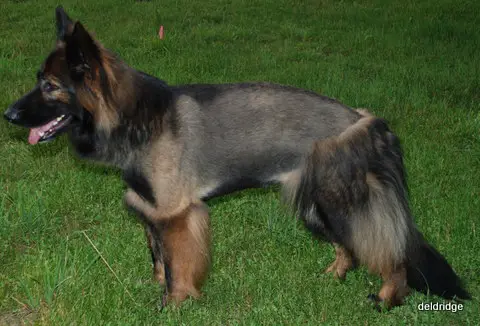 by
Niesia
on 11 May 2012 - 23:24
3Shep2,

How long does it take for your dog to grow out all the guard hair? After almost 3 months from vet shave, my girl's hair are still not the same lengh on her legs and belly (she is standard close coat and very healthy bitch).


by
Bhaugh
on 12 May 2012 - 01:18
I disagree with you dragonfry that coats "if done correctly" hair will not be damaged. Once the guard hair is shaved off over and over, the damage is done. I'm not sure what right way there is to shaving off the guard hair. I took a long coat shepherd into rescue. I knew as soon as I petted him that the coat had been shaved many times and it had lost the outside guard hair and was fluffy like a puppy. The hair isn't meant to be shaved off. It protects the dog from the weather be it hot or cold. Its really just pure laziness on the human's part to shave the hair and not take care of it. I live in Vegas. Of anywhere, this would be the one place to shave. I keep my dogs combed out and bathed. If a human doesnt want to comb and keep it up, then find a breed that is short hair.

If your dogs are hot, might I suggest letting them inside with you!


by
3Shep2
on 12 May 2012 - 01:46
Niesia
Both of the girls were clipped in June of last year-pictures taken within a few days after and the later pictures were taken this past March-they were both fully coated prior to the commencement of winter.
by
dragonfry
on 12 May 2012 - 19:03
Bhaugh, if you saw my old boss's Chezk shepherd that was shaved several times you would never know that she had been clipped down before. And her owner is a retired professional dog groomer and handler. Who can't do her own dogs any longer because of repetive motion injury from being a dog groomer! There is a correct way to clip a long coated dog so that they regrow back to normal.

As for those two long coated sheps with the funky schnuazer clip. WTF????
You'd never of gotten that past me in my shop. I'd of made the dog all one length and left it looking finished. That does look like a "Home" groom.
As for coated breeds being clipped what about the giant schnauzers, Bouviers, Black Russian Terrier, Poodles and other long coated breeds that do require regular grooming? It does not injure their coats to have then clipped. One of the hardest coated and thickest haired dog i use to groom was a black giant schnauzer. That dog had never been stripped and had a totally natural coat. His guard hairs were like wire. And i clipped him every 4 months, for years.

But I'll be totally honest with you, 99% of the shave downs i did on any breed, dog, cat, bunny were because the owner either could not or would not take proper care of the animals coat.

Some dogs and cats would tear you apart if you tried to brush them.
I specialized in sedation grooming because there was such a huge market for pets that other shops were kicking out because the animals were too aggressive or stupid to groom under normal conditions. Over half of them really didn't need sedation they just needed a groomer that wan't scared of mean little dogs. (me)
The rest?... some were feral, some were truely aggressive and some were really just stupid.
Fry
by
3Shep2
on 12 May 2012 - 20:59
Dragonfly

WTF??? Really???

Groomer clipped as directed & paid to do so. Hopefully you follow your clients requests regardless of your personal views.

The dogs were clipped for inidividual issues (theirs) not a lack of in house grooming-beside hair continually grows so the hairs clipped is going eventually shed out be replaced-if the coat doesn't return to normal it's time to check what is being fed and/or run a blood panel.


You must be logged in to reply to posts