Conformation Showing > conformation critique requested on a 17 month old female (10 replies)
conformation critique requested on a 17 month old female
by
edith
on 06 May 2012 - 14:07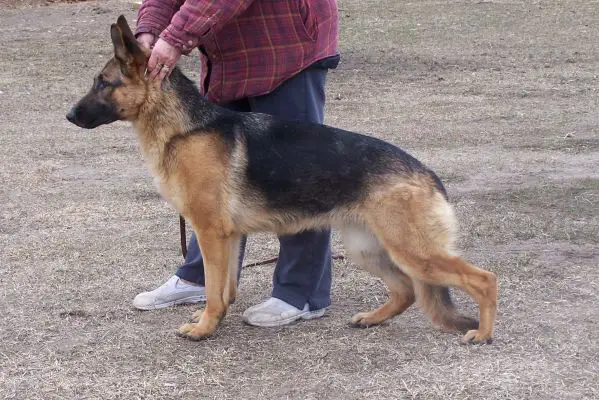 She is 17 months old, PENNHIP xrayed recently with a 90% scor(better than 90% of the dogs in their database) . lovely hips and elbows. Very athletic and responsive to her handler. i would appreciate the opinions of others. Thanks.







by
Ibrahim
on 06 May 2012 - 14:34
Can you post a picture, front view of her head?
Do you have more pictures of her in stack?

Ibrahim
by
edith
on 06 May 2012 - 14:52
Here are a couple of photos of her when younger. I haven't taken more recent photos of front, etc. Something I need to do.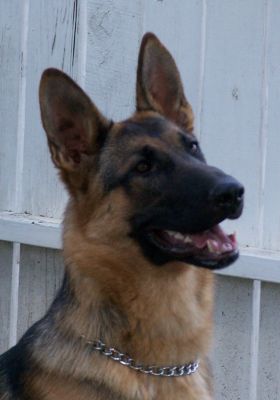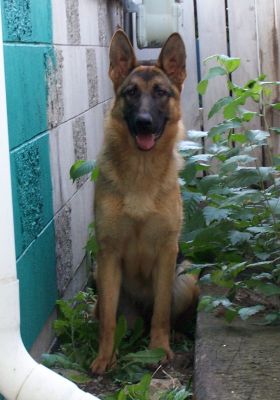 by
edith
on 06 May 2012 - 15:01
Here are 2 photos of her stacked last summer and taken one month apart at 10 and 11 months of age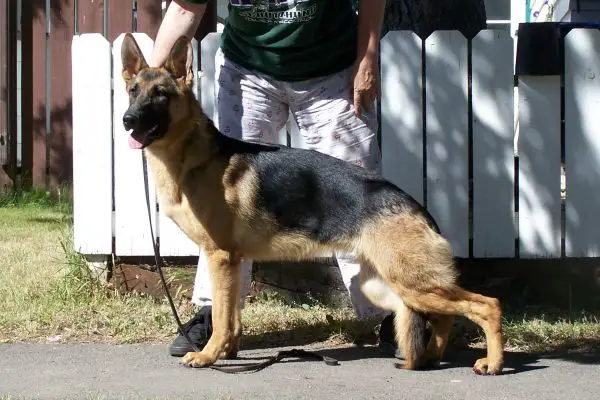 . Amazing the changes in appearance positioning can give .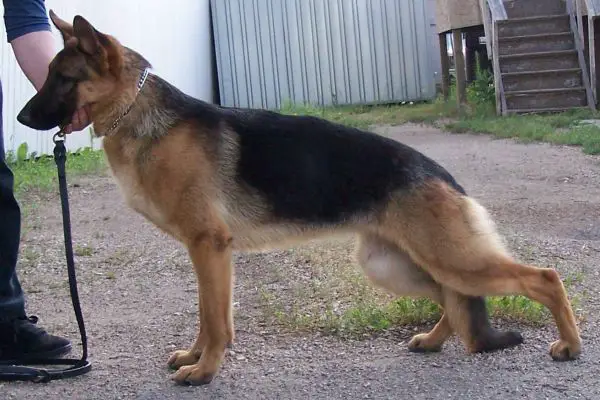 by
Ibrahim
on 06 May 2012 - 15:02
The additional pictures show nice face expression and very good earset.
In the first picture you're catching her below the ears and pulling her up a bit, therefore her ears don't look her best, neck angle is distorted and her front upper arm angle doesn't look its best.
Nice looking young black and tan above medium sized GSD bitch of medium strength, good
proportions that might be very slightly stretched, nice fore angulations, good lay of shoulder, good length of front upper arm but slightly steep. Stands good in the front though the un-level ground causes her to stand a very slightly toes pointing out, nice tight feet and short toes. Beautiful high withers, beautiful topline, good lay of croup that is of good length, very nice tailset and straight tail, nice rear angulations, deep in the stifle, good bone proportions, good hock, a very nice girl, I see no faults.

Ibrahim
by
edith
on 06 May 2012 - 15:31
Thank you. I have to measure her as I am not sure how tall she is. She does not seem overly large to me, but I see her every day. Here are a couple of photos of her litter sister. I kept 2 back from the litter as their mother is now retired.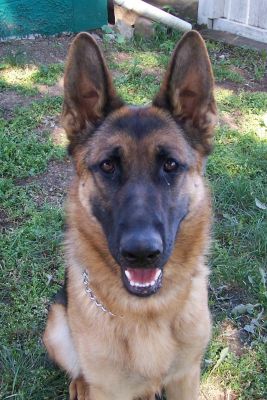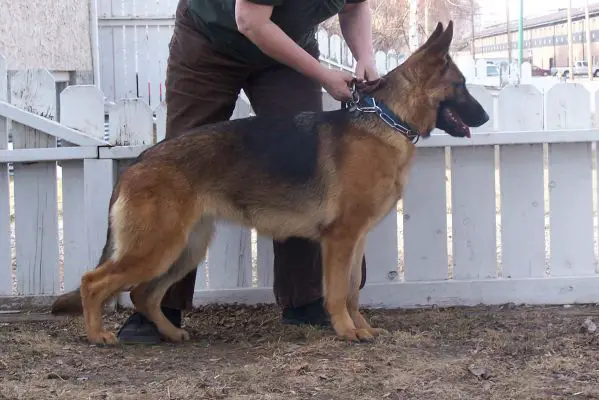 Her hips and elbows are lovely as well. Pennhip in the 80% range. I couldn't decide which to keep and I kept changing my mind as they grew up. Both have their strengths and weaknesses as do all creatures. They are Ando/Yasko grandaughters. Both are very athletic, but this one also has an amazing nose.


by
Ibrahim
on 06 May 2012 - 15:51
Second sister looks stronger in build with lighter black pigment but shorter croup, I think both are just lovely, are you in the States?

Ibrahim
by
edith
on 06 May 2012 - 16:23
I'm in Saskatchewan, Canada.

After a few years of dealing with a nasty divorce and some health issues, I am ready to start training and showing again. I just did enough breeding to keep what I wanted. I think I have some nice dogs to keep me busy for awhile. I have very nice consistency in my bitch puppies. The males are nice as well, but not as consistant in type.
Thanks for your critique. It helps to have a second set of eyes look at the dogs.


by
shri
on 06 May 2012 - 18:00
Medium size,medium strong with nice feminine head and good expression, Good body proportions,Normal wither ,straight back with good overline and under line,very good Croup lay and length.Good angulation in front,sligthly steep shoulder blade.nice upper arm length.? correct fronts( appears sligthly east west)Very good angulations in the hind.Good prosternum length and depth.Pasterns could be firmer.Overall a good female I guess she lacks conditioning at the moment.No comments on her gait and character on pics ( Critics on the first picture)
by
waleed
on 06 May 2012 - 19:30
good job expert
by
edith
on 06 May 2012 - 22:04
Thank you for your critiques. It is nice to have the opinion of others.
You must be logged in to reply to posts