Conformation Showing > Mr. Donald asked me a difficult question (115 replies)
by
Ibrahim
on 11 May 2012 - 15:55
One more clarification,

Wherever I talked about shoulder or shoulder blade angle in connection with the line WA I was referring to the angle marked with the red arrow and not the angle marked with the gray arrow.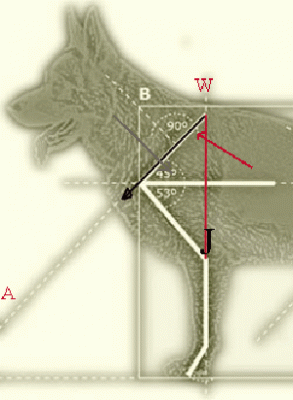 by
Ibrahim
on 11 May 2012 - 16:09
I was also requested to clarify one more thing.

A triangle has total sum of its three angles = 180 degrees, this is a rule.
Vertical line with horizontal line makes an angle of 90 degrees, this is also a rule.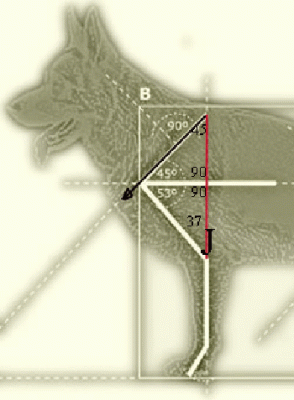 We agreed the red line is the vertical and the white line passing through it is the horizontal, therefore both the angles made are 90 degrees each as shown.
In an ideal angulated GSD the angle at the J joint is 37 degrees (180-53-90=37)
And in same process the angle marked with the red line in above previous figure is 45 degrees.

One request please, anyone who wishes for further explanation or clarification please ask it here not to my e mail.

Ibrahim
by
Ibrahim
on 11 May 2012 - 16:28
One final note about e mail questions: Please do not take all this as established facts, just consider them as an amateur thoughts on the front assembly, unless Mr. Donald and or one of the really experienced approves of them they remain thoughts, and to be subjective I could and might be mistaken somewhere.

Ibrahim
by
Ibrahim
on 11 May 2012 - 16:46
Just a thought to take this thread a step forward, experienced members are requested to share their experience and knowledge of various dogs in regards to shoulder blade lay & length in regards to good trot, also to those familiar with genetics please provide info in regards to whether longer shoulder blade is or isn't usually associated with longer front upper arm and or better front upper arm angle.
Also it is nice if we can get info on specific dogs who had good trot eventhough front upper arm was relatively short and or steep (one example was Dingo with a steep front upper arm but with remarkable trot). Thanks

Ibrahim
by
Louis Donald
on 11 May 2012 - 21:54
Ibrahim you have done a great job, be very proud, also be conscious of but not too hung up about what may be correct and what might not be correct in what you have stated or hypothesized.
Like my paper, you have covered too much ground in too short a time frame and at a very technical level and that can scare people off participating or even asking a question. Unfortunately most people want an explanation on most matters related to dogs and especially movement in as few words as possible and at a level that is not too cerebral. An example might be; dogs fall on the forehand if the highest point of the back is higher than the highest point at the wither. This is true and that's about as much as most people know and about as much as they want to know. If you go into an explanation on why this occurs most people find it too complex, too much to take in and that's why so few people really understand the mechanics of movement and their individual but interconnected component parts. Most people are not like you! Hopefully your efforts will be rewarded by a few enthusiasts responding and that will then lead to discussion, debate and resolution of such matters should they exist.
The frustrating part will be when you find that very few people comment and if that does occur take heart in knowing that you are now far more knowledgeable in regard to the forehand having undertaken the exercise.
A parting comment that you may be aware of but given a number of your comments regarding dogs moving very well but having an impediment that should inhibit such a thing.
In the context of a GSD being a trotting endurence dog it's not unusual for it to be better for a dog to have two faults than one! In effect a dog with two faults beating a dog with one fault and that one fault is the exact same fault that exists in the other dog!

Louis


by
Ibrahim
on 12 May 2012 - 19:24
by
Ibrahim
on 12 May 2012 - 19:28
by
Ibrahim
on 12 May 2012 - 19:33
by
Ibrahim
on 12 May 2012 - 19:55
by
Ibrahim
on 13 May 2012 - 09:44
by
Ibrahim
on 12 June 2012 - 16:12
I have worked drawings using the autocad software to show effect of various angulations and proportions of bones on fore front reach, I shall start posting them very soon.

Ibrahim
by
Ibrahim
on 13 June 2012 - 05:27
Hello again, I managed to make some drawings to illustrate the front assembly of the GSD and represent how each bone angle or length/proportion affects the front reach. Just so each of us remains on same page I remind you to refer to how Mr Donald explained how bones and angles of shoulder are to be correctly measured here
http://www.gsdcouncilaustralia.org/louis_donald_article.pdf

In all drawings I will show the line of center of gravity or one may call it the proper balance line will be used, you can refer to that in earlier posts on this thread.

In the drawings I used autocad software, it's a drawing software used for drawing to scale engineering drafts, accurate lines, distances and angles are drawn with extreme accuracy by this software, so no one should worry, once the software gives you a reading of length/distance and or angle it is 100% correct.
So let's go and I assure you the outcome of those drawings is very very interesting and educating.
by
Ibrahim
on 13 June 2012 - 05:43


Something is wrong with uploading pictures
by
Ibrahim
on 13 June 2012 - 05:49


I'm sorry for this inconvenience really !!!
by
Ibrahim
on 13 June 2012 - 06:31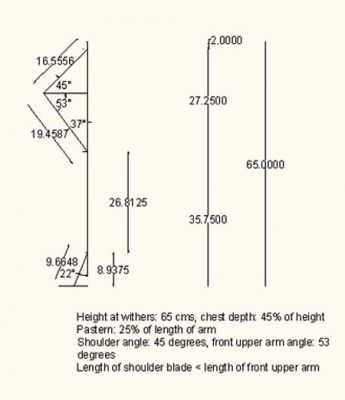 On the left is a front assembly of ideal GSD. On the right are the dimensions. In all drawings I used a 65 cm high GSD. There is a small distance between top of withers where we measure the height of a dog to the mid point of top of shoulder blade, I guess this distance is approximately 2 cms. In this above case the chest depth is 45% from total height and that makes 29.25 cms. Now to get the distance between the top mid point of shoulder blade to elbow joint we deduct from this distance 2 cms and that makes 27.25 cms. Now the distance from the elbow joint to ground is 55% from total height and let's call it fore leg length and that is 35.75 cms.
I assumed the ideal proportion of vertical length of pastern to fore leg length to be 25% (if my assumption is wrong it does not affect the idea itself) and in this case that is 8.9375 cms, the pastern is set at 22 degrees and therefore the inclined actual length of the pastern is 9.66 cms. Please note that this length is from the pastern join to rear point of foot. If we deduct the vertical length of the pastern from the fore leg length we get 26.81 cms which is the length of bone between elbow joint and pastern joint (Radium).
Hopefully that is clear enough.
If any point is not clear please feel free to say so as all what comes later in regards to chest depth proportion and calculating length from mid point of top of shoulder blade to elbow joint, and length of fore leg bone and pastern will be done in same procedure.
by
Ibrahim
on 13 June 2012 - 17:21
Now we go to talk a bit about the shoulder. We have the 27.25 cm imaginary vertical line (in a well balanced fore assembly) that connects between the mid point of top of shoulder blade and elbow joint (again I refer you to Mr. Donald's paper), I set the shoulder blade angle at 45 degrees and front upper arm angle at 53 degrees which is the ideal case in a well structures GSD and got the length of shoulder blade 16.56 cms and front upper arm length 19.46 cms. And the ideal relation between the shoulder blade and front upper arm lengths is always found to be 1:1.15, and this ideal relation remains the same even when the chest depth varies as long as the above shoulder angles are the ideal (45 & 53).

I will talk later in detail about shoulder various combinations of bone lengths and angles, but for the time being we will limit our talk on the effect of chest depth on front reach.
by
Ibrahim
on 13 June 2012 - 17:42
Remember the tracing of bones Mr. made and I talked about before?

This one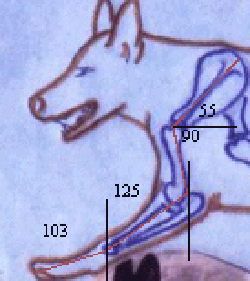 In full reach I will use the Upper arm open (90 degrees), elbow open (125 degrees) in all full reach drawings, shoulder blade and pastern opens may vary.
by
Ibrahim
on 13 June 2012 - 17:44
Ok 45% chest depth standing, ideal shoulder


by
Ibrahim
on 13 June 2012 - 17:44
Corresponding full reach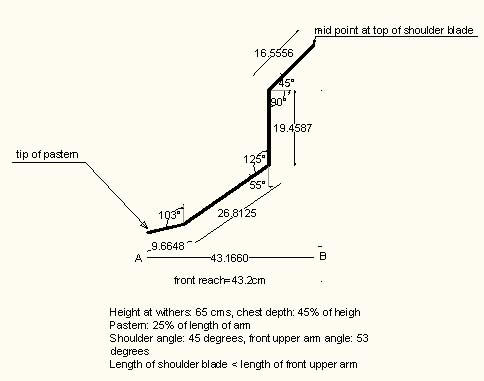 by
Ibrahim
on 13 June 2012 - 17:52
So an ideal 65 cms high GSD of balanced for assembly, ideal shoulder angles, ideal length and angle of pastern make a fore front reach of 43 cms in a single trot (we're talking about distance covered in full reach between mid top point of shoulder blade and rear tip of foot in one stride)
You must be logged in to reply to posts