Conformation Showing > Mr. Donald asked me a difficult question (115 replies)
by
Abby Normal
on 08 May 2012 - 17:57
Ibrahim
I am in awe of your mathematical genius and your enquiring mind. Brilliant.

Only one thing I would disagree with you upon, (the rest is somewhat beyond my capabilities at present, especially the math, so I wouldn't dream of it!!) and that is the movement of Gina, more specifically the placement of her hind feet when gaiting. It appears that the hock comes into full contact with the ground on each forward footfall rather than the foot. I don't believe it is either correct or efficient movement. With Dingo, this is not so, his foot is in contact with the ground. So I cannot agree with you that she is the better mover! As purely an 'interested enthusiast' I stand to be corrected however if my determination is incorrect.
by
Ibrahim
on 08 May 2012 - 18:21
Hi Abby,

My comment was she is one of the best movers ever, only in regards to movement itself as we were only discussing fore-front reach and front-under reach. I agree with you that her hock lands in full of its length on the ground in full rear under reach and that is not correct. And I still insist that her movement is not only good but rather very good in regards to distance she covers in single trot and I could be wrong. She has one major draw back in that specific gaiting and that is the lifting up of her front fore leg and I hope that is only caused by the helper not due to something else.
I am not judging her allover balance, angulations etc etc, but her movement looks extraordinary to me, so flashy (I think you say it like that !).

Ibrahim

by
Abby Normal
on 08 May 2012 - 20:10
Hi Ibrahim,

Yes, flashy is how you say it!

I see what you mean that you are mainly referring to the front reach and front assembly.

While I think it is all a matter of balance, and this is where the rear cannot be taken out of the equation, I hope I didn't digress too much from the original question, and I will let those who are able to comment on that do so!
But I still think Dingo the better mover LOL !
by
Ibrahim
on 08 May 2012 - 21:03
Oh, I was going through what I wrote and in the post where I put the importance of front assembly proportions and angles in sequence, point number 4 needs to be corrected

it should read angle of front upper arm

After s certain time I can not make edit to a certain post !!
by
Ibrahim
on 09 May 2012 - 19:43
Typing corrections:



Let us have a look at above bones trace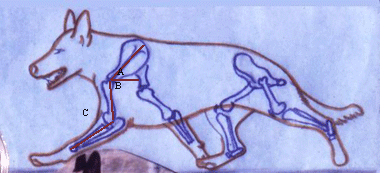 I drew these lines between the various bones using the above mentioned directions by Mr. Donald on how to represent the lines and angles of bones. Mr. Donald or any of the experts might give us the exact angles if exact data is availavle, for now I will give estimates, angle of front upper arm has increased a lot, almost doubled, while ideal in standing position is 53 degrees it is now about 90 degrees (excuse my bad line representing the front upper arm). Angle A which is 45 degrees has become approximately 55. Unluckily I do not have a standing picture of the above dog which is Rommel's Jasemin to estimate its true A angle in standing, but let us assume it was close to ideal say 50 degrees and that means the change in this angle is 5 degrees which represents about 10% from original while standing.
If we also assume angle B was close to ideal say 60 degrees then the change is 30 degrees which is 50% from original, comparatively change in angle A is minor, therefore for simplicity of understanding while considering fore- front reach assume the shoulder blade is fixed.
Now ideal angle C in standing is 180 degrees and in well conformed GSD it is usual, now in full extension it is approximately 125 degrees which means there is a decrease by 55 degrees.
by
Louis Donald
on 10 May 2012 - 08:27
Gina - very nice bitch, pasterns! For another time perhaps.

Louis
by
Ibrahim
on 10 May 2012 - 09:02
Oh pardone me, I see I did not talk about the pasterns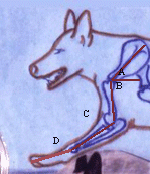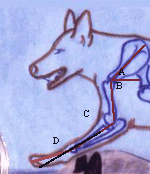 I see the pasterns did not change a lot from original in standing position 22 degrees from the vertical passing through the fore leg joint and then pastern joint, that is no major change in the joint angle itself. In the figure angle D is approximately equivalent to 125 (angle C at the moment) - 22 degrees, result angle is to the imaginary vertical as that in standing position, but the effect of any increase in pastern length results in the most effect among all bones of fore assembly on the front reach as it is almost in same drection of fore-front reach direction.
Please no one should get me wrong and think I am suggesting a certain increase in a specific bone length or proportion with another bone to increase front-fore reach, no I am only analyzing each bones effect on total reach, as it is beyomd me what really happens when certain proportion is decreased or increased on dog's balance and effective trot, it needs long time judging dogs to watch effect of these various combinations.
Please note also that above angles are not exact, they are estimates and in same references to the horizontal they are measuted from in standing position, shoulder angle and front upper arm angles to the horizontal, fore leg and patern angles to the vertical.


Ibrahim


by
Ibrahim
on 10 May 2012 - 10:01
Okay, I know I'm not the best writer, sometimes when I go back and read what I wrote I shake my head, here it is in Picture language



Estimates of angles of the fore assembly in full flight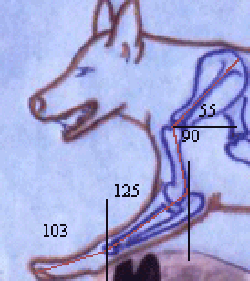 Now angle B looks less than 90, maybe closer to 85 !!
by
Ibrahim
on 10 May 2012 - 10:36
I am getting feed back that What I'm saying in all my posts which concerns mathematics isn't very clear to some, so Mr. Donald just give me sometime to rephrase what I've been saying please, and I'll do it fast.




by
Ibrahim
on 10 May 2012 - 11:03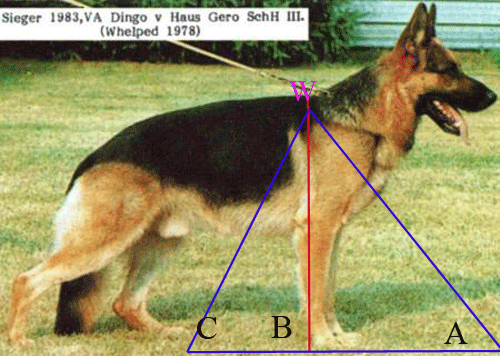 Line WA represents the connecting line between top mid point of shoulder blade and furthest point a dog can reach in a trot (forward) with its fore leg.
Line WC represents the connecting line between top mid point of shoulder blade and furthest point a dog can reach backwards with its fore leg in a trot.
Line WB represents the height at withers of a dog, actually a little less as it starts at the top mid point of the shoulder blade which is a bit lower than the withers. It is vertical.
Line BA= fore front reach, maximum distance a dog can reach forward with his fore leg in a trot.
Line BC= Fore-under reach, maximum distance a dog can reach backward with its fore leg in a trot.
WAC is a triangle, AB being a vertical divider.
Our concern is limited to the smaller triangle WAB
Our front reach is line BA, the longer this line is the bigger/longer the trot is. The longer lines WA and or WB the longer ultimately the connecting line BA which is the front reach.
Now line WB is limited for us by the standard, so in this discussion we need only to know that the higher the dog the more front reach it can achieve. In mathematics it is difficult to deal with three variables, so we forget about line WB and consider it constant.
We limit our discussion to lines WA and line BA and our triangle WAB, the longer line WA the longer line BA (front reach) becomes.
Line WA represents what positions the the bones of the fore assembly bones stop at and their lengths at the moment of full open/front reach in a trot in forward movement of the fore leg.
by
Ibrahim
on 10 May 2012 - 11:40
Just to demonstrate the above here's a demo of what happens when line WA (sum of all fore assembly bones and positions they stop at in full trot).

Fig 1. : Longer line WA effect on the trot, due to longer sum of bones at same stop position of bones at full flight. This comes from longer Shoulder blade, longer pastern & longer fore leg mainly.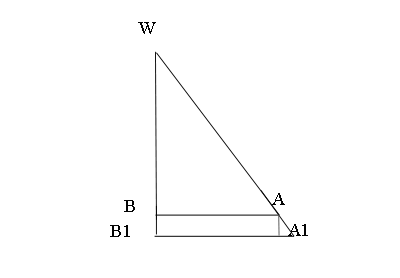 Fig 2. : Longer line WA effect on the trot, due to bigger angle of start at point W (bigger angle of shoulder blade) accompanied with longer sum of bone lengths in the shoulder blade itself. Fore leg and pastern are playing minute effect here as line WB is constant here.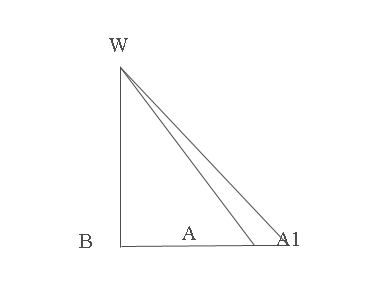 Fig 3. : Directly increasing line BA, this comes from longer pastern, longer fore leg, longer shoulder, & better opening of joints. I made it seperate so it is not confused with bigger shoulder blade angle in above figure.


by
Ibrahim
on 10 May 2012 - 12:41
I am seperating them for ease of understanding, in a certain dog it can be one, two or all combinations. A note here we can increase the fore leg and pastern bones to a certain limit which is the 65 cms height at withers when we add to them the chest depth.
It will be easier in a few minutes when we illustrate the bones and connect their effect to each of the above diagrams.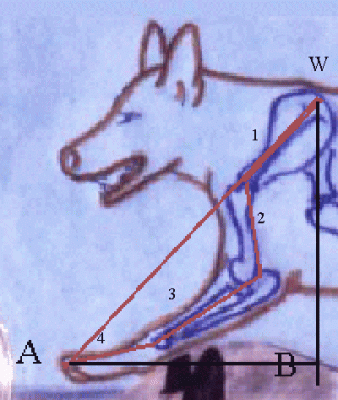 This is a tracing of the bones in the fore assembly of a well structured GSD with pronounced trot done by Mr. Fred Lanting. Please note the line AW, in a well angulated GSD strarts at the top mid point of the shoulder blade, passes through its center line upto to tip of toes after a full trot when the toes touch the ground.
Let us start with bone number 1, the longer it is it adds to line WA directly and as it is with positive inclination to the line BA it adds to it with an amount relative to how small its imaginary extention makes with line BA.
Demo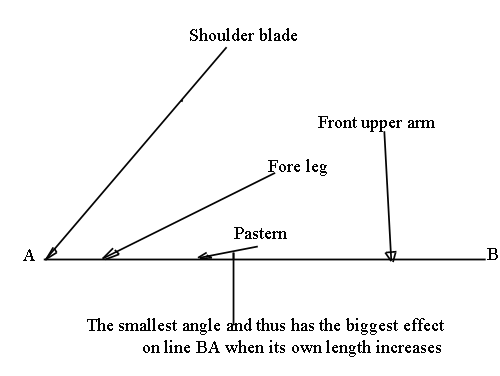 by
Ibrahim
on 10 May 2012 - 14:12
So bone number 1 effect is represented is in fig 1, 3 and when its angle is bigger it is also represented in fig 2, but a note here, for a bigger angle of shoulder blade in order it complete its positive effect on front reach it should be associated with longer bones of shoulder blade itself, fore leg, pastern, one or two or all of them, or theretically more opening of joints but assuming Mr. Lanting's dog is in best open of joints we eliminate the more opening of joints.
A theoretical reason for lifting up of fore leg in trotting is bigger shoulder angle but not enough length in the said bones.
Another theoretical explanation for lifting up is weakness in muscles controlling the shoulder blade movement and thus more opening of the angle in full flight.
Another theoretical reason is no enough muscles at the withers due to shorter withers or narrow distance in between blades.
Think of it as if line WA is opening more and tries to connect with line BA at further point but fails and redirects itself to a lesser open to connect with line BA. This can be seen in a video of gaiting when the dog shakes a bit and pushes its neck to redirect its WA line shorter. Some handlers gaiting their dogs on leash pull back raising up the WA line more and then fore leg stops in the air momentarily waiting for WA to redirect itself shorter so they can meet.
by
Ibrahim
on 10 May 2012 - 14:38
We go now to bone number 3, just look at it, it tends to push line WA to the out (further opening) and it tends to push line BA forward (smaller angle with line BA than that of bone number 1 and thus bigger effect), its effect is represented in all the figures above, more effect than bone number 1 in regards to increse of bone length alone.
Also same context applies to bone number 4, its effect on BA length is more than number 3, thus also more than than that of number 1.
Therefore if we place importance of length of individual bones discussed so far in sequence from higher to lower

1. Bone number 4, the pastern
2. Bone number 3, the fore leg
3. Then bone number 1 the shoulder.

But bearing in mind the tremendous effect of the shoulder blade angle whether positive or negative on the whole fore system.

Remains bone number 2, the fore arm, after some rest.
by
Ibrahim
on 10 May 2012 - 15:59
Now to understand bone's number 2 role and effect, we split the fore assembly system in two:
1. The shoulder, shoulder blade and fore arm.
2. Fore leg including pastern and foot

The fore upper arm being the connecting bone in between both of them.

When looking at bone number 2 effect in full open on the lower system, what matters is only the degree it opens to, the closer it gets to 90 degrees the better, because the more it opens the more it pushes the fore leg forward and then the pastern and thus more effect like what bone 3 & 4 do.
Why did we split in two systems ? because the length of upper arm is adjusted for in the shoulder itself, and therefore increase or decrease in its length is adjusted for in the shoulder and does not affect the lower parts in any way in a well balanced dog in the fore assembly.
by
Ibrahim
on 10 May 2012 - 17:01
When we look at the full fore assembly we should keep in mind the line of ideal balance.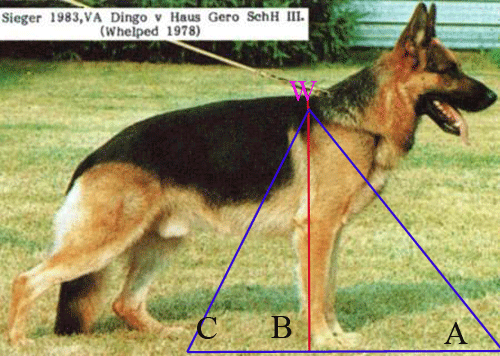 In standing position this line when vertical, starts from the top mid point of the shoulder blade and goes through the joint between fore leg and front upper arm then through pastern joint, it tells you this dog is correctly balanced in the fore assembly system.
Now let us look at the shoulder itself.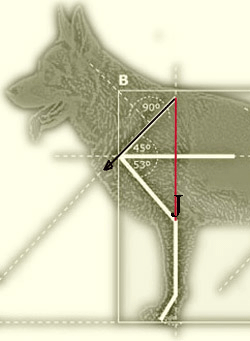 The red line is in proportion with the line continuing to the ground, in other words to the fore leg. So consider it constant in length and consider shoulder blade at the best angle of 45 which is the ideal in standing position with some increase when in full stride, and for ease of understanding think of the shoulder blade as a non-moving bone, though it does move to a certain extent. Now we have the red line as constant, shoulder angle is ideal at 45 degrees then what combination can take place in between the two bones number 1 and 2 from previous diagram?
Note that the best scenario is when the joint in between the two bones is placed forward/down in line with shoulder blade axis, why? refer to the effect of bone number 2 explained above, and add to it that this way it takes all lower bones in forward/down effect furthering the effect of open in each two adjacent bones and thus increases the distance BA as desired and discussed above.


by
Ibrahim
on 10 May 2012 - 17:21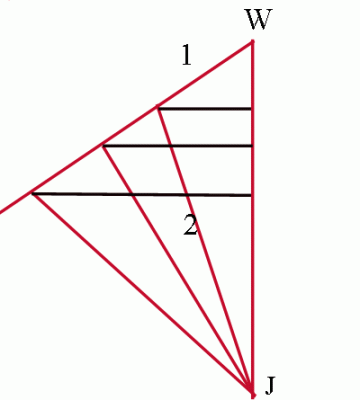 In a correctly angled shoulder blade, the longer it is the better the front upper arm angle gets. The controlling factor is the length of the shoulder blade, breed for correct lay of shoulder blade 1st, then longer shoulder blade and upper arm will follow. Watch the line of balance it should always be correct.

Now that is mathematics and physics, join it with genetics and actual knowledge from examining big number of dogs to have practical knowledge of realistic various proportions, and watch at what limits up or down a certain negative tendency appears to determine proportion ranges between all bones, best for big effective trot. Length and angle of upper arm themselves are not the goal, the aim is correctly laid and longer shoulder, front upper arm will follow, balance line is a must, without it you get nowhere.
Now to test other lengths or bones etc, you can assume a constant length and test two variables. Like keep shoulder blade constant and test front upper arm with the red line (in previous post fig) and do remember it is in proportion with total height/and fore leg), I guess that who put it at 45% ideal did something of this sort.

I am done Mr. Donald, Sirs and Ladies all comments are welcome.
by
susie
on 10 May 2012 - 18:28
Don´t kill me, this doesn´t belong to the topic ( you did an amazing research - great ! )...

I met Dingo several times, his gait was amazing, but the dog itself didn´t impress me at all. Dingo standing in front of me was a " normal" dog, and most of his progeny didn´t impress either.

Am I the only one who felt like this ???
by
Ibrahim
on 10 May 2012 - 18:37
I see this note is very important, any piece of info about Dingo is very important and dear, if you can still remember any more details about him, please do share them, no matter what they might look minute, someone may find a helpful connection somewhere, thanks Susie.

Ibrahim
by
susie
on 10 May 2012 - 19:49
That´s difficult to explain-if this dog would be your neighbours dog, you wouldn´t look twice. For me his front was too high, I didn´t like the shoulder/forecheast, people whispered about problems with the hips in his offspring. While running his ears often were down. Some of his sons were in my neighbourhood, good dogs, but nothing "special". Mostly the smaller breeders used him as stud.
But all of this is long ago, at least a high percentage of his offspring was titled...and that´s an imortant point.
You are good in maths, maybe you are able to determine the percentage of the possibility, that you still can find some Dingo gens in a dog bred today out of Dingo.
I really don´t want to blame this dog, all of this is MY subjective opinion, nothing else.
You must be logged in to reply to posts