Main > dear aldos mom (5 replies)
dear aldos mom
by
sammys mom
on 02 May 2012 - 01:10
Sorry, but I think thie mattre should be lookied into by a number of individuials. Dosen't say much for breeders at this point. Who do they answer to for creditability? Lets get this staright. This women works at a vetrinary hospital, comes across a lost dog that is chipped an tattooed and dosent bother to locate it's owner. She told you that the dog was adopted out and she couldn't give you any information? I would sue the Vetrinaliry Hospital. Then she used her authoiryt to get the breeders information off his chip? REALLY! Then she takes it apon herslf to breed this dog, sell the puppies and collect money while she know full well the owner is looking for it? I was told this women actually impersonated you. Is that true? I would use every resource possible to put this women in jail. She not only ripped you off, but what about these people who are buying her puppies. What is she telling them??? Seems to me you are legally entitled to some seriuos money as well as getting your dog back. I would suggets calling all of the news markets and give this this story. Shut this thief down. I would start by going after the Vertniary Hospital fiest. They have a reputation to uphold and she used their facility to pull a major scam. I would think thwey may be very receptive on helping out to keep themselves out of a law suit.. After all she did use their equiptment, facility and her job to pull off this scam!!


by
kitkat3478
on 02 May 2012 - 12:09
Thats a good point. I suggest you also go to every German Shepherd message board and post this. Lift her pics out of the newspapers with her donating pups to police, her position as president of schutzhund club has been abused. Through this dogs tattoo she knew she had an expensive dog. Hell, you can look at him and see that. k Isn't there anyone here that cares enough about the integrity of The Schutzhund org. to advise this woman and help here?
by
kitkat3478
on 02 May 2012 - 15:43
This is ALDO, Would you not want him back if he were your dog. This woman Pat paid good money to have this dog imported FROM GERMANY, Any one that knows the whereabouts of Aldo, PLEASE contact Pat. She DOES NOT want the money, she wants her dog!!!!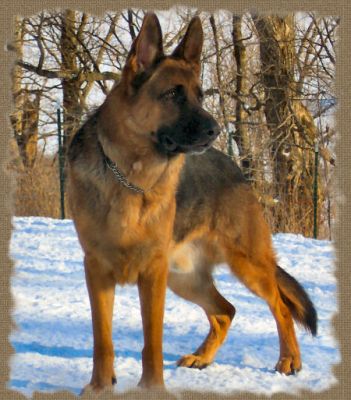 by
aceofspades
on 02 May 2012 - 17:27
He is gorgeous
by
ShelleyR
on 03 May 2012 - 02:16
He IS beautiful. Who wouldn't want him back?
by
Red Sable
on 04 May 2012 - 09:33
Yes, he is a very nice looking dog. I'm flabbergasted by what some people are capable of.
I hope you get Aldo back.
You must be logged in to reply to posts