Main > Keeping Your Dog Safe from Law Enforcement (303 replies)
by
alboe2009
on 16 May 2012 - 02:59
Fuel to the fire? It's a shame when individuals play with words.
by
GSD Admin
on 16 May 2012 - 05:21
http://www.animallaw.info/articles/dduspoliceshootingpets.htm



Pamela L. Roudebush



Animal Legal and Historical Center
Publish Date: 2002


Place of Publication:

Michigan State University College of Law
I. INTRODUCTION
When a case involving the shooting of a pet presents itself, several issues including applicable state laws, constitutional issues, and qualified immunity will come into play. When determining if pet owners have a cause of action for the shooting of their pet, each of these areas must be addressed and considered. Because the specific facts of each shooting will be different, each case must be considered on the individual circumstances involved. It is important that the laws pertaining to these cases not be viewed as one size fits all. The circumstances behind a shooting in one state may give rise to a cause of action; however, the very same circumstances in another state may not.
The following analysis will highlight and discuss the issues that will need to be addressed before deciding if a cause of action exists. This will then be followed by a discussion of current case law and the courts' application and interpretation of the areas of law pertaining to the topic of police shooting pets. Every case discussed or referenced in this analysis is linked in its entirety to assist in further reading and/or review.
II. STATE LAW
Most lawsuits involving animals continue to progress through our judicial system under the theories of property law. It is under property theories that pet owners receive their rights to the ownership and control of their pets and it is under the same theories that pet owners can be deprived of those rights and seek redress.
Pets, most commonly dogs, are defined as personal property under state law so it is important to research the applicable local laws. State statutes will be the governing law in this area as federal statutes are silent as to the definition of pets as personal property.
Some state statutes are clear and concise and only directly address the classification of dogs as personal property. Other state statutes are more detailed and include descriptions relating to all types of personal property in general including items such as criminal ramifications for interference with the property and subjection of the property to personal property taxes. The Oklahoma and Oregon statutes are just two examples of the former clear and concise type statute. Oklahoma's statute states: "[a]ll animals of the dog kind, whether male or female, shall be considered the personal property of the owner thereof, for all purposes." OK ST T. 21 § 1717. Oregon's statute is even simpler and reads that "[d]ogs are hereby declared to be personal property." OR ST § 609.020. The Delaware and Indiana statutes are two examples of the more detailed type state statute. The Delaware statute describes dogs as personal property subject to theft and reads in part "[a]ll dogs shall be deemed personal property and may be the subject of theft . . . ." DE ST TI 7 § 1708. Indiana defines dogs as personal property for tax purposes similar to other objects of personal property and reads in part "[a]ll dogs now within the state . . . brought into the state . . . kept, owned or harbored in the state . . . are hereby declared to be personal property and shall be subject to taxation at the full cash value thereof the same as other personal property." IN ST 15-5-10-1.
While many state statutes classifying "pet" animals as personal property refer specifically to dogs, some states have expanded their personal property classification to include cats and other animals. For example, Nevada's statute defining personal property includes "dogs and all domestic animals and birds." NV ST 193.021. New Mexico also includes other animals, specifically "dogs, cats and domesticated fowls and birds," in its statute and applies "all remedies for the recovery of personal property and of damages for injuries" to those animals as it would to other types of personal property in the state. NM ST § 77-1-1.
In addition to statutes that classify pets as personal property, other state statutes should be researched to determine their applicability to the particular facts. Statutes to consider when addressing the facts surrounding the shooting of a pet can include, inter alia, statutes pertaining to dangerous animals, loose animals, unlicensed animals, and holding periods for captured loose animals. As will be discussed later, statutes relating to these different topics can come into play when determining whether an official who shoots an animal was acting reasonably or properly at the time of the shooting. This can mean the difference between a pet owner having a cause of action against the officials involved in the shooting or having no opportunity for redress for the injury or loss of their pet.
It should also be noted that some states may have statutes that could provide causes of actions based on the facts surrounding the shooting of the pet. While this analysis will focus primarily on federal causes of actions based on constitutional Fourth Amendment violations, it is important for litigators to also determine whether state law claims exist for two reasons. First, if there is a Fourth Amendment violation, a pet owner might also have state law claims that should be raised in the federal courts to avoid being precluded from later filing the state law claim. Second, if there is no Fourth Amendment violation, there may still be redress for the pet owner under state law in the state courts. Any state law claims will vary from state to state depending on the applicable state statutes and should not be disregarded.
III. FOURTH AMENDMENT SEIZURES/TAKINGS
The right of the people to be secure in their persons, houses, papers, and effects, against unreasonable seizures, shall not be violated . . .
U.S. CONST. Amend. 4
All too often incidents involving shooting of pets occur when police are executing search warrants, which bring them directly onto the property or into the homes of the pet owners. Direct confrontations with pets can occur and the pets are usually the losers when they are injured or killed by the officers. This brings us to the question of whether the injury or destruction of a pet can be classified as an unlawful seizure in violation of the pet owners' rights to be free from unreasonable seizures of their property under the Fourth Amendment.
Pets are classified as personal property under state statutes; however, a reading of the U.S. Constitution's Fourth Amendment does not include the term "personal property." Does this mean that seizures of personal property are not covered? Luckily for the pet owner, the answer is no. The Supreme Court has held that personal property is considered an "effect" for purposes of being considered a seizure under the Fourth Amendment. The Supreme Court has stated:
. . . [I]n the context of personal property . . . our cases reveal some general principles regarding seizures. In the ordinary case, the Court has viewed a seizure of personal property as per se unreasonable within the meaning of the Fourth Amendment unless it is accomplished pursuant to a judicial warrant issued upon probable cause and particularly describing the items to be seized.
United States v. Place, 469 U.S. 696, 701 (1983). Further, the Supreme Court has stated unequivocally that a seizure of personal property occurs when "there is some meaningful interference with an individual's possessory interests in that property." United States v. Jacobsen, 466 U.S. 109, 113 (1984). The destruction of property is considered "meaningful interference" constituting a seizure under the Fourth Amendment because the destruction of property by state officials poses as much a threat, if not more, to people's right to be "secure . . . in their effects" as does the physical taking of them. Id. at 124-5.
Another question to be asked – does the Fourth Amendment only cover seizures of personal property that occur during a criminal search? Again, the Supreme Court has clarified this issue and stated that the reason why an officer might enter onto a person's property or into a person's home does not vitiate the question of whether a seizure has occurred and whether the Fourth Amendment applies. The reason can be for searches and seizures relating to both criminal and civil issues. "In our view, the reason why an officer might enter a house or effectuate a seizure is wholly irrelevant to the threshold question whether the Amendment applies. What matters is the intrusion on the people's security from governmental interference." Sobal v. Cook County, 506 U.S. 56, 69 (1992)(emphasis added).
Generally speaking, destruction of property that is not necessary to a law official's duties is considered an unreasonable seizure of property under the Fourth Amendment. The courts, based on the individual facts of the case, will determine whether the destruction of the property was reasonable. Although the courts will decide the reasonableness of a seizure on a case by case basis, the person considering filing a lawsuit for a pet's death must have a general idea of whether the officer's conduct in their particular case was unreasonable. Addressing the issues relating to immunity can accomplish this.
IV. IMMUNITY
Every person who, under color of any statute, ordinance, regulation, custom, or usage, of any State or Territory or the District of Columbia, subjects, or causes to be subjected, any citizen of the United States or other person within the jurisdiction thereof to the deprivation of any rights, privileges, or immunities secured by the Constitution and the laws, shall be liable to the party injured in an action at law, suit in equity, or other proper proceeding for redress . . .
A. Municipal Immunity
Common practice when filing a lawsuit against a police officer is to also name as co-defendants the police departments and the municipality employing the officer. Although these entities are not immune from having suits filed against them, they are initially immune from liability unless that immunity can be defeated -- defeating that immunity is an extremely tough hurdle to clear. Only "if there is a direct casual link between a municipal policy or custom and the alleged constitutional deprivation" can municipality immunity be defeated. City of Canton v. Harris, 489 U.S. 378, 385 (1989).
The primary case regarding municipality immunity is Monell v. Department of Social Services of the City of New York, 436 U.S. 658 (1978) which disallowed suits filed against a municipality on a respondent superior theory but allowed suits where the government has established a policy or permitted a custom which deprives individuals of their rights. The Supreme Court has clarified in later cases that this does not mean that a municipality cannot be sued under 42 U.S.C. § 1983 only that the municipality would not be liable unless a policy or custom caused the constitutional injury. A jury must be able to conclude that the actions arose from at least an informal governmental custom.
Unfortunately, there are currently no cases relating to the shooting of pets where municipality immunity has been successfully defeated. Although the issue of improper training has been raised in several cases involving pet shootings, under Canton only when "failure to train amounts to deliberate indifference to the rights of persons with whom the police come into contact" can immunity be defeated. Canton, 489 U.S. at 388. Deliberate indifference means that the municipality must make a deliberate or conscious choice to ignore people's constitutional rights. Errors or intentional behaviors on the part of an officer do not elevate to the deliberate indifference threshold for the municipality to have its immunity defeated.
It should be noted that while a municipality will probably have immunity for liability in the case of a pet shooting, it does not automatically follow that the individual officer(s) involved in the shooting will also have immunity.
B. Individual Officer(s) Immunity
When an officer conducts a search or acts "under color of law" in his official capacity as a police officer, he is generally not subject to liability under 42 U.S.C. § 1983. However, this qualified immunity is not absolute and can be defeated. The officer would be subject to liability if the following two-prong test is satisfied: 1) the officer's actions violated a clearly established constitutional right; and 2) under the circumstances, a reasonable official would have known that his or her conduct violated the right. Newsome v. Erwin, 137 F. Supp.2d 934, 944 (S.D. Ohio 2000). See also, Anderson v. Creighton, 483 U.S. 635 (1987)(officer absolved from liability if he can show that a reasonable officer with the information he possessed at the time could have believe that his conduct was lawful in light of established law) and Harlow v. Fitzgerald, 457 U.S. 800 (1982)(officials shielded from liability for civil damages insofar as their conduct does not violate clearly established statutory or constitutional rights of which a reasonable person would have known).
The first prong of the test to waive an official's qualified immunity can easily be established in cases involving the shooting of pets. It is clearly established that an individual's right to be free from the unreasonable seizure of property is one of the most fundamental and clearly established of all constitutional rights. As discussed in Jacobsen above, destruction of property can qualify as a meaningful interference with a person's possessory interest in their property and a meaningful interference can constitute a seizure under the Fourth Amendment. This has been valid law since 1984.
The second prong of the test can also be established with respect to shooting pets, but is not necessarily as clear. If the pet is considered personal property under the state law, again using the reasoning stated in Jacobsen, a reasonable officer would know that it is a violation of the Fourth Amendment prohibition against unreasonable seizures to unreasonably shoot that pet. It cannot be disputed that a pet is property and injuring or killing that pet would be "destruction" of that property.
Qualified immunity is not automatically waived or defeated simply because a pet is shot. This is where the second prong of the test can become hazy. The basis for weighing the officer's conduct is whether a reasonable officer would know his conduct violated the pet owner's right. This goes beyond just that of establishing that an action, the shooting, occurred. Unreasonableness does not mean that the action must have previously been held by statute to be unlawful. The officer must understand that his actions violate a right. The unreasonableness of the situation has to be viewed by the court on a totality of the circumstances presented. The courts will also address the applicable state statutes relating to animals.
Suppose an animal is running loose and posing a public danger, an officer might be justified in shooting that animal and his or her actions could be considered reasonable by a court of law. By acting to protect the public from danger, an officer might reasonably believe his actions in shooting the animal were justified and outweighed the owner's right. Another scenario that can arise is a state statute allowing an officer to immediately kill animals that are running loose or unlicensed (untagged/uncollared) rather than impounding them for a holding period. Again, an officer in this situation could be reasonably justified in believe his actions were proper and not a violation of the owner's rights.
Another issue that commonly makes its way into defense arguments in cases involving pet shootings is the issue of the animal's behavior at the time of the shooting. Many cases involving animal shootings will involve an officer who claims to have reasonably believed that the animal was a danger or a threat. If the circumstances do show that the animal was a threat or that under reasonable circumstances could have been perceived as a threat, the courts will genially allow the immunity to stand. Constitutional actions are not automatically rendered as unconstitutional simply because force has been used by the officers involved. See e.g. Brandon v. Village of Maywood, 157 F. Supp.2d 917 (N.D. Ill. 2001)(immunity upheld since an officers' split-second decision emanated from their desire to avoid being injured by a dog with an unknown propensity for violence) and U.S. v. Gregory, 933 F.2d 1016 (9th Cir. 1991)(shooting, though regrettable was done excusably by an officer who reacted quickly to a perceived attack by an animal reasonably believed to be an attack dog).
Where an animal is found running loose or posing a danger, the state would have an interest in protecting the person and property of others and may be justified in killing the animal. However, an officer cannot simply kill a pet that poses no immediate danger. [See, Viilo v. Eyre, ---F.3d.---, 2008 WL 4694917 (C.A.7 Wis.)), where the court held that it is a violation of the Fourth Amendment for a police officer to shoot a companion animal that poses no imminent danger while the dog's owner is present and trying to assert custody over her pet. Eds.] To determine reasonableness when a seizure occurs without a warrant, the government must "balance the nature and quality of the intrusion on the individual's Fourth Amendment interests against the importance of the governmental interests alleged to justify the intrusion." Place, 469 at 703. An insignificant or minor governmental interest will not outweigh an extreme intrusion on an individual's possessory interests in their property.
Qualified immunity is an affirmative defense that must be raised by the official being sued for the shooting of a pet. In order to state a claim of constitutional violation, the pet owner does not "need to plead facts showing the absence of such a defense." Black v. Coughlin, 76 F.3d 72, 75 (2nd Cir. 1996). In other words, qualified immunity must be either clear as a matter of law or proven by the official claiming immunity – it is NOT automatic. The Black court stated, "in order to show entitlement to qualified immunity a defendant must establish that he had an objectively reasonable belief that his act violated no clearly established rights." Black, 76 F.3d at 75 (citation omitted). The courts addressing qualified immunity questions must weigh the pet owner's Fourth Amendment rights to their pet against the reasonableness of the officer's actions in promotion of a legitimate government interest.
A final important thing to remember with respect to an individual officer's immunity is that if an officer's actions are unlawful (i.e. reckless, wanton, or unnecessary), the fact that he is acting under a valid warrant or valid government interest will be moot. A legal purpose does not overcome improper or unreasonable actions with respect to constitutional violations.
by
GSD Admin
on 16 May 2012 - 05:21
V. CASES
The cases to be briefly addressed below do not all hold that the killing of someone's pet was an unreasonable Fourth Amendment seizure. Several of the cases have been added and discussed to show the importance of researching the state statutes and how these statutes come into play in a court's analysis of whether a Fourth Amendment claim or immunity exist. Most of these cases relied heavily upon the reasoning and principles previously discussed above to determine whether seizures had occurred and whether qualified immunity was defeated.

This case centered on police officers intentional killing of a pet dog that was sitting on a backdoor step in its owner's garage.

Plaintiff's dog was running loose and being pursued by police officers. However, the dog had already returned home and was calmly sitting in a parked car when the pursuing officers arrived at plaintiff's home. The officers entered on the plaintiff's property with the expressed intent of killing the dog. When the officers approached, the dog exited the car and attempted to escape by going to the backdoor step at the end of the home's garage. The police officers entered the garage and shot the dog with a shotgun.

The court addressed the Texas statutes applicable to the shooting. First, it noted that dogs were considered personal property in Texas and that the general rule was that owners could recover for wrongful injury or killing of their dog. One statute existed pertaining to dogs running loose, however, the court pointed out that the statute did not provide for the immediate killing of loose dogs; the ordinance instead provided that loose dogs should be impounded, held for a period of three days, and killed if unclaimed during the holding period. Another statute the court discussed was a vicious dog statute that allowed for the killing of a dog that was running loose and endangering persons or property. The court noted that this statute was only applicable in situations where the threat was imminent and the killing was a real or apparent necessity. In addition, the court stated that under Texas law, a police officer would be civilly liable for his acts when he acted in a wrongful manner and was guilty of a trespass regardless of whether he was performing an official duty.

The court opined that 1) the dog was not an immediate threat to public safety under the confines of the viscous dog statute as it was sitting quietly by the door when it was shot; 2) the dog was not running loose at the time of the shooting and, even if it had been, the loose dog statute required impoundment not killing; and 3) the officers did not have permission to go onto plaintiff's property and were therefore guilty of a trespass. Based on these determinations, the court upheld the lower court's jury determination that the officers involved were personally liable for their trespass and wrongful actions in the death of plaintiff's dog.

While damages are not being discussed in this analysis, it should be noted that the jury's award of monetary damages for the mental pain and suffering of the plaintiff were also affirmed.

This case was decided solely based on applicable Texas state law. The issues of whether there were any constitutional violations or qualified immunity for the officers did not come into play since the court determined that the officers had violated a state statute providing for liability. This case was also decided before any of the court decisions that make up the current common law for cases involving pet shooting.

The portion of this case to be discussed centered on the killing of three dogs by sheriffs deputies on plaintiff's property.

Members of the local sheriff department shot plaintiff's three dogs while they were on the plaintiff's property. Plaintiff contended that the officers had entered onto his property without a search warrant in violation of Wisconsin law and shot his dogs out of malice and in conspiracy with other persons. One of the dogs was shot four times as it attempted to flee its doghouse. The plaintiff contended that this was a violation of his Fourth Amendment rights. Sheriffs deputies contended that the dogs had been seen on several occasions running at large and had threatened and acted aggressively towards one of the deputies while they were running loose in a local park.

Before the court determined if there was a Fourth Amendment violation, it looked at Wisconsin statutes to determine whether the officers had properly entered on plaintiff's property and shot the dogs. At the time of the shooting, Wisconsin had a statute that contained a rebuttable presumption that dogs without licenses attached to their collars were unlicensed. The statute allowed this presumption to be rebutted by an owner who showed that the dog was licensed or that its collar or license had been removed without his authority. The statute further gave various law enforcement officials the right to enter onto a person's property for the purposes of seizing an unlicensed dog or a dog that had been running loose. Before entering onto the plaintiff's property, the deputy sheriffs contacted the local district attorney for advice concerning the dogs. They were told that if the dogs were vicious and could not be apprehended that they should be destroyed.

The evidence presented showed that the dogs were unlicensed (and plaintiff did not adequately introduce evidence to the contrary) and the dogs were previously running loose. Therefore, under the state statute, the court opined that the officers were allowed to enter onto plaintiff's property and it was not unreasonable for them to do so. As a result, the court ruled that there was no violation of plaintiff's Fourth Amendment rights.

Although there was no violation, the court did state in a lengthy section of dicta that while the entry onto the land was not unreasonable, it felt that the district attorney had given the deputies somewhat "sketchy legal advice" when he told them to destroy the dogs and that the officers' conduct in doing so was offensive to the court. The court noted that the law clearly intended the officers to make an honest attempt to retain, control and capture the dogs before shooting them and that shooting the dogs should have been a last resort. Different methods that could have been employed to capture the dogs along with common sense issues relating to capturing dogs and dog behaviors were also discussed by the court. The court did note, however, that even though it found the officers' conduct to be offensive, it did not rise to the level of a 42 U.S.C. § 1983 claim because it did not rise to the level of being a constitutional violation.

In addition, the court was careful to clarify that its statements concerning disapproval of the handling of the situation were not to be interpreted to mean that law enforcement officers could not protect themselves against what they rationally perceived to be a threat of serious bodily harm by a vicious animal they were trying to catch.

The portion of this case to be discussed centered on the seizure of a dog from the control and custody of a K-9 police officer's home.

The Little Rock Police Department decided to kill plaintiff's K-9 partner after the dog bit a small child. Officers from the police department went to plaintiff's home to remove and kill the dog. Plaintiff had originally donated the dog to the police department with an agreement that he could reclaim the animal if he was unsuitable for police work. The plaintiff notified the officers that he intended to reclaim the dog. He was told that if he did not relinquish custody of the dog he would be terminated from his employment. Plaintiff relinquished the dog to the officers and filed suit alleging that the dog had been seized in violation of his Fourth Amendment rights. The police department countered that it was the owner of the dog and that no seizure had occurred since plaintiff voluntarily relinquished the dog. The police department also contended that since there was no search there could be no seizure.

Although the court noted that there was a discrepancy as to the ownership of the dog, there had been a seizure when the officers removed the dog from plaintiff's home. The court noted that case law does not require a search to have occurred in order for a person's constitutional rights to have been violated – any seizure is subject to being scrutinized for a violation of Fourth Amendment rights regardless of the reasons for the seizure. In response to the police department's argument that the dog was their property and the plaintiff was an employee, the court noted that although employee's rights are somewhat diminished in the workplace, employee's rights are the same as a public citizen with respect to their homes. Seizure of property from government employees is still subject to Fourth Amendment scrutiny. As to the argument that plaintiff relinquished the dog, the court noted that case law was clear that public employees could not be forced to relinquish their constitutional rights under the threat of losing their jobs. Plaintiff did not waive his right to be free from unreasonable seizure when he relinquished the dog to save his job.

The court opined that if plaintiff had not been a police officer the taking of the dog would unquestionably have been a seizure. The court reiterated case law that any search or seizure of property without a warrant is per se unreasonable. Public employees are entitled to constitutional protections just as private citizens -- especially in their homes.

The portion of this case to be discussed centered on the shooting of plaintiff's dog when officers were investigating a matter near the plaintiff's home.

As the police officers were passing plaintiff's yard, his dog stood up from where he had been lying. The dog neither growled nor moved toward the officers. Plaintiff overheard one of the officers tell the other to kill the dog. Plaintiff pleaded, to no avail, with the officers that he could control his dog and for them to not shoot him. One officer shot the dog in the shoulder and was told by another officer to finish off the dog. The dog was then shot in the head in front of plaintiff. Plaintiff contended that his Fourth Amendment rights were violated when the officers unreasonably killed his dog.

The court noted that a seizure is subject to Fourth Amendment scrutiny even if no search has taken place. The court discussed case law relating to what constitutes a seizure including meaningful interference, effects, and possessory interests. The court determined that there had been a meaningful interference with plaintiff's possessory interest in his dog resulting in a Fourth Amendment cause of action.

This particular case has had an interesting and rocky history. Plaintiff had alleged a constitutional violation for the killing of his dog and for a seizure of his person, along with excessive force used by the officers on him after he became angry over the killing. The lower court granted summary judgment for the officers for plaintiff's failure to state a claim. The appellate court reversed the portion of the case involving the shooting of the dog but concluded there was no violation of plaintiff's individual rights relating to his person and remanded the case. The U.S. Supreme Court refused certiorari. On remand, the lower court again entered summary judgment for the officers. The lower court granted the officers immunity because it determined that the law was not clearly established that the killing of a dog was a seizure. The appellate court, in an unpublished opinion, noted that the destruction of an animal had clearly been established law since 1984 and as such the officers were not entitled to qualified immunity for the unreasonable seizure of the dog. The U.S. Supreme Court again refused certiorari.

The portion of the case relating to plaintiff's individual assertion of a seizure against him and excessive force was later overruled in another decision when the appellate court clarified what it felt could be a misconstruction of its boundaries relating to seizures of a person. The overruling court did not make any mention nor did it discuss any portion of this case relating to the violation of plaintiff's Fourth Amendment rights for the seizure of his dog.

Although this case has had such a turbulent history, the most important point in this case is that in two instances the U.S. Supreme Court refused certiorari. The first instance was when the appellate court determined that an unreasonable seizure did occur when plaintiff's pet was shot. The second instance was when the appellate court determined that the officers were not entitled to qualified immunity because the law was clearly established that destruction of property is a meaningful interference with property and constitutes a seizure.

The portion of this case to be discussed centered on the shooting at direct range of a tranquilized pet lioness located several feet away from the barn from which she escaped.

Plaintiff's pet lioness had escaped from a fenced in enclosure and had been shot by plaintiff with a tranquilizer. Before the tranquilizer began working, the lioness jumped back over the fence into the enclosure. Against the plaintiff's contentions that the lioness was declawed and safe, the supervising officer ordered the lioness killed. After the tranquilizer had disabled the lioness, a sheriff walked up to the downed lioness and shot her point-blank in the head. Plaintiff contended, inter alia, that the shooting of his pet lioness violated his Fourth Amendment rights.

In determining whether plaintiff had a cause of action, the court discussed case law as to what constituted a seizure, whether a pet was considered an "effect", and whether the shooting of the lioness had been unreasonable. The court determined that a pet was property subject to seizure, the shooting had been unreasonable and unnecessary under the circumstances, and plaintiff's Fourth Amendment rights were violated.

The court then addressed whether the supervisor who ordered the shooting had qualified immunity. To determine whether the supervisor's immunity could be defeated, the court address the two prong test of whether a clearly established constitutional right had been violated and whether a reasonable officer would know that his actions would violate that right. In this case, the owner's Fourth Amendment right was violated and the law has clearly established that the unreasonable shooting of a person's pet would violate that right. The court determined that no reasonable officer could claim that he did not know that shooting a tranquilized pet lioness point-blank several feet away from its barn in front of the owner would be a violation of the owner's rights. The court determined that the plaintiff could state a cause of action for deprivation of his Fourth Amendment rights and could also defeat the supervisor's qualified immunity defense.

The court was careful to point out that its ruling did not mean that any shooting of an animal would be a violation of a person's Fourth Amendment right. It was noted that the court could have reached a completely different decision in a case where the lioness was wandering the neighborhoods or posing a danger to others. The killing of the animal under those circumstances could be reasonable and/or justified. In this case, the animal was no longer running loose, was several feet away from her enclosure, and was tranquilized. There was no reasonable justification for her shooting.

The portions of this case to be discussed centered on the shooting of a loose dog by a police officer in front of the dog's owner.

Plaintiff's dog had gotten loose from her yard and was walking around the neighborhood. A passing police officer spotted the dog and approached her. Although the dog was not behaving in a violent manner and the owner was nearby screaming "that's my dog, don't shoot", the officer fired five shots killing the dog. For a more detailed description of facts surrounding the shooting, see Factual Scenario of Immi's Shooting. Plaintiff contended that the individual officer, together with several municipality officials and the municipality, had violated her Fourth Amendment rights for the seizure of her dog.

To determine if a seizure had occurred, the court first reviewed case law on what constituted a seizure and determined that case law clearly established that the meaningful destruction of property was a seizure. The court then reviewed state statutes and determined that dogs are considered personal property in Pennsylvania. Plaintiff was determined to have a possessory interest in her dog and any interference or destruction of that dog was a seizure under the Fourth Amendment.

After determining that destruction of the dog was a seizure, the court addressed the issue of whether it was unreasonable. Balancing the state's interest in public safety against the plaintiff's possessory interest, the court determined the killing of the dog was unreasonable because the dog posed no immediate danger and the owner was present to take custody of the dog. The court also noted that there were no state statutes pertaining to loose dogs or allowing an officer to kill a loose dog. The court then turned to the question of the officer's qualified immunity.

The court reiterated the common law principles that destruction of property is a meaningful interference with that property and absent a compelling government interest is unreasonable. Applying the test for qualified immunity, the court opined that under these clearly established principles no reasonable officer could conclude that his shooting of the dog was lawful and therefore immunity was defeated.

The plaintiff also contended that the municipality and its supervisors were liable for her Fourth Amendment violations. Because the plaintiff was unable to establish a direct causal link between the municipality and its supervisors and was unable to establish a custom or official policy supporting the shooting, the court determined the immunity of the municipality and its supervisors was not defeated.

While this paper has not discussed the awarding of damages, it is important to also note that this court upheld a claim filed by plaintiff against the officer for intentional infliction of emotional distress. The court noted that where malicious behavior is directed at a pet it is readily apparent that a serious emotional injury can potentially occur to the owner. The court noted that while cases involving this issue have been rare, cases in Vermont, Alaska, Florida, California, Idaho, and Texas have upheld a view consistent with its decision that the tort claim could be filed.
VI. CONCLUSION
While the issues involved in the decision to bring a cause of action for the shooting of a pet may seem complex, they are not by any means insurmountable. There are two general steps to follow to make the determination of whether or not a cause of action exists:
1) Review the state statutes to determine if the pet is considered property subject to seizure. In addition, review any other state statutes relating to animals that may be applicable; and
2) Determine whether immunity can be defeated by addressing the policies of the municipality and the actions of the officer(s) involved.
If the pet is personal property subject to a seizure, no other state statutes defeat or authorize that seizure, and an entity or the officer involved can be held liable by defeating their immunity, a cause of action can be stated and potentially maintained successfully on behalf of the pet owner.
Although the U.S. Supreme Court has never actually decided a case based on a dog shooting, current common law follows several important Supreme Court cases with respect to the classification of property, seizures, and qualified immunity. In addition, the U.S. Supreme Court has twice refused certiorari in one case – first when the appellate court determined that the shooting of a dog was classified as a seizure and second when the appellate court later determined that the officers' qualified immunity was defeated. While the Supreme Court may not have actually spoken on these two issues in dog shooting cases, its refusal to review the appellate court's determinations in such a case is significant.
With a little research and diligence on the part of the litigator, a case can be made for the owners of pets who have been shot by police officers. The shooting of someone's pet by a police officer is not an automatically acceptable practice in our courts of law.
by
GSD Admin
on 16 May 2012 - 05:33
http://www.aspca.org/About-Us/policy-positions/law-enforcement-response-to-potentially-dangerous-dogs
Position Statements on Law Enforcement Response to Potentially Dangerous Dogs
Background
The ASPCA receives regular reports of incidents in which dogs have been shot, often fatally, by police officers in the conduct of their regular duties. Although some of these animals may have been utilized as weapons by their handlers or been involved in attacks on people or other animals, many cases have involved family pets killed on the owner's property. Police department policies generally grant broad powers to officers to shoot animals if the officers feel that they are in "imminent danger" or if a dog has killed or is in the process of attacking people, livestock or other pets.
Most police departments require detailed reports any time an officer discharges a firearm, even accidentally. Some of these reports reveal a disturbing trend. Our review of public records of firearms discharges by police indicates that it is common for 50% or more of all shooting incidents to involve an officer shooting a dog. Many of these incidents involve multiple shots fired and many do not result in the dog's swift, humane death.
Policies that require only that an officer "feel" threatened set a very low threshold for justifying the killing of dogs. In virtually all cases we have examined, internal reviews of dog shootings have ruled them to be justifiable under existing policies, even though several cases have resulted in substantial civil judgments against police departments for wrongful destruction. Such incidents not only jeopardize the lives of companion animals, but also undermine the reputation of law enforcement agencies in the community.
Police rarely receive any training that would allow them to rapidly and realistically assess the degree of danger posed by a dog; nor are they routinely informed about or trained to use any of the wide variety of non-lethal tools and techniques available to them as alternatives to shooting. Examples of such alternatives include batons, OC spray, Tasers and chemical capture. Most departments do not have relationships with area animal control agencies, humane societies or SPCAs that could provide training or assistance in responding to calls where dogs are known or suspected to be present. Since more than one-third of American households have a dog, officers are likely to encounter dogs whenever they approach or enter a residence. Although they may encounter truly dangerous dogs in some situations, the majority of dogs they are likely to meet are well-behaved family pets that are legitimately protecting their homes and families from intruders.
ASPCA Position
The ASPCA believes that most instances of police shootings of dogs are avoidable. The Force Continuum concept has been helpful in reducing unnecessary injuries to the public and professionals in encounters with potentially dangerous people. Law enforcement agencies are recognizing that similar benefits can be gained by applying this concept to encounters with potentially dangerous animals.
There are many steps that law enforcement agencies can take to prevent the needless killing of dogs and reduce the high risk of injuries to officers and the general public in such instances:
Establish better communication between area law enforcement and animal care and control agencies, including sharing of information about addresses with histories of calls for violent offenses or dangerous animals and establishing procedures for enlisting assistance from these agencies in planning responses to situations where dogs are known or likely to be present

Review existing policies and data on dog shootings and institute administrative review of all such shootings that includes an evaluation of their justification

Provide officers with training in identifying and assessing potentially dangerous dogs, as well as instruction on how to use their existing equipment (e.g. baton, OC spray) more safely and effectively in situations with potentially dangerous dogs

Provide officers with additional up-to-date equipment that can be used as an alternative to lethal force (e.g. catch poles, nets, etc.) and proper training on its use

Enact a Force Continuum policy for encounters with dogs, similar to that for encounters with people, that stipulates an escalating scale of options in which lethal force is considered a last resort
When lethal force must be used, officers should be trained how to do so humanely to prevent or quickly end suffering. The following reflects a policy that is currently in use by several agencies:
"Police officers shall not discharge their firearms at a dog or other animal except to protect themselves or another person from physical injury and when they have exhausted other reasonable means to eliminate the threat. If a decision is made that the animal must be killed, the officer must make every effort to insure that the discharge of his weapon is done as safely as possible. The officer should also try to kill the animal in a humane way to keep the animal from undue suffering or escape."
by
Ninja181
on 16 May 2012 - 16:40
Anyone have the statistics of how many police officers are bitten in the line of duty yearly? I think it's relevant to this thread.

There are over 800,000 thousand dog bites a year in the USA. One out of 6 requires medical treatment. Over one billion dollars in medical payments yearly.

Dog bites are a major problem.


by
momosgarage
on 16 May 2012 - 17:21
Anyone have the statistics of how many police officers are bitten in the line of duty yearly? I think it's relevant to this thread.

Ninja181, no such statistic has been analyzed nationwide, nor is there enough released data to make a proper national analysis. The main reason, besides a lack of funding for such a niche study, it is also because many police department across the nation will not release the data needed to do such research. Even Freedom of Information Act requests have been denied or ignored. As I and others stated earlier, the data does exist in police departments across the nation telling EXACTLY how many dogs are shot per year and under what circumstances. Its highly probable that the data also shows how many officers are bitten in the line of duty within the same databases/file cabinets. Problem is no one can get the data to answer how many "dog bites occur on officers", "dogs that are shot by Offiers" and "the conditions the officer was under to justify shooting".

German shepherd dog (admin), findings posted on the Animal Legal & historical Canters website somewhat supports my suspicion that "affluent communites" will have more clear legal definitions and guidelines for LEO's to follow. Most likely because if the residents have access to real legal representation they are likely to use it when needed. The only way LEO departments can cover thier butts in such communities is to be very clear as to what an officer can legally do. In a less affluent community the codes are likely looser and open to interpretation, the side effect being an officer can slide on legal ambiguity.


,
by
Gigante
on 16 May 2012 - 18:52
Anyone have the statistics of how many police officers are bitten in the line of duty yearly? I think it's relevant to this thread.




Facts on officer injuries: Dog bites :: The exact number is inconsequential as a group compared to anything else. None would be great, but officers are in a job with high injury rate.


Twenty-seven percent of the line-of-duty injury cases are caused by assault or violence; 16.5 percent are attributed to vehicle accidents; 0.5 percent to being struck by a vehicle; 19 percent to a fall or jumping; 24.5 percent to physical stress and overexertion; 2 percent to fire and hazardous substances exposure; 9.5 percent to being struck by or contact with an object; and 2.4 percent to other causes.
http://www.nij.gov/journals/262/police-officer-injuries.htm


Despite popular belief, there is no dog-bite "epidemic." There is no national system in the United States for tallying reports of dog bites. The often-repeated estimates of a nationwide total of dog bites are derived from telephone surveys, the first of which was conducted in 1994. From among the 5,328 persons who responded to this survey, interviewers obtained reports of 196 dog bites believed to have occurred within the 12 months prior to the interview. Only 38 of those sought medical attention.

The overwhelming majority of dog bites are minor, causing either no injury at all or injuries so minor that no medical care is required. Fewer than 2 percent of the individuals visiting an emergency room complaining of a dog bite require hospitalization. By way of comparison, in 2009, almost five times as many people went to an emergency room because they had been assaulted by another person as opposed to people who went because they had been bitten by a dog. Approximately 5.7 percent of those assaulted by another person were thereafter hospitalized.3

In fact, dogs are seldom dangerous. According to Janis Bradley, author of "Dogs Bite, but Balloons and Slippers Are More Dangerous," more people are killed by lightning each year than by dogs. Despite the increase in the number of dogs and people in the United States, dog- bite-related fatalities are exceedingly rare and have not increased over the last two decades: 25 were reported in 1990 as compared to 24 in 2008. Although the number of fatalities fluctuates, it remains low from year to year.





Data provided by : The Office of Community Oriented Policing Services (the COPS Office) is the component of the U.S. Department of Justice responsible for advancing the practice of community policing by the nation's state, local, and tribal law enforcement agencies through information and grant resources.
by
Gigante
on 16 May 2012 - 19:11
Yikes.. where did they get this dog...


May 14--A Metro Police dog entered a backyard Monday morning with a clear mission: Corner the suspect hiding out back there.

When the suspect attempted to flee, the dog stayed true to its mission and bolted over the backyard wall right behind the suspect. And that's where the mission fell apart.

In an apparent state of confusion, the dog bit a patrol officer on the other side of the wall, prompting another officer to shoot the dog.

Police said the incident unfolded shortly after 11 a.m. Monday when a man called 911 and reported his male friend was "acting erratically with a knife" in the 200 block of Wisteria Avenue. Police said they also received reports that the man had been going door-to-door and had tried to enter at least one residence in the western valley neighborhood near Jones Boulevard and Alta Drive.

The suspect, who was possibly chasing after a roommate, ran from police when officers arrived, setting off a foot pursuit through the neighborhood, Metro spokesman Bill Cassell said. Officers caught up with the suspect, but a struggle ensued and the man fled again, he said.

The suspect broke into at least two homes in the neighborhood during the pursuit, Cassell said.

Eventually, a police helicopter located the suspect in the backyard of a residence on Upland Boulevard, a street parallel to Wisteria Avenue, Cassell said.

Upon arrival, officers called in a K-9 unit, which sent a police dog into the backyard to force the suspect to comply, Cassell said. That's when the suspect jumped the wall and ran.

The dog followed the suspect, but apparently became confused and bit a patrol officer approaching from the other side, Cassell said. The dog's K-9 handler tried to get the dog off the officer, but the dog tried to bite again, at which point another officer shot the animal, police said. (Hmmm)

In addition to physical efforts, authorities tried to subdue the dog with a Taser before the officer resorted to using a gun, said Capt. Larry Burns of Metro's Bolden Area Command, which covers the neighborhood where the incident happened. (Hmmm again)

The dog was taken to Metro's veterinary clinic, where it was stabilized and sent to a trauma center, Cassell said. The condition of the dog is unknown at this time.

Burns said the sad situation has upset all the officers, who are hoping the dog recovers.

"This dog is very athletic," Burns said. "It scaled those big walls with no problem."

The officer bitten suffered minor injuries and was transported to University Medical Center, Cassell said.
by
momosgarage
on 16 May 2012 - 21:08
The dog followed the suspect, but apparently became confused and bit a patrol officer approaching from the other side, Cassell said. The dog's K-9 handler tried to get the dog off the officer, but the dog tried to bite again, at which point another officer shot the animal, police said.

Ha, they'll even shoot thier own K9. Is the LEO going to be "charged" with for shooting an "officer" as a civilian would? I think this supports one of my earlier ideas that all officers should recieve on the job dog handling experience and prefferably some prior dog ownership before even being eligable to be hired.

BTW, I read an article that said the dog recovered
by
destiny4u
on 16 May 2012 - 21:17
good god this is disgusting
by
Ninja181
on 16 May 2012 - 21:35
Seems to me this site always has people who have never seen one day of battle pontificating how we should fight a war.

Since we have an abundance of hissing energy bashing our local law enforcement posters, why not direct that energy to good use? If you can construct a couple hundred page post, why not construct a letter and direct it after the correct culprits. That's right, find a case where you think one particular law enforcement agent acted unlawfully. Send a few letters to that person's chief, the mayor of that town, the local newspaper, the city council etc. demanding a full investigation. Why vent here, actually do something about it.

Since if you have decided to get involved and save humanity why not clean up your own occupation first. Almost weekly I read about doctors removing the wrong kidney, operating on the wrong knee, giving the wrong type of blood etc. So the next time you go to your doctor, can we count on you to blame him for all these errors? If you're involved in the medical field, what are you doing about this?

Every week I read about priest and teachers sexually abusing children. Farmers who have sex with their livestock.

How many of you work with people who sell drugs or stolen property at your worksite? Do you just turn your head and look the other way?

There are posters on here who are hardly exemplars of traditional moral values who probably shouldn't even be parents.

There are narcissistic opportunist breeders on here that probably shouldn't be breeding, as well as people posting who breed but won't even admit it.

Every profession is flawed; we don't need informinational hypochondriacs bashing the law enforcement members who do an excellent job.

It's not a PERFECT WORD; there are people in all professions who don't belong in their chosen field. Those individuals should be held accountable, not their whole profession.



by
Ninja181
on 16 May 2012 - 21:41
Hospital emergency wards ARE tracking dog bites. They are also asking patients what BREED of dog bit them.

Source of info: ME

by
Gigante
on 16 May 2012 - 21:45
BTW, I read an article that said the dog recovered



Im glad the dog made it, but I hope he is retired. Wont out, thats not good.. Gotta be a Mal.



by
momosgarage
on 16 May 2012 - 21:54
Since if you have decided to get involved and save humanity why not clean up your own occupation first.

Every profession is flawed;
Actually there is one BIG difference, most folks don't carry a a gun to work with the aurthority to point and shoot at another living being. Second, other profession such as doctors, engineers, etc have insurance premiums to worry about and if a victim is properly represented insurance will PAY out to a wronged plantiff. When an LEO screws up they get unpaid leave or desk work, most other professionals under similar circumstances would find themselves out of work for LIFE and would need to change careers.

Police, Politians and Judges SHOULD BE HELD TO AN ENTIRELY DIFFERENT LEVEL OF ETHICS. All three have one thing in common than no other professions have. They ALL can decide LIFE or DEATH by the stroke of a pen. Politians and Judges sign death warrants before anyone dies, however, in the case of LEO's the stroke of the pen to clear an altercation can come after a life is exstinguished.
by
ggturner
on 16 May 2012 - 21:56

UK police attacked by a dog.
by
Gigante
on 16 May 2012 - 22:11


What does any of that stuff have to do with this thread. For the most part someone is focused and going after those people already. Who goes after the ones this thread is speaking about, no one yet. There is no organization as of the moment, that address's this issue.



we don't need informinational hypochondriacs bashing the law enforcement members who do an excellent job.



Love the term havent heard that one before. Skimming along reading what you wish to read, has left you misinformed. No law enforcment members doing an excellant job have been bashed, what in the name of corn on the cobb are you talking about.
by
Ninja181
on 16 May 2012 - 22:15
At a recent cookout at my son in laws mansion. Among the numerous guests were at least 20 members of one on the neighboring cities Police Departments. After having a few beers and joking around I asked them off the record about a recent article I had read. The gist of the article stated that because of all the law suits over police brutality, excessive force, violation of civil rights etc., the police are somewhat reluctant to respond during the comission of a crime. That they would almost rather arrive after the crime is over, collect information, fill out reports and get warrants, then pursue the criminals. They all off the record agreed.

Now this is the frame of mind because of over regulation, and society over reacting. And of course frivolous law suits.

So if your MO is to keep pounding on the Police, one can only hope you don't seriously need them at some point in your life.

Here is Pango at the front of the mansion.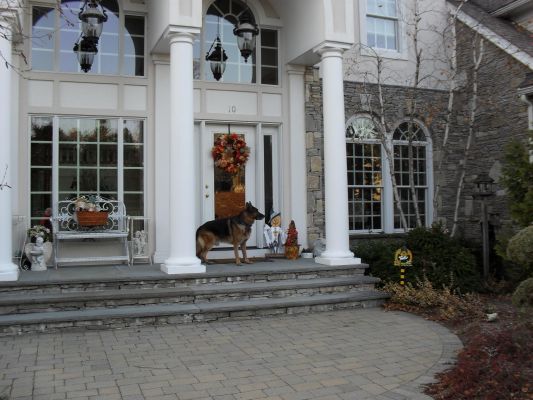 by
momosgarage
on 16 May 2012 - 22:18
Here is a site on dog bites in the U.S. and it does not coincide with your information

ggturner , are you intentionally trying to redirect this discussion? Dog bites are not relevant to any of the cases presented, where cornered, fleeing, non-threatning pets were shot by LEO's.

LEO's are also shooting CATS!!! Where is animal control in these cases?

http://www.wpxi.com/news/news/familys-cat-shot-killed-by-police-officer/nGZ4C/

http://www.officer.com/news/10342180/family-wants-policy-changed-after-ohio-police-kill-cat

Also, even IF dog bite data on LEO's was relevant, LEO departments are NOT releasing the data to support such a claim. We have been talking about animals owned by civilians who WERE NOT SUSPECTED FELONS, whom happened to be on the other end of an LEO's "mistake" resulting in the death of the animal and a "we're sorry, wrong house" statement. In fact, your point was already positively supported earlier in the thread. We are PAST your discussion point because it was already agreed that if an LEO's life is TRULY in danger they should be able to defend themselves against said animal. But since you weren't paying much attention, I'll let you slide and remind you that your point was already made and overwhelminly supported. So, no more need for your "but, dogs bite LEO's" comments.
You must be logged in to reply to posts