Drive, drive, drive!
by
workingdogz
on 27 February 2012 - 13:40
All this talk about building drive filtered over
to our training group this weekend. Am very
curious as to others outlook, opinions and
actual experience with this subject-so here
goes!

"Can you in fact 'build drive' in a dog?"

By this, I refer to the people that talk about
doing 'drive building' with their puppies/dogs.

It has always been my opinion, as that of my SO's,
that the dog/pup either has drive, or it doesn't.
Obviously that can vary with levels from low to off
the walls, but really, do you think you can 'create'
drive in a pup/dog?

Or do you feel like many of us, you are wasting
valuable time fooling yourself into thinking you
can put more drive into a pup/dog?

Let'er rip!


by
BMartin
on 27 February 2012 - 14:03
I think the dog is either born with it or without it. Think about it like a professional fighter or really any professional athlete for that matter... they were obviously born with a certain skill set that enables them to perform at a high level, but those skills were tuned in order to achieve their level of success. You know with a 6-7 week old puppy whether or not it has prey/toy/food drive, it's up to you as a handler to enhance and tune those drives into a tool for you both to success.
by
brynjulf
on 27 February 2012 - 15:00
I get dogs in for training that the owners swear have "Monster Prey Drive".At 8 weeks they were rag monsters.... The pooches arrive and have zero interest in rags, chasing sticks etc. Some of these dogs do learn to harness the drive, others never do. So did they originally have drive and living in a kennel environment knocks it out of them Or did they never have drive to begin? Those are the questions i would like answers to.


I personally believe that dogs are born with it and it is our job to enhance. I'm not so sure a trainer is actually "creating drive from nothing" though.
by
Q Man
on 27 February 2012 - 15:08
I think this is a very good topic that is discussed...usually in private...but not in public....Therefore I think sometimes the meaning of words are different to different people...
I think the words of "Drive Building" are mistaken or taken incorrectly...Because you can't build something that's not already there...You can't enhance something that does not innately exist...
So...I think most people's thoughts are correct...Either way you think of it...Because you can't give the dog/puppy something that's not been given by it's genes...
But I also think that you can Develop what a dog already possesses...Just like you Develop anyone's talents or as we put it in dog terms...Drives...
You Develop a Drive by using it....By using it you begin to learn how to use it and therefore those Drives are coming out more and more until you come to a point of which it won't grow anymore...So you've come to a point of maturation...
This seems to be a subject like which comes first...The Chicken or the Egg...Everyone has a view of what's correct...Just like Dog Training...

~Bob~
by
Nans gsd
on 27 February 2012 - 15:24
Charlie Meszaros of Reeboch K9 had some interesting video's on imprinting, at 6 weeks and building play/prey drive and at 6 weeks imprinting obedience also; I learned a lot just watching his video's on the subject. I will try to get the link for you. But I also feel that some dogs/puppies have more than others and are born with more than others; BUT you need to build that at a very young age and continue throughout their life and that is whether it is drives, obedience, tracking or any other kind of herding training and whatever you want. I love a good retrieve and that is part of the imprinting process that was done on these videos also. More to come. Nan

Reebach K9 sport; go to the puppy page and the video's are listed there along with other video's. Very interesting and informative.

Whatever you want to accomplish, best of luck Nan
by
DenWolf
on 27 February 2012 - 16:26
"Building" drive is a bit of a misnomer..
What one does is shape drive.

A dogs are born with drives.. or they wouldn't survive.
It is up to the hnadler/owner/trainer to develop and shape those drives into behaviours that you desire from their dog.

Obviously, (ormaybe not, to some) not all dogs/puppies are at the same level.
It is oftentimes not worth the time and effort to shape and develop the lower level dogs.. especially when the expectations of the handler/trainer is bitework.
by
ALPHAPUP
on 27 February 2012 - 16:28
Bmartin .. absolutely correct.. the abiliies of the dog .. or lack of abilities is innate . genetic . either the make up is present or it is not .. all that we can do is recognize the gifts , the potentail and nurture them . we can never make a dog what it is not but we can also can repress the dog from using what it's potentail is , too ..
when people generally talk about building drive... i found that that the phrase / word is a misnomer. what one is really talking about is manipulating the dog's motivation . Or for pet owners decreasiong it. Dogs, like people .. we all have innate abilities , but even those that posses abilities can become lazy , stifled.. if we could all get rich and have food to eat without going to work..? how many of us would actually go to work ? . same with dogs... some are just eager to always , naturally , without direction , "do " if they have the gift . others will igore the usage their gifts - just because . you cannot build drive/instinct / genetics if it doesn't exist. but if it does it can manipulated. And " drive " as i have written a thousand times on the PDB ..is a very very very inadequate word to ulitilize. IMO .. not to with intention of arrogance : - but to emphaisize the seriousness of certain training --- if one has to 'Promote ' the dog to work and working a specific task is important ... then consider different genetics of the dogs even before a dog is purchased. !!
in life .. you cannot make a dog or a person what it is not [ OT - no wonder the " leave no kid behind " teaching philosophy so drasticaaly fails !!].
by
VKGSDs
on 27 February 2012 - 17:02
I agree with DenWolf, you do not BUILD drive but you learn how to shape, cap, and channel drive. When people say they are "building" drive I tend to give them the benefit of the doubt and assume they mean they are allowing the dog to express drive and showing the dog where to channel it.

The drive is genetic, however I do believe it can change over time. For example I have a young working line dog. I got him at 7 weeks and he was a pick puppy as far as drives for sport and work. Unlike most "working" type puppies he was super laid back, not a landshark, never once put his teeth on me, very confidence and curious but in a more relaxed way. He wasn't really interested in chasing, fetching or tugging. I thought I got the dud. Then about 7 months his prey drive "woke up" and he turned into a very prey dog with a pretty low threshold. He loads up on his own. Unlike some dogs where handlers struggle to elevate and cap drive through a long obedience routine, with this dog I have to make myself boring at at times almost mean in order to keep him from getting nusto. Now that he's starting to mature, we are seeing the first hints of his defense drives and desire to fight. I believe his balance of drives is genetic but due to his age I can't say exactly what that balance will be, only predict based on siblings and pedigree.

My job is to tap and cap what is there and try to bring it out as balanced as possible. I also believe in allowing a dog to work in his primary drive as long as the dog is still under control and can be capped. If my dog is mainly prey, I work him in prey. That is where his desire to be there, his speed and power, his full powerful bites and desire to stay in and overpower the person/prey comes from. When the defense matures, we will tap into that more and more, but I don't believe in taking a primarily prey dog and just trying to only push defense buttons. The dog is what it is. If I didn't like it would have gotten another dog. Similarly my other dog is mostly defense. You can dance around in front of him waving sleeves in the air and kicking them on the ground all day and if I cut him loose he will go straight for your collar bone, or just stand there if the helper has no presense and is just doing a silly prey dance. So we work him in defense and bring more and more prey.
by
fozzie
on 27 February 2012 - 17:17
Pressure and training with conflict used correctly greatly intensifies drive. At least it did with my little female. The results were instant and totally changed her attitude towards work (the traditional motivational training didn't work at all, but she has a very unusual character).

Like him or not, Bart Bellon teaches some very interesting methods to increase and focus drive using lots of control. People think control kills drive, but used properly it brings much greater speed, power and intensity.


by
brynjulf
on 27 February 2012 - 18:17
I love that term "shaping " drive. I think it is a much better term than building drive. Unless you are talking about teasing a dog during training that builds drive. But I dont think that is what you meant was it workingdogz? I believe what you meant by building was taking a dog with low drive and building into a high drive dog? Did I understand correctly?
by
Slamdunc
on 27 February 2012 - 18:57
Yes, you can absolutely "build" drive or "shape" drive. You can also extinquish drive or remove drive with poor handling and poor training. You can even teach a dog to drive: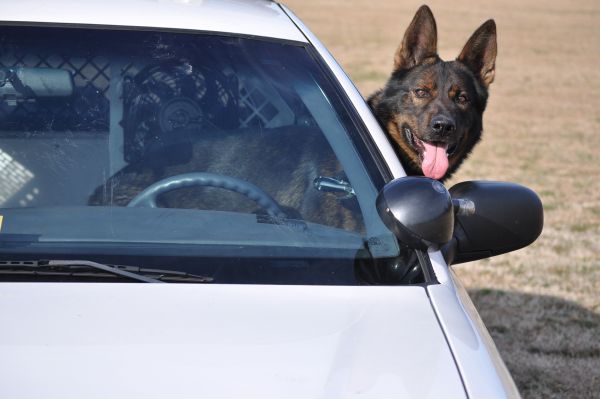 by
workingdogz
on 27 February 2012 - 19:04
brynjulf;
You got it!

I was referring to the people that have
puppies/dogs with little to NO drive,
and they spend weeks,months, years trying
to "build" (I guess I should say 'create' drive)
in a dog/puppy that just plain old "don't got it".

Kind of like the dog with chewy bites
(sorry, I can't bring myself to use the word
grip-gag), people will spend what seems like
forever trying to "set" the bite so it is full
and hard, and in reality, you will do this every
training session and will still end up with a
dog that bites like a typewriter!



Another example, the dog that targets the
elbow or the cuff of the sleeve every time,
to the point the "special" sleeve covers come
out, (you know, the plastic covers on them?).
People spend forever trying to fix that kind
of behavior.

Hope that explains better what I was
referring to

by
Slamdunc
on 27 February 2012 - 19:12
I think a skilled handler should be able to take that pup with little or no drive and be able to build it. I have never had any trouble building drive in dogs. Now, building a weak dog into a dog that works well in protection that can be hard, especially if you want good grips. Some dogs with chewy grips are simply genetic, others are made worse by training. Full, hard, crushing grips are largely genetic. If the dog doesn't have it, you probably won't get it. You might get close, but it is not the same.
by
brynjulf
on 27 February 2012 - 20:51
Slamdunc,
How long did it take you to teach him to drive? or did you have to send him to Germany? Is he careful to grip the steering wheel and not leave bite marks?
Does anyone know if Keith is still alive or has he expired from some infection? Random I know , couldnt be helped....
by
workingdogz
on 27 February 2012 - 21:29
Slam I'm only impressed by the dog that drives IF he is also handling a K9 ;)
by
darylehret
on 28 February 2012 - 13:28
Like any newcomer to sport, I was confused by the phrase

, but I thought you sport people understood "building drive" has nothing to do with creating anything.

And how did you go from drive to grips; the manner of grip and how it's targeted? You don't need a high level of drive at all to get full and hard bites, and targeting for the most part is a training concern. Now you need focus, build your drive and gather your focus.

There's more to drive than bitework, it's the powering force behind all of a dog's motivations. It would seem more prudent to clarify in this thread that; a restless dog is not a dog 'in drive.' That's a dog with nuthin behind the wheel.

Some of the greatest trainers even avoid use of the word 'drive' at all.


by
GSD2727
on 28 February 2012 - 14:33
IMO they are born with it or not. But the owner can either promote it and bring it out, or hinder it and kill it. Depending on what they do with the puppy. As Bryn said sometimes people will say their dog has monster drive but then the pup shows nothing when tested. I think that some dogs with lower drive may show very well in their home environment where they are comfy, then not show as well in a new situation. Obviously if the drive is high enough and the nerves are ok, they will show that drive anywhere :) I also think that "monster drive" means something very different to a pet person than it does to people who are more involved in SchH and other working dog sports.

I also think that while they are either born with it or not, some dogs/lines do "turn on" later. My dogs all have decent drive as a young puppy, but not "over the top". But right around 8-10 months it does go "over the top" and they really light up. It is kind of neat to watch them "turn on"... late bloomers I suppose. But they are not "lacking" at a younger age, just not the "wild take your hand off for the ball" that some pups will show at a young age. But once they turn on and grow up, you couldnt ask for more drive.

JMO of course,
Valerie
by
GSDPACK
on 02 March 2012 - 19:39
OK I dont know who was Boomer's driving teacher but if you dont have him put his front paws on the wheel I will call a cop!



by
myret
on 02 March 2012 - 20:03
Fozzie My english is not that good could you explain to what you mean that Bart Bellon Does to get the drive youre writing about and how its done ????? I like Bart alot
by
ALPHAPUP
on 03 March 2012 - 14:39
daryl .. you are correct... the problem that i have been battling for over 20 years is that people get into dog training .. they hear terms and phrases . Most people not all ,for that matter ,understand and comprehend true meanings irregardless of any english word attributed.- new comers do not get the full comprehension because the word/phraseology is inadequate to describe what exactly is meant !!
e.g " Drives" . There are no drives .... animals have innate , genetic predisposed behaviors [ most are related to SURVIVAL] . OR they have motivations , some directly related to the genetric basis of behavior. other motivations are not . e.g - one can motivate a dog to heel . to the dog that is not natural walking. but the dog learns to do it. 'Drive' does not tell you what the motivation[s] of an animal is , where the motivation originates nor what specific qualitative and quantative aspects are aasinged to the exact/specific motivation /emotion / thought or feeling of the dog .
e.g you throw a ball - the dog chases it , then >>> - so what is the motivation of the dog ? how and what kis the dog feeling as it chases. what is the mental and emotinal state ? was the chase for the love of the chase , the love to possess , the love to bite an object ? will it go through a open wiondow to get that ball?All these affect and effect what you wannt the dog to do and what it truelly wants to do .
so we talk about the dog ? building drive ... and tyhnat is discusses alone and apart of the dog - it's temerament , it's past experiences , >... foolishness . drive promotion .. isn't that so mfoolish to think you can promote a behavior the dolg has no geneitc base for , ? stress level for or low motivation for ?? . the key is to understand the dog and know how to interact with it, .. THAT is what is important ... IMO - if the3 dog , so call has it ... no nreed to promote it !! e.g my 11 months GSdf .. she can't wait to bite a toy .. runs and tries to find one herself .. i had to do the opposite , - hide her toys in ordeer that she plays when i deem so !! drive manipulation .. i just look at the dog , know the temperasmnet and :>LISTEN to what she is saying to me ... such a foolish concept .. 'drive promotion ' ,.. when on earth are you professionals ever going to learn ???
To illustrate: daryl -you are correct .. if the dog has the genetic make up to do bite work .. it may combine learning to it's intstincts and one can develop a full bite /hard grip - .. maybe not all the time because of the overall other genetic components within the dog and other factors that come into play.. e.g stress level , which is genetic. soret to speak , for some dogs - if you don't use it you loose it / learned beahviors . that is to say they can learn that theier instincts have become to no avail ... the far end of this spectrum - 'learned helpelessness ', an example where the insticts are of no avail .There are a,mny factors that affect the behavior of a dog : temperament/ what is learned , environment, the capablitity of the owner & trainers.
same notion with " capping drive" - another misused notion ..abother vague cliche antiquated english expression . 'capping drive' : is that YOU controlling the dog OR is the control , "self control " eminating from within the dog ?. that is to say , the dog itself learns to channel it's own innate instincts. there is a BIG DIFFERENCE between the two.. so again .. someone talks about 'capping drive ' but what in the world is that person EXACTLY talking about ?? you don't know in regards to a specific dog/handler because it is to vague of a phrase. it simply implies control . IMO , as i wrote before you can get anyone[dog] to do or not do anything by , in a manner of speaking, putting a gun to it's head. IMOP that avenue of training is poor. now one can get a golden retiever to bite full and as a matter of fact , just the opposite .. ass a bird dog one culitvates the dog to bike soft to not damage the bird !!
IMO when topics come up that are discussed in generalities and with 'buzz ' words this is very very bad for those trying to learn . not for those who 'know' / 'fully do comprehend' what they are talking about. this is very very very bad for those trying to better themselves and gain correct , full comprhension of the canine mind and behavior.
i personally scold those professionals who continue this outdated , inadequate terminology , giving seminars and taking people's money .. you should be paying them to listen to your nonsense ! IMO when you do that : it is intellecutally keeping them oppressed.
You must be logged in to reply to posts