Main > vom Banach (68 replies)
by
Blitzen
on 26 January 2012 - 13:51
I don't have a big problem with experienced dog people buying a dog with a contract that is almost impossible to understand and collect on. If they get screwed, it's shame on them. It's the novice who is most likely to get screwed without recourse on a dog deal gone bad. An experienced buyer knows where the bodies are buried and how to force a breeder into doing the right thing. Then there are the breeders who sell all their dogs for one price with no guarantees. Again, a buyer's option.

I don't consider a written contract an ironclad document and many times the breeder will do all he or she can do get out of honoring one. Most of us just walk away and the beat goes on. I do consider a breeder who offers a written contract to at least be putting forth the effort to look ethical and that he or she is confident that the breeding stock is sound and disease free. It sends the message to me that that those are the breeders who are most likely to stand behind their dogs. I've never had a breeder refuse to honor a contract and now I only buy dogs from those I know well and those who have great reputations in the breed so I don't require a written contract. A little research will generally tell us who can be trusted and who can't.

A contract doesn't need to be lengthy and complicated and one cannot address every issue that MAY happen over the lifetime of the dog. I think it's quite reasonable to place time limits on how long a breeder can be expected to replace on a dog - 2 years, 3 years for conditions and diseases thought to be genetic in nature. 4, 6 weeks for a communicable disease. Things not addressed in a contract can be decided case-by-case and that can be stated in the contract as well. I don't think it's fair to put one's own spin on what is genetic and what isn't in spite of what the experts say. To insist that a dog is fed a specific diet, or not allowed to do this or that in order for a contract to be effective really is a loophole for the breeder. How can it ever be proven one way or the other? Someone here argued with me years ago that he only gurantees against genetic HD. When I asked who decides that and how, that he said - my vet. Some answer.

When I bred another large breed, my pet contract said - if xrayed and found to be dysplastic, the dog must be able to function normally as a pet as an adult or it would be replaced or a full refund issued as agreed upon by all involved parties. Dogs sold for show/breeding were guaranteed to receive an OFA clearance of fair, good, or excellent at 24 months of age; those dogs must have been xrayed by the time they were 25 months old. The diagnosis had to have been made by a radiologist or the OFA and I reserved the right to see a copy of the xray.

In some breeds it is impossible to sell a dog to another breeder without a written contract. It is part of doing business in much of the AKC dog world and it's the American way. Many breed clubs strongly suggest to their members that they provide written contracts. The GSDCA is one of those parent clubs and any member who wishes to be recognized as a Breeder of Merit must do that.

I don't have a problem filling out a puppy app form. I required that myself because I wanted to try to make sure that the buyer had a fenced in area for the dog (it was a breed that would be found in the next state if it got away) and I felt better thinking that the buyer understood that. Most of my questions were about how the buyer planned to care for the dog not about their personal finances and lifestyle. If an experienced dog person came to me for a dog and if that person had a good reputation in the breed, then no application or contract would be necessary. Still I made mistakes and sold dogs to people who weren't good owners. Had I not asked some questions and refused some prospective buyers, I suspect I would have had to take back more dogs than I did.











by
Jenni78
on 26 January 2012 - 15:31
Rather than try to pretend that some contract is going to make people do the right thing, why not put forth the effortto talk to them on the phone before considering selling them a dog if you don't already "know" them? Most of the time, I have some idea what they're about because they were referrals. If I see that the buyer and I are not on the same page with regard to health or temperament expectations, or some other major issue, I simply tell them that I don't think my dogs are for them and wish them luck.

PayPal buttons on a PUPPY make me NAUSEOUS!!!!!!

I think any breeder who takes reservations before they speak to people deserves whatever they get and then some...it's just too bad that it's usually the dogs who pay the price for the greedy breeder. These are the breeders who need these asinine contracts- because they WILLINGLY engage in selling puppies to people they don't know and can't possibly trust because they just don't care! They need to play CYA all the time because they don't care enough to put forth the effort to breed healthy, sound dogs (in both body and MIND!) and place them properly, with qualified individuals. Intstead, they prey on the well-meaning but inexperienced novices who think they're doing the right thing in buying from a breeder w/a long contract. Longer contract=better breeder, in the novice pet circles. If there's something wrong with the dog, they blame the buyer. If it's a temperament issue, they blame the buyer's inexperience. The buyer doesn't know any better and often fades into the sunset and the breeder is never called on the carpet. They breed what they feel like will sell the fastest and sell them to the first person to click the PayPal button. <gag> Then, they laugh all the way to the bank because they almost know there is no way a normal buyer will have any recourse when they find out their dog is dysplastic or epileptic or just plain crazy or has 5 legs.



Can you tell I have some personal experience with these buyers? LOL I have actually had several buyers and friends who were screwed by "good" breeders. Unreturned deposits when breedings didn't take and none were planned, puppies switched before shipping, puppies paid in full only to have breeder decide they were their "pick" and weren't for sale, hideous temperament issues, recurring bad elbows, even on replacements, etc. One got screwed so badly, I gave them a phenomenal dog for free; the whole situation was heartbreaking. I couldn't take money from them.

Anyway....my current policy is simple. If I get a feeling I need a contract, I won't sell to the person. The others get the guarantee in writing.



by
Blitzen
on 26 January 2012 - 16:00
I never suffered from the dilusion that a contract would force any buyer into doing anything they didn't want to do. I didn't sell to every buyer who had the money, but I still got fooled and ended up taking back dogs.

Any breeder who never makes a bad sale has my respect and is a far better judge of character than I am. Rather than dealing with buyers, contracts, satisfying the requests of my breed club and all breed club when it came to selling puppies, I decided that I would just not breed anymore. The breed continues on without my contributions. Now when I want a dog I buy one rather than trying to breed my own which IMO is the only reason to make a breeding in the first place. I now leave the breeding up to those who do it well; I didn't. The dogs turned out fine, but the hassle involved with selling them was just not worth it for me.
by
workingdogz
on 26 January 2012 - 17:47
Blitzen wrote <snip>
"An experienced buyer knows where the bodies are buried and how to force a breeder into doing the right thing."


Boy if that ain't the truth


If memory is correct,
that just happened on this very board not too long ago


by
Blitzen
on 26 January 2012 - 19:29
LOL, Dogz. I edited exactly that from the sentence you mentioned........"as happened here not too long ago".
by
THK9
on 26 January 2012 - 21:15
Yes,on both sides,despite how careful you are you can get burned. Thats why we have Contracts. Im not going to go so far as to vilify all Breeders with long contracts as I know some good people who truely care about their dogs but feel they should cover many potential situations in writing. They tend to be people that have other current businesses or who have had businesses in the past. I have a business license so yeah,its ran like a business(as it should be) but its 100% about the dogs and clients. I dont have every little scenario in my Contract but if I did,it would be long and that would not be a bad thing for Me or my Client.Might scare some potential people away but I wouldnt care if I felt the need to put it out there. Things written out,read,understood typically make for a better Client relationship,IMO.
Heck,my paragraph on picking up or taking possesion of pup is darn near as long as my hip/health guarantee. But that needs to be addressed,so,its in there.Breed for awhile and scenarios come up.
I do personally disagree with the overcontrolling Contract though just because I wouldnt want someone telling me what to feed.But thats the beauty of free choice:)
by
Jenni78
on 27 January 2012 - 00:18
I haven't read your contract in many years. The only references I have ever heard to your contract were from someone who had received a replacement as promised....so I'm guessing you don't have too many problems, and I'm also guessing it's because you DO speak to them before selling and try to qualify people (I remember liking that you wouldn't accept a deposit until someone had talked to you) and not just sell to whoever whips out their checkbook. 99% of these contracts are not enforceable by law anyhow, so I wonder what the point is in some of these really long crazy ones...like the ones that remind me of Senate bills. LOL I guess I just figure I'd rather save my energy since it probably wouldn't stand up in court anyway, and focus on mutual trust and keep my fingers crossed for good luck!

by
hunger4justice
on 27 January 2012 - 19:18
Is this the same Julie that bred and sold Boban?
by
Jenni78
on 27 January 2012 - 19:45
LOL. Is there a can of worms emoticon?
by
hunger4justice
on 27 January 2012 - 20:09
Hmmmm that means yes, I take it.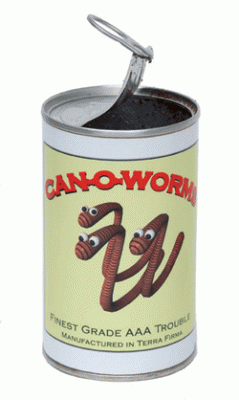 by
THK9
on 28 January 2012 - 02:18
Lol,you know everyone Jen! Its amazing you know the person because there really arent many, maybe 3 hips,3 testes and that possible "allergie" thing dog in 24 yrs.I have been insanely blessed I know.Good lord,I just had my first C-section ever last year.I dont know how I dodged that but I know Ive been very,very lucky:)
My Contract is pretty much the same,just tweaked it abit here and there. Let me ask this one of you though..what do you think of the First Right of refusal? My contract says it but,from what I understand,that isnt legal.Mine is more of a "I would appreciate the right then its my god given right".


I heard somewhere..maybe here, that you cannot attach terms to a dog sold outright.Alot of Breeders are putting that in there and are absolutely adement that the dog must come back to them and they do not even have to buy it back! I dont agree with that part.Obviously the dog would need to be evaluated to set price but if one sold it why would one think they shouldnt have to buy it back? I think that one would never stand up in court.
by
Jenni78
on 28 January 2012 - 03:50
The dog world is really very small. I don't really even remember who that person was (re: you honoring your contract) and I certainly don't remember the details if I ever knew them; I actually think it was a referral I got from Steve and he had remarked when he gave me their info that they had a dog from you many years ago and that you don't often hear of the people who actually HONOR the contract when something happens. I just remember the conversation because we were talking about Peddy and Saskia. At any rate... there are those that have a shred of decency, and then there are those "household names" that we get calls about and the people are shocked I'd heard of them, ROFL. They all are so surprised, as if they're the first to be ripped off by __________.

As far as "rights"...how's that saying go? "The right of way exists only to those who think they have it?"

I never had my contract looked over by an attorney. I don't think it is legal, but I see nothing wrong with asking that you get the dog back. I tell people that I will buy the dog back at ANY age for ANY reason, and I will pay what they paid for it. If the dog suddenly needs to be sold due to family circumstances, etc., and say it's had a lot of training, is titled, surveyed, etc. and worth a lot of money, can I really expect the people to just hand it over to me for FREE just because I bred it? I think not! I started thinking about this when I realized I had like 4 well on their way to that and they were not quite 2. That's a lot of time and money invested, and someone off the street would pay good money for a dog ready and waiting to trial...why should they give it back to me for free if they could use the money? So, since I may not have thousands lying around right then in a pinch, I just ask that they OFFER the dog to me first, and if I cannot afford a fair price, I want to know where the dog ends up. I want to know where they are, who they're with and what's going on in case of health or temperamental issues that are noteworthy. I don't know how to make progressive breeding decisions if I have no idea what the past dogs are turning out like.

So, I guess in summary, mine comes back to the honor system again, though I do add some incentive in there. I think people are more likely to be straightforward and come to you first if they don't feel they'll be blamed, villified, etc. for a change in circumstances or other compatibility issue...and a full refund doesn't hurt!

I also think it helps foster a feeling of trust if I'm willing to pay what they paid to have that dog back at any point during its life. I don't care if it's 12 mos. or 12 years with cancer.
by
Blitzen
on 28 January 2012 - 13:17
My contract asked for first right of refusal; I never had any problem getting dogs back when the owners didn't want to or couldn't keep them. I didn't make a blanket statement that I would refund the purchase price, that was decided case-by-case.
by
Jenni78
on 28 January 2012 - 14:15
It depends on what you're selling, I think. For a different type dog, I would think the same. A different breed, or even GSDs that more went to pet homes, I think asking for it would probably be good enough; chances are, in a family emergency, they are just going to place the dog and investment isn't going to be a huge issue. But when most of the dogs are being worked in some capacity, and enough are being titled and significantly increasing their value, I just don't see how I can ask/expect them to give me the dog back, when I sold them a $1500 puppy who is now 2-3 years old, titled already or w/a BH and ready for a 1, xrayed, has a show rating, etc. as a result of their investment, both time and financial. We all know what a dog that like that sells for. I'm supposed to say "Hey, I know you could sell your dog for $3500+, but right here you signed that you would give it to me for free."

I think it's only fair to give them at least what they paid for the dog. Not saying I WANT to buy the dog for what it's worth, LOL, or that I can afford to, but I need to take logic into consideration when expecting them to honor the contract and return the dog to me.

I think purchase price is a very small commitment to make to ensure the dog doesn't end up anywhere nasty. Maybe they need the dog sold and don't have time; I'd sell the dog for them and then I'm happy; they get some money back for the dog and I know where it went- to a good home! My worst fear is someone doesn't feel it's worth it to contact me about a dog and dumps it somewhere. I honestly can't think of a single person I've sold to that would do that, but emergencies happen, deaths happen, etc. Hopefully, having them know that I will buy the dog and having them tell family that will prevent such an occurrence. The biggest thing, imo, is keeping in reasonable contact. Let's not be stalkers, but friendly acquaintances who check in every few months is really nice. It's a win-win. They get support and I get to know what those monsters are maturing like.
by
Blitzen
on 29 January 2012 - 03:06
I got back pets, I got back quality dogs including AKC champions, specialty winners, and top breed producers. I paid to get 2 dogs shipped from Alaska to PA because one owner decided she wanted Rotties and the other just didn't want dogs any more. No way was I going to give them their money back. I took back a dog when the owner found out she was allergic to dogs, I refunded the purchase price on that one. I took back another dog because the owner complained that he frequently opened windows, walked on the roof, jumped a full story to the ground and and crossed a 4 lane highway. They didn't get their money back either. Then there was the 10 year old whose owner married a guy who had white carpet installed throughout his house so the dog was no longer allowed inside. They bought a white standard poodle that he "sanitized" before allowing her back inside after doing her business. No refund.
by
Jenni78
on 29 January 2012 - 16:48
If you can get away with making sure the dogs are safe and not paying for them, great. I just think it's safer to offer it as extra insurance. Shelling out the cash is a small price to pay to sleep at night, imo. I worry like crazy when something isn't right w/one of mine. I feel better knowing I did everything I could to encourage contact in the case of a dog needing rehoming; if I don't offer to pay, even, then I wouldn't feel like I did everything I could because many of these dogs could be sold to someone else very easily. It's just my personal quirk; I am uber paranoid about each and every puppy I'm responsible for bringing into the world.
by
Blitzen
on 29 January 2012 - 17:23
I cared about the dogs I bred too, Jenni. Otherwise I'd not have kept in touch with the buyers or taken the dogs back. Some deserved refunds, some didn't. Anyone who can't keep a dog from opening windows and walking on a roof or not wanting a 10 year old dog they'd had since it was 8 weeks old inside on their white carpet didn't deserve getting their money back.
by
Betty
on 29 January 2012 - 17:45
I've always thought Right of First refusal was a fair clause to both parties that could protect the dog. The owner has somewhere to turn and the breeder can negotiate in order to get the dog back.


by
Jenni78
on 29 January 2012 - 20:47
Nowhere did I insinuate you didn't care about them, Blitzen. I thought I was pretty clear that it was just my personal quirk. I am a bit over-the-top when it comes to pups I've bred. I also agree they don't "deserve" their money back. But if they're scumbags and I made a character mistake evaluating them before selling the dog, I think I owe it to the dog to try and remedy the situation. If they demand money, so be it. If I can get the dog back w/out paying for it, super. But I won't risk it by refusing to give the money back. That's all.
by
Betty
on 29 January 2012 - 20:59
That's great Jenni, I think a lot of breeders do the same with the right of fist refusal clause without the will pay the puppy price clause you have.

If someone is going to look out for their puppies, they will regardless of what a contract does or does not say.

Blitzen brings up a good point, if you stay in touch with the owners you can usually tell what is going on and if there is a problem the owner will most likely contact you first.

I know there are a few breeders that feel that right of first refusal means they should get the pup back for free, and that is not what I'm referring to. For me right of first refusal means you have the right to make the offer and depending on how it it written possibly meeting any other offer.

And by answering your post I'm not implying that you do not do any of the above, they are just general statements.
You must be logged in to reply to posts