by
cage
on 07 December 2011 - 20:09
I have seen Tyson in person while he was in Slovakia for matings,his keeper Mr. Sudimak, the owner of Eqidius kennel told us the same - a very dominant dog. However,I can say that Hoky is much better producer than Tyson. Tyson gave some great dogs but on the other hand also a lot not very good dogs.He was quite a disappointment,breeders expected more from him.A lot of pups from him didn´t have retrieve drive,were on smaller size plus sometimes weak nerves.It seems that he gave some good dogs with females that were very strong in passing their type on their progeny.
Hoky´s mom Beky Va-Pe was a top female from top lines.Her dam Loggi Maineiche produced top progeny - Akim,Arne,Cir,Cisko,Dunco,Duna,Dona,Darka Va-Pe. Hoky was the only pup in the litter.He has produced more than well in each of his matings regardless of the qualities of the females.Hoky gives strong nerves,social behaviour,high drives,willingness to work,high trainability.Lot of his sons and daughters are incredibly fast in protection work,bite hard with full and calm grips. His only problem is that despite the fact that he has correct elbows,he sometimes produce bad elbows - it goes from Loggi.He also carries gene for long coat.No dog is perfect but Hoky is very very close to it.
by
LorOne
on 08 December 2011 - 14:06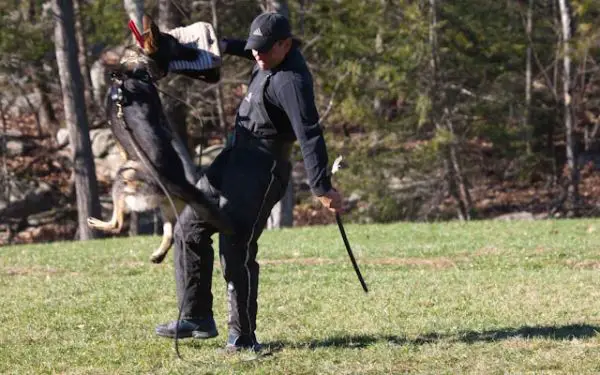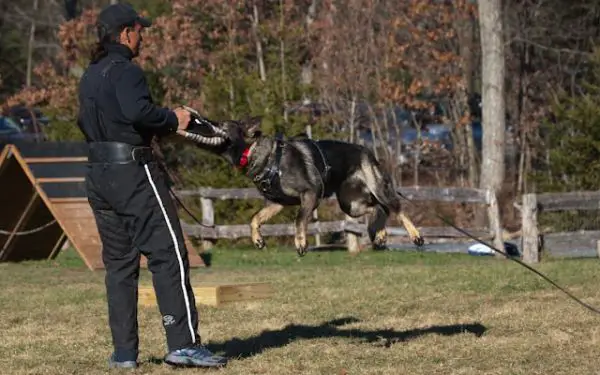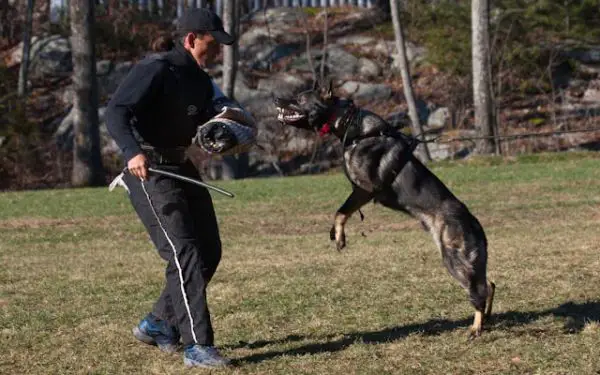 hQu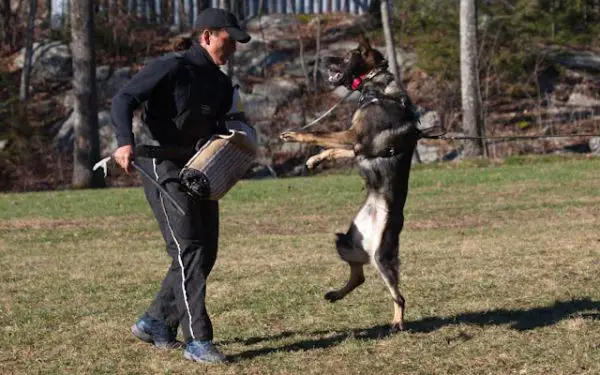 by
mfh27
on 10 December 2011 - 05:47
So possessiveness with poor retrieves is typical of this line? Does Hoky have and/or produce this?

Lasso looks like an awesome dog; though I admit on the defense of handler video, I'm not really sure what it's suppose to look like. I'd love to get into more bite sports other than SchH, but SchH is all I have in my area.
by
cage
on 10 December 2011 - 17:40
Hoky passes high drives - prey and retrieve as well plus social behaviour and willingness to work for the handler.A lot of his sons and daughters are extremely fast and hard in bitework with full and calm bite,environmentally safe.Lot of them have very good civil drive,easy to switch on/off.
by
BritneyP
on 18 May 2012 - 03:14
I know this thread is older now, but thought I would bump it back up because Hoky really deserves the recognition. His son, Irmus Galan Nalag is cleaning up here in the US & is already becoming a strong producer himself!


in February, I also became the proud new mom of a Hoky son :) his name is Bax Kedul Hof aka "Brix" and he a dream puppy. I fully expect him to be a powerhouse and stellar competition dog, as long as I don't screw him up!

http://youtu.be/tS5GYQVM5qw




http://www.pedigreedatabase.com/german_shepherd_dog/dog.html?id=754476


I LOVE this puppy! (even though he can be quite naughty.. as indicated by the above picture)
by
Gustav
on 19 May 2012 - 12:48
I saw Irmus in Columbus last month......he is a very strong dog. Is Hoky still producing and where is he located?
by
GSDPACK
on 19 May 2012 - 16:11
Hoky is in Slovakia and Yes, he is still producing. I know of a breeder that will have his son for sale soon. I have brought in two of his sons and so far all is good. Nice family dogs that work too, raised by nice people, socialized and prepared for further training.




by
Pirates Lair
on 20 May 2012 - 06:33
The pup in this video is Hoky's Granddaughter, Sire is Hoky's son Rush.

First time under gunfire & shotgun with hidden sleeve.




Kim
by
hitman270789
on 23 May 2012 - 09:30
Got to stick up for the decoy/helper in the first hocky video. Watch his right foot its more of a slip than the speed of the dog which takes him down...

Great dogs though! The fact it was a slip takes nothing away from them...
by
ramgsd
on 23 May 2012 - 16:13
Sorry but I hate hearing the "Got to stick up for the decoy/helper" statements. Yeah he slipped. But let's face it if it hadn't been for the dog hitting hard he wouldn't have slipped. I've never seen a helper just jog down a field and slip for no reason. If he was that uncoordinated I don't think many people would have him working their dogs.

by
hitman270789
on 23 May 2012 - 18:54
May have to agree to disagree on that one. You wouldnt slip while jogging down the field its when you side step and adjust your footwork to set yourself to take him left or right. With the wrong footwear etc you could slip doing this even without the dog!

Its credible to give the dog true credit for a "takedown" when he has been caught properly, comes past the helper and takes him with him... theres loads of videos around of belschik or zender doing it.

Again, taking nothing away from the dog I dont doubt that he is an awesome dog that hits very hard but in this instance the "takedown" was purely due to a slip.
by
hitman270789
on 23 May 2012 - 18:55
As not to distract from the orignal thread, my lips are now sealed, its not that big of a deal really....



by
Pirates Lair
on 23 May 2012 - 23:34
If you watch both the videos at the opening of this thread you will see similarities in Hoky's takedown and that of his Sire Tyson.

Must have been the same Decoy slipping twice


Kim
by
Pirates Lair
on 24 May 2012 - 07:03
LOL, Watch the videos frame by frame.

You will see why the Decoys/Helpers are eating dirt the hard way.

Both Hoky and Tyson do the same thing at the last second before the bite.


Kim
by
LorOne
on 24 May 2012 - 16:14
I have a Hoky Son...pictures posted earlier
He is an awesome dog with fast striking long bite.
I've had him worked by some very well known International Helpers/Trainers and they all like what he brings to the table with one commenting that he is very much like his father.
I am very pleased with this line.
Lori
by
Amidamaru
on 01 June 2012 - 04:11
Hi, thus Hoky still producing or has upcoming breeding?

TIA
by
GSDPACK
on 01 June 2012 - 17:18
I can ask around..

but you simply want Hoky puppy right?
by
darylehret
on 03 June 2012 - 14:04
This breeding would put pups right around 12 weeks old right now. Might be some available.


HOKY Va-Pe, SÚCHNO/48433 5CY5/55 P 1.tř.doživotně
HD-A (SK), SchH 3, IPO 3
VAČOK Peter, SR

08.01.2012 CHEN ze Svobodného dvora, CMKU/DS/75899/09/11 2.tř. 2012-2013 5CV1/P
HD a(0/0), ED (0/0), DNA (CZ), IPO-V, ZVV 1
BURŠÍKOVÁ Simona, Chaloupky 29/45, 664 41 POPŮVKY
You must be logged in to reply to posts