Mouth / Teeth Faults
by
clc29
on 13 October 2011 - 18:12
Hi Everybody,

Is a cross bite considered a fault?

I had Cisco to the Dentist the other day for a check up and I asked her to look at his mouth and give me her opinion on his scissor bite and tooth alignment.

He has all of his teeth but the lower incisors are crowded and one lower incisor rests between two of the upper incisors instead of behind. I've been thinking about showing him a little and know absolutely nothing about showing dogs.

Thanks in advance for your input.

Cheri


by
Keith Grossman
on 13 October 2011 - 18:40
Don't worry about it yet; he's still got plenty of growing to do.
by
Ruger1
on 13 October 2011 - 19:59
I was just thinking about posting a thread about teeth/ mouth faults...:

I have a new camera and have not quite figured out how to get the pics from the camera to the computer yet...

Prince has a double front tooth....Anyone have this fault or a picture ?


by
Blitzen
on 13 October 2011 - 20:40
That's called twining, 2 teeth erupt from the same tooth bud. I had a litter or 11, 3 had split incisors. I think that's what you are describing?
by
clc29
on 13 October 2011 - 22:17
Thanks Keith.

So my next question is when should I start to worry? Or do I have anything to worry about?

This is the second tooth thing I've had with him. The first was his lower baby canine never came out even after the adult canine was in. I had to have it removed. Before you ask...yes......I asked the breeder about it and my schH trainer and both said not to worry......it would come out on it's own.

Because I waited, it caused the adult canine to grow in crooked up into the upper pallet.


Now I have to sit with him 5 times a day with my finger in his mouth for 5 minutes gently pulling outward on that canine hoping it will move into the proper position. Let me tell you that is a MAJOR pain in the A$$. If it doesn't shift outward he will have to have a special brace put on it (like braces) to move it in to position. Another COSTLY pain in the A$$.
Anyone else ever had this happen??
by
Ibrahim
on 13 October 2011 - 23:53
Can anyone post a picture that shows how a cross bite looks like, if no pictures are available then can anyone explain in simple language what cross bite exactly mean? Thanks

Ibrahim
by
Championl
on 14 October 2011 - 06:09
Clc29, your first tooth experience is describing a retained puppy tooth, which my puppy had too. I also waited and waited, hoping it would come out, and when it was clear it was stuck (the adult tooth was more than half way erupted and growing into the roof of her mouth) I had the dental specialist surgically remove it. Like you, I also had to do "homework" to get the adult tooth to move into the correct allignment. My dentist had me put a tennis ball in my dog's mouth and hold her muzzle shut for 15 minutes twice a day for two weeks. Yes, a pain, especially when I was tired before and after work. But I did it diligently and the tooth grew in perfectly. She has a flawless bite and all teeth as an adult! I hope your situation works out too!
by
Ibrahim
on 14 October 2011 - 20:54
Dogshome9,

Thanks a lot for the link, very educating, thanks again

Ibrahim
by
Ruger1
on 19 October 2011 - 02:43
I got my camera up and running so here are the pictures of Prince's double tooth....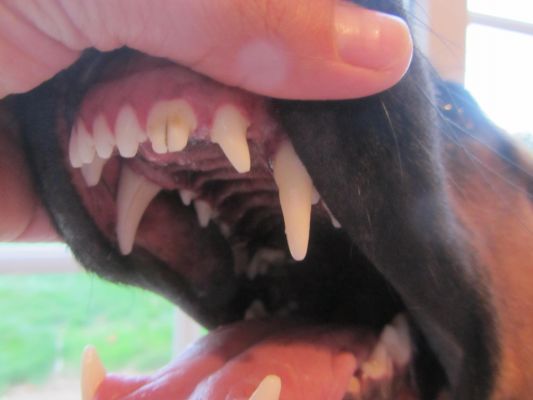 This tooth has always been discolored yellowish brown with a darker line in the center...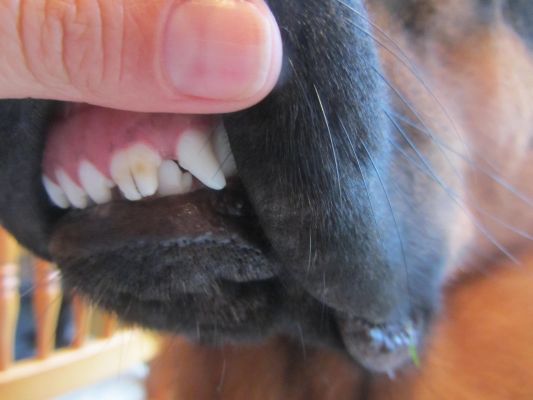 by
Blitzen
on 19 October 2011 - 03:48
It looks like twinning. How many upper incisors does he have in total? He should have 4, looks like more?
by
Ibrahim
on 19 October 2011 - 09:55
Blitzen, You mean 6 incissirs, right?
One more question, I beg your pardone Ruger1 and please allow me to ask the knowlegable members, is the bite shown in Ruger's picture correct cissors bite? that is in regards to the closing of up and bottom incissors.

Ibrahim
by
Blitzen
on 19 October 2011 - 13:02
Yes, 6 total - 4 of the smaller central incisors, the ones I was thinking about, 2 of the larger ones located in front of each canine. Twinning normally effects the smaller centrals ones as shown on Ruger's photo. It can effect either jaw. The dogs I had with twinning had double lower central incisiors, one had two. It's hard to tell how many smaller centrals this dog has, looks like more than 4. Maybe it's the angle of the photo.
by
Ruger1
on 19 October 2011 - 17:20
Ibrahim,

Feel free to use my pictures of Prince to point out conformational faults as you see them....The vet told me he had the correct number of teeth, (whatever that means)....Prince has 7 ( counting the double tooth as one ) teeth between the two large canines...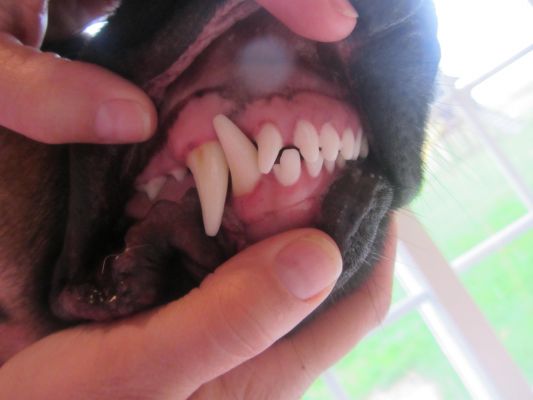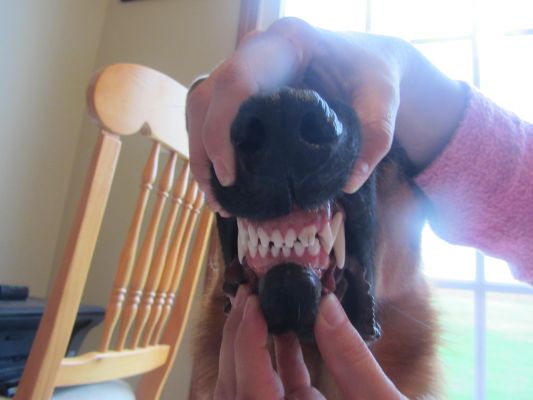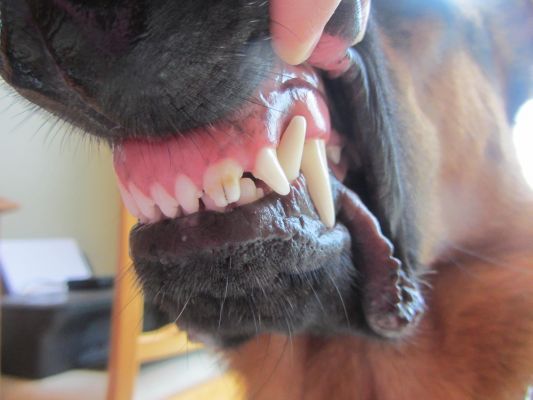 by
Ibrahim
on 19 October 2011 - 17:59
Ruger 1,

Thanks

2nd picture, the front one, shows now his bite is correct, the previous 2 pictures you posted. the side ones made me think the closing was not correct. But I am not experienced on the teeth and bite, my aim was to learn.
I can see the extra tooth, but I am not sure it is one but split or they are twin, if it does not affect his bite I don't see a problem. Does anyone know what is best be done for this extra tooth? Thanks again Ruger

Ibrahim
by
Blitzen
on 19 October 2011 - 21:00
Nothing needs to be done for split/twinned incisors. They cause no harm and I'd think it wouldn't be a big deal in the ring. His bite looks perfect and he's not missing any teeth, so it should not be an issue. Most judges/ring stewarts have probably seen split incisors.
by
SitasMom
on 07 November 2011 - 23:09
dogshome9 - the Mundi dogs are very interesting.......what a great website.

by
dogshome9
on 09 November 2011 - 22:39
Thank you SM Mudi Compass is great. It's amazing what we can discover when we think that we might have a problem!!! All we have to do is Google and it's there.

It's one of the sites I list for my puppy people to check out.

Are there any other special sites that members can recommend for puppy people? I am always on the lookout for those special informative places.






by
SFK Blueticks
on 16 February 2012 - 04:10
was just wondering if anyone had an answer in regards to the original question about crossbites?
by
LadyFrost
on 24 February 2012 - 15:44
Ruger...wow he is soo tolerant....i would have had to sit on top of mine with his head in a head lock while lifting his lips and having someone else take pictures..LOL
You must be logged in to reply to posts