showlines intro thread?
by
GSDNewbie
on 05 October 2011 - 17:53
How about a introductions to who is here at the showlines forum of yourself and dogs so we can get this section off to a good start?

My female Aleit, is 8 and has multiple health issues as well as a life long fight with allergies to chicken, fleas, and grains.
I hoped to do more with her and she obtained her SG at Pittsburg NASS 12-18 month class at an imature age of 13 months oldat the end of the grouping. She had a sore on her just before the show that by age 15 months old was full blown allergy skin issues. We had been fighting ear infections from the start but vets never suggested allergies while treating those. By age 2 her allergies were severe and she would never be bred, so I did not show her anymore. She has been since worked with sheep and obedience to keep her metally stimulated and happy. We keep her symptoms low as we have her controlled in diet to where she has not had major skin issues for years and she has lead a happy pet life despite also having had issues with mast cell tumors.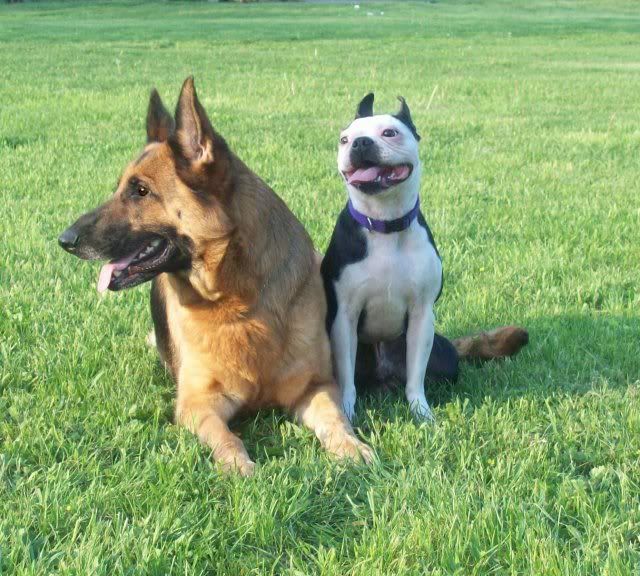 Show prospect try number 2 is no longer with us after being euthanised at age 15 months for severe epi, left hip and left elbow dysplasia. She was unable to get nutrients absored at all and was unstable in temperament except for children which she lived for and adored. Due to her temperament the vets felt she was not a candidate to survive repair on both her hip and elbow same side. Sadly we let Maddy go peacefully at our home with a home vet visit with those that loved her.




I have a retired 9 year old male. He is a lovebug and rather attached to me never letting me leave his sight or allow others to remove him from my side lol. He is loving retirement. He was V rated, kkl1, sch 3 the works and he thinks he is a king to be worshipped until my siamese cat who has an inter epecies crush on him comes along and makes him act like a puppy. I fell in love with this dog in photos and am honored to have him live out his days loved and every need cared for as my companion. He enjoys dinners out on the patios of our favorite restaurant in Knoxville square which I suspect reminds him of the days in his youth. He is in excellent health and not even arthritis at his age. He is a super easy keeper to maintain. He is solid in his aloof with strangers while remaining friendly yet protective as well. He enjoys participating in a children's reading program where he lays with them and listens as they work on their reading skills.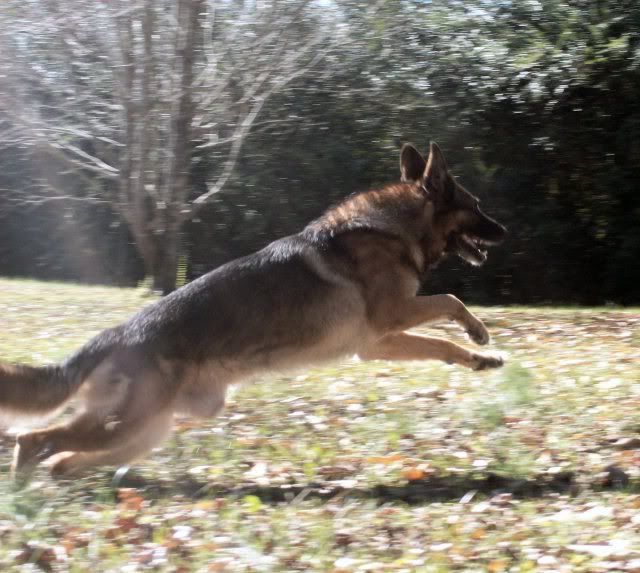 My constant sidekick/shadow my best boy Ulf. He is 15 months old. He is my diabetic service dog. He obtained VP3 at his very first show in Dallas this past USA seiger. He has his herding instinct test and is starting full time on sheep this Nov. We are working towards his BH which will hopefully be in Dec. He is healthy, intelligent, proper structure, and overall a fantastic dog that I feel I can compete with to obtain the goals I set out to do in the beginning. I am striving to title him and as hot. I have recovered from a bad leg issue and he helps me with my other remaining issue and together we train to meet these goals. I have absolute confidence in this dog. He is biddible, drivey, gorgeous and I may be biased but I feel he is what a gsd was meant to be in all aspects.







I look forward to getting to know the rest of
by
Judy P
on 05 October 2011 - 18:16
While I currently have only working line dogs I certainly like a good looking dog and your boys are certainly that! Good luck with Ulf.
by
gsdshow
on 05 October 2011 - 19:07
Hi my name is Kathy Overfield, I live in Utah and have 2 showlines and a Malinios. (I kind of feel like this is some kind of theropy group, lol)

Deja von Gunbil 2-1/2 years. Deja is a very confidint girl who loves life. We do Schutzhund and she loves it. We are getting ready to trial on the 15th of October where we hope to get her IPO 1. Deja is overall a healthy girl with slight allergies. Deja is a clown she loves to do summersolts in the middle of heeling, and she loves to do them off the couch. She is very smart and learns things quick, some things too quick, she opens doors to come in and out of the house we have had to take the deadbolt knob off the front door because she learned to open it to come out when we are doing something in the front yard. she also loves to open the bathroom door and flush the toilet, why? know one really knows, she takes the vent covers of the vents in the floor and drops her toys down them. we have had to screw them on down. To some she is a pain in the a** but to us she is mostly cheep entertainment. She loves to track, loves OB time with mom and LOVES protection. Deja is the love of my life!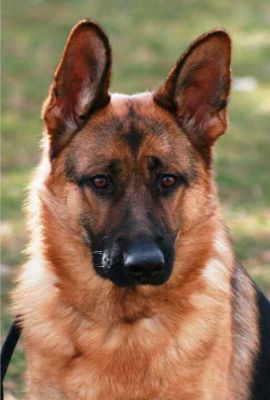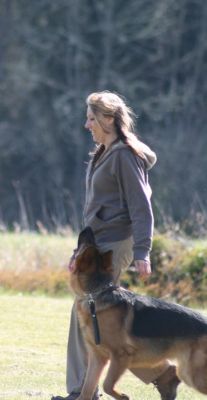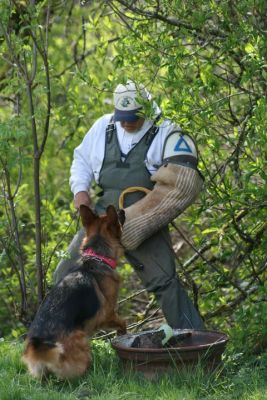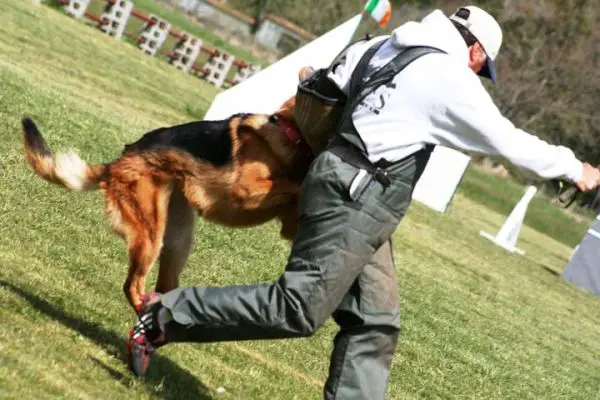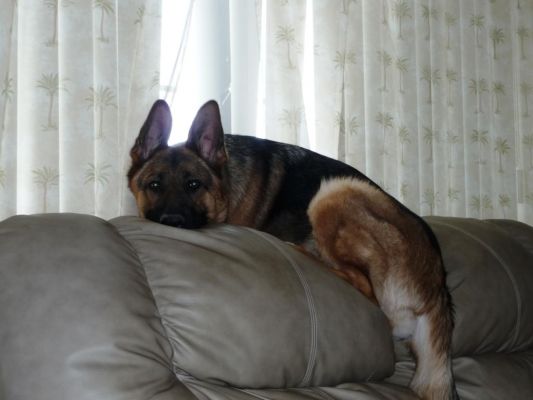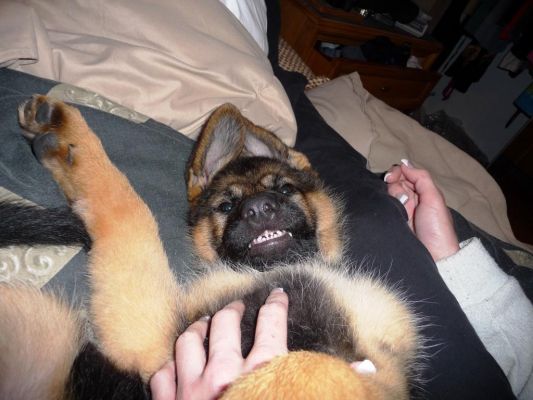 Bero von team Gunbil has just turned 2 on the 3rd of October. He is a great boy! We do Schutzhund with him too. My husband trains him. He is the son of VA6 Paer von Hasenborn. We imported him from Germany when he was 11 weeks old. Him and Deja are best buds. Although Deja sometimes beats up on him, he always goes back for more. He is the cutest thing I have ever seen! Bero is a healthy big boy but not to big, he weighs in at just 75 lbs. Bero's favorite thing about schutzhund is TRACKING! He loves it and can't get enough, my husband is hoping to do his BH and then go on to some tracking titles and hopefully an FH or two. He is also the love of my life.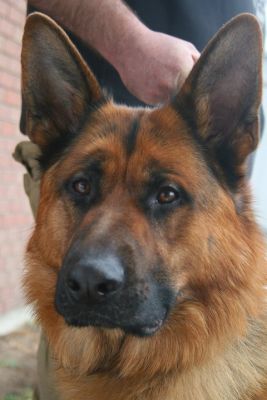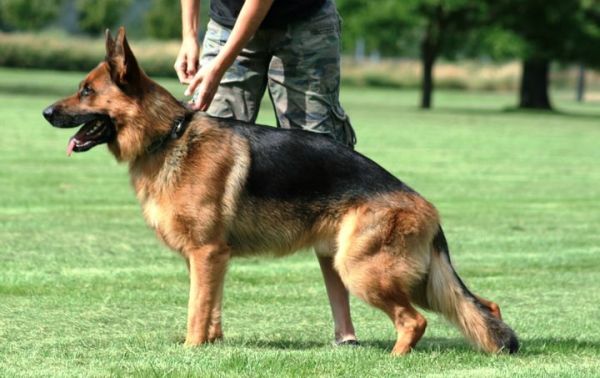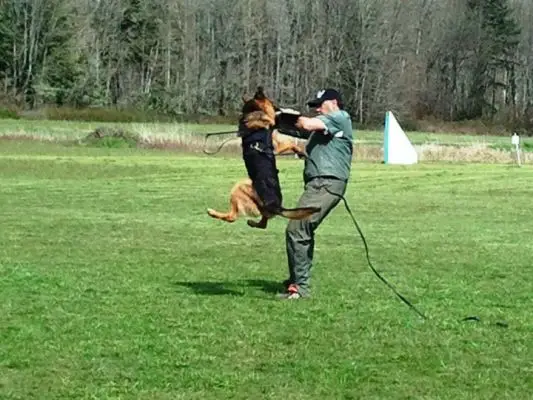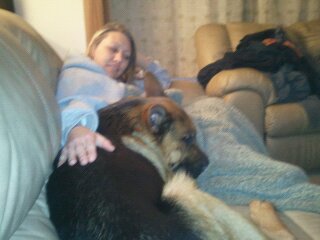 And then there is our little Mali babie Viva de las Flores

Viva is as cute as a button, she loves her humans! Viva and Deja are parteners in crime. Where Deja's getting into somet
by
gsdshow
on 05 October 2011 - 19:35
something Viva is right behind her or with her. Viva is just turning 8 months old and is full of life. She is showing great potintial in schutzhund and loves anything that we do with her. She is also my husbands dog, but loves to cuddle with anyone who is willing. Bero and Viva love to wrestle on the floor and will do so for hours if you let them. I never in a million years would have thought that a Malinios could be so cute!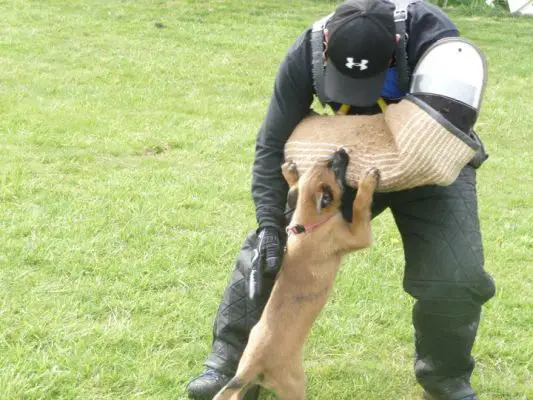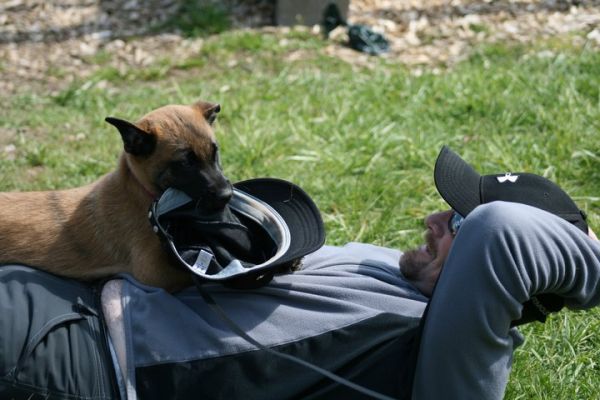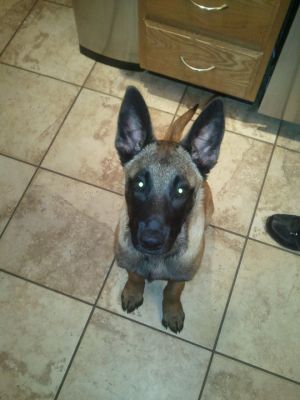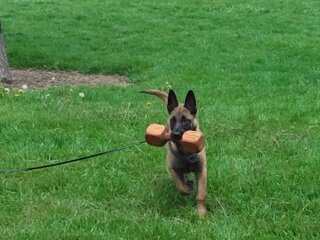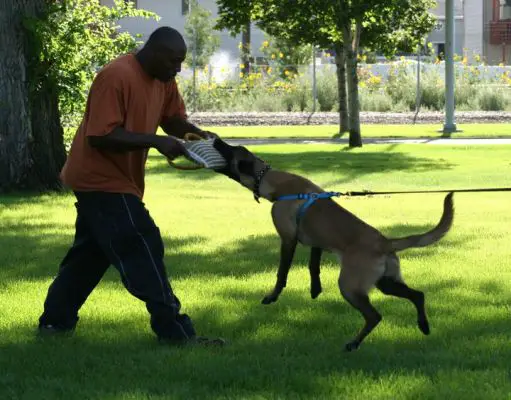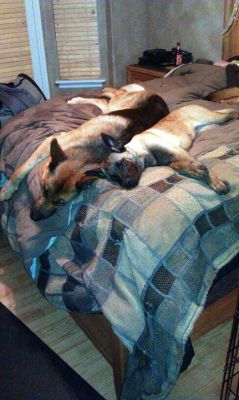 by
VKGSDs
on 06 October 2011 - 01:21
My name is Lies (lease) and I also go by Liesje (leesheh) and I have one showline dog. His call name is Nikon. He is U-CH SG Alta-Tollhaus Bono BH T1 FO PA U-CA CL1-R UNJ HIT TT CGC. I've owned him since 7 weeks. He has titles in conformation (UKC and SV), SDA tracking, SDA obedience, SDA protection, agility (CPE), lure coursing (UKC), dock diving (Ultimate Air Dogs), his ATTS temperament test, AKC Canine Good Citizen, and has been herding tested multiple times and received high praise (he is from herding lines). We are planning to go for the Schutzhund 1 next month and then will pursue more SDA, lure coursing, and agility titles. I'd also like to get his V rating. I have working line dogs too but Nikon is my favorite dog. I'm as critical as anyone of show line dogs but Nikon must be some kind of fluke, I love his temperament and work, not the best at anything but he is very versatile. He takes training very seriously and his protection work is real, not over the top prey but he is awesome on a suit and protects *me* for real. He can take a LOT of pressure but is naturally very obedience (his protection work is not very flashy but he is very easy to control and he *loves* to fight more than anything). I would describe him as medium drive, medium-high threshold, just what I like. We also visit my husband's elementary school and do obedience demos and march in their parades. He is awesome, I take him everywhere with me!


by
Ruger1
on 06 October 2011 - 01:43
Oh My!!!...These GSD's are just Beautiful!!!

VKGSD, your male is exceptionally handsome!!! His coat and markings are gorgeous.
by
Ruger1
on 06 October 2011 - 05:13
Hello,
My name is Deanna. I have a 22 month old male GSD named Ruger vom Mittelwest.. aka Prince...: ) He has a been a lot of fun and a lot of hard work too. Our early days together were a real challenge and a major learning experience for me. I could never thank enough the knowledgeable, helpful, and nice folks from this forum who made it possible for me to get where I am today with Prince. I am looking forward to meeting members who enjoy showing/comformation and working their Show Line GSD's.....: )



http://s928.photobucket.com/albums/ad127/mittelwest1/?action=view¤t=c00159eb.pbw
by
Blitzen
on 06 October 2011 - 05:42
First pound puppy in 58, first purebred in 69, first GSD in 94. Currently own my 4th GSD, an AKC champion, 3/4 ASL. 1/4 GSL. She has a BH and her CHIC certification. She's ready for rally novice and will be shown as soon as she goes out of season.
by
pinkbitesleeve
on 06 October 2011 - 14:36
This is my girl, CAC SG Discoe vom haus Huro, BH, AD, CGC, 2/3 CD HOT.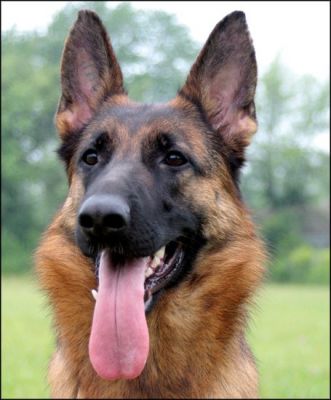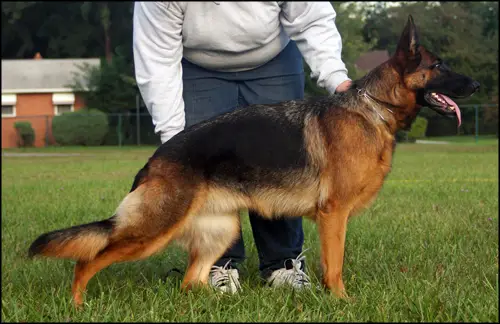 She's my second GSD and my first competition dog. She works hard, bites harder, is eager to please and learns quickly. She got her BH and AD at 18 months of age, and is the 2010 Mid-Central Region Young Adult Vice Siegerin. She got the first two legs of her CD at the DKC Kennel Club show in Detroit just this past March. She's my best friend and is always up for anything, whether it's heading out to the field, assisting me at my photo shoots, keeping me company at work or marching in a parade. The amount of personality and intelligence packed into this girl teaches me something new every day, even two years later, and I love her to death for it.
by
gsdshow
on 06 October 2011 - 16:40
I love this thread, something nice for a change!

@ Deanna, I love seeing pictures of your Prince, he is so beautiful and it's great to hear that he is behaving now. I just love our SL GSD! well truth be known I love them all



@ Pinkbitesleeve, Your girl is beautiful!!!

@VGGSD's, I am in love with your male, stunning!

@ GSDNewbie, What a story, I think your dogs are all beautiful! Good Luck to you and Ulf.
by
pod
on 06 October 2011 - 17:38
First started handling GSDs (Alsatian type) at training classes and local shows in the late 60s and showed my own two other breeds (parents wouldn't let me have a GSD). My first GSD in 74 was partial Brittas breeding. My first German showline, Irish bred, by Barry vom Status Quo, in 78. Bred a couple of litters over the next 2 decades, all GSL.

Have bred and shown other breeds more extensively. Judge two breeds at Championship level, awarding first CCs in 1990. First judged at Crufts in 98. Judge GSDs at Open level.

Don't own any GSDs now, just a rescue Welsh Collie bitch (3yrs) and a Danish import (11yrs) of another breed.

pod (UK)
by
delacruz germanshepherds
on 06 October 2011 - 17:58
Hello every one



I have 5 showline gsds 4 of them are longcoats 3 are importd and 2 out of german showlines, I show under UKC have several Ch. also I do SAR work with 2 of them. Would have put pictures on here but can't figure out how to do it everything has changed they made it harder. if you like to see them you are welcome to go on my website www.delacruz-germanshepherds.com.
by
Searackal
on 06 October 2011 - 18:53
Hi my name is Sonia.
I have two german shepherds; a rescue and a showline.

Jade is my rescue.
She's currently 2 years old and trained in obedience and agility and in training for herding.
After a summer of agility competitions, we finally have our first qualifying score (and first place to boot) in tunnelers.
I'm hoping to start rally obedience competitions next spring.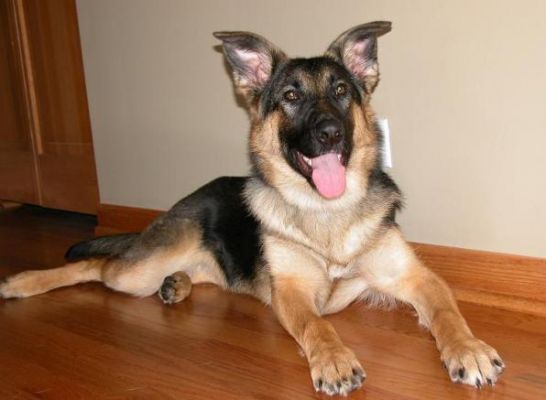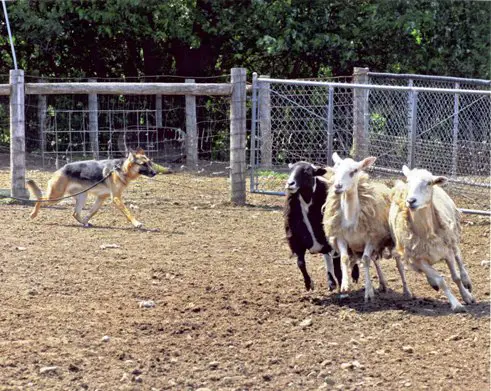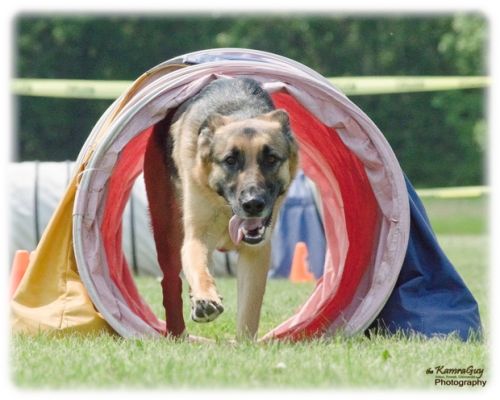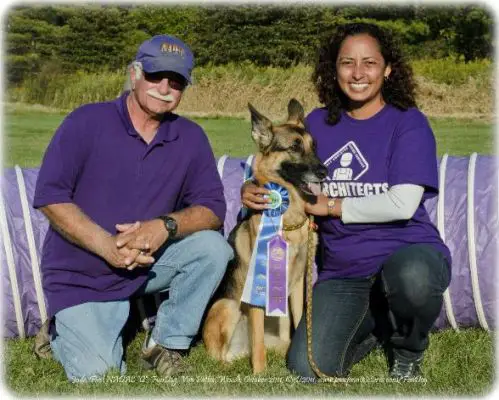 My showline male is Obsidian von den Blauen Bergen (Obi).
He's currently 1 years old in training for obedience, schutzhund, agility and herding.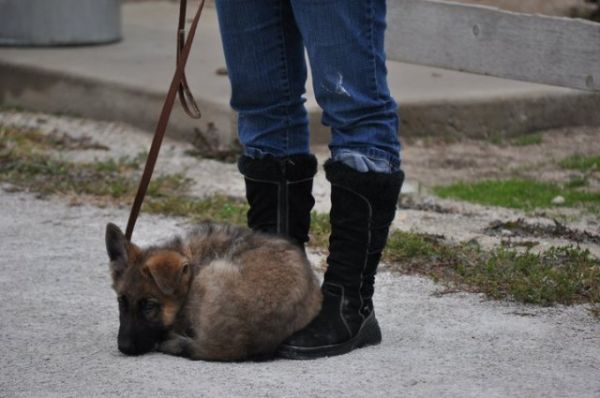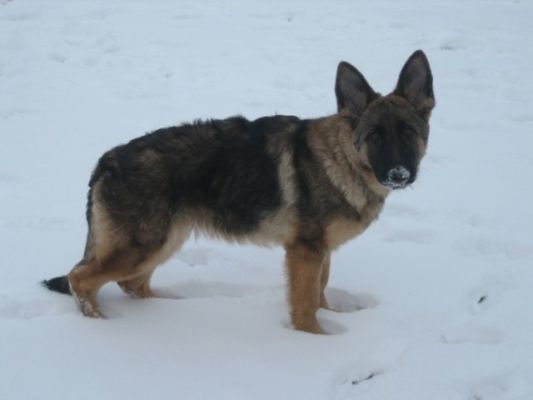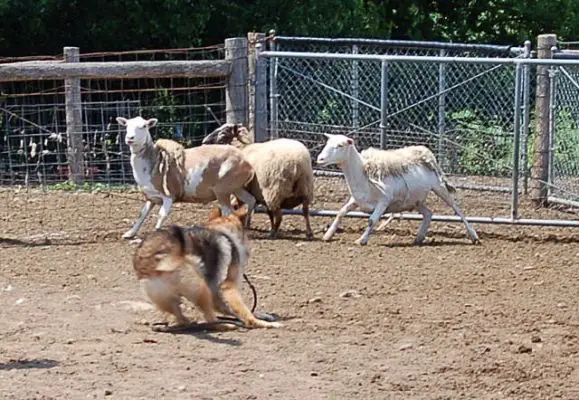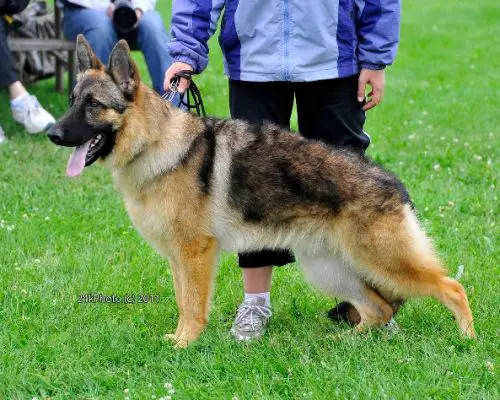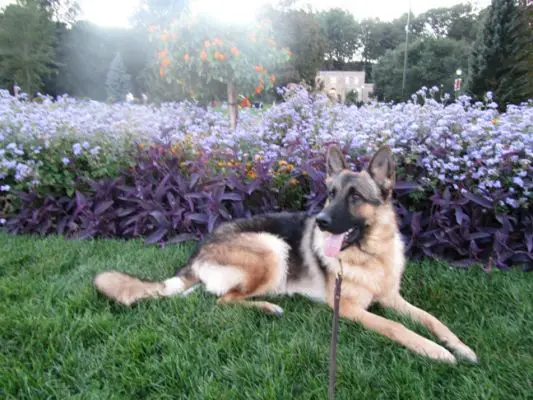 by
Silbersee
on 07 October 2011 - 18:30
To GSDNewbie (Yvonne):
I don't come here often but I wanted to let you know that I am happy for Quinto (you do know that this is his lifelong callname and not Ronaldo, right?) and that I hope you take good care of him, even though it was not planned this way by my husband and I (my hubby was Quinto's everything when he lived here with us). We had thought that we would see him every once in a while but the person we sold him to had changed his plans. Quinto deserves the greatest of homes! Give him a hug from us!
by
GSDNewbie
on 07 October 2011 - 18:40
Silbersee,


We knew that is what he is called but we have shortened it to Quinn in speaking. He is very well and he was offered to go home back to Germany when I took him, by me. He was thankfully allowed to remain with me as they did not wish to uproot him and travel across the water again when he is older and happy. You are welcome to see him anytime you wish. He is a wonderful dog and we will give him a hug for you for sure. I can tell when he obviously had love and care in his life before us. He remains in top helath and happiness feel free to contact me anytime regaurding him. He loves being a house dog and going just about everywhere he is allowed. He is loved on by many people and he tolerates it well as they just are drawn to him. He escorts children at the bus stop every morning and they adore him while he herds them hevan forbid if any of them stray lol He lays down crossing those front paws and putting on that regal look he does so well and I always wondered if this was his lifelong signiture besides laying on his back at the front door all four paws in the air like he is a doorstop to intruders even in deep sleeping gaurding the home. I love following his son Obi, here on the forum and would love to see many of his other offspring as well.

Yvonne
by
Blitzen
on 07 October 2011 - 19:31
Kris,

Now that we have a SL/conformation forum, I am hoping you would consider spending a little more time here. Your input would be much appreciated.

Blitz




by
Silbersee
on 07 October 2011 - 21:57
Yvonne,
thanks for letting me know. We still have his daughter Penny here with us. She is very similar in appearance and temperament to him. http://www.vomsilbersee.com/penny.html

Blitz,
it is nice to see you again. I missed you!
As to posting here, I do not have much time for that unfortunately. I used to post from my office but lately, this site here is banned by our IT department - for reasons unknown to me. It gives me an error message and security alert everytime I try. At home, I have to fight my kids for online time as we just moved and believe it or not, we had to get satellite (Hughesnet) which is ridiculous and slow compared to my DSL/Broadband that we had before. We had thought that we moved back into civilization but instead we have to put up with that. My old internet is among the few things I miss!
I wish you could come out to NASS to catch up!

Regards, Chris
by
Blitzen
on 07 October 2011 - 22:09
Hi Chris,

I am thinking about NASS, but it's a long drive for me now. I may have found someone to share the drive, so if I can swing it I'll be sure to look you up. No entry, my current is an AKC Champion..... YIKES!!! Yes, I took the walk to the dark side LOL.

Take care. Some parts of VA are still pretty rural, aren't they?

Blitz



by
Silbersee
on 07 October 2011 - 22:23
Some parts of VA, yes - but I live minutes outside of Leesburg. For all these taxes here, they should at least offer FIOS or DSL!
Let me know if you are going!
Chris
P.S. Edited to add: Look at my dogs now, talking about the dark side, lol! We do not have many dogs anymore and the ones we have are dark, dark, dark! Penny is the light one left!
by
Blitzen
on 07 October 2011 - 22:56
I wasn't far from Leesburg when I lived in southern PA. Beautiful area. I liked driving down 15 past all those horse farms. It is a high rent district for sure. Upside is you are close to the show site.

Not only did you take the walk to the dark side, you don't have many showlines anymore? I am at the point that pedigrees and "lines" are secondary to temperament. I don't want anymore dogs that pull me around LOL.
You must be logged in to reply to posts