Main > Top Showlines with good protection phase (412 replies)
Top Showlines with good protection phase
by
wlpool
on 04 May 2011 - 12:00
Hi, Guys!
Hey, does anyone have opinions on the top showlines with stellar performance records? I would like to get opinions on the top two or three here in the US and maybe Germany. I am trying to breed up my next male :-)
ANy advice would be absolutely stellar!
by
Dog1
on 04 May 2011 - 12:51
It will be interesting to hear what others say. I consider the good producers from lines that consistently produce good to excellent work ethic just about extinct. We simply didn't put the work ethic in the judging criteria when we should have. Many breeders say they want the dog that will work, few know where to look for it and many don't want the work ethic in their program because they have to deal with it. The list of breeders that do breed a dog that can work is short too.

I consider one male a candidate and there's another genetically linebred on the dogs that produce work and he's a little sharp. Working ability is scattered throughout the breed and it's difficult to tell if a dog is producing it, it's good training, or if it's coming through the mother. I'm starting to see decent work from two dogs that are being used, so, I think there's hope.

My thoughts are there are a few females around that can really work from the dogs that produced work, better get a hold of them now.
by
VKGSDs
on 04 May 2011 - 13:04
What Dog1 said. Finding a male that can work decent is one thing; finding such a male that consistently produces this is an entirely different thing. Honestly I wouldn't have the first clue who to say. There've been threads like this before and I always take a look at the dogs listed and usually the dogs themselves don't impress me one bit and the progeny are inconsistent at best. I'm not a WL person picking on SL either; my main dog right now is a WGSL male and I have a nice WL puppy but so far I prefer the SL male, more the type of dog I like (higher thresholds, more defense, not stupid in prey, fights, great on drives and under pressure, suit or sleeve doesn't matter to him). SL people have not made this a priority at all or anything even close to a priority so it's not surprising.

Also, what do you mean by the "top" 2 or 3? Top working? Top show? I would bet big money that the best working SL males are no where near the "top" of the shows standings because the ones I have seen personally are not heavily campaigned as show dogs or studs (probably because the owners/handlers value the work and training and don't have the time or infinite pocket books required to campaign a show stud to the "top").

I guess, offhand...ObiWan vom Theishof. I like his work, no idea if he produces it, and he's a nice dog as far as conformation and type.
by
brynjulf
on 04 May 2011 - 14:52
I would contact Fred Lanting. He will give you an HONEST opinion :) ( If you can't handle honest dont ask him! LOL)
by
Dog1
on 05 May 2011 - 11:00
I see the list is shorter than I thought.......................
by
SitasMom
on 05 May 2011 - 12:55
LOL - Dog1

There are some Czech and Slovak Showlines that have work ethic, but then you'd have to wait for a generation or two for a pup to be able to VA... and who knows if it would be passed down.

Zaira Vlad-Sal has produced a few males that do very well - Fato Vlady-Sal and Ruff z Eurosport come to mind..... of course none have SV breed surveys....... Fato is in Indiana.

Kennel Hartis Bohemia has a string of show lines that are required to be able work well, once again no SV breed surveys.
by
Rik
on 05 May 2011 - 18:13
Dog1, your explanation is probably the best I have seen it put. I doubt there are very many s/l people who would share so honestly.

I too was hoping for a longer list.

Rik
by
Jagenstadt
on 05 May 2011 - 21:25
Natz vom Land Mecklenburg
http://www.pedigreedatabase.com/german_shepherd_dog/dog.html?id=494775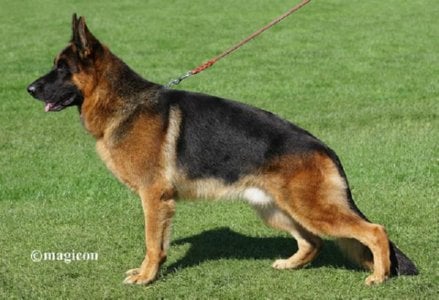 Natz is a SUPER nice dog!
He placed V38 at the BSZS in Germany last year and VA in Canada and the States.
He has been recognized for his excellent protection work at the German, Canadian and USA Sieger Shows!
I have bred my female Michaela to him 2x (first time I've repeated a breeding in about 20 years).
He will give very good anatomy and movement, exceptional pigment and MOST importantly strong character and great drives.
The puppies from BOTH my litters have outstading temperaments, character and drives!
* I'd use him again in a heart beat!
by
Red Sable
on 05 May 2011 - 23:40
Very nice looking dog Jagenstadt
by
brynjulf
on 06 May 2011 - 00:03
I second the recommendation of Natz. I've had my hands on him and seen his bite work. He is lovely! Does Eddie still have him? he isnt on the website anymore.
by
maywood
on 06 May 2011 - 01:17
I always liked Ghandi Arlett and whatever he produced. Below is a link to a Ghandi son, Urban Gleisenauer Schloß who was pretty strong and made VA1 here in the States. I do believe the working ability of this line came down from Ghandi's strong mother line. Check out the other links related to Ghandi and his progeny and I think you'll be pleasantly surprised.

Urban Gleisenauer Schloß - http://www.youtube.com/watch?v=E6Gdc2Q6zcg&feature=related




by
SitasMom
on 06 May 2011 - 01:27
Fato........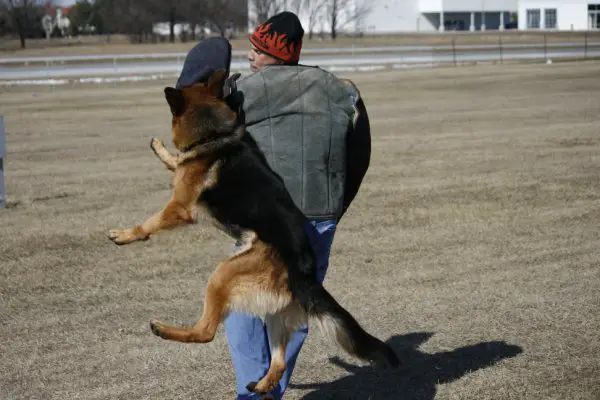 He likes proteceion work!
http://www.pedigreedatabase.com/german_shepherd_dog/dog.html?id=592029


His temperament is steady and he's not bad looking....

Zaira's brother, Zamb, was a worked at a prison as a riot control guard - he was the only show line tough enough to make the grade.

Zaira's titles include V SCHH3,IPO3,SVV2,AD,TD,WDS3
Zamb's titles include V IPO2, SVV2

Unfortunately these dogs don't have SV breed surveys, so they are looked over....

Hartis Bohemia also has some very hard show line dogs, there are some of them on you tube.


















by
leoetta
on 06 May 2011 - 02:12
Okay, finally, shameless plug coming.....for my dog.....V1 Zamp von der Urbecke, 5 times SchH3, IPO3, KKL1 with protection scores in the mid to high nineties, all scores and pedigree available on at the bottom of his webpage here http://www.westcoastgermanshepherds.com/Adult%20Dogs/Zamp/ZampVonDerUrbecke.htm

Outstanding temperament and structure. Been told by others that he is one of the top Quenn sons around and he is out of a SchH3 littermate sister to VA1 Bazi v.d. Urbecke. He was V59 at the 2009 BSZS and was the 2009 German Youth Universal Sieger and V9 at the NASS 2009. DM Clear, "a" normal hips and elbows, ZW 74, absolute correct size at 65cm. Can't say enough good things about my boy, we just love him to death. His oldest puppies are just 7 months old today. I'll attach a pic of a son and of a daughter of his and a cute photo of another son sent by my customer. Getting very good drives and temperaments on the puppies and his nice red color is a bonus we've been getting too. Thanks everyone for listening LOL!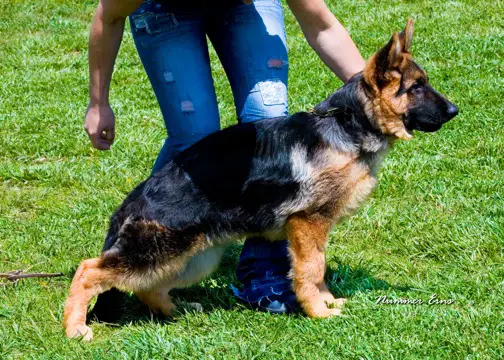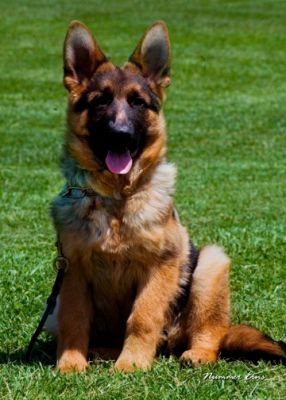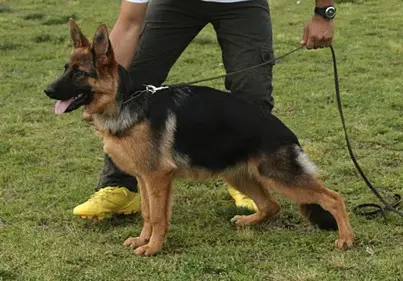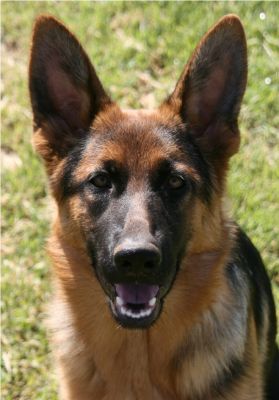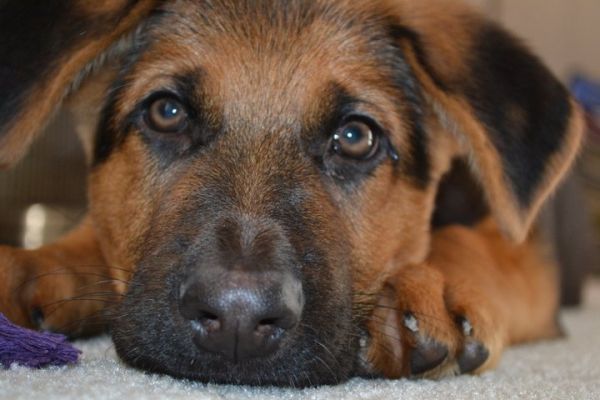 by
Jagenstadt
on 06 May 2011 - 02:22
"I second the recommendation of Natz. I've had my hands on him and seen his bite work. He is lovely! Does Eddie still have him? he isnt on the website anymore."

Yes, Eddy still has Natz, here's the link to his website: http://www.huntgermanshepherds.com/males.htm
Eddy has some excellent puppies right now from Natz, very nice anatomy, super pigment and tons of drives!
by
wlpool
on 06 May 2011 - 02:31
Cool! I will look into all of these great names. Thanks everyone!!!! W
by
GSDPACK
on 06 May 2011 - 02:32
What does lovely in a dog mean?
by
brynjulf
on 06 May 2011 - 14:01
Sorry i am a girl! I use that word incorrectly all the time. To me he is a stallion, absolutely gorgeous, correct but not extreme in any way. SOLID temp. Passes it to his pups. Works like a dog should, then comes down to earth and farts unicorns :) He is VERY gentle. Total package with this fella. ( And I work both Wl and SL)


I see ed has a new website ( or new to me anyhow :)
by
ziegenfarm
on 06 May 2011 - 15:24
you have to go back a few generations, but the more cello vd romerau you find on a pedigree, the better chances you have in solid working ability. throw in some odin tannmeise for intelligence and voila.
pjp
by
Rik
on 06 May 2011 - 23:29
for all the talk of the stellar working ability of the s/l, comments sure are sparse here.

Windy, you are soon going to have to make the choice between what means the most to you. Standing at the front of the line or getting the performance award. As Dog1 so clearly explained, it may be difficult to do both.

I'm pretty much a novice also with the German dogs, but by no means the GSD. I think probably the best advice can come from the breeder of your bitch. They seem committed to good character. Long time breeders here in the U.S. who seem to put a premium on character that I would look too are TeMar, Bullinger, Huerta Hof and Olympus. This is not an inclusive list, just the ones I have identified by their dogs to be breeders I would trust as far as the truth on character.


Good luck on your quest. One of the breeders I mentioned above told me they are greedy and want it all. Whether that goal is obtainable or not, I don't know. But it is the one I'm going to shoot for, and I hope you do also.

Rik



by
troublelinx
on 07 May 2011 - 07:38
Snowballs chance in hell
You must be logged in to reply to posts