our first puppy
by
murdock
on 10 July 2012 - 20:28
Hi
this is Kaos he is 8 weeks old in this photo, any ideas on coat length and colour when he is older. he is our first german shepherd puppy and he is adorable.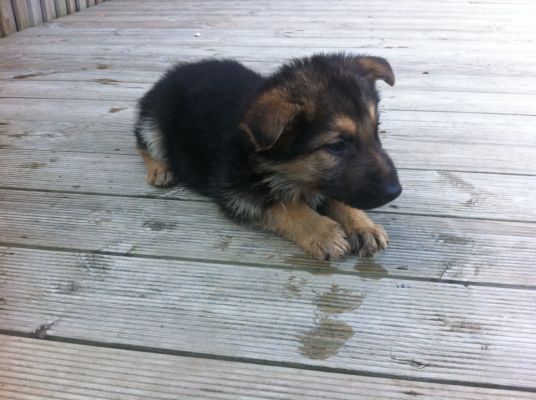 by
Markobytes
on 10 July 2012 - 22:07
Congratulations on your new pup and welcome to the forum murdock! Your pup should have a nice length of coat and nice colour, he will lose some of the black up his legs. The picture looks a little distorted, and in this shot he seems as if he could be a little lethargic, I hope he is not. He has nice dark eyes, dark nose and claws from what I can see, no white on paws even though a little white would be fine. I hope you have a training plan and keep him busy, these next couple of months are going to be very important for his development. A puppy is what you put into it. Best wishes
by
macrowe1
on 11 July 2012 - 00:10
Congrats! You're in for a wild ride haha! Looks like he'll be a regular stock saddle coat like my oldest girl. He'll get more of the red and lose some of the black. Kinda looks small in the picture, can't tell if it's just the way the picture is shot or not. How big is he? What's his pedigree if you don't mind me asking?
You must be logged in to reply to posts