by ValK on 12 March 2019 - 20:03
Juno
you're talking about this video?

https://www.youtube.com/watch?v=pj_-s-eLm4I

that why i did thought there something familiar in previous video.
turned out same guy, i have seen before in video with Lord.
as for your dog, it doesn't mean much. he just accepted your leadership, that all.
if you curious, you can let someone else try to control him and observe how your dog will react on that attempt.
preferably someone, who is experienced in dog's handling and can approach your dog confidently enough that dog could feel it.
apple
i'm not familiar with that. all i know is that in DDR civilian breeders must title their dogs, before being allowed to breed them.
in club we did parted with youngsters before training was finalized. additional 8 month and following deployment onto duty was at border. but neither in club or border dogs wasn't trained and titled for SchH. albeit some elements was similar, nevertheless it was quite different training. and there weren't levels such like SchH1, 2, 3... dog just either passed or failed and that was defined when dog reaches 10 month age.
by Juno on 12 March 2019 - 21:03
Valk, yup that's the one. Lord was a very well known dog and a lot has been written about him and can easily be found.

As far as my dog, I love him just the way he is.

by apple on 13 March 2019 - 11:03
Emoryg,
That was a nice routine. Not so flashy, but reliable. These days, judges in the various sports have sharper pencils. I saw a little handler help on the sit in motion and would have liked to see a more focused heel, but those behaviors do not necessarily make for a better working dog. But I think that is where the anti-sport people don't get it. If your dog is not going to be actually working, the challenge is to be the best handler and bring the most drive and control out of your dog. The bias is often that if the dog is flashy, he is not a real working dog and just like a lack of flash doesn't mean the dog isn't working quality, flash doesn't mean the dog isn't working quality. It depends on the individual dog and the training he has been exposed to.
by Gustav on 13 March 2019 - 12:03
Definitely working lines, but there was not a lot of distinction between working lines and show lines in the East during that period. Dogs like Held v Ritterberg ( foundation dog for East and Czech dogs through Ingo v Rudigan) produced a show Seiger ( female) in East Germany. This could never happen in Germany because of the split initiated by the Martins.
Anyway, the pedigree posted by Emorgy is linebred on Ingo v Rudigan through Rex and Lord....which were definitely working lines at that point in the breed. Ingo may well be with Bernd v Lieberg, the most influential dog in our breed for excellent working dogs with good structure, though the reverse mask could come through him.

by emoryg on 13 March 2019 - 15:03
Apple, I agree it was not such a flashy routine. I think at the next trial it looked a lot better, except the send out. I recall he went maybe 50 feet and decided to down on his own. After becoming a police dog and training was geared more for absolute control, he lost even more of the flash. Sometimes his treats and jute roll was just not enough.
From the years before, my AKC style obedience made me well skilled at handler help and there's a lot more of it going on in that routine to the trained eye.lol I can't remember if back then the BH was a pass/fail or if there were points.
My first blue ribbon in a utility event (1980 something). Mav was mainly American showlines, and though he excelled at scent work, he had zero aggression.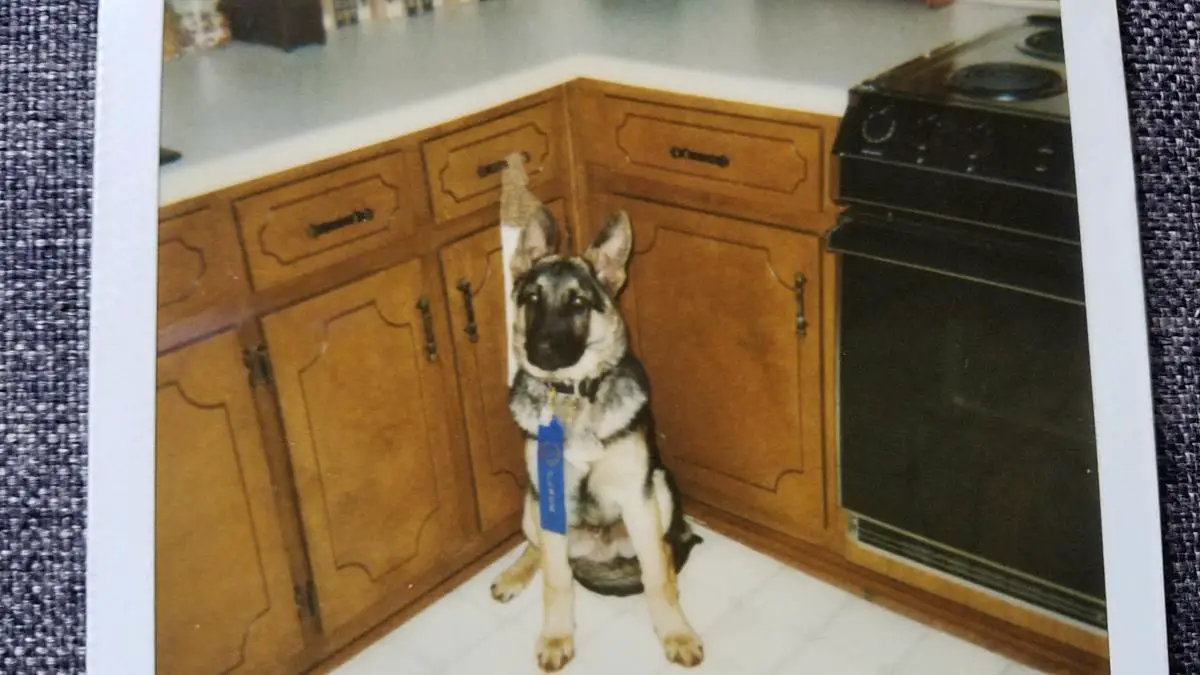 Gustav, I know the sire on that dog was very handsome, big and powerful. I remember he was very impressive to look at and had a good presence about him. Because of his age I never tested this dog. His owner had a brother that had many good dogs. I stayed with him a few times and would work several of his males. These were all very nice dogs. I remember one trip he had a Gomo son as well as a Gildo son. Many other working lines too. He really enjoyed seeing his dogs work. The dogs did too as they didn't see much activity.
Here are some pictures of Rex when I met him.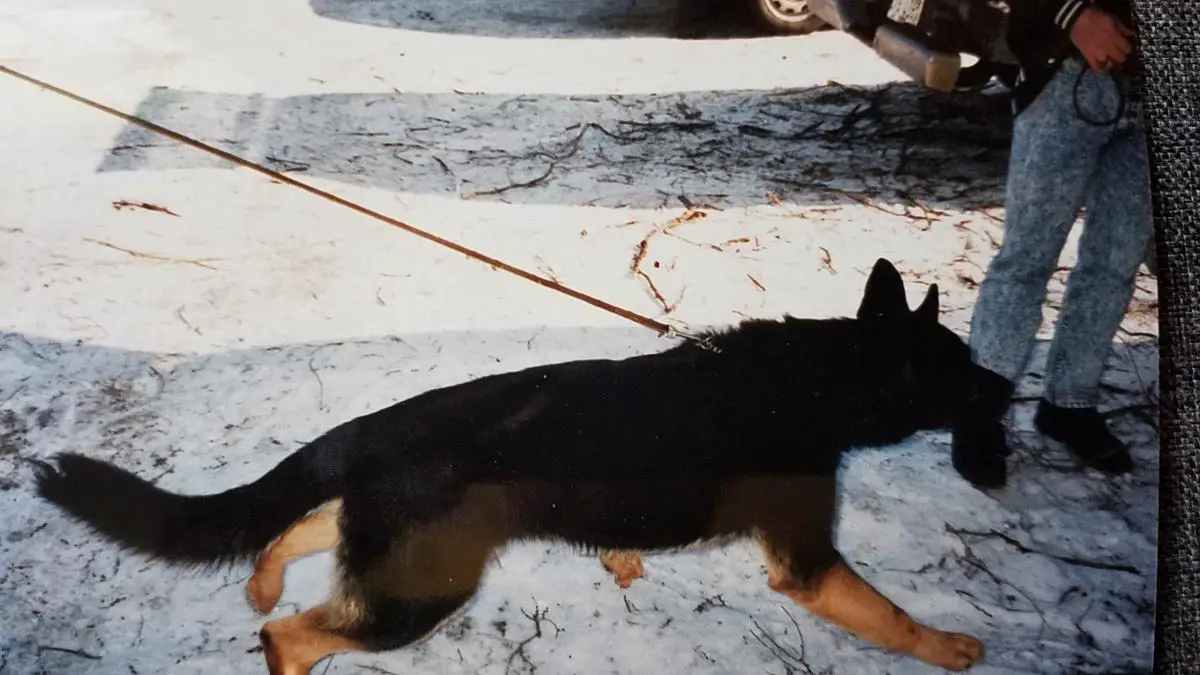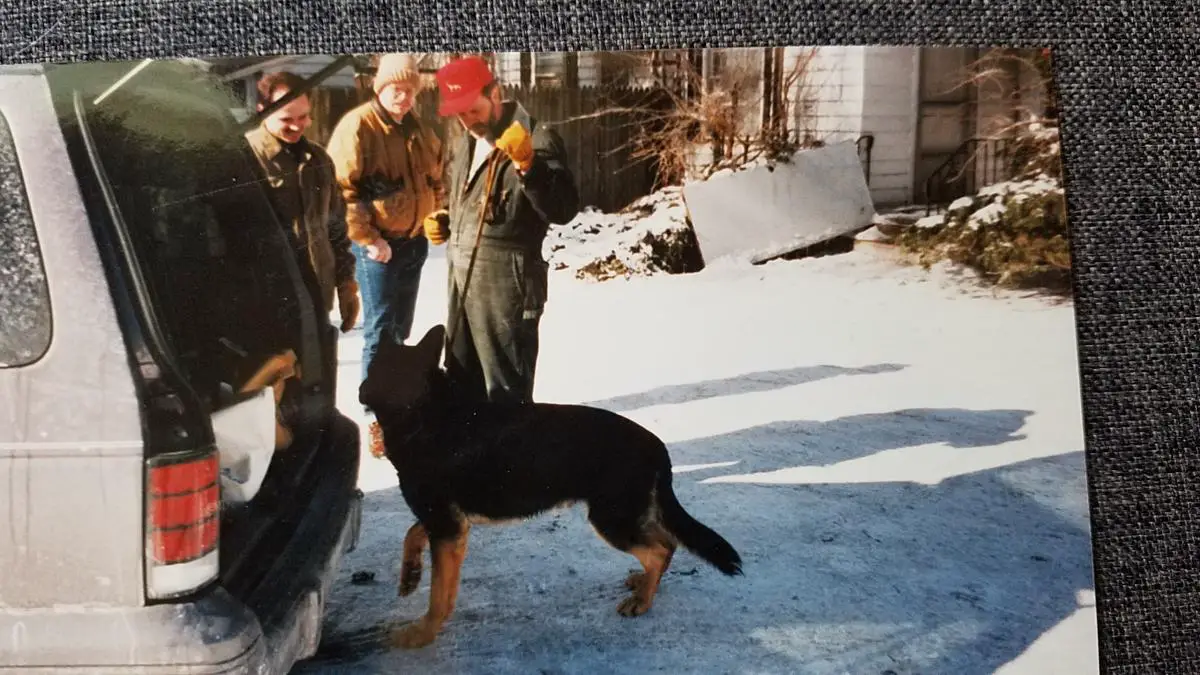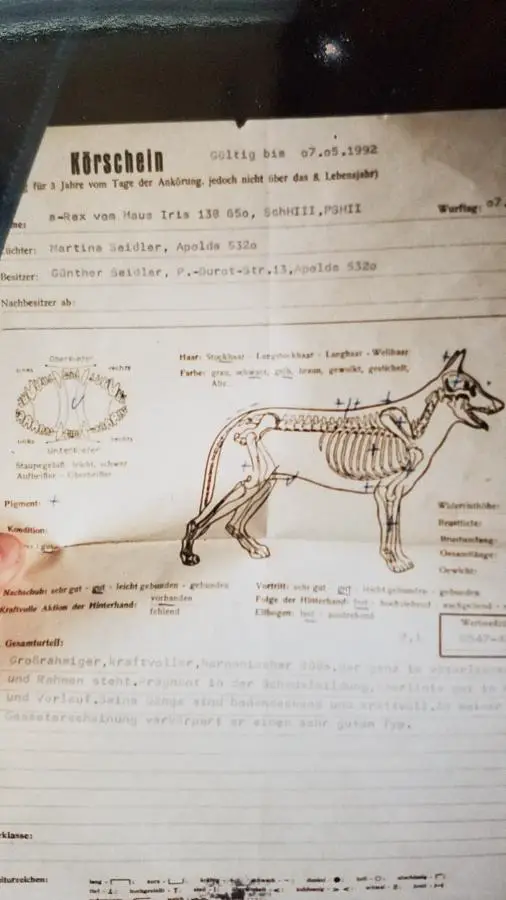 I had a friend from Belgium who knew some of the different bloodlines. He had good knowledge of some of the older dogs you may remember. This man sent me many videos, pictures and pedigrees over the years. In one video a person is talking about Greif Lahntal and other dogs of that era. He sent one of a man from the Czech Republic who bred dogs for the government. I would laugh because it was a copy from something off a film projector and it brought back memories of high school from the noises the machine would make. My wife (at the time) had worked in CR and could translate a good bit, but sometimes there were people speaking that even she couldn't understand.
by Gustav on 15 March 2019 - 11:03
I think Rex was in United States with Joe Kuhn's if my memory serves me. The he older and first DDR dogs that came to this country ( Held sons, Artus, Lord sons, Bodo, Zorro sons, Barutherland dogs) were very nice dogs with very strong drives. Not extreme drives but strong drives. Today's DDR lines have suffered the same malady that any specialized line does that does not infuse any new genetics.
You must be logged in to reply to posts
---
---
---
Contact information
Disclaimer
Privacy Statement
Copyright Information
Terms of Service
Cookie policy
↑ Back to top