by kitkat3478 on 10 January 2019 - 23:01
So since I last posted about my missing dog, things have gone from bad to worse.
I ended up in the hospital with pnummonia and toxic shock from being out looking for the My Flim Flam. The guy who was helping take care of my dogs cut my fence to make it easier for him to get from house to house, so the day after I got out of hospitol, a couple of my dogs out of yard and less than mile from home, one dog was found sitting on side of the road, covered in blood crying with a hole blasted through his elbow and brought home by wonderful man knew he belonged to me, I wrapped his leg and drove fast where he was found because my other dog was not home, and hand t been found, dead or alive since. Believe me, I searched for him.
But now a picture sent to me of a dog found 4 hours away, that I swear is my dog. She was found, spayed and adopted out through a rescue group, and they doing everything possible to not give my dog back including showing pics of different dog. I have meeting Sunday but have no idea which dog is going to be presented for DNA. I had filed lost stolen dog report, but these people say I have no right to my dog, it's nearly three months. When I first called this rescue they told me not my dog, owner found. I have been lied to, hung up on and shown different dogs. I having hard time getting pics to post.
Any idea, anyone ever have this problem getting dog back. Lost in NY found in Pa., the pics they posted in my opinion is my dog. Cage still only like 10 months old

by kitkat3478 on 10 January 2019 - 23:01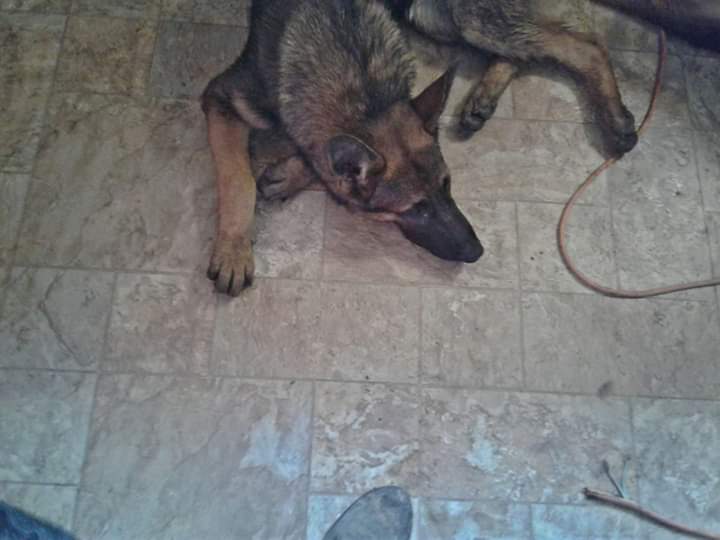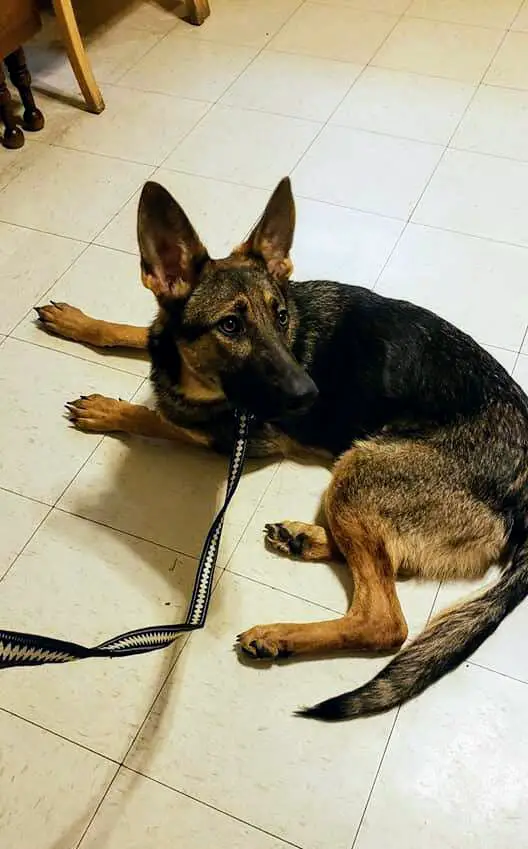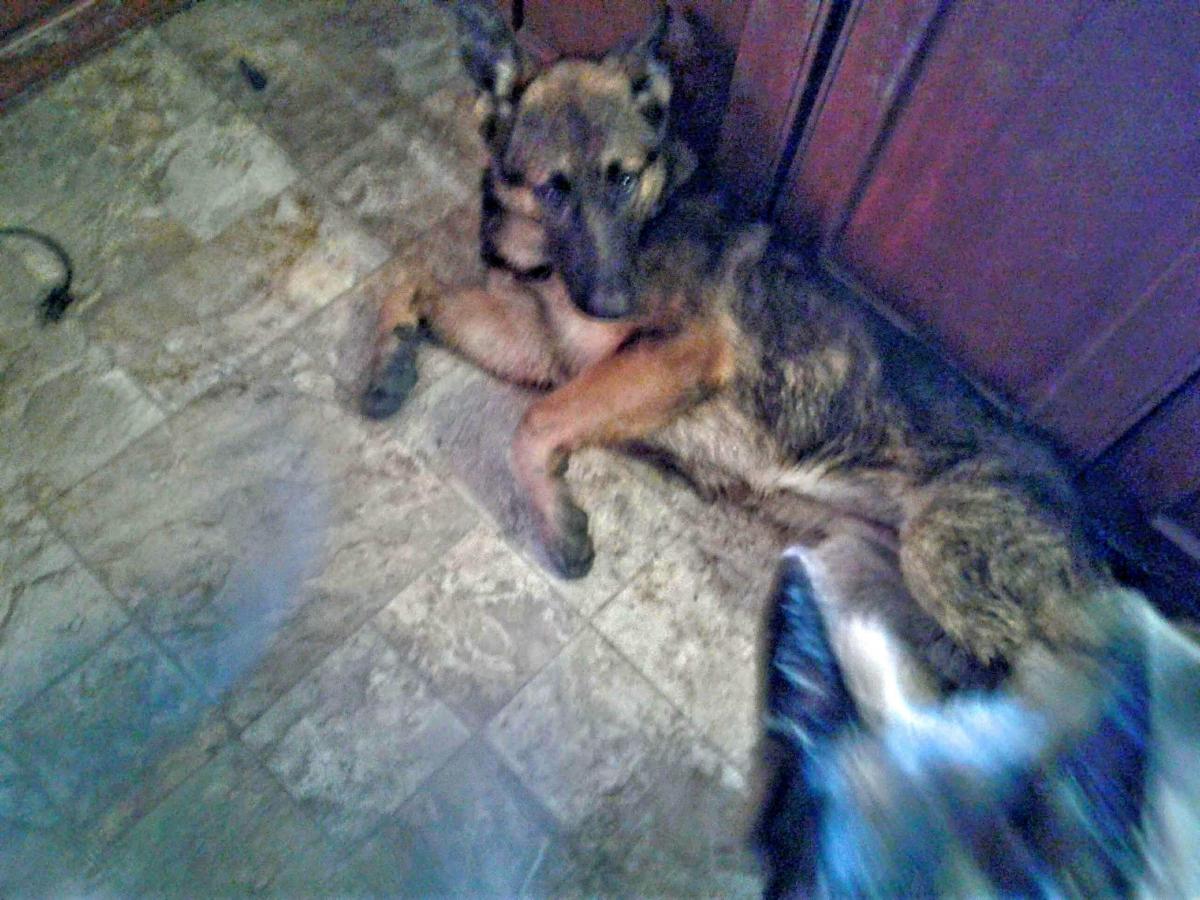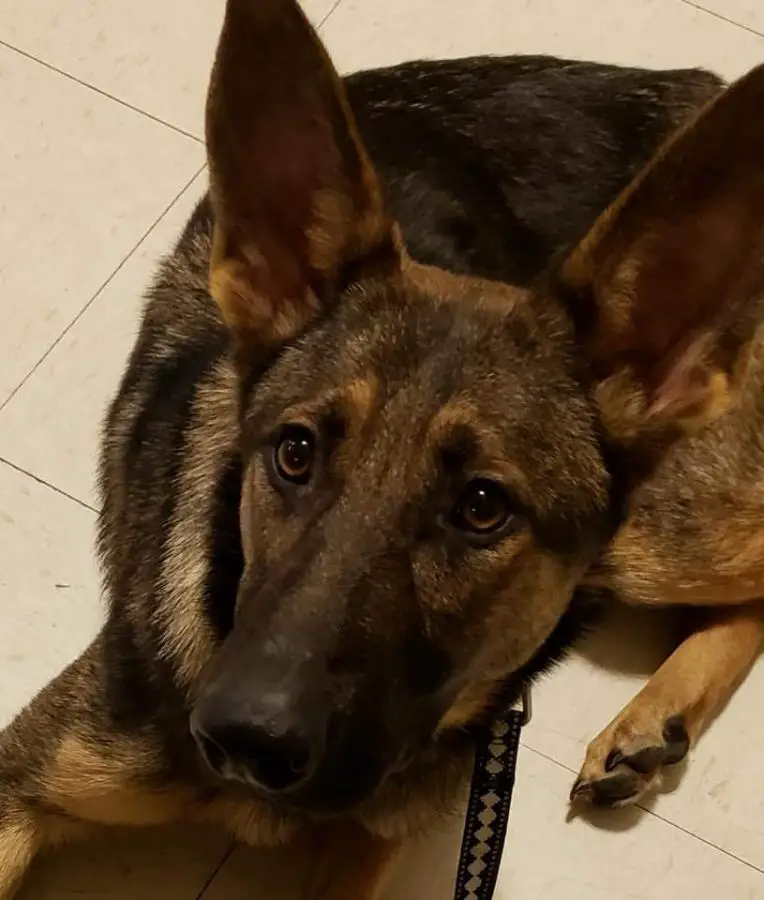 by kitkat3478 on 10 January 2019 - 23:01
There is 2 month difference in pics on a young dog, what anyone think. The pics are screaming my dog to me. AKC. Mailed me DNA kit. Her mother and grandfather DNA on file , they both imported dogs. Where I live there are several summer homes and hunting camps owned by people right in the area dog was found.
I don t care she spayed, I just want my dog back.
Any ideas
by hexe on 11 January 2019 - 06:01
kitkat, I'm so sorry you've been having such an awful run of luck lately--I do hope you're physically safely on the mend, at least, as you will need your strength to fight to get your dog back.

The claim that the dog was 'found' in PA is certainly plausible, though it's unlikely she wandered that distance without some help from one or more human interventions. It is not unheard of for a kind-hearted person to pick up a stray dog, especially if the dog is on an interstate highway and in serious danger of being hit, and take the dog back to their home in another state because they aren't able to delay their travel an additional day to try and find an animal control facility to take the dog in... It's also not unheard of for dogs to escape from the custody of said kind-hearted finder in the other state, often after the dog has had a chance to get some rest and some food into them. Four hours' travel is nothing in the overall logistics of lost dogs!

I take it she wasn't microchipped or tattooed? That would have made identifying her so much easier...

If you feel this is your dog, there is no reason to deny you the opportunity to run the DNA testing to determine if she is, since you have her parents. Unfortunately, you'll likely need a lawyer in order to do so, but perhaps the people who have the dog would be willing to return her to you once you've had a chance to speak with them...maybe you could offer to give them a pup if you're planning any litters this year. Heaven knows there's no shortage of nice GSDs in need of homes, too, so it's not like they wouldn't be able to find another suitable dog through rescue, either.

I wish you much, much better luck than you've been having.


by kitkat3478 on 11 January 2019 - 09:01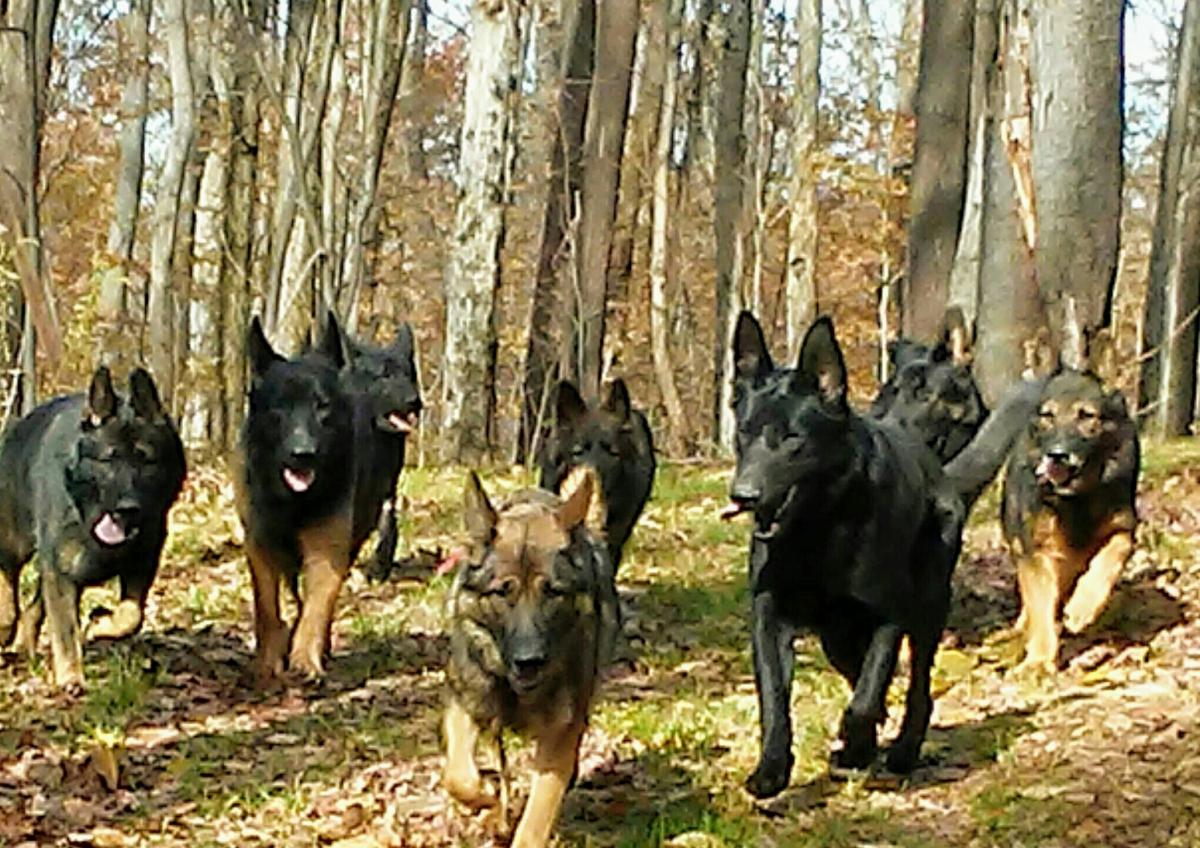 Hexe, I have offered a 2000 dollar reward plus a pup of their choice I return for my dog since the first week of my dog being gone. Once I could not find her. Well reward started at 500 and went up to 2000. I always had puppy in the offer. I have seen so many shepherds found, many of which had no one looking for them. Each one made me cry, These poor dogs waiting for their people to come and bring them home with no one coming. I called about my dog when she was found, but was told claimed by owner, Then I was sent the pics of her at vets office going to be spayed, and I knew this was my dog that I has been searching for, almost to my death. I live on top of the mountain on a dirt road surrounded by thousands of acres of state forrest. Me and my dogs were out everyday, morning noon and night searching. I called with a megaphone all through the woods. I placed ad after ad. I called psychics. I want my dog, this rescue has put pics of different dogs claiming the same dog. I am going Sunday to meet with them, after they claiming harassment. Half my town rallying for Flimm Flam. I am amazed at the number of people who want her returned. There have been hundreds if not thousands of eyes looking for my dog. I am grateful for the amount of help I received. I am very skeptical as to what's going to happen Sunday. All my dogs will be getting microchipped, as will pups leaving my house. This has been a real hard lesson to learn, I 'll say that. Here is my search party. They left no stone unturned on the mountain.

by kitkat3478 on 11 January 2019 - 09:01
I m telling you, these dogs searched, and they knew exactly who we were looking for. There was no trace of her shortly after she got out of fence. Now the one who was with Boink when he got shot, we followed tracks into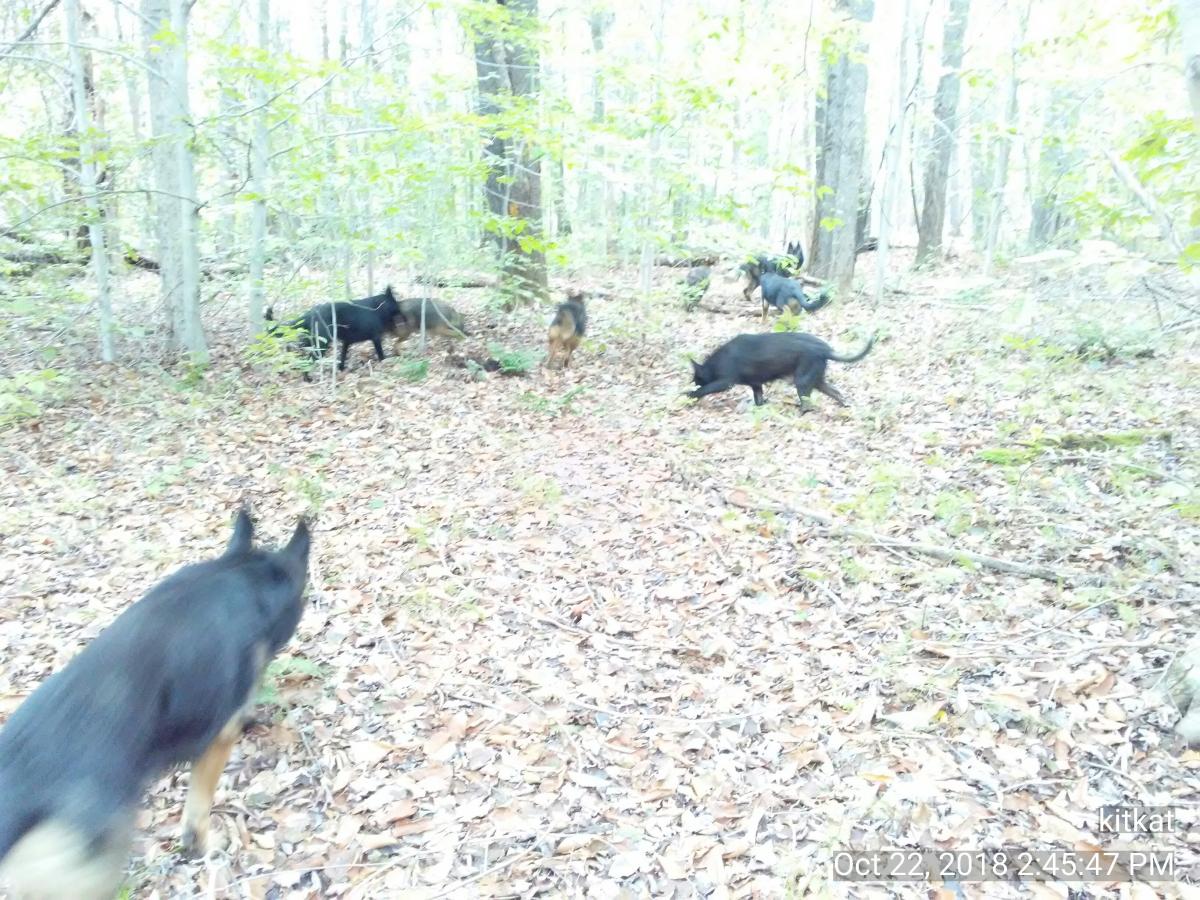 woods where I eventually lost them to the night, so it's possible, but not likely he is still out there, somewhere.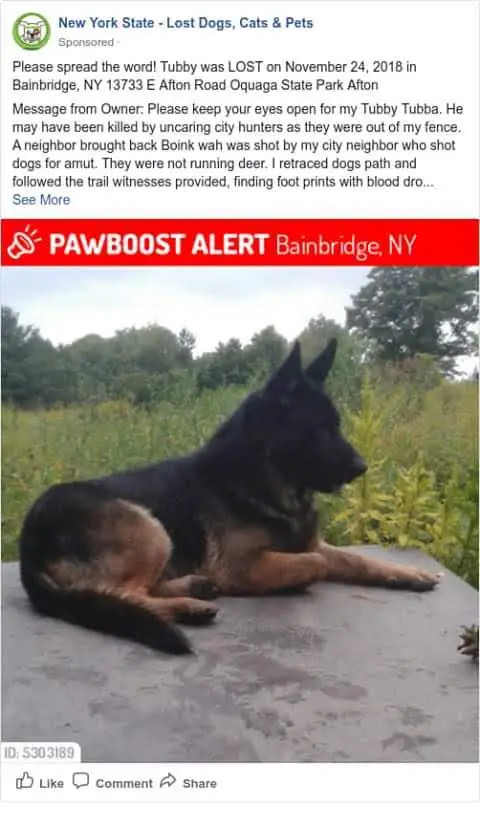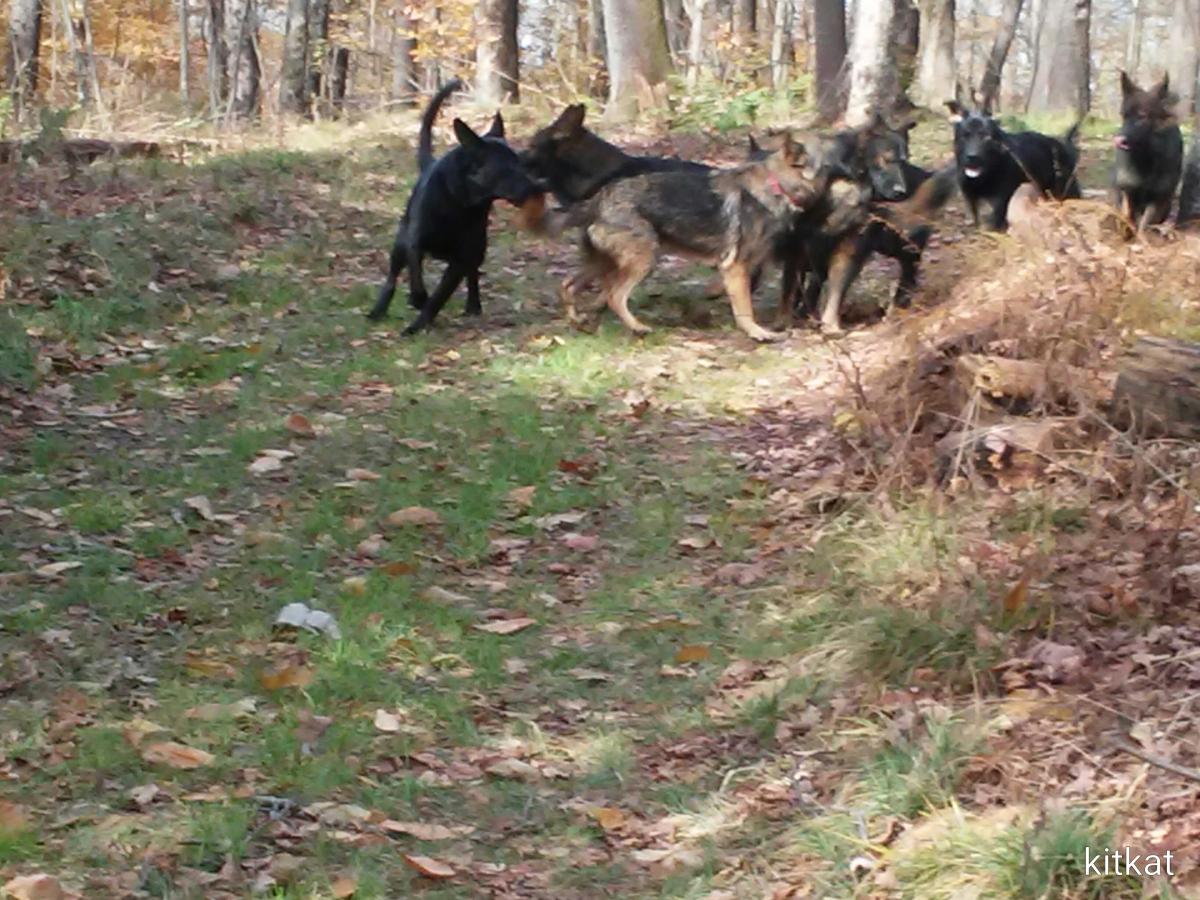 saddest part for Tubby is he was the one that always waited with me while everyone else ran ahead looking and playing. And they probably thought it was ok to go out looking because they just spent nearly y weeks everyday in the woods with me. They were both dogs that just love people who were totally blindsided by the action them guts in the woods took on them.
by GSCat on 12 January 2019 - 04:01
Hugs and prayers.

What of the person that cut your fence? Prosecution? Is it possible he sold the dog?




by kitkat3478 on 12 January 2019 - 08:01
I threw I'm out, no, my one dog was missing before he cut fence. He did not cut it maliciously, only out of laziness. He just a young kid that really was not thinking what could happen, I let him stay before hand as he had no where to go and he did try to help me. He tried denying that he did it too but I told him chain link don t just undo itself.

by Koots on 13 January 2019 - 00:01
I hope you find your missing pack member safe and sound. Don't forget to take care of yourself.
---
---
Contact information
Disclaimer
Privacy Statement
Copyright Information
Terms of Service
Cookie policy
↑ Back to top