by stormins on 29 December 2018 - 17:12
Alex
Before I respond to ALL of your comments and questions... something you have refused to do..... lets agree on one thing
..... Your dogs are beautiful! Very handsome, they have good structure and they have strong confidant personalities. They look very impressive.
But then so does my neighbors dog which also looks like a DDR except he paid $50 to the shelter for him because they couldn't prove it was 100% DDR any more than you have been able to.
Which begs the question.... Alex, with dogs as beautiful as yours WHY do you feel you need to allegedly make false claims about 100% DDR and make representations concerning your dogs health and titles that just don't reconcile??
by stormins on 30 December 2018 - 20:12
Alex In reference to :
# 1) Yes I see from the pedigree you are the breeder. I do NOT see a new owner listed on the pedigree even though you accepted 9,000 Eros from Alex in Australia
Perhaps I am rather stupid .... but as the breeder don't you own your puppies until you transfer ownership?
This is from Alex in Australia
Alexander from Stasi Kennels owes me €9000 for a pup I purchased from him .... Stasi guaranteed me all his dogs are 100% DDR . Drago Stasi was sent to his partner in Germany to be tilted in IPO before being imported to Australia . Drago Stasi tested POSITIVE to Brucellosis ... so could not be Imported to Australia .. no money refund and no further contact by STASI Kennels ( Alexander )
Alex Sonsovsky thankyou for answering at least one of my questions with the official paperwork .... you still owned Drago because it was never transfered to the man who paid you MILLIONS of Rubles.
Where is the dog now?
Have you refunded the money to Alex in Australia??
Is Drago 100% DDR?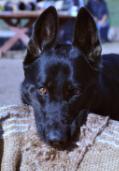 by DenWolf on 30 December 2018 - 23:12
Haven't been here in awhile..

He's heavy linebreeding on that G-litter Ritterberg, which were short, stocky thick dogs.. but dang, there is some really awful hip producers behind them. They produce that wet, stung by bees in the face look that everybody likes, but at what cost.
That puppy xrays posted are horrid... no muscle mass, so loose..remodeled and at THAT young of an age.. that's all genetic.

I never believed the lines were ALL east, but I guess a lot of people do. He's certainly cornered the market on the look of the heads.

Kabuschee has the closest looking thing to the old Don Rolandsteich look, but that whole line went out of following SV guidelines, stopped doing the titling and testing. I don't know how they are continuing papers, maybe thru russia?

I had Nil vom Eis, loved his look, everything about him, but go totally ripped off, bad hips, bad elbows, lying trail of previous owners, and he was sterile to boot.
Some lines, you just give up... even though you love them.






by stormins on 31 December 2018 - 00:12
Den Wolf

Alex is making out like the Kabuschee is Belarusian but they breed in Germany under UCI and paperwork in Belarus is under FCI which doesnt recognize UCI. Doesn't hurt to be friends with the FCI Judge in Belarus I suppose .... makes it easier to get the Kabuschee dogs in the system and to add titles etc when dogs are 7 yrs old .... look at his pedigrees for proof in comments above.

What is your opinion of today's Kabuschee dogs in general ?
by ValK on 31 December 2018 - 02:12
Alexander from Stasi Kennels owes me €9000 for a pup I purchased from him
that's insanity. don't know how much of purchasing power has 1 000 000 rubles in Belarus but in Canada it would be roughly $14 000. way too much for sane person to pay for pup. the last my dog was the first i ever pay for. back then in 2005 breeder ask $800 and after seeing and testing pup i didn't have objections. but even so, upon my coming with money and taking that pup, to my surprise the breeder on goodwill gave me back $200.
is that buyer from Down Under are breeder as you and Alex are?
DenWolf
Some lines, you just give up... even though you love them
i guess problems not in bloodlines but in breeders, who screwing them up for sake of almighty cash.
stormins
What is your opinion of today's Kabuschee dogs in general ?
they're good dogs but as you pointed above - UCI registration, which from point of commercial breeding is useless. Heike did quit SV (due to principles) very soon after reunification of Germany. albeit her latest female did come from "von Haus Iris" and seems Heike did pretty good choice. haven't seen anything with mature Thusnelda but at that video as a pup she did show very good and promising behavior. i just loves how acted that little girl in video.
by stormins on 01 January 2019 - 06:01
1. Concerning Bazooka.. She was x-rayed at the age of about 5+ y.o.
Actually Alex it was 6+ years and you knew she was a3 when you put her into PDB as A1
http://www.pedigreedatabase.com/german_shepherd_dog/dog.html?id=652531-bazooka-iz-minskoi-tamozhni&p=history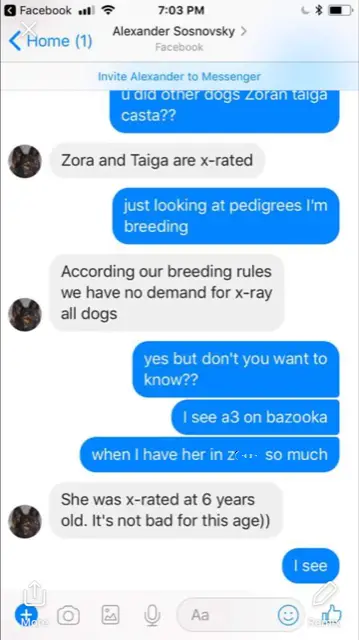 So Alex.... can you please give us a hint on how to know when you are telling the truth?
by hexe on 01 January 2019 - 07:01
And some folks wonder why I view the purity of those 'dominant black' showline dogs that all go back to the same Russian dogs to be suspect...

by mrdarcy on 01 January 2019 - 11:01
Hexe, you're not alone there, lol.
by stormins on 03 January 2019 - 06:01
Alex
Thankyou for uploading some of the Don Stasi paperwork ... I didnt see pg 2 or his IPO score book and trial record. Please upload that for verification has there as already been some questions about some of the "official" Belarusian paperwork you have provided.. You do remember Eva Stasi who wasn't even a Stasi? Or anything close to a DDR?
I had a friend of mine that lives not too far from you translate pg 1 into English (see below) and she translated Don's dam to Bazuka. This is the same dog and the exact same spelling as listed on all of the Stasi line export pedigrees...."Bazuka"
However when you go to your entries in pedigree database it seems you are listing Don's Dam with a completely different name...why? http://www.pedigreedatabase.com/german_shepherd_dog/dog.html?id=652532-don-stasi&p=history You were the last person to edit this record. Wouldn't this be considered falsifying the Pedigree Database entries since the name does not match the "official" records?
Which story can we trust??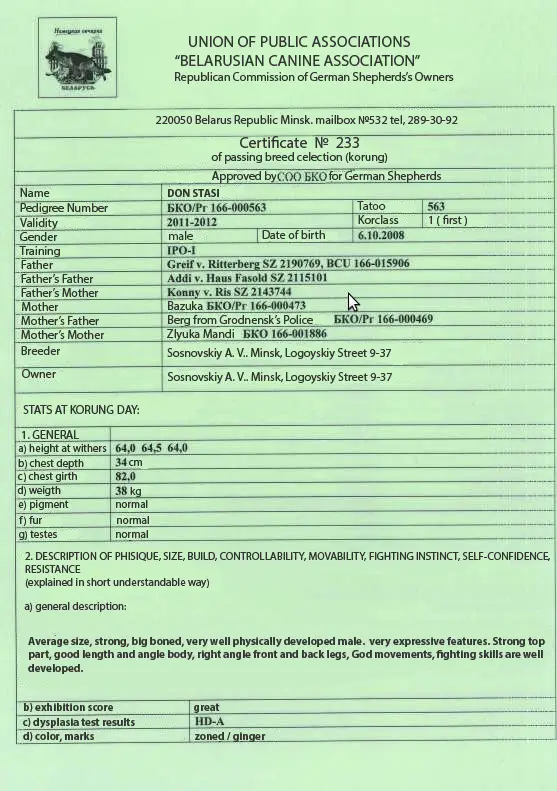 by Doddlebug50 on 03 January 2019 - 14:01
We purchased and imported a black female from Alex (Stasi kennels) last January and NEVER received her registration papers or any documentation (requested) of her entry into the US. His dog broker (Michigan US cell number) arrived at our home in a small rental car with several broken down crates in back as she had made several deliveries. We repeatedly requested airline documentation from Alex. His reply was he didn't know what airline, etc. Six month old female was scared of people...would run away if approached ...no socialization evident, smelled like dried feces on coat and thin. We had wired him $3300 for her and delivery. BEWARE !!!!!! One year and still NO REGISTRATION papers.
---
---
Contact information
Disclaimer
Privacy Statement
Copyright Information
Terms of Service
Cookie policy
↑ Back to top