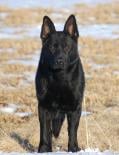 by Jenni78 on 09 May 2018 - 15:05
Could it be disseminated aspergillosis? Looks like it to me.
by Nans gsd on 09 May 2018 - 17:05
I just read the symptoms and treatment, however doesn't sound like what he has, but you know how that goes. Thank you Jenni78, I was hoping you would see the x-ray. Thank you for your reply. Nan
by Hired Dog on 09 May 2018 - 17:05
https://asgvets.com/bronchopneumopathy/
Please take a look at this.

by Sunsilver on 09 May 2018 - 17:05
Nan, yup, definitely a puppy spine in that second x-ray! :D

BTW, I am a retired nurse, so used to looking at x-rays.
Hoping for the best...I am hearing impaired, and had to say goodbye to my first service dog 2 years ago, so appreciate how much they mean to people.

by Nans gsd on 09 May 2018 - 18:05
Thank you hired dog for the very interesting article. Have read and will re-read; at this point all I care about is treatment. If possible.

But thank you again Nan
by Nans gsd on 14 May 2018 - 18:05
well the prednisone has helped some and also Benedril and at this point keeping him comfortable; eats at night and not so well in AM; thank you all for your help as it has bought this guy some time. Playing with toys sometimes, so know he's comfortable. Thanks Nan



Sent you a PM Sunsilver; hope you got it. Nan If not, I so appreciate your knowledge and sharing with all of us. Nan

by Sunsilver on 14 May 2018 - 18:05
Nan, I'm sorry, I didn't get your PM. They weren't working for a couple of days. Admin say the problem is now fixed if you want to try again.

Glad the meds are helping! Do the vets have an actual diagnosis?
by Nans gsd on 14 May 2018 - 21:05
It's OK Sunsilver it was just a little thank you and how much we all appreciate your expertise and knowledge on this forum.


As far as Boomer NO their heads are pretty much up there if you know what I mean. But, comfort care as long as I can. Thank you again, Nan.
You must be logged in to reply to posts
---
---
---
---
Contact information
Disclaimer
Privacy Statement
Copyright Information
Terms of Service
Cookie policy
↑ Back to top