by joanro on 15 August 2018 - 18:08
My comment on Mombo and hips....I raised two Mambo daughters, littermates I imported from Czech as eight week old puppies.....I had five litters total between them. Some litters had ten and eleven pups in them. Never had any hip dysplasia nor bad elbows from either of those Mambo daughters.
I believe too many people blame a dog for producing bad hips without considering all the other dogs in a pedigree. Not other mention how the litters are raised where bad hips appear.

Civil dogs in every litter, super sound nerves and environmentally solid.

by susie on 15 August 2018 - 19:08
Baerenfang, that's sad. 😣
What happened to the sibling you got, too?

When I clicked on the link a litter (!) out of her was mentioned - I don't believe you bred a 5 months old female to a puppy male - you should ask the admins to remove it...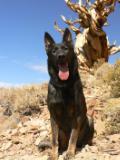 by Prager on 15 August 2018 - 21:08
Be careful whom you are listening to. First of all the pedigree is 50% Czech which is a substantial amount and the rest it looks like it compliments it nicely even though it is total outcross between 2nd and 5th line.
As far as Mambo goes, I agree with Joan, the truth is that while inevitably there must be some HD in his progeny because he produced hundreds of dogs with all sorts of females, the "concerns" of so caled "experts" ( usually in competition) about his HD production are just a hoax and jealous badmouthing which took off like a wildfire on the internet.
Below are the facts.
Mambo during his era of year 2000 - 2011 was top producer of good hips in Czech republic. This is reflacted in a summary which was published in year 2012. During that era was xrayed almost 4000 GSDs who had more than 5 dogs from their progeny x rayed.
As you can see a national average of negative hips was 75.9% .
Mambos average was way above the national average at 85.2%!!!! He was a 34th best dog out of 3963 dogs!!!!

Total x rayed dogs Negat DKK I. st DKK II. St DKK III. St DKK IV.st

3963 3011 533 312 66 41

75,9% 13,45% 7,8 % 1,67% 1,03%



MAMBO z PS

34 29 1 3 1 -

85,2% 2,9% 8,8% 2,9% O%

if you consider that hip Dysplasia is a polygenetic problem with an irregular pattern which is genetically predisposed but environmentally induced, then considering the fact that all dogs carry HD genes, the environment is of some importance. On top of it, Mambo was bred to many females and we must not omit their influence.
Personally, I would like to say that we all should be so lucky to have only dogs who produced hips like Mambo.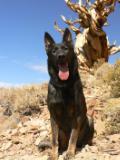 by Prager on 15 August 2018 - 22:08
The questionable ( as far as hips go is breeding dogs with 1/1 in a roll). While 1/1 and even 2/2 in Czech is acceptable I personally would not breed 1/1 then back to back in a roll, as we can see it is done on the pedigree. The dogs in question we see are Kaja JIPO - Me 1/1 and Vivien z Herodesova dvoru1/1. If I go back more I then see Jola z Tehelneho dvora 1/1 and Gala z Tehelneho dvora with no evaluation at all ( which is always suspicious especially since I could not find hips evaluation even on other registres). After that, we can look at Gala's pedigree http://www.pedigreedatabase.com/german_shepherd_dog/dog.html?id=479038-gala-z-tehelneho-dvora
and we will see all mess of marginal hips ( 1/1 and 2/2) which are officiall breedable in Europe but would probably not pass OFA and then we see more dogs with no evaluation of hips at all again. We can thus draw red line of HD for several generations. If the bad hips are going to come from somewhere then the highest probability is from what I call "red HD line" and NOT from Mambo!


by Baerenfangs Erbe on 16 August 2018 - 05:08
I'm absolutely positive that the environment plays a much bigger role than we think it does. That being said, what Joanro described in one of her earlier posts fit to a T. However, I have to be fair, there is certainly HD coming down from Athos's side as well, specifically through Gildo and the Bungalow bloodline. So it could have been a combination between the two, or a genetic predisposition with environmental influences... who knows. It just really sucks because I seriously clicked with this puppy. Her personality and temperament alone makes her super likeable.

It's just one of those things where breeding really, really sucks. There is a reason why I'm not trying to get attached until I know for sure they are going to pass. With her, I let my guard down.
by duke1965 on 16 August 2018 - 05:08
totally agree that females that are bred to a certain male , make up for a big part of the good and bad reviews that that male gets for its offspring
furthermore, generally speaking, club records on xrayresults arenot accurate by a long shot, majority of dogs will not be xrayed, and from the ones that are xrayed, a large amount, both good and bad, is not send in,
bad ones for obvious reasons, good ones because many clients prefer to see actual xrays over a paper result, and lots of dogs are done before age that can be officially send in for evaluation,
by duke1965 on 16 August 2018 - 06:08
than on Mambo, I love to see him in a pedigree for the overall qualitys he brings, and wish there were more dogs like him in todays dogworld, , the pedigree of the mother of this pup, Charon over a Mambo doughter is one to die for, and I would not mind breeding from that myself
but we should never deny things we know, on order for us to make better breeding choices for the future

by joanro on 16 August 2018 - 14:08
Forgot to say that, Both of my Mambo daughters had OFA GOOD hips, NORMAL Elbows.

I kept the entire (4 boys, 2 girls) first litter from Igrochka and raised them exrayed all of them....100% OFA GOOD hips, 5 Normal elbows, 1 had one normal elbow and the other elbow grade 1 but never lame nor ever took a bad step.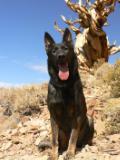 by Prager on 16 August 2018 - 19:08
Duke such conditions apply to all dogs on list. So the list is statistically quite accurate. BTW do you have a better way to statistically measure the quality of hips produced by certain stud?
by duke1965 on 16 August 2018 - 19:08
prager, that is allways a question,next to the statistics, I go by larger amounts of dogs seen by me and all the people I work with in the business, for example, I have seen lots of Charon offspring, as do the people I work with in the business, overall good hardness, strong dogs good prey and agression, almost no fallout on medicals, some handleragression, mostly possesiveness based, many suitable for policework.
can tell you the xrayresults of many Charon offspring that was never send in to club
also we discuss this with different people here in the business, can easily produce a list with goods and bads from males that bred a lot,
some above average producers of recent time( that you willnot find in club statistics) or IPO competitions, for that matter
Charon favory cross
Vrisco Niox
Coudy z udoly upi
Ibon jipo me
Torr Opavia hof
Akim milargo
lucas z vrtovske doliny
now nobody sees all dogs and all offspring,but when you see larger amounts there are allways good and bad things you will see coming back again and again,
---
---
Contact information
Disclaimer
Privacy Statement
Copyright Information
Terms of Service
Cookie policy
↑ Back to top