by Glock on 11 December 2017 - 01:12
To experts on this board, what can I learn about my dog's mental state or temprament from this behavior.
I share a driveway with my neighbor and have transparent glass windows. Whenever my neighbor walks the side of our house our GSD becomes very alert with full piloerection ( her body looking noticeably bigger ) tail held high above her back and she barks with so much enegry that she literally spins. Along with the spinning she may sometimes sit in a natural bark and hold position with her front legs thumping up and down.
What does this all mean?
by Glock on 11 December 2017 - 01:12
To me it looks like some kind of elaborate warning ritual.
by Glock on 11 December 2017 - 02:12
Btw
This is a dog that cannot be petted by any strange person.

by KYLE on 11 December 2017 - 04:12
Hard to tell what anything is without seeing it first hand. Dog can't be petted by a stranger in the owners presence , lack of confidence, fear, weak nerves possibly. Trained to attack strangers. Spinning, displacement disorder, nervous energy not being released hence the spinning. Barking at neighbor everyday, good watch dog. Wanting to indiscriminately bite people, not so good for the breed. Hope this gives you a starting point in figuring out what your dog is doing. I'm no expert but I have been around.

by Baerenfangs Erbe on 11 December 2017 - 04:12
Agree with Kyle. Without a video or seeing it first hand you can't really say anything. However, the description is concerning. But what do I know. I only have weak prey dogs.

by Hundmutter on 11 December 2017 - 07:12
Clearly she regards your shared driveway as part of "her" territory and is guarding the bit of it she can see your neighbour using from your window. Not a lot wrong with 'territorial' behaviour if you do want a watchdog. You don't say how YOU feel about the behaviour. If you are finding it a little OTT you need to look at your relationship to the dog - could be she feels the need to get this emphatic about it because she does not regard her 'pack leader' as doing enough to secure the home turf. Maybe she needs reassurance that you are the one in control of the property, she does not need to be ?

Or maybe you resent the shared access and she is picking up some hostility from you towards this neighbour ? Again, you have not said whether this reaction is only toward the one person, or anybody who walks past your windows ? And how she is if she meets the neighbour (who isn't really a complete 'stranger') outside ?

by Sunsilver on 11 December 2017 - 14:12
Piloerection usually means the dog is anxious and unsure in a situation.

And yes, how is she when meeting the neighbour in person?
by Glock on 11 December 2017 - 16:12
Kyle
Im not sure about the fear , confidence part because she have had a few bite work sessions and she bites even when I am hidden from her vision. Had someone entered the home with her in a muzzle and she was all over them muzzle punching. And shes very territorial even if she is in the house all alone and knows. So im not so sure anout being afraid of a person.
by Glock on 11 December 2017 - 16:12
And Kyle your view on dog cannot be petted as a sign of weakness is almost exclusively an SV/ IPO viewpoint . I recently mentioned here on this post that many KNPV Malis will bite you simply because you are there. Hans Pegge on of the most reputed guys in the KNPV world mentions about dogs like this. He even named Kwinto a non social dog as the Best son of the well known Ducco Seegers .
Even here in the USA M. Suttle have one such dog Arko that is aggressive both socially and on the field , but that dog won many competitions in Netherlands before coming to US.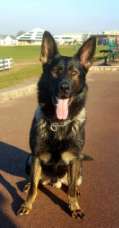 by RichCarne on 11 December 2017 - 17:12
Glock, are you Mithuna?
You must be logged in to reply to posts
---
---
---
---
Contact information
Disclaimer
Privacy Statement
Copyright Information
Terms of Service
Cookie policy
↑ Back to top