by CourtneyK9 on 30 November 2017 - 01:11
Hello!

Anyone have suggestions on dog beds for heavy chewers (for inside a crate)?

I have a GSD that can be hit or miss with chewing bedding- the longest she's gone is a week and a half without shredding. I usually opt to not leave anything in her crate for her safety but it kills me not having something padded in there.

Ideally I want something orthopedic, but I want opinions based on your experience with high drive working dogs.

Thanks so much!!!

by Western Rider on 30 November 2017 - 01:11
Pull teeth, then place with dentures you can remove when needed.
I gave up use cedar shavings.

by Sunsilver on 30 November 2017 - 06:11
Agree with Western Rider!

When Star was a pup, it didn't matter what I put in her crate: she would eat it!
Because I was worried about her getting a blockage in her intestines, I just had to let her sleep on the bare plastic!

by Loony on 30 November 2017 - 07:11
If you use a metal crate, then I highly suggest Primo Pads. They come with reusable zip-tie tie downs. My pup was destroying and consuming his bedding, so I had to remove everything. But then he developed elbow hygromas from always being on hard surfaces. He has not damaged the Primo Pads in my wire crates at all. I also have Primo Pads in my plastic crates minus the tie downs. I've had one determined chewer manage to get a corner lifted and she destroyed the pad. So they aren't chew-proof, but much more difficult. They are stiff, so harder to get to the edges, but are made of thick foam so they provide some cushion. They also don't absorb any liquid so you can just wipe them clean or hose them.

I've had others recommend K9 Ballistics beds. I haven't personally tried them, but a client with a minpin with separation anxiety managed to turn hers into a snow storm. So definitely not chew proof. And their guarantee only covers a new bed cover, not the whole thing. They have many different types of beds though, so perhaps you can find something that works for you. Best of luck.

by Western Rider on 30 November 2017 - 07:11
How about a stall mat cut close to size very stiff and hard to chew easy to clean

by Hundmutter on 30 November 2017 - 07:11
I'll second what WR suggests; I had a really determined chewer so I lined the floor of his crate while he was younger with a stables-grade black rubber mat. It was thick and bouncy enough to give him a bit of cushioning, but highly resistant to being chewed on.

by Q Man on 30 November 2017 - 14:11
I have Concrete Floored Dog Runs/Kennels...I put Horse Mats in the bottom of them so the dogs have something with some cushioning to lay on...I have a few dogs that continue to chew up the mats...I've had to remove them from their Runs...It's better Safe then Sorry...These same dogs will literally chew up their Stainless Steel Food Pans and Water Buckets...
You have to do what is Safe for your dogs...

~Bob~

by susie on 01 December 2017 - 17:12
Why don´t you teach the dog to rest without a crate - I owned dogs for decades, and ALL of them learned to behave in the house without crate...
As soon as they are well-balanced (physically and mentally trained, tired ) they don´t feel the need to destroy anything any more.
by Ourn on 02 December 2017 - 00:12
The best chew proof dog beds are made by a company called K9Ballistics. The covers for the memory foam beds are made of kevlar, so not only will they resist the most determined chewing, but will also shield you from bullets, if that becomes necessary! You can find them at K9Ballistics.com. I own several and they have stood up to German Shepherd pups like nothing else I've ever seen in 40 years in the business.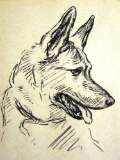 by Lolo777 on 06 December 2017 - 10:12
You must be logged in to reply to posts
---
---
---
---
Contact information
Disclaimer
Privacy Statement
Copyright Information
Terms of Service
Cookie policy
↑ Back to top