by doglover250 on 04 September 2016 - 18:09
I saw this post online tried it and it worked this can be useful for anyone whos dog needs help gaining lean muscle weight because it makes a big difference when it comes to winning shows and improving your dogs stud value.


Hello everyone i just want to share my dogs story with all of you so that if anyone out there is experiencing the same issue with there dog they can hopefully benefit from what i have to say. My dog is from a well respected bloodline and has championship parents and is a really good looking rottweiler but has had a problem gaining weight . I tried all different types of high end and low end dogfood which helped but not enough. So to make a long story short this is what i did and what actually worked to make him gain lean muscle weight. Because there is a difference between muscle weight and just weight gain.

What to add to your dogs food to increase lean muscle weight: Add this stuff to your dogs kibble.( I always keep a good kibble in the combo)

1. Raw chicken meat you can save alot of money buying chicken backs or just chicken quarters. (tyson brand is pretty good)
2. 1 raw egg
3. 1 scoop of yogurt(dannon is good brand)
4. 1 sweet potato or 1 cup of brown rice
5. BUffk9's true champ formula( this stuff works seriously and super safe)
6. Braggs or gnc brand apple cider vinegar
ALSO ADDING REAL MUSCLE MASS DOESNT SLOW YOUR DOG DOWN AT ALL , ITS BAD QAULITY MUSCLE MASS THAT SLOWS YOU DOG DOWN.
Try this combo for a month let me know what happens good luck dont be surprised when your dog starts looking like Arnold in his prime this look is super cool also your dog will become alot healthier to .
Print a Coupon for Fortify™ Probiotics

by Hundmutter on 04 September 2016 - 20:09
Wot, no steroids ?

by Reliya on 05 September 2016 - 00:09
Raw egg, no shell? Store bought or straight from the chicken? I have the option of getting eggs from the hens because I live within walking distance of several people with chickens.

by Hundmutter on 05 September 2016 - 05:09
I'd go for fresh laid over store bought, every time, no question, Reliya. ;-) Shell or no shell.

by Reliya on 05 September 2016 - 06:09
I know it would be better getting it directly from the hen, but I was asking what the original poster was using.

by Reliya on 05 September 2016 - 06:09
I didn't mean for my post to sound snappy. After reading it again, it seems snappy. Sorry.
by hexe on 05 September 2016 - 06:09
Reads like what it is....an advertisement for Buff K9 products.
Edited to add: Not your post, Reliya. The original one.
by gsdstudent on 05 September 2016 - 11:09
the right way? exercise. Training would be an ideal way to exercise. A dog who can prove its merrit by allowing itself to be trained to a high level might also prove a valuable stud or brood bitch.

by Hundmutter on 05 September 2016 - 14:09
Student: yup, quite agree (which is why I was prompted to be facetious !)
Reliya: no offense taken, :-)
Hexe: That it does ...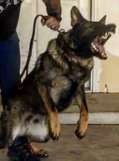 by Shawnicus on 06 September 2016 - 05:09
Most GSD people are terrified to physically tax a dog or think they're gonna mess up his hips or joints etc, that's a myth made up by people with weak Mod edit dogs who aren't physically built to be working dogs .check out some of my videos conditioning dogs and you'll understand the intensity I am talking about .. Once the puppy is 6 months old u can start them , free running is a good way to get them started and then fetch and thug and slowly increase the time and duration of the workouts. as the dog gets older , start incorporating spring pole and uphill sprints with weighted vest and collar ( not untill the dog is 18 months old) swimming is also great if you have access to open water .. Dogs are a lot more tougher and durable than you think , don't be shy to work them hard.
---
---
Contact information
Disclaimer
Privacy Statement
Copyright Information
Terms of Service
Cookie policy
↑ Back to top