by trixx on 03 December 2012 - 18:12
how dare you say i dont care about my dog, i love this dog- you have no right and you dont know me and the whole story with this trainer, i have been in contact with him from day one and he was good at first and then something happen this year, thats when it all went funny. yes there was a contract and video and a few pictures, my last video of Teddy was in aug of this year but not sure when it was taken , last picture was in may. so i think he for sure had him til summer of this year. i am thinking that i wont be seeing him again, i think he sold him or he has died. by chance if he is telling me the truth, i will be calling some places today, i also call Homeagain ( yes he has a micro cip) and they are sending out lost dog reports to all shelters, resuce and vets in the whole area, Cory said he is out looking for the dog, but is he really and said he put up fliers etc.. i am going to see if i can fnd anything, he said he put something on face book, Graig list, i did not find any thing. someone could of easly kept Teddy he has a super temp . if Cory calls me back he said he would in a few days, i will ask about the website. Cory kept saying just a little bit longer and i thought ok cause Teddy needed work on his retrieve , maybe he just needs a little bit longer.
Cory said he does not work with Ben any more, that much i know. i did not know about all those addresses i knew of a few.
before i sent Teddy to Cory at the time i did not find any thing bad on him and i even ask on here and no one knew him at the time , had i only knew .
i had talked to cory for a good year or so before i even sent Teddy , i thought he was good and i do know his dog that is SCH1 he titled himself,
well i will tell you how this all turns out- thank you

by SitasMom on 03 December 2012 - 18:12

how long is the driving time to get to this trainer?

if its less than 10 hours each way, i suggest you get in your car and pay him a visit......asap.
by hexe on 03 December 2012 - 19:12
trixx, don't give up on Teddy just yet...I would, however, make contact with this trainer's former partner, and see what he might be able to tell you about Teddy's whereabouts.

What is the status regarding Teddy's registration paperwork--did you hand that over to this trainer, or put his name on it in any way, or is it still in your hands? It would be worth contacting the AKC to make sure no one else has registered him in their name subsequent to purchasing him, too.

But Molly is right--you can't trust the trainer to put any effort into finding your boy, not under the circumstances; it's all on you. I'll touch base with a breeder I know in OH who is also retired law-enforcement, as is her husband, and see what they can find out. If you can PM me with Teddy's vitals [age, tattoo #, microchip, registered name, and an email I can give them] I'll pass that all on to them and then the two of you can communicate directly.

Yeah, what is going on with Ohio? Is it becoming to GSDs as Florida is to outrageous criminal activities?
by beetree on 03 December 2012 - 20:12
Trixx,

Glad you didn't wait a year. You can take offense if you need to but, I didn't exactly say that. Only that it appeared like that.

However, I certainly would never do what you did, or wait like you did, and that is why I asked if this is normal procedure for breeders. If it is, well, IMHO it stinks.

I have every right to respond in the way I did, to what you wrote. And if I'm unimpressed with your efforts, who cares? It won't stop a single person from doing whatever it is they are going to do with your dog. That is if you even believe that half-baked story they lost your dog Wed., because, well, boys will be boys!

I am not the one who doesn't have a clue where their dog is because he ended up in the wrong hands.

Nope, something like that would never, ever happen to a dog I owned. You can take that to the bank, guaranteed.

beetree



by hexe on 03 December 2012 - 20:12
bee, sorry, but you are being unnecessarily harsh on trixx. The last video she had of the dog was in August, and since she's never titled a dog herself, she had no idea how long it should take. I agree that it's a less than ideal scenario, sending a dog out for training and titling---usually referred to as boarding, training & titling, but it's actually not all that unusual, and frankly, it happens in the AKC conformation show world all the time--dogs actually live with the professional handlers, and it can be easy for someone to drop out of sight. I realize that it's hard to envision sending your pet away for weeks or months, let alone a year, for training and titling, but an owner who wants to have their dog trained to that level and isn't physically able to do so themselves doesn't love their dog any less than you or I do. If I were less cynical and jaded, I might be more trusting, too.
Most of the time, in situations like trixx', it's usually a case of the dog not getting much, if any training, and the 'trainer' just draining the owner's checkbook for however long the owner tolerates it. It's not right to do that, but in those instances the only real harm is to the owner's bank account.
When it goes wrong, however, it ends up like tragic ending of
Nitro and 7 other dogs
who were permitted to starve to death in the hands of 'trainer' Steve Crowley operating as
"High Caliber K9" in Youngstown, OH
back in 2008.
trixx, I do agree with those who have said you need to GO there to Dewberry premises, and you need to do it with a police escort, because you need to be 'boots on the ground' for this now. It's well past you being able to do this long-distance; if you can't get to Columbus, OH, then you need to find someone trustworthy who can do so on your behalf.
by beetree on 03 December 2012 - 21:12
Okay.... Hexe,

I get what you are saying. At least I am trying to understand it.

And as a side note, I WAS thinking exactly of the situation with Nitro and those poor dead, starved dogs. And yes, the lack of "boots on the ground" was not sitting well with me.

Trixx, again I hope you find your dog, Teddy, alive and well.

beetree



by hexe on 03 December 2012 - 21:12
bee, trixx is going out there personally. I'm sure we all pray she isn't met with what the persons who went to Crowley's were...
There was a time when I gave consideration to sending Hexe out to have her training finished & have her titled, when I moved from NJ to up here in East Nowhere, where the closest SchH club is 4 hours travel, one way--if I leave the farm for that long, I have to have someone else come to take care of the animals in my absence. I do know some people I can trust who would have done the work as a favor [as it's not something they do except for friends, but I also would have paid them as well], but in the end what made the decision for me was simply I couldn't bear the thought of not having her sleeping on my bed every night, even though I know it really WOULD have only been for a couple of months... I'm still too much of a 'pet' person when it comes to that; my dogs live in the house full-time, not in kennels, and I'm one of the few farms around here sans 'farm dog' that lives outside and chases away marauding wildlife at night--because I can't bear the thought of some dogs living inside with me, and one or more living outside. Just wouldn't be able to do it on a cold winter night. But it doesn't make it wrong across the board. Just wrong for me, and probably wrong for you, too. We're too soft, but I'm OK with being that way.


by VKGSDs on 03 December 2012 - 21:12
Scary stuff, good luck Trixx! You seem like you always have your dogs' best interest at heart and I'm sorry you got scammed.

I'm too paranoid to let anyone handle my dogs for any period of time. I've stumbled through being a newbie and learning SchH/IPO and my dog always brings more to the table than I do and has suffered through my mistakes. On Sat I was at a seminar and during protection the helper kept telling me to hand my line to someone else and I refused every time. He gave me some crap for it (not in a mean way and I don't get upset over dog training anyway) but I said I made mistakes with my dog and I intend to fix them. I can't learn to train and handle dogs properly if I'm just told to hand my lines to someone else. Also I do some fostering and occasionally take in a "project" to train and give to someone I know and honestly I don't treat these dogs with the same level of diligence as my own. They are absolutely taken care of and probably get better training than many pet homes but I'll admit that my own dogs are my first priority so I feed them first, train them first, spend time with them first and then the foster dogs get what is left of my energy. Part of it is also that not having a really close bond makes it easier for me (and probably for the dog too) to be adopted, but I'm still scared to ever send a dog away knowing that even someone like me who likes training other dogs and has the means to welcome in foster dogs is not 100% with a dog that's not mine.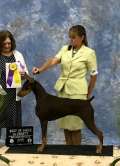 by rtdmmcintyre on 03 December 2012 - 21:12
VK I have to say I like your attitude as far as when told to hand the lines to someone else. stubborn in a good way. very admirable.
by kipka on 03 December 2012 - 23:12
Hi tixx I hope your on your way to get your dog but I just heard a not so good rumor that there has been an event at your trainers kennel and. People are telling me that the dogs were removed by local animal control.so if it is true it should be easy to get him home.so good luck and for goodness sakes train him yourself thats where the real fun is. Hang tough. Kipka1
You must be logged in to reply to posts
---
---
---
---
Contact information
Disclaimer
Privacy Statement
Copyright Information
Terms of Service
Cookie policy
↑ Back to top