by Emoore on 19 September 2011 - 03:09
I own a 9-year old rescued male GSD and a 9-month old male DDR puppy. I'm thinking sometime in the next year or two I'd like to add an older female. One option I'm considering is adopting a retired, spayed breeding bitch. I'm not looking to buy a dog; I'm looking to give an old lady a wonderful forever home where she'll sleep on the couch and get plenty of treats and be treated like a queen. Any thoughts or opinions on this? Has anyone done it? Anything I need to look out for? How would I go about finding one? I'd think that a breeder would be happy to pass their old girl off to a home like mine, and I don't mind giving vet/personal references or paying for the spay.

by Ruger1 on 19 September 2011 - 03:09

I am interested in the feedback as well. I have been thinking that adding a mature/retired female to our pack would be special. I had the oppurtunity to spend a few days with a house guest that brought her older female. We enjoyed her and liked the way she kept my pushy male in line lol.......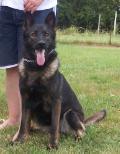 by Donnerstorm on 19 September 2011 - 06:09
I would think most breeders would be thrilled for one of their retired breeders to get a home to live out the rest of her life as Queen of the couch! Will you guys be looking for sl or wl, or does it even matter?

by Emoore on 19 September 2011 - 13:09
My personal preference is for working lines, but in this case it wouldn't matter nearly as much as her ability to fit in with my current boys.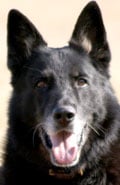 by BlackthornGSD on 19 September 2011 - 15:09
I think the main concerns would be to make sure that any girl was housetrained and/or good in the house. Most of the time, the housebreaking isn't a problem, but one female that I got as a mature SchH3 couldn't retire to be a house dog in my house or any other--she couldn't be confined--she'd chew through doors and was terrible in crates--she was also extremely bitch aggressive. She lived out her life as a kennel dog in the biggest kennel I could give her (often a 20x24 grass kennel during the day and smaller concrete, roofed run during the day). I walk my kennel dogs at least twice a day, so it wasn't like she was just shoved out to wither away by herself, but it wasn't the life I would have liked to give her.

The other concern is to watch for aggression with small animals and/or other dogs. And meet the girl, of course, if possible, to make sure she's a good fit. Many, but by no means all, will be bitch aggressive--although that may become less of an issue after they are spayed and no longer have that biological imperative to protect their future pups.

In general, they can be wonderful companions--they tend to have very good manners, some training to a higher level, and excellent discretion with small dogs and kids from their time spent mothering. They certainly deserve the best retirement they can get and if they don't get along with other residents of their current home, a "retirement home" can be a wonderful option.

Christine
by jmopaso on 19 September 2011 - 20:09
I retired Hazel von Narnia this year. I placed her locally with a former client, who had lost her old lab last year to cancer. Two years ago she lost her husband to cancer. She lives alone, has a lovely home, a huge fenced yard and needed a friend. The situation was perfect. I still get to see Hazel when she comes in for veterinary visits. Hazel is the perfect dog, she honestly just never does anything wrong and has been a house dog all her life. Now is truly is the Queen of all she surveys.
I would have kept her for the rest of her life, but this new life is great for her and her new Mom.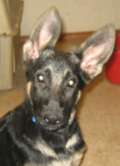 by vonissk on 19 September 2011 - 23:09
I took a retired Czeck girl and she was awesome. She was clean, was good with the other dogs, even liked the puppies. Liked to ride in the car and didn't tear up. But I agree with Christine too. Some dogs that have just been kennel dogs I think would have a very hard time acclimating to the house. A lot of places I have noticed don't give their dogs to retirement homes. Some have the price and some just say adoption fee.
If I was at the place where I could get a grown dog I would definately adopt another retiree.
You must be logged in to reply to posts
---
---
---
---
Contact information
Disclaimer
Privacy Statement
Copyright Information
Terms of Service
Cookie policy
↑ Back to top