by Oaklawn on 09 March 2009 - 18:03
Have you ever had a dog with these symtoms holds leg up and walks with a limp, for four days now. We go for very short walks for now. Most all dogs I have had in the past, they bounce right back in a short time ? Looks stiff not broke but stiff looks uncomfortable. I think he turned to quick like a football player. My vet gave me some pain pills for now.... Any thoughts ???
by hodie on 09 March 2009 - 19:03
A dog who does not want to bear weight on a limb says a lot. I think your vet is the best person to look at this injury and diagnose. If it is not better soon, I would certainly consider x-raying. You don't say whether x-rays were taken already, nor do you say how the dog was injured nor specify the exact location of the injury (other than a leg...). For now, it is best to keep the dog on leash and only take him out for elimination. Keep him quiet. Go back to your vet in a few days if he is not much improved.
by AnjaBlue on 09 March 2009 - 19:03
Which leg is the dog holding up? How old is your dog? (pups can develop a condition called pano which will look like lameness.) A pulled muscle can take more than a few days to feel better....... the most problematic ligament injuries are those affecting the cruciate ligament in the rear (stifle) legs. One of my old (non-GSD) dogs ruptured it, so that required surgery to repair it, and extensive recovery time. If your dog isn't looking better soon I would say you need to go back to the vet and ask for a more detailed analysis.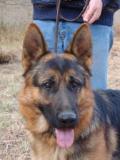 by UrsulaGSD on 09 March 2009 - 19:03
You said "football player". I just relate this to "cruciate ligament " (after turning very quickly). You should have checked him, just to exclude this, because if this is the problem you should not loose any more time. There is a simple way to check this ligament manually (by your vet - would be good to do this first), apart from more sophisticated methods.
by mobjack on 09 March 2009 - 20:03
Hodie is right, there's not really enough info here but if it's a back leg, it sounds like a cruciate ligament to me too.
Been there, done that twice recently. It all depends on how bad it is.

If it's torn, it may need surgery and the best time to do that is right now. Waiting won't do any good and they can't fix it if the injury is too old according to my ortho vet. Don't expect the dog to ever really be back to 100% pre-injury and be aware, the chance of it happening again is high.

If it's only strained, crate rest, no running, short leash walks to go potty only. Joint supplements help. Rehab by manually manipulating the joint and the entire leg may be suggested. Expect to keep exercise restricted for at least 6 weeks gradually building back up to normal after a few weeks.

If I were you, I'd be back at the vet today. The vet can sedate him and do a simple "drawer test". If it's positive, then you can get x-rays done (which may or may not show anything) and possibly ultrasound to see how bad the damage is. Then you'll know if you need to consider surgery.



You must be logged in to reply to posts
---
---
---
---
Contact information
Disclaimer
Privacy Statement
Copyright Information
Terms of Service
Cookie policy
↑ Back to top