by Vinegarjoe on 10 February 2009 - 14:02
So here is a photo of my boy. 4 1/2 months old in this photo. He is a Karats Ulko son.
Is he "roach" backed ? or is this just a growing stage he is going through ?
Thanks for any info.
by GrassDog on 10 February 2009 - 15:02
HI Is that how his back looks all the time. Take a picture with his head up. Maybe then we can see what he really looks like B

by Vinegarjoe on 11 February 2009 - 13:02
Here are a few more images of Gunther, perhaps these views will enable a better opinon of whether or not he has a "roach" back.

Also, is the white patch of hair in the center of his chest a fault ??

Thanks for any/all info.

Vinegarjoe




by july9000 on 11 February 2009 - 14:02
YES HE IS ROACH BACK..
AND NO IT IS NOT A FAULT...THEY ARE ALOUD TO HAVE A WHITE PATCH IN THE FRONT.

by BRADY BEE on 11 February 2009 - 14:02
In the photos he does appear to have a roach back, but the other thing I noticed, was that he looks so unhappy. Go on cheer him up !!!!!!!!!!!!

by jletcher18 on 11 February 2009 - 14:02
Unhappy? To me he looks to be in pain.

Who is the breeder? Are they still trying to convence you this is normal?

JoAnn

by Vinegarjoe on 11 February 2009 - 15:02
Thanks for the input.
Gunther is not unhappy nor is he in pain. How you infer that he is unhappy or in pain from the images is, well, your opinion.
I have not (yet) contacted the breeder regarding the "roach" back issue. Sadly, upon reviewing the contract that I signed, unless he is diagnosed with a diabiliting condition,I am out of luck. besides, we love him to death and would never return him.
As far as this "roach" back issue goes, what are the possible long term effects ?
Again, where do you get the "unhappy" or "in pain" from the images ? I am curious. I guess I don't have the trained eyes that you folks possess.

Thanks again though.

Vinegarjoe

by july9000 on 11 February 2009 - 16:02
I don't necessarily think that having a roach back is debilitating..he will probably have no issue at all from that..

Maybe if he were working sheep for a long time this would have an impact..not for a family dog..good luck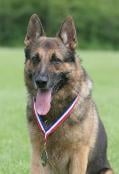 by Mystere on 11 February 2009 - 21:02
I agree with Joann, the puppy appears to be in pain. That is what is reflected in the photos. Dogs tuck their bellies, lifting their backs like that, when in pain. These dogs are bred to "carry on," even while in pain. Plus, dogs can be stoic about a hell of a lot more pain than humans would endure. That is why we, particularly folks actively involved in training performance events, must be very, very vigilant. A dog in pain will work, and work well, never giving any MAJOR indication that it is in pain until later. Dogs have worked at high levels with teeth that have cracked and become infected, with the handler not really picking up that something was seriously wrong , until it might be too late. That's just an example.



by Vinegarjoe on 11 February 2009 - 22:02
Mystere-

Thank you for your input. However in regards to my boy, He is not in pain, and I take offense to the tone of your reply infering that I am not a "dilligent" owner.

He is teethig right now, and I have been inspecting his mouth twice a day to make sure there are no issues with his teeth.

Gunther was at the vet (and our vet has 30 years of experience with GSD's and is a Cornell graduate) on 5 February and was pronounced a healthy, normal pup, with loads of energy.

These images were taken over the past few days, in the morning during his first trip outside, right after waking up.

The reality of the situation is my boy may simply be "roach" backed and currently has a soft left ear.

He eats well, He gets plenty of exercise, he has more energy than he knows what to do with, We shower him with attention and take him everywhere we go. He is current with all vaccinations,

We don't give him any people food. And if anything, we are overly cautious with him, watching him all the time, never letting him out of our sight, except when he is in his crate.

Our trainer sees him every Monday evening and thinks he is a great boy.

So, why you and a few others are indicating that my dog is in pain, is well..... beyond me.

Thank you again, though, for your input.

Vinegarjoe
You must be logged in to reply to posts
---
---
---
---
Contact information
Disclaimer
Privacy Statement
Copyright Information
Terms of Service
Cookie policy
↑ Back to top