by susanandthek9s on 20 December 2008 - 23:12
Does anyone know of a high-fat (19%-20%), moderate-protein (no more than 24%) dog food? I've found only two, Royal Canin German Shepherd and Back to Basics. I ask because I know three GSDs who need a high-fat food to maintain weight and good coat condition, but get crystals in their urine if they eat the usual high-fat, high-protein dog foods.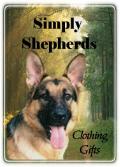 by MomofBeckett on 20 December 2008 - 23:12
You might want to look into the Blue Buffalo brand of food. They have a Wilderness formula that is high protein and low carb. My dogs are all on the Blue foods (both puppy and adult) and their coats and weight are great and health is good.
by susanandthek9s on 21 December 2008 - 00:12
Unfortunately, high protein is what causes the problem. If the protein is kept at or below 24%, the dogs don't get the crystals in their urine.
by birdwing on 21 December 2008 - 00:12
Try to find Diamond Sporting Dog mix, in the maroon bag. It has a "new formula" and the stools are small and compact. Low protein, high fat.
by susanandthek9s on 21 December 2008 - 02:12
Thanks, birdwing! It's now called Diamond Hi-Energy, but it has 20% fat and 24% protein--just right for these dogs.
by B.Andersen on 21 December 2008 - 02:12
Enhance Hunters edge 24 / 18

by yellowrose of Texas on 21 December 2008 - 02:12
Diamond dog food does not work at my kennel..tried it many times...diahrea out the gazebo...they change their formula every other 9 months and wont be honest with you..
In the first place the high energy is entirely too off the ratio of what you need in protein.
corn and other allergins in it..and it is meal and by products.
Nurture Heavenly Harvest Holistic Dog food has no wheat , no corn and no soy or by products...Found all over the usa call company on the link Im posting and you will find the store nearest you..
21% protein 16% fat
Has veggies and lots of good in it..You need to be feeding raw meat anyway , and that should have some fat included..add olive oil, extra virgin and fish oil caps or salmon oil wild caught...and your good to go.
Cottage cheese and yogurt for treats and raw liver to boot...
http://www.sunshinemills.com/index.php?na=true&type=page&page=sitemap
by susanandthek9s on 21 December 2008 - 03:12
Thanks, B. Anderson! Enhance Hunter's Edge also looks like a good bet for these dogs.
by birdwing on 22 December 2008 - 08:12
I am having GREAT luck with the diamond. The dogs love it, their stool is small and compact and clean up is a breeze. Coats are good, eyes are bright and all are in good weight. The price is cheap as well, $23 for 50 pounds and they don't eat much at all.
I understand that a lot of people don't like most foods, and won't feed Diamond, but my dogs would eat out of the trash if allowed and all would eat cat poop, so this food has to be an improvement from that. :o)
Susan Griffin

by Shepherd Woman on 22 December 2008 - 12:12
WOW, that's a great price! Do they have it for pups too? I'll be getting my new pup at the end of Jan and want to start him off great. He's all ready going to be on Pro Plan and I'll keep him on that for a while.
You must be logged in to reply to posts
---
---
---
---
Contact information
Disclaimer
Privacy Statement
Copyright Information
Terms of Service
Cookie policy
↑ Back to top