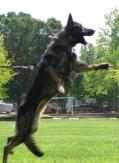 by Rugers Guru on 30 September 2008 - 20:09
Besides the obvious. I know you need to keep your dog in great condition, blood panels, and OFA. Even recent titles in some cases, and a breed survey? But what about after the breeding? I only ask because when all is said and done, and my boy is titled, OFA or VA'd, and has had all of his blood work; I have a couple of good breeding's that have pursued me. Just an inexperienced dumb question, sorry in advance.
Renee
by AKVeronica60 on 30 September 2008 - 21:09
You should probably ask specific questions. That would help someone with stud dog experience to answer you.
Veronica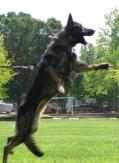 by Rugers Guru on 30 September 2008 - 21:09
Is there any financial, or non financial responsibilities after a breeding takes place? Would I have obligations to a litter or a pup? I know I can take a pup in leu of a fee, but, I dont want to be a "dead beat dad" per se. I need to know if most dog owners would like a call the next day or a check up? LOL I dont know the questions to be more specific.
by AKVeronica60 on 30 September 2008 - 21:09
I'm on both sides of this, as I have sent my bitches off to be bred many times, and I also own a fairly expensive stud dog.
Test your stud for bruccelosis.
I'd take one of the pups only if I wanted one from that bitch, and I had enough time for a pup.
You, as the stud owner, have no obligations to the litter, other than to report a genetic issue on the part of the stud if it became known to you after the breeding.
Most stud owners say that the bitch owner must get two live puppies or the breeding is free, though you might charge something for your time and effort.
Bitch owners are often very worried about their girl away from home. Frequent updates should be done to let them know that their girl is okay, and to let them know if you are having any problems.
I'd build an escape proof kennel for visiting bitches. Some bitches are escape artists. Those escape artists are often worth a lot of money. If the bitch were to escape and get injured...big vet bills would ensue, you might be out ten times the stud fee you would have recieved. If she were killed, you suddenly find that bitch was worth $10,000....oops.
DON'T leave the stud and bitch alone to breed. Be sure to hold one or both of them. Use two handlers if the bitch is aggressive to the stud, and you might use a muzzle in that case too. Both of them can be injured severely during breeding. Again...it is most likely to happen to the most expensive bitch sent to you, or the one with the most pugilistic owner. Or mostly likely, your stud is the one that will be hurt by an evil well bred bitch.
For those who say "Breeding is natural, you don't need to hold them!" Yeah, sure--one these bitches, when angry, can swing around and amputate a penis with one good bite. Veronica
by Domenic on 30 September 2008 - 22:09
OUCH,that hurt just reading it..

by SilverJudge on 30 September 2008 - 23:09
Interesting, I plan on breeding my boy when he is health tested and titled. I will do all the necessary health testing as well as bloodwork and bruccelosis testing.
One thing that I will do...is stay in touch with the bitch owner and the puppy buyers. I want to know where my dog's pups went and what they're doing now, health issues if ANY and if they're competing etc. I also won't breed to a bitch if the owner is against keeping in contact with me. I want to know what's going on with my dog's progeny and make damn sure they go to good homes, which is a moot point since I won't breed to a bitch whose owner I don't trust.
I also agree with not letting them breed unattended. Hold the bitch and make sure that nobody gets hurt.
I will go a little farther than most stud dog owners as I want to know where and what the progeny is doing and what they're like.
Breeding is a LONG ways off for me and I hope that I can find bitches of the same quality or BETTER to breed my dog too. Hopefully there are bitch owners out there that feel the same about a stud dog owner keeping in touch with them and the puppy buyers.
Courtney

by dogshome9 on 01 October 2008 - 01:10
Courtney, I take my hat off to you, You sound like you will make a very responsible stud owner.
As an owner of breeding bitches I remain in constant touch with my puppy buyers, they are all very happy with that and email me with photos as they grow and let me know how training is going etc. I would also want to know of any health problems, that is if they were to crop up. As I have only bred 4 litters so far so good.
by Rainhaus on 01 October 2008 - 02:10
First of all you must recognise what you are breeding..not just title and paper in lineage.It is best to do some test breeds.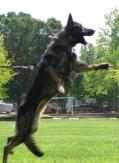 by Rugers Guru on 01 October 2008 - 02:10
It is best to do some test breeds? Please elaborate.

by AgarPhranicniStraze1 on 01 October 2008 - 03:10
Courtney it sounds like your heart is in the right place and you are starting with good intentions. Unfortunately there are folks out there that will tell you what you want to hear and once the deed is done, pups are on the ground it changes everything they ever promised. Make sure when you decide to offer your boy as a stud you ask around about the person you plan to breed to; don't be afraid to check them out. Be just as selective with the bitch as her owner would be with your stud. Don't sign or promise nothing until you've seen her yourself and are comfortable with the breeding; don't be afraid to turn anyone away.
I too like to know where the pups went so I can keep in touch with the owners and I like to keep contact with the breeder but there's that one person that will take the attitude of "your job is done, you've been paid now mind your own business". And as a stud dog owner there's little to nothing you can do about it. If they decide to sell pups to whomever comes with the cash or they don't know how to match pups up to the right owners it can be disastrous and all you can really do is kick yourself in the ars for trusting them. But at the same time if you breed with someone who truly loves what they do and knows what they're doing it can be a very rewarding experience with little headaches. Best of Luck.
You must be logged in to reply to posts
---
---
---
---
Contact information
Disclaimer
Privacy Statement
Copyright Information
Terms of Service
Cookie policy
↑ Back to top