by jemi on 08 May 2012 - 18:05
this is not my dog, just borrowd the pic to show what i meant. what do they mean when their ear is flexed close to their head like in this picture.
.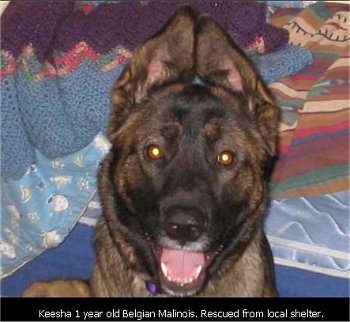 or maybe their ears are not properly set? Or this ear position is connected to their temperament and behavior?

by jemi on 08 May 2012 - 18:05
here is one more....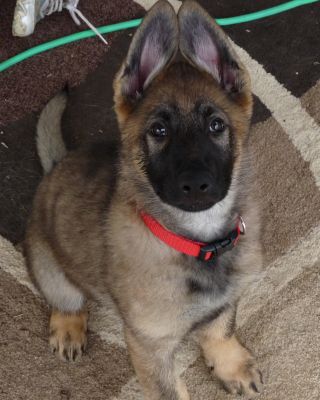 by malndobe on 08 May 2012 - 23:05
It just means the ears are soft, it's a very common phase for a pup to go through as their ear cartilage is harding. It's more common in pups with a higher ear set (higher up on the sides of the head), pups with a lower ear set tend to have ears that flop differently when they are soft.

If the dog has soft ears as an adult, or a really high ear set, the ears can do that when they are alert, that's about all it tells you about the dog though, that it's alertly looking at something. Whether it's looking at something out of fear, anger, drive, curiosity, etc you have to look at the rest of the dog to tell.

I would also question if the dog in the first picture is actually a year old, I'm thinking more in the 8-10 month stage based on the ears and that they are still soft enough to fold over towards the center.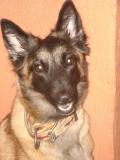 by hardred on 09 May 2012 - 10:05
sometimes my dog's ears are funny... coz they sometimes hide....It's like spinning around...but they're not soft. I sometimes ask her..."where are your ears?" then they will just suddenly come out hahahahaha...her ears are not floppy... but they sometimes hide...is it okey? i'll take pictures of it if I have the chance...then I'll post it here :)

by jemi on 10 May 2012 - 11:05
..ahh, just soft at the base, or wiggly. Just thought they are bad tempered. thanks
You must be logged in to reply to posts
---
---
---
---
Contact information
Disclaimer
Privacy Statement
Copyright Information
Terms of Service
Cookie policy
↑ Back to top