by Charlie Ivory on 01 November 2004 - 07:11
the only thing better then having a boat is having a friend with a boat.......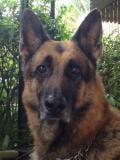 by Brittany on 01 November 2004 - 07:11
What ad are we talking about here?
by gsddebby on 01 November 2004 - 19:11
Britney honey.... Please read the begining of the thread.
by wildthing on 02 November 2004 - 05:11
Keep me outta your threads BLITZENSTEIN i have no contacts with you to mention my name regarding a football game when i am not on the board, go drink a beer and be quiet. your the one that keeps me going by bringing up my name when I do not bother anybody on this board and I am going to Oli about this shit for I did nothing the weekend u visit my web site then make remarks on this thread or board uncalled for. I just ask that u all leave me alone and I will do the same. I resent being called a BYB by Kougar when his dogs are titled but have lots to be desired, if he is a trainer he would be the last person I would contact for his uncalled for comments I have not deserved. My attorney is on this board believe it or not and monitors this site and I tell him who is right and wrong and I do not advertise locally Kougar and u prove it now!!!! I do not only have one sell receipt in Pitts paper your getting me mixed with Boylsteins adds placed monthly, not mine and if u get calls about me I apologise to you as I do not place local ads. I am certain you read the Sunday paper and know that my phone number is 724-543-1293 so watch for it and u will never find it in a paper of any kind or any ads placed anyplace with phone numbers but my site. Thought we got that straight when u fed me i need medicated and that was turned in also. I do not take pills man, I keep a clear head and maybe being some years on me shows, it is not from pills or drugs u can count on that with State Troopers in Kittanning, call the Lt. and ask him about our record. I am sick of being acccused of doing shit I do not, I am clean and try hard to succeed in what I feel is right and I am not guided by Gaby but other top German Breeders that hate to title their dogs before breeding them, they hate the SV method and love our AKC???? I know it sounds insane but they do and tell me to breed if hips are done on prilims. which I certainly do and is on file and vet my puppies and ofa is on file also with my vet when two years and dna is on file with akc. so check my records I am not a BYB recheck some other low lifes I am not one we own a business in Auto Detailing and S.S. also. This is just a Love Hobby, not for money. BUt if i sell puppies to people for pets limited reg, I want them to have good ones also. Is that so wrong of me??????????????????????????????????
by Kougar on 02 November 2004 - 06:11
Blitzen is NOT BLITZENSTEIN of Ford City PA!!!!!!!!! How many times does THAT need to be said??? You started some thread on the steelers...but no one on this board gives a flying flea about football let alone the steelers, so it made no sense to anyone. You breed untitled dogs. You buy dogs for sole purpose of breeding. How does that make you any different from Blitzenstein of FC??? You sell on limited registration??? That is hypocritical - YOU breed untitled dogs, uncertified dogs but do not approve of others doing so??? You sell pets and brag that you do not do titles or certifications on OFA. And condemn the ford city breeder for doing the same?? What is the difference in what you are doing...that is the pity of the AKC - anyone can breed anything they like!!!! That is the shame that the American breeder has done to the breed in this country! A ethical breeder wants his breeding stock to be certified and proven to be worthy of the breed. An ethical breeder does not breed for the sole purpose of selling pets to the general public. It takes time and work and money to title and koer, that is why the people who sell "just pets" like the AKC. No quality control at all. And it is a concensus that many of the poorer quality German dogs are dumped on unsuspecting buyers in the US. Of course those sellers are goign to tell buyers the SV system is not as "good"as the AKC!!! I did not ~call~ you a BYB, but if that shoe fits......!!!!!! This is a board of discussions and opinions - and opinions are based on the nonsensical posts and information on the web. I have not gotten any newspapers for over a year. I have been contacted by people for puppies who have also talked to you,to other breeders in Western PA. I cannot say where they found you.....So what??? I know that you did not have a puppy for a buyerlast April or May, you had a deposit, but no puppy - he contacted me, I did not have any pet puppies available, and I sent him to another breeder for a puppy. You kept his deposit and demanded a T shirt or hat back!! So, I am sure you can identify that person. If anything, I have been rather neutral about you! Hmmm -I have KKL1 dogs. I have an HOT Schh3,KKL1 female. I am not a professional trainer, but love the breed and train my own dogs. You have never seen my dogs, yet you critize them??? I work in rescue as well, and maybe you should contact the Indiana Cty HS....I get calls about dogs from your area. Your kennel is known there. When you have done that, then you can critize my dogs.
by Blitzen on 02 November 2004 - 15:11
Not sure about you, Kougar, but everytime I read one of the Wildthang's posts I feel as if I'm Alice going down the rabbit hole. Does anyone ever understand what she's saying? Is this person for real?

by GSDNewbie on 02 November 2004 - 20:11
I just dont understand how folks can attack others be completely wrong about it then get offended when the folks try to explain in language so clear a two year old can understand and they still dont comprehend? Is it mental or just plain antagonistic? I just dont get it at all!! TRY ONE MORE TIME Blitzen here on the board my friend is NOT BLITZENSTEINE!!!!!!!!!!!! can you understand that statement? can you repeat it after me? can you take it in and comprehend the information or do you have a process problem? we dont give a flying fart what you do in business or personal or what you have dont have just get the above fact straight or do you not understand written English? do you need a translation? I would be more than happy to convert it to another language for you? now unless you need more clarification on this bug off we were chatting about fishing and the weather! Charlie you stole my bite me I was going to use!! lol do you fish up there? I saw ice fishing here last winter but have never tried it.

by GSDfan on 02 November 2004 - 22:11
Did you see he posted another ad about her "she is now 4 weeks pregnant, so I need to ship her soon" sounds like he's getting despirate. Maybe she'll be free to a good home soon. This turns my stomach!
by Blitzen on 03 November 2004 - 00:11
LOL, thanks, GSDNewbie, it's like beating your head against a brick wall. She, he or they (I think there may be more than one person using that screen name) knows all there is to know about everyone and everthing.
by Charlie Ivory on 03 November 2004 - 07:11
Newbie, I love to fish, never had a chance to get the boat in the water this year (21 foot Grady White) Promised my self as so as spring starts she would be in the water for next season.Love off shore Tuna,shark and the like,Mine is a little small to be going out that far so you have to charter a boat which is pricy to say the least.
---
---
Contact information
Disclaimer
Privacy Statement
Copyright Information
Terms of Service
Cookie policy
↑ Back to top