My GSD Puppy
by
RAJDAVINDER
on 16 June 2012 - 07:26
hi, here is my gsd pup "Roxy" , i want to know is it long coat GSD or short coat its age is almost 5 weeks and i am feeding him curd, cerelac as he not like pedigree . and pls let me know how much excercise he need at this age.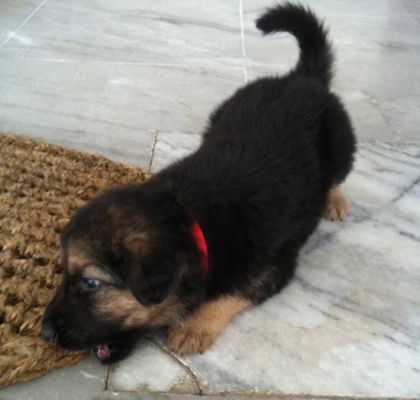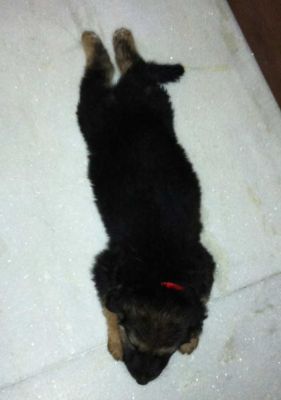 by
NigerDeltaMann
on 16 June 2012 - 10:13
Raj, at 5 weeks who'd sold or given you this pup? If u don't have the dam around, then your in as a "baby seater". At 5 weeks, it's still too small(it should've been from at least 8 weeks) to be removed from its mother. Remember to DHLPP (vaccinate) it at 6 week and then at 8 weeks etc. See a vet for advise and further instructions. I feel for that puppy. Best of luck.
by
Vixen
on 16 June 2012 - 10:27
Hello Rajdavinder, I was surprised (and a little concerned) to read this Message. Let me simply share my thoughts purely based on your Message. May I politely enquire is English not your first language? As you refer to your Puppy as "It" and "him" - although the puppy appears to have a female name "Roxy".

If you have this puppy at "almost 5 weeks", may I ask why that is? Where is the puppy's mum and siblings? (Very early to be separated).

As for "exercise"? - This puppy is way to young to be expected to walk/run on any type of formal exercise.

With reference to the diet you mentioned, did you not make note of the very helpful responses about feeding a previous puppy that you enquired about three years ago. All responses were excellent in wanting to help you and your puppy, and in particular EuroShepherd gave very focussed information, based on whether you might be in India.

May I ask how your other German Shepherd is, following the advice you were given to help you both. He will obviously be 3 years old now.


With Kind Regards,
Vixen
by
DebiSue
on 16 June 2012 - 11:39
What a cutie but oh, so young. The best exercise at this age is to just get down on the floor with him and let him romp with you until he decides to go take a nap. That's what he would be doing if he was still with his mother. Best of luck.
by
RAJDAVINDER
on 16 June 2012 - 14:56
Thanks Friends,

Yes my other GSD "Robbert" is 3.4 years old . Actully I bought this GSD at age of 5 weeks because his mother was expired some days before.

As per your suggestion m serching some new male name name :)

Only thing i want to know that is thisGSD is long coat or short , its coat is now fluffy type

Thanx



by
TingiesandTails
on 16 June 2012 - 15:22
looks like short to me, but you really can tell only around 12 weeks or so...
by
SitasMom
on 16 June 2012 - 15:54

so sorry that his mother died..this makes it difficult on the whole litter. do you know what she died of - could the puppy have it?
you will have to teach this puppy to be a puppy and not a human baby.....

puppies this age will play and get as much exercise as they need if they have brothers and sisters with them. they learn not to bight ot hard and about the world around them - it seems easier for them to explore new things when there's a whole pack running together. you will have to fill in. when he slows down, its time to quit.

at 5 weeks, its time to start feeding soft kibble or small quantity of (safe) meat. chewing bones are good too big for him to swallow. they can be sterilized and given back if they get dirty.

he looks like a regular coat to me, but its very early to tell.


by
RAJDAVINDER
on 17 June 2012 - 04:43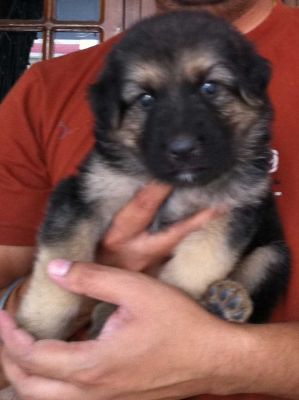 by
Red Sable
on 17 June 2012 - 12:49
Beautiful pup. I got a pup at 5 weeks too, best dog I have ever had. Mother also died, but at birth, anyhoo, I digress, but just wanted to tell you not to worry, he'll be fine, just treat him like you would any other pup, IMO temperament is pretty much all genetic.

As for his coat, I think he'll just be a regular stock coat. He's adorable!
by
RAJDAVINDER
on 22 June 2012 - 04:21
hi Experts ,

I have started deworming , and vet suggest me "liquid nemocid" 5 ml on 6, 8, 10 and 12 week .

I want to know is this medicine work on all types of worms in puppy , or i have to change after every 2 weeks . any other best dewormer ??

Thanks


by
macrowe1
on 22 June 2012 - 11:17
There's not one that does all worms in pups. There's Nemex that does most worms in pups, but nothing is going to cover tapes. Those are due to fleas, and need something like Droncit to get rid of them.
by
RAJDAVINDER
on 05 July 2012 - 05:56
Thanx fot the suggestion
macrowe1
by
RAJDAVINDER
on 05 July 2012 - 06:23
after 9 weeks ears are still down :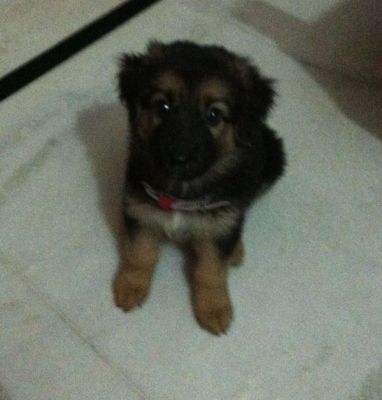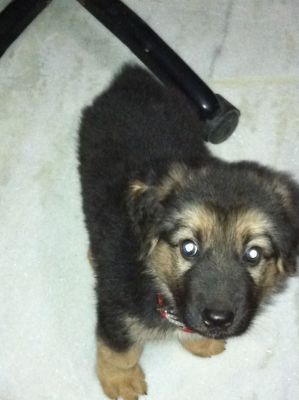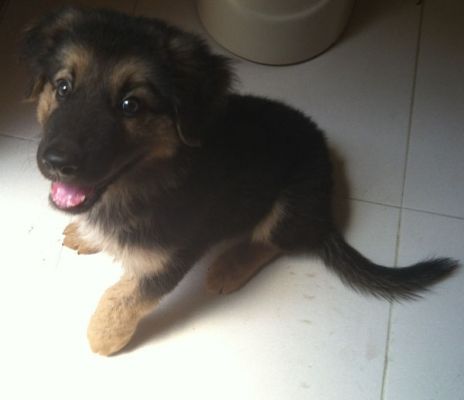 by
fawndallas
on 05 July 2012 - 15:45
Aww..too cute (do not worry about the ears. Only worry if they are still not up after 9 months to a year)

by
macrowe1
on 05 July 2012 - 16:43
don't worry about the ears, some take longer than others to stand. you can try making sure he's getting good calcium and vitamin c to help bring them up, or just massage them (I've heard that can help, but I'm not sure). If they're not up at all by 4 months, I'd ask my vet about it. If they stand and then go back down, they'll stand again.
by
RAJDAVINDER
on 06 July 2012 - 07:58
Thanks guys !!!


by
RAJDAVINDER
on 04 August 2012 - 16:09
mY gsd almost 13 weeks old now , still ears are floppy , pls suggest me what to do ?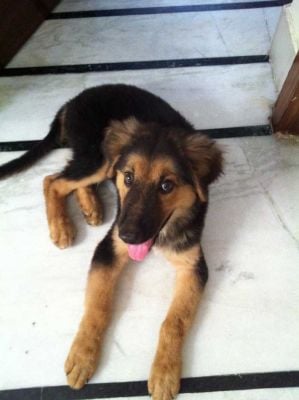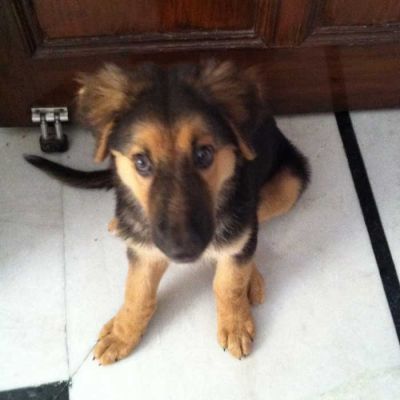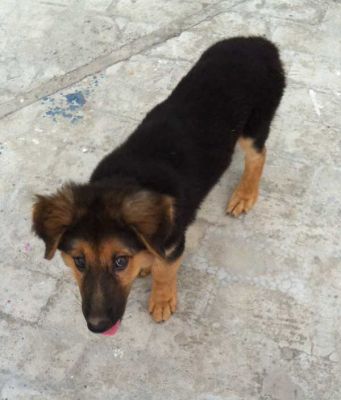 mY gsd almost 13 weeks old now , still ears are floppy , pls suggest me what to do ?
by
DebiSue
on 04 August 2012 - 18:37
My pup is 16.5 weeks old and his ears are still down. Don't sweat it. Your pup is teething and ears will go up and down. I see the base of the ears is up so just relax and and enjoy your pup. If you try to force them you could mess them up. Make sure he has something hard to chew on like a kong toy. Chewing will help strenghthen the muscles that support the ears. I like that you are keeping him at a good weight, not fat.
Deb
by
Red Sable
on 04 August 2012 - 19:15
I see the wavy fluff around is ears! He may be longer coated than a normal stock coat. :)

by
susie
on 04 August 2012 - 19:33
Do you have pictures of the parents?
You must be logged in to reply to posts