Working Line litter Both parents Titled in Germany
Sent by raulgrmn
United States ←→ Posted from United States
Updated: Jun 07, 2018 07:50 PM (inserted 3 months ago) -> 2496
Visit: www.alemangsd.com/m-litter for more information
Upcoming Litter Due approximately Mid-Late August 2018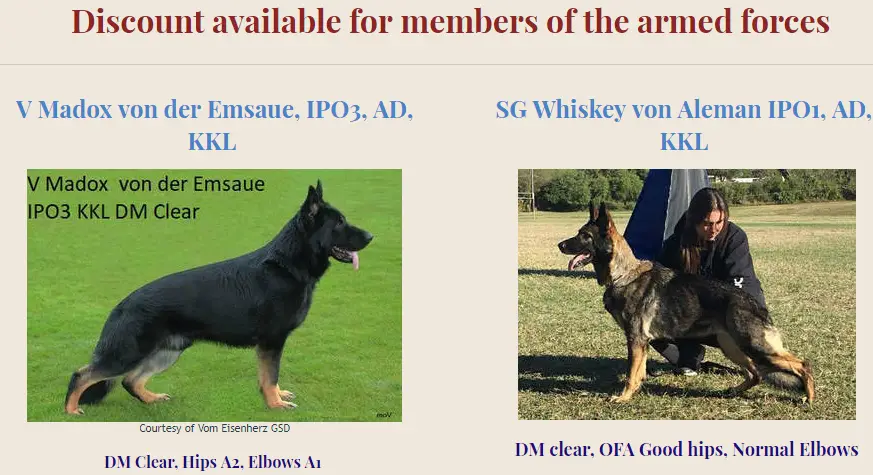 Whiskey was trained in Germany under the tutelage of 3X BSP participant Florian Kreutner
Sire V Madox von der Emsaue IPO3 KKL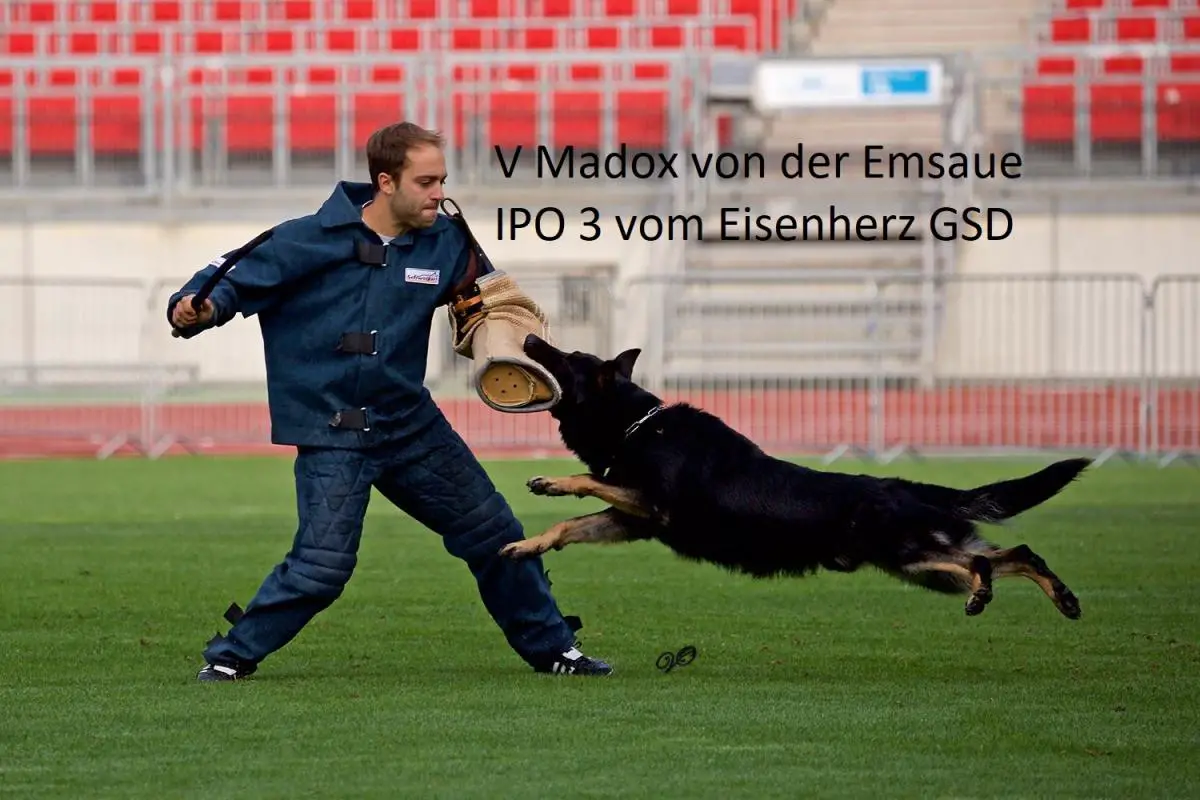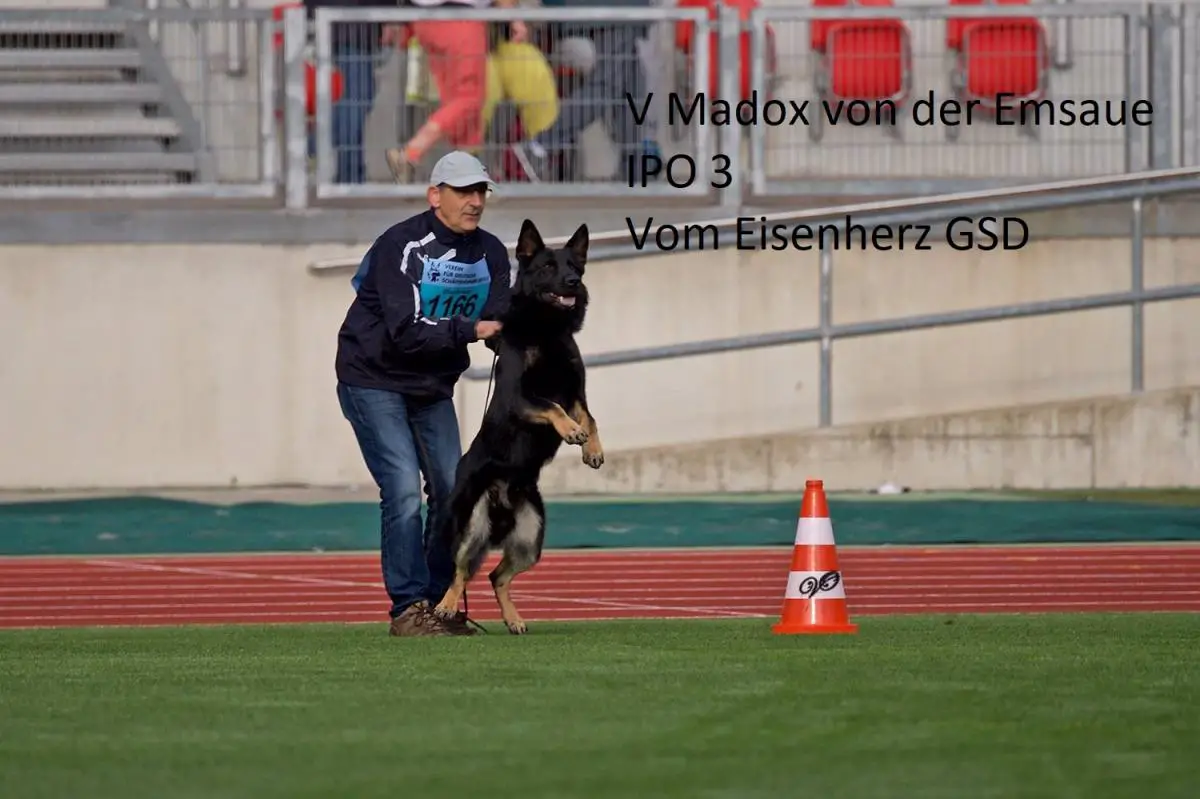 Madox is the embodiment of a large imposing and well balanced dog. He is confident in different environments and has unshakable nerves. He has been rated as excellent in structure. Madox is relaxed around people and animals but weary of strangers. In the field he is very athletic with calm sure grips. He has been proven to pass strong nerves, confidence and good bone and pigment to his offspring. His progeny are excelling in activities such as IPO, conformation, fly-ball, agility and nose-work. Madox imprints himself on his puppies both physically, mentally and in structure (good hips and normal elbows)

Körklasse

:

Energetic, self-confident male with good performance. II: Very darkly pigmented, with a lot of black medium-sized, bone-strong, full-bodied male, with strong expressive head, good withers, straight firm back, slightly sloping croup of good length, good angular position, balanced breasts, straight front and step sequence, fluid expansive powerful gears, confident being, TSB pronounced, dog outs.

Dam: SG1 Whiskey von Aleman IPO1 AD KKL

Whiskey is a very balanced dog with an excellent on/off switch. She is a high drive full speed demon in the field with calm full grips and excellent obedience. At home she is relaxed and comfortable around new people, dogs, cats and birds. She has unshakable nerves in public and high tense enviroments (She was an obedience demonstration dog at a Bridal Convention in Longview and she won the Longview Pup Crawl 5k) Whiskey was born at Aleman GSD in Longview. She trained in Austin Texas under the guidance of two of the top trainers in the US who have competed in national and international competition. She was then sent to Germany to attain her schutzhund titles under the tutelage of Florian Kreutner (3X BSP German participant). She was rated as very good in structure by German judges Dieter Oeser and Bernd Weber.

Körklasse: Energetic, obedient, sable, very good pigmentation, very good expression, medium-sized, medium strength, strong head, good withers, straight firm back, the croup should be longer, the upper arm should be longer, very good rear angulation, normal chest proportions, straight in front, elbows not quite closed, good going and coming, good rear drive, front reach must be freer. Stable temperament, TSB pronounced: dog outs.

We expect puppies from this breeding to have excellent structure, strong nerves, confidence in different environments and posses the intensity and intelligence to excel in whatever challenge is put in front of them.
All puppies will be sold with limited AKC registration, 2 year hip warranty and lifetime breeder support Limited registration will be lifted to full registration once the puppy/dog is 2 years old and has passing hip/elbow scores as well as proof of working ability void if dog is bred before he/she is 2 years old -$500 deposit is required to reserve a puppy from this litter. -The remaining balance of $1500 is due once the puppy is 6 weeks old. -Shipping is available within the U.S at buyers expense. -Names from this litter will start with the letter M and will carry our Kennel name Von Aleman. For example Max von Aleman.
Visit: www.alemangsd.com/m-litter for more information
---
---
---
---
Contact information
Disclaimer
Privacy Statement
Copyright Information
Terms of Service
Cookie policy
↑ Back to top