Critique my dog please
by
fasteddielv
on 16 June 2012 - 22:56
Hi everyone, I know very little about conformation. I may do some conformation with this dog for breeding purposes. Time will tell. He's 4 days shy of 5 months in these photos. He weighs in at 45 pounds, about 22 inches. Anyway i you guys wouldn't mine, please critique my dog. Thank you!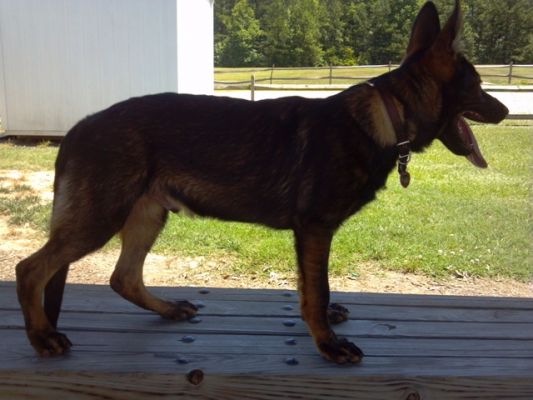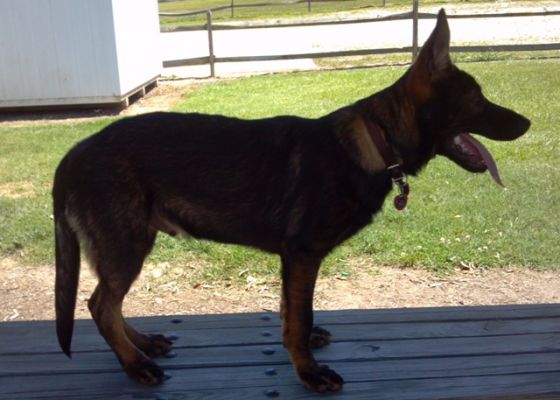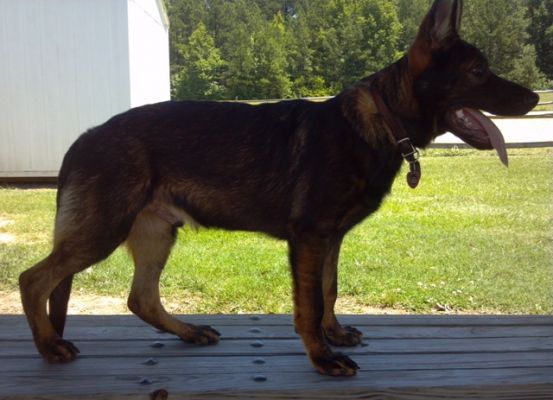 by
beetree
on 17 June 2012 - 00:00
Fasteddy, you probably need a proper stack to get a proper critique. Look at the photo example in the top right corner of this page, as what you want to strive for. It often takes two to three people to get the proper shot. The experts can't compare the angulations without it. The angle of the first two, evidenced by the apparently sloping boards the dog is standing on is crucial, too. Your last shot is slightly better with that, so the topline shows better in that one. Also, the shadiness of the shots does not help with seeing the detail.

Do a search on this board on how to do a proper stack, I know there have been threads on it in the past. There definitely is a wrong and right way to do it.

I'm not a conformation expert so I'll just say, looks like you got a nice WL pup. And while you certainly can and will dream of breeding, at this age with no accomplishments to credit, or age appropriate health testing, the experts have no idea if the pup is breedworthy.
by
SitasMom
on 17 June 2012 - 00:01

do you want a "real" critique, or comments like - oh so cute, what a pretty pup?
can people honestly tell you what they think without you getting upset?
by
macrowe1
on 17 June 2012 - 00:23
I'm with Sitasmom. Do you want a true critique or just compliments and comments on the pup? Need to stack him better, but that takes some time and a lot of effort. And too young to think about breeding, especially without knowing hips or without any accomplishments and titles.
by
maywood
on 17 June 2012 - 00:46
This dog is worthless for confirmation. All working line dogs suck at confirimation. Working lines are basically for obedience. If you want a real trotter you will need to spend some real money and get a showline shepherd. That is where it is really at.
by
fasteddielv
on 17 June 2012 - 00:58
Sitsamom, what is up with you? That time of the month, LOL!
Macrowe1, I think Sitsamom covered her point, what is your point?

Do I have to have a showline to get an honest critique without all the useless BS posts?

What makes you think I want, the awe so cute comment?
by
fasteddielv
on 17 June 2012 - 01:01
Beetree, thanks, but I thought I remember reading here somewhere that they didn't want a stack for critique. I don't know if my dog will bend like the photo you mentioned, LOL. Also the boards are perfectly flat, it's an elevated flat bench. I guess I should also have the camera lower to get a better angle.>
by
macrowe1
on 17 June 2012 - 01:07
No, I'm not saying that you need a showline to get good critiques. But when you don't stack a dog, and you put pictures up of a pup who isn't stacked, no good headshots, and then ask for critique, how do you expect someone to critique? Well, he's not stacked, he has no angulation. I personally like his head and color, and he's a nice looking thing, but the pictures aren't worth critiquing. What do you want people to say? You ask for critique, which a lot do and when people give their comments the person gets offended, all Sita is saying is don't get your feelings hurt, which I don't want to hurt your feelings either. No, you don't need a showline to get great conformation, but you do need to learn to stack and take some good pictures for conformation before asking opinions. That's my point. I have a WL and SL, and I like both, for different reasons. But to get an "honest" critique that you want, you need good pictures of some good stacking.
by
fasteddielv
on 17 June 2012 - 01:14
Well Macrowe1 I explained I know little about conformation. It doesn't take much to realize that also means stacking, photo's required etcetera. So your and Sitsamoms hostal posts don't provide any positive input, just useless BS. Now your last post is moving toward a useful post, good job.
by
fasteddielv
on 17 June 2012 - 01:34
Pig headed and worthless post like this is why many don't frequent here.



This dog is worthless for confirmation. All working line dogs suck at confirimation. Working lines are basically for obedience. If you want a real trotter you will need to spend some real money and get a showline shepherd. That is where it is really at.



You must have like a month or two experience in GSD's. I mean working lines are for OB. Really, wow, wow, I didn't realize thats all their good for. What an as$!
by
GSDguy08
on 17 June 2012 - 01:37
This dog is worthless for confirmation. All working line dogs suck at confirimation. Working lines are basically for obedience. If you want a real trotter you will need to spend some real money and get a showline shepherd. That is where it is really at.

Wow "maywood" you have a lot to learn. Working lines are basically for obedience? Wow...... My Siberian Huskys can do obedience and very well at that, most any breed can do obedience regardless of what line they come from. Working lines are for.......work, they don't focus on trotting in circles with terrible structures (not all have bad structures, I know) as many do. Work can consist of being a patrol dog, Schutzhund, Mondio Ring, French Ring, SAR, herding, and the list goes on and on. After all this breed was intended to remain what?.......a working dog......

fasteddiely, you won't get a good critique because he's not stacked properly. Not to mention many show line people (not all of them) seem to prefer dogs with odd structures. You have a pup with a nice, straight back, as did the founding dogs of the breed. With that said, would he do well in conformation? I don't know, bad stack, and after all he's still just that....a pup.... He has much growing to do. Your pup reminds me of the pup I have somewhat. Similar size/color, and the head looks similar somewhat to Auggie's as well. Structure is slightly different though, but they're about the same age according to what you've said. Can you send a private message with his pedigree? If you can find some of DDRCzechfan's posts where she stacked "Beau", she seems to be doing well with the stacks. Her pup is a littermate to mine.
by
Beardog
on 17 June 2012 - 01:44
He needs to be stacked properly, but at 5 months old they are entering the "Ugly Duckling" phase anyway, and only a working- line breeder can give you a good critique. Don't pay any attention to the A______s on here, just wait for a good response when you post a good pic. You would probably be happy with a G or SG, and most sound dogs can get that. I do like the head on him and the coat color.
by
Jenni78
on 17 June 2012 - 01:54
Maywood, try spelling your insults better; they will hurt more. As it stands now, you just look like a bitter moron. ConFORMATION, I believe, is what you meant to say. And remind me to share your wisdom with my V rated working line dogs. LOL
by
ColdWaterCreek
on 17 June 2012 - 01:55
As others have mentioned, the stack is not the best to get the most ideal critique, but I don't think that's what you are looking for anyway. Sounds like you just want to know if the puppy is a good prospect to throw in the ring for a rating at some point, as part of your plan to develop him as a breeding prospect. My advice would be, skip the puppy class ratings (VP, P, etc.) and hold out for the adult classes. Your puppy may very well be from slow maturing lines and may benefit from showing later in life. Right now, he would probably receive a P (promising rating) under a good judge who understands working structure and takes into consideration the age of the dog and how it relates to growing stages and "puppy uglies". Some other good judges would give him an LP (less promising) if they take only the dog that stands in front of them as it is on that day as their basis for judging. From what I see in these photos, your puppy has a very strong head and coloring. His angulation in teh fornt and rear is o.k. His topline is a bit broken (bumpy, for lack of a better word) but this too can and will change as he ages. Be patient with him and while you wait for his growth to even out, teach him to stack, to gait, etc. so that when you do show him, he presents his best and gets the highest rating. I think a G or SG is not out of the question for this dog as he ages. Best of luck with him.
by
fasteddielv
on 17 June 2012 - 02:04
GSDguy, I hear what your saying, I did find DDRFans post and I think I understand better what I need to do. I brought the one leg forward and the other back. Based on what I'm seeing on DDRfan's pics I should have just pulled the one leg back. Yes the ugly duckling stage, I think he had a little growth spurt in the rear legs. I noticed he seem taller in the rear over the last month or so.

People I do know that he won't be very angulated as an adult. I was just thinking as far as I can tell at the moment he's looking and acting like a good canidate for breeding. I've never seen a pup as confident and outgoing as he is! It's just awsome. Yes, yes hip xrays etc. needed etc. It's just exciting to watch him mature into an adult. He surprises me most every day. This is my second GSD pup, he's nothing like my first in temperment.
by
DebiSue
on 17 June 2012 - 02:17
This is a nice looking dog. Good angulation, well balanced, nice bone. Nice head, good croup. His tail is set well but hangs limp and straight in these pix and should curve like a saber but he could just be displaying displeasure at being on the table. Too young to judge on depth of chest but the neck flows nicely into the chest and his tuck will improve as his chest deepens.

His feet are nice and tight, the pasterns well angled. He has nice rich color. His top line does look a bit wavy but that may have to do with positioning more than anything but it makes his shoulders look low. His eyes look dark and his ears are well set. He is at an awkaward age to critique but I think you have a nice dog who will only improve with age. Congrats! Enjoy him.
by
fasteddielv
on 17 June 2012 - 02:36
CWC, thanks for the tips on showing him. I'll keep that in mind. Yes you are correct, the SL people are still safe, I'm not out to take their trophies, LOL.



DebiSue, thanks!

His tail is most likely displaying displeasure in me trying to manipulate his stance, and being still for more than 3 seconds, LOL! I see what you mean by his top line being a bit wavy. I'll have to take more notice of that. It could be from the positioning though.
I'll try and get some better shots tomorrow and include some front shots and head shots.
by
Nans gsd
on 17 June 2012 - 02:46
Here is WHAT i see: for 5 months he is very pretty; however to evaluate him fairly I would need a video of him moving and at 5 months you will not see necessarily the best of this dog; in otherwards, not a good age. BUT here goes:

He has a very pretty outline, both front angle and rear angle seem balanced, beautiful neck length with flowing topline, however for the way he is stacked for this age I could see he is high in the rear, the rear is higher than the front if stacked squarely but that will change with maturity. Of course we cannot see his face but looks like he would have a very pretty expression, with good ear set, nice muzzle and good layback.

These pictures of course do not show his movement; looks to have good feet and pasterns with good croup and tailset. Overall a lovely picture.

Also when you ask for a critique; put a collar on your dogs that is for showing an put it up where it belongs so that you can really see what is there, with this collar it kind of takes you eye where you don't want it to go. Just a little tip. Best of luck with him and I am sure you could do anything that you want with him and be successful with him. Enjoy, can you post his pedigree. Thx Nan
by
SitasMom
on 17 June 2012 - 02:49
IMO.......
Working line German Shepherds don't have to be ugly to work, here are some examples of wl with decent conformation.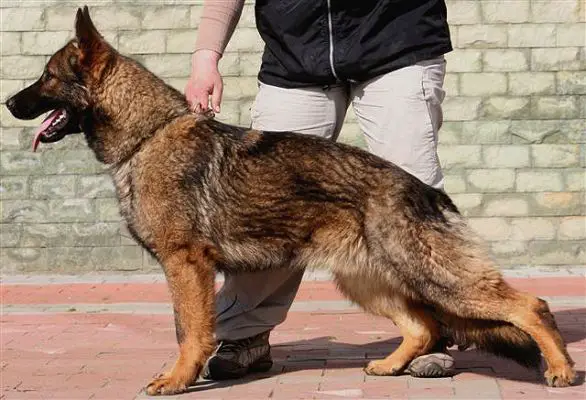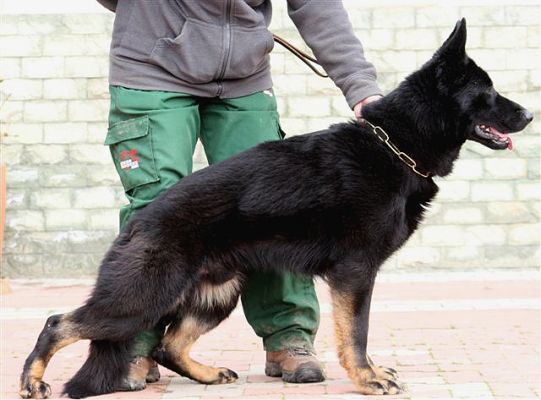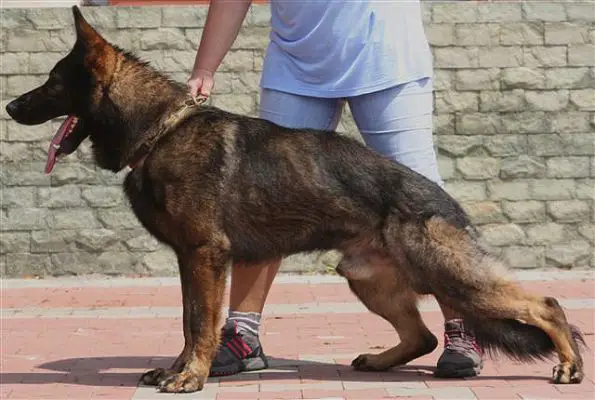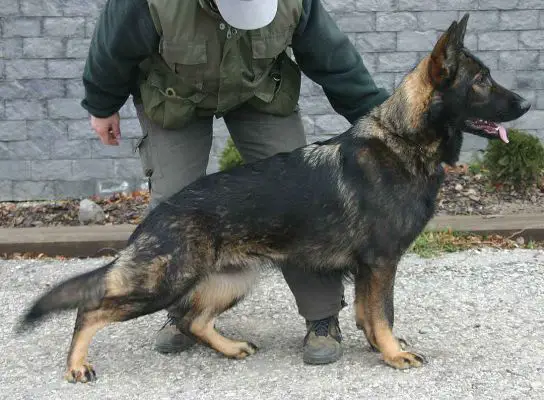 your pup had a very nice shoulder and forearm, but the rest is difficult to tell, as the stack makes it difficult for a fair evaluation.




You must be logged in to reply to posts