X-ray opinions please
by
Ramage
on 07 August 2012 - 23:07
This is a friend's dog (and they are not computer savvy so asked me to post this here). He'd like opinions on these x-rays of his 2 year old male.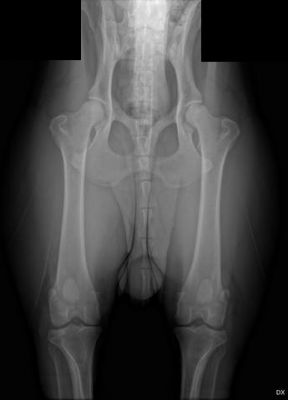 by
Jyl
on 07 August 2012 - 23:32
They look nice. I would say OFA GOOD...
by
SitasMom
on 08 August 2012 - 00:27

the right hip is beautiful, the left his has an oddness at the top of the ball, maybe its just how the image uploaded...

can you resize the photo to make it larger?

by
Ramage
on 08 August 2012 - 00:39
I tried to, but it made it fuzzy. This image was emailed directly from the vet and they sent this small size for some odd reason.

I was told that the left hip does NOT look as good as the right (hence the reason for concern).

This is my attempt at enlargening it. I don't think the tip of the ball actually touches the socket, as shown, that is just fuzz.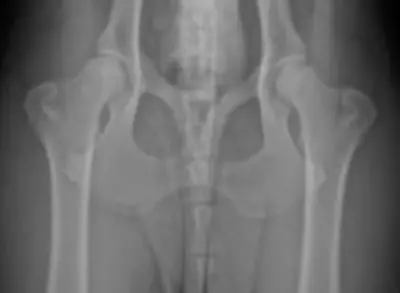 by
Koach
on 08 August 2012 - 00:46
Sitasmom,



Go to the original photo and to make it larger hold down the left Ctrl key and silutaneously press the ++++ key.
by
Nans gsd
on 08 August 2012 - 01:53
Fair to good.
by
SitasMom
on 08 August 2012 - 02:28

I magnified it by 400% and that's why i asked if it was the down load or the dog......the left hip ball seems to have an odd spot on it at the top....

i'm going with borderline or fair.......but i'm not an expert.

please let us know the results when they come in..
by
Blitzen
on 08 August 2012 - 03:27
OFA good.
by
ziegenfarm
on 08 August 2012 - 07:25
ofa good.
pjp
by
BlackthornGSD
on 08 August 2012 - 12:50
Good hip conformation.

I see the odd spot, but I think it's just an anomaly, not indicative of HD. If there is something there, it might cause an issue at some point--but I don't think the issue would be HD--maybe could cause arthritis? Don't know, not an orthopod! Will be interesting to see if OFA comments on it.

Christine
by
Ramage
on 08 August 2012 - 13:14
I told the owner it depends on which vets OFA uses for these hips. I also worried it would go Borderline or Fair at first glance, but the more I look the more I think Good. These will be interesting to find out what happens with OFA.
by
VTcoach
on 08 August 2012 - 14:12
The positioning looks good, the hips look fine. I would not hesitate about sending these in to OFA for a rating.
by
Gustav
on 08 August 2012 - 14:39
Good functional hips!
by
bcrawford
on 09 August 2012 - 16:33
I'm going to go with good as well only because the depth of the balls in the sockets. Would love to see that gap come in a bit. As one of the other posters said the right hip has a node on the socket.

One side of me would want you to have a different vet posiition the dog as perfect as possible and that might close the depth better. Positioning is a key factor and some vets do not know how to do it properly.

Brandon
by
CMills
on 10 August 2012 - 02:56
Good to Fair, depending on who's reading them.
by
Ramage
on 15 August 2012 - 19:24
Update, I found out today that the dog is OFA Good and Elbows Normal. I'm very happy for the owner :-) and thought some of you would be interested to compare the x-rays with the results since we had a bit of a range on guesses.
by
EuroShepherd
on 15 August 2012 - 20:48
First time I've seen this thread, I was going to comment that I thought they were pretty good, til I go down to the last post. Congrats to the dog's owner (and the dog, lol)
by
SitasMom
on 17 August 2012 - 00:50

this is such a stressful time for owne and breeder alike.
glad they came out good!

now everyone can take a deep breath and relax.


You must be logged in to reply to posts