German Shepherd Dog > CAUTION - GSD Soft ears - Genetic defect [ Kolkata breeder of India repute ] (22 replies)
CAUTION - GSD Soft ears - Genetic defect [ Kolkata breeder of India repute ]
by
vbhatnagar
on 07 July 2012 - 15:28
I bought a top show quality female from one of the finest and most reputed breeders of GSDs in India (based in Kolkata ) at a quite handsome price of VEGAS VON DER GRAFENBURG (OST) lineage last February- I raised the baby in an excellent manner but her ears did not go up. Be extra cautious with genetic defects. My genuine interests, labor, time, money and efforts have all gone down the drain. I was told that in the same litter several puppies did not have their ears up. My female is excellent in all other aspects but her armour is terribly broken - down ears- all her gait,charm, composure,angulation, stacking stance etc have turned useless. I cannot show her, breed her - shes only a darling pampered baby in our house occupying a very special place in the hearts of all my family members. Though we love her a lot, but honestly I do feel frustrated several times. Despite repeated reminders to and assurances from the breeder for a replacement, I have not received any replacement- I feel grossly cheated. A word of caution to all future buyers irrespective of the breeder. For specific details , please feel free to contact me.
Kind regards,
Vishal Bhatnagar
by
Gustav
on 07 July 2012 - 16:18
Sigh.....sorry for your misfortunes.
by
sonora
on 09 July 2012 - 14:04

Hi Vishal,
I feel sorry for you.

What's the breeding like ? How old is your dog.?

Maybe some knowledgeable members on this board could help.

Could you post a photo.?
by
vbhatnagar
on 19 July 2012 - 13:43
Hi Sonora,
Thanks for your reply. VEGAS VON DER GRAFENBURG (OST) lineage.
I am attaching a few pics of Melody. She is now about 17months old. Her ears sometimes get erect (very very rarely) when she is super excited seeing other dogs but are invariably down.
If someone on this forum has any ideas, I would be very glad & grateful to interact.
Kind regards
Vishal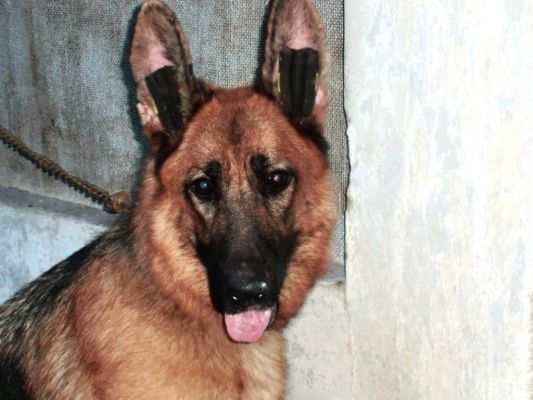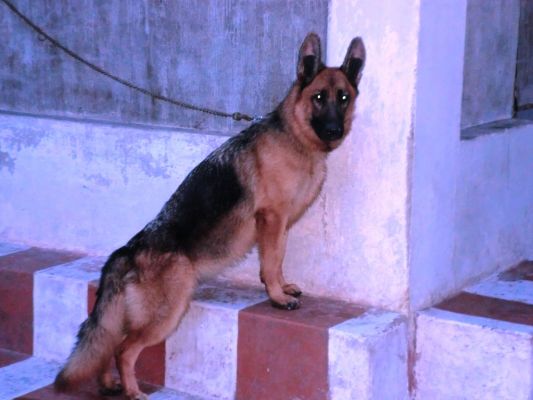 by
fawndallas
on 19 July 2012 - 17:29
Beautiful girl. I hope someone can help with a good solution. You also may look at a Doberman website. Many time those owners have tricks to get the ears up.

I read somewhere that the ears standing might be related to the jaw strength. If she is not much a a chewer, try getting her to chew on bones for a number of months. I have also heard that massaging the ears can help.

Good luck.
by
kpokodul
on 19 July 2012 - 17:46
vbhatnagar,
I know exactly how you feel.
I have a son of legendary 2X VA1 Vegas du Haut Mansard. and also same issue, I know two dogs of this litter have same issue...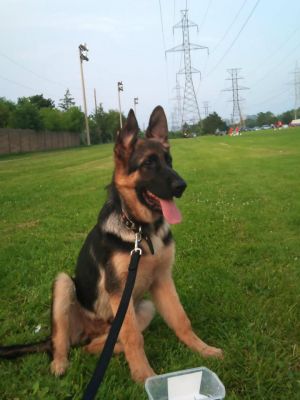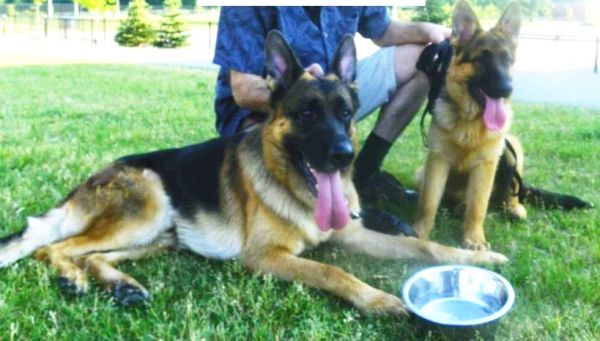 first picture he is 6 month old, ears up, perfect. at 11-12 month, his left ear fold, so second and third picture he is 2 years old, where I hold his left ear. the bottom picture is unsupported ear. just unlucky, what can I say.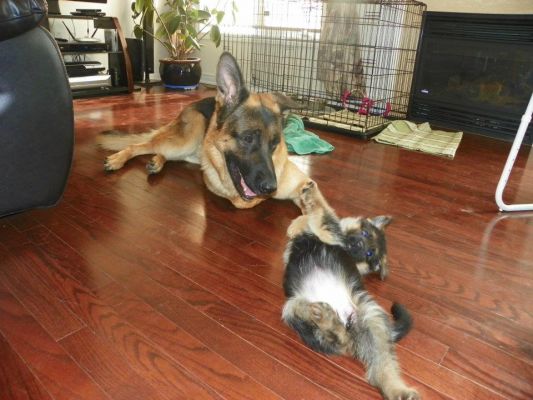 by
kpokodul
on 19 July 2012 - 19:34
by
fawndallas
on 19 July 2012 - 20:25
kpokodul, I know as a show dog it is not what you want, but I kind of like the ear fold look your guy has going. Kind of cute....
by
kpokodul
on 19 July 2012 - 21:10
Yeah, he is cute

goofy, LOL

for My 2 kids: 7 and 10 y.o. he is a perfect friend.

by
fawndallas
on 19 July 2012 - 21:16
IMHO - All dogs are clowns at heart (some just belong in the scary clown category more than others).

My male GSD gets the "yoda" (from Star Wars) look occasionally.
by
kpokodul
on 19 July 2012 - 21:24
LOL,

you right
by
Ctidmore
on 19 July 2012 - 21:43
I don't really have any input to help the OP. It looks like you have tried the glued in curlers, just wondering if when they would come out would you glue them back again, leaving them for as long as they would stay and keep doing that each time they would come out. I know you would not want to bred this dog, but if you could get the ears up they do look so much better. IMO

TO kpokodul: I have always said and maybe I am wrong, that if the puppies ear stand but then go down, they will be back up with out any problems. After seeing your dog at six months with nice standing ears I just don't know what to say, I have never seen them be up and go down and NOT come back up? To me that is odd, was there nothing that happened, ear infection or anything that would have been a problem? Wow so sorry nice looking pup with good ears at 6 month. CT
by
Blitzen
on 19 July 2012 - 21:56
I would not tape ears of GSD's intended for breeding. Either they stand or their own or they don't. Most times dogs that need help with ears produce weak ears in the progeny.

by
Ctidmore
on 19 July 2012 - 22:00
If only for the look of the dog I would try getting the ears up, as stated wouldn't want to breed it.
by
kpokodul
on 19 July 2012 - 22:19
it did not fold at one day, it was to quick for me even realized something is happenning. as I've said at about 10-11 month left ear was falling down and go Up again, So my first step I took him to Vet, and actualy 2 different vets, paid 140$ plus taxes to see if there any infection or injury, and they said nothing. it should go up, nothing is stopping.

well in about a month i see a bloody buble almost at the point it folded now. I went again to a Vet, and he said there is no injury but defently something is going on, he had skin test done, area has been inspected, basicaly nothing wrong.

basicaly he said it is a weak ear cartages, so stick them together or whatever. So I've tried for 4-5 month, and tell you the truth got tired of it. So, kids are happy, Me and my wife Happy to have him the way he is, and seems He is happy to be with us. Well I pass the moment of frastration, now he is our pet. Will not use him for stud services, may be I will fix him may be not. Now I have a nice 6 month girl for show and work, and he helps us :).

winter time I may get a Male Pup if I find what I like, then I will fix my Pet, just to be safe.
Other than that, Happy big family. btw, I have 2 kittens (brother and sister) just felt bad that those 2 month old kittens will go to schelter, so I got them both. LOL

I am Happy.

Just a little point from experience and what other ppl say, to a vbhatnagar.
I know how you feel, but unfortunantly if she is over 1 year, not so much chances you'll get ears up. I would not use any extantions/supports to keep ears up for out side ppl. enjoy your dog, of Find ppl who will appreciate her as she is.

peace
by
kpokodul
on 19 July 2012 - 22:34
Ctidmore

btw, I like this avatar you have.
by
Ctidmore
on 20 July 2012 - 00:58
kpokodul

I am sorry I did not understand the "I like this avatar you have"?

Just a thought, but the bloody bubble in your dogs ear sounds like it could have been a (Hematoma)?? The may thing is you LOVE him!! :)

CT
by
vbhatnagar
on 20 July 2012 - 02:53
Hi Everybody,
Many thanks for your views. I am certainly not going to breed Melody for very obvious reasons. We love her the way she is - looks kinda stupid yet adorable.
I am giving this a last and final try with foam supports. They have been on for almost 2 weeks now.
All my last attempts which started when she was 8.5 months old were futile. Ears did stand up for a couple of hours after removal the support but went down shortly.
This time I am using a different technique recommended by one of my friends (specialising in GSDs ever since 1994).
Will post more later.
Thanks & regards
Vishal
by
kpokodul
on 20 July 2012 - 03:48
Ctidmore

I really this nice looking dog on your avatar. thats what I've ment
by
Ctidmore
on 20 July 2012 - 11:23
kpokodul

Not on here enough, I didn't realize that was what the picture was called. :( Old and not into the correct texting words or whatever. LOL She is one of my girls, third generation of my breeding program. THANKS.
You must be logged in to reply to posts