German Shepherd Dog > Pups 17 days old eating mom's food? (9 replies)
Pups 17 days old eating mom's food?
by
fawndallas
on 04 May 2012 - 15:32
I thought it was just a fluke over the weekend....

I came into the puppy room and another one is head first in Rose's food just eating away. Is this really ok?

I thought the puppies were not to start solid food until about 3.5 weeks.
by
Hutchins
on 04 May 2012 - 16:18
First thing I would think is that maybe mom is not providing enough to feed her babies. I always begin introducing food to our puppies at 3 weeks old. However it is a mash of softened dogfood. They generally try to eat it and usually are pretty good at it.

Is mom's food hard? If so, I would definitely not allow puppies to even attempt to eat it. At that age they do not have teeth to chew it and they may swallow it whole, with the chance of choking themselves.

Just My Opinion!
by
fawndallas
on 04 May 2012 - 16:26
Rose's food is soft; canned puppy food mixed with dry puppy food that has been soaked in chicken broth.



So should I :?
Encourage
Discourage
Not do anything
by
DDRCzechFan
on 04 May 2012 - 16:32
What I always did when I was breeding dogs (way back in the day) I took mom's food (I ALWAYS fed my bitches Puppy chow from conception all the way through weaning), soaked it in puppy milk and put it in the blender to make a slurry. Sometimes I had to add more liquid to it, sometimes it was more like the consistency of pea-soup, but puppies were getting fed when Mom's started to dry up, and it gave the dam's teats a break as well.

EDITED TO ADD: I let the kibble soak IN the puppy milk for about 30mins to make sure it was soft enough to NOT break my blender. As for storage? I kept BIG vats of the stuff in the fridge inside of the old plastic gallon Ice Cream containers, like the one pictured below.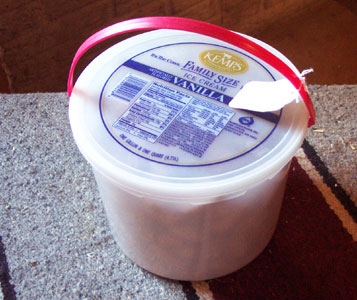 by
fawndallas
on 04 May 2012 - 16:44
DDRCzechFan....How long did the stuff stay good in the fridge?

Is 17 days old too young to start solid foods? So far, I only have 3 of the 9 pups that like Rose's food and one of them ate on it for a good 5 minutes this morning and left it only because I went over there and interrupted him.


by
DDRCzechFan
on 04 May 2012 - 16:59
I only made one Gallon at a time, and with a litter of 10-13 puppies (Goldens, nature's Fertile Murdles) it didn't last beyond the day. So it never really "sat" for too long in the fridge. Also, the more soggy the food got, the easier it was to blend it.

That being said, I did NOT give my puppies SOLID food (even soaked kibble for that matter) until they were 6 weeks old. At 5.5-6wks, they were started on SOAKED kibble and stayed on SOAKED kibble until they left at 8 weeks. At 5wks, the kibble was only soaked with WATER, not puppy milk anymore.

No way would I be giving puppies under 8 weeks non-soaked, solid food. I ground their food in the blender until they were 5.5-6weeks, at which time, I transitioned them over from blended puppy milk/puppy chow slurry to water soaked puppy kibble.

Hope this helps.
by
yellowrose of Texas
on 05 May 2012 - 01:27
i STARTED MY PUPS on soaked Puppy chow not the brand., lol

soaked in Goats milk and just used a potato masher around in it and let them go after it.


I never fed with mom any where around..PUPS need to eat in their own pens, etc.

Moms get bossy and you do not want that.

After pups all finish , go give the left over to MOM..

I also , make sure later after quit soaking, I sprinkly Dry milk on the pups food and mix up...

Later about 5 or 6 weeks , they get raw meat and bones...

MY pups at 3 weeks old have teeth that will rip your hands..so all dry dog food at 4 weeks old is crunched. I give then a small bowl of dry in their own individual cages and they love it..

The only problem I see in letting them eat her food is, they may like it and then when you try to get them on puppy food, which I believe is very important till they are older, they may not want it and you may have messy bowels...with different kinds..


It is important to keep bowels consistant and not have to GUESS why it is runny..IF you feed pups same diet all the time, you know they didn't get it from the food. ...and can usually trace it to worms, or Cocci...which I use ALBON suspension 5% yellow liquid which pups like...

All pups get an 8 day dose at 5 weeks old as a preventative as that is when they eat each others poop and lick their litter mates like they are their mom..

It PREVENTS it getting started.


YR


by
Felloffher
on 05 May 2012 - 06:14
I start pups at 3-4 weeks on gruel. Solid food soaked in water then mashed up the same way YR explained and I add goats milk (we heat it up for the first week or so). I start with one meal a day, then gradually increase it to three meals a day by the time the pups are weaned at 6 weeks.

Don't forget to decrease the amount of food you feed your bitch as the pups are weaned. I don't know how others do it, but I with hold food from my bitches for a day to help stop milk production.
by
fawndallas
on 07 May 2012 - 17:43
Since the puppies just turned 3 weeks today, I think I will continue to let them nurse on mom. About 1/2 of them still prefer it.

Mom has been on puppy food since she got pregnant and is continuing with that until the puppies are fully weaned.

I started the puppies on puppy food on Saturday, added with puppy formula mixed in. I am also continuing with the probotics; vet said this was ok and good for them while they are transitioning.

As for mom, we are still struggling to get her weight back from being sick that 1st week. At this point, she eats whatever she wants and as much as I can get her to eat.

I did have to move her away from the puppy food though, as she was eating it before the puppies could finish it.


The teeth are in though. It will probably only take 1 good chomp before mom says she has had enough.....
by
aceofspades
on 07 May 2012 - 20:30
Of course you want to continue to let them nurse. Mom will do a good job of letting the puppies know when she is done. many puppies will nurse right up until going to their new homes. This is all part of the learning process for the puppies, they will learn boundaries and right from wrong and they will learn how to be gentle through this education from the mother.
You must be logged in to reply to posts