Main > I crossed by GSD with a wolf/dog cross. Am experiment in progress. (43 replies)
I crossed by GSD with a wolf/dog cross. Am experiment in progress.
by
Do right and fear no one
on 01 April 2008 - 01:26
As many of you know, I have a showline female inport from E. Germany, out of a very nice VA sire and V dame, but she has moderate dysplasia. I have decied to do an experiment with her. I was going to have her spayed but decided to do an experiment instead. She came into heat 3 weeks ago and I had made prior arrangements to breed her with a 3/4 wolf dog cross sire. As luck would have it, there is a place that specializes in White GSD's and wolf crosses, that are only a few miles from me. Here is a link to their web site.
http://interghost1.homedns.org/chaparral/wolves.htm
On the linked page, the male I used for stud service is the third pic down the page, next to the paragraph about "Size". He is a beautiful and friendly dog in person. The pic does not do him justice.
Anyway, this is an attempt to find out several things. The temperment of the progeny. The trainability of the progeny, and the hip health of the progeny. If the litter is not larger than six, I plan on keeping all of them for myself and recording the results here. My guess is that the hip dysplasia will disappear in the initial progeny. Of course, it may surface in future litters, but much much less than if I bred my bitch to a "good" or "excellent" OFA'ed GSD sire.
It will of course take at least two years for the hip results, but the temperment and trainability, and general health should be apparent sooner.
I will let you all know the results of my experiment as time goes by. In my bitches next heat, I am going to try breeding her with a Malinois, to compare the wolf progeny with the Mal progeny. This should be very interesting as both litters will be raised by me and both will come from the same dame.\

I know that many will trash me for this experiment, but in the long run, we just might learn something about our breed, and its inherent health problems. I will update this site with everyting, starting with the number in the litter, the weights at birth, the prey drive of the pups as they grow, and how they interact with other dogs and humans. It should be interesting.
by
angusmom
on 01 April 2008 - 01:28
you really are kidding, right?
by
Brittany
on 01 April 2008 - 01:28
Please tell me that you're not serious about this? Maybe I'm not getting the joke.
by
ddrshepherd
on 01 April 2008 - 01:44
What a horrible thing to do. If you want to see the results of many "experiments", why don't you take a visit to a local animal shelter. There you can research the results of several backyard breeders experiments gone wrong and see the misery you'll be contributing to. I think that this is a very selfish thing you are doing, and I have it is no doubt just because you own a female out of a "VA sire and V dam" and can't bear the thought of the money you are out. I am also sickened by the people who own the stud to think that they would contribute to such a thing. Why did you even bother posting this?
by
Nicolesowner
on 01 April 2008 - 01:46
Good luck to you; my friends and I have had many variations on crossing wolves, GSD's and Rottys; our experience has been that the pups have been genetically superior to both of the parents, but too intelligent for being a pet for sale or a gift to the general population. You have more than likely bred canine geniuses that will wind up in rescue for want of humans that are smart enough to give them a home that they well deserve.
by
EKvonEarnhardt
on 01 April 2008 - 01:48
Being open minded I would be interested in seeing the results.
The German Shepherd breed did not happen by mistake it was man made. By someone (Capt Max) who had a ideal of what he was wanting in a good dog. We would not have our breed if it was not for experimenting.
My question is what "IF" she has over six pups then what?
HAve they had his(stud) hips checked? what about his off spring?
Do you plan on OFA or pen hip the litter?
What do you plan on doing with the mal pups?
Do malis really have better hips then shepherds? Don't know much about them
just some questions
by
gsdgermany2
on 01 April 2008 - 02:06
"Do right" ~ you are some where in the USA & it's not April 1st yet~ be nice and stop messin with people !
by
jletcher18
on 01 April 2008 - 02:12
oh, but the post are dated april first, doesnt that count.
actually i saw a gsd-mali cross. half looked like shepherds, the other half looked like mali's. nice litter if you dont mind mixed breeds.
john
by
Two Moons
on 01 April 2008 - 02:19
You start out with a dog who has moderate dysplastia? Great! Then you breed to whats supposed to be 3/4 wolf?
I've crossed wolves and shepherds, your not going to like what you are going to get. All I can see is animals being abused, or animals being put down. Or someone getting hurt. Either way its a waste.
I would offer more of what I know about wolf cross's but it would only be a waste of time. Maybe your just yanking everyones chain. I hope so.
The saga continues.
SSDD.
by
Jenijenjen
on 01 April 2008 - 02:38
What a mess, they are all ready running !!!
by
Brittany
on 01 April 2008 - 02:51
lol Jen
by
vonissk
on 01 April 2008 - 02:59
Didn't the government already do an experiment like that? I forget wehat the " breed" is called...........and I don't think it worked. Tundra Shepherds or something like that.
by
Abhay
on 01 April 2008 - 03:29
Here at "Abhay's Kennel", it is a veritable smorgasbord of Genetics. Below are just a few of the breedings we expect to produce outstanding offspring in all aspects. Keep in mind, these breedings are works in "Progress".
This is a breeding I made between a GSD/Wolf cross to a Primate. I am looking to produce "Jungle Gorilla Fighters"........I know how most don't approve of chaining or tethering, but will anyone loan me a Swivel for the monkey's lead?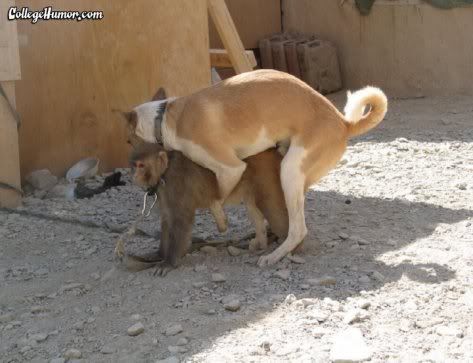 Here is a breeding that will be surefire bird dogs!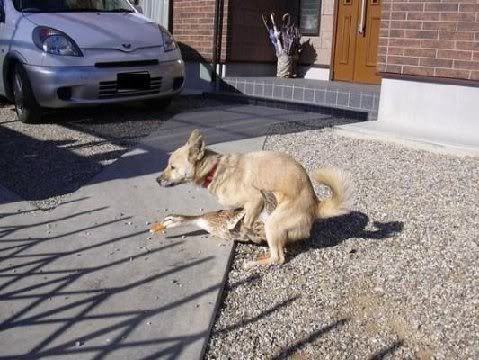 Accidental Breeding, will probably be Baaaaaaaaad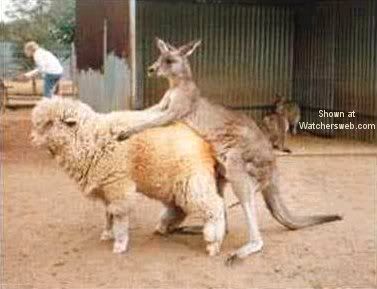 Breeding Blue Hunters, with leaping ability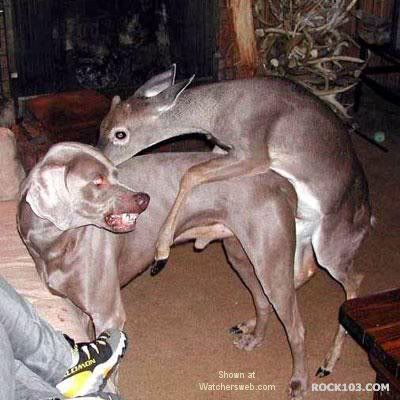 Last, but not least, the Studs below are available for the right $$$$$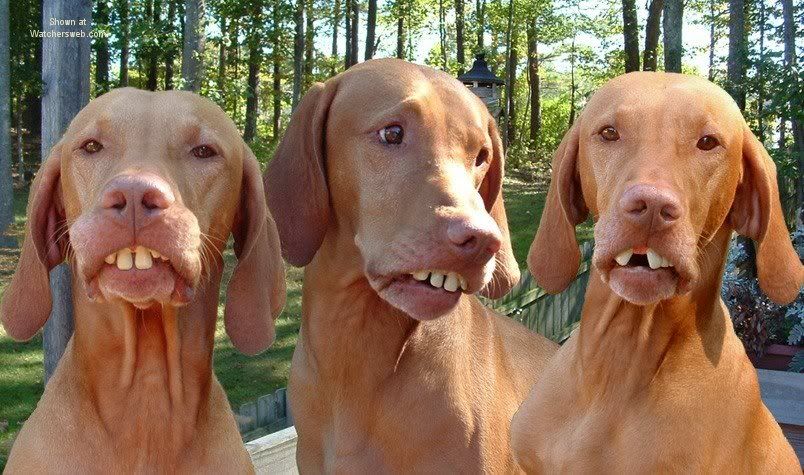 by
EKvonEarnhardt
on 01 April 2008 - 03:33
OK abhay that was too funny I about fell out of my chair!!!!!!
by
EKvonEarnhardt
on 01 April 2008 - 03:34
Actually the Czech did a cross with wolves and shepherds Wolf dogs I believe and yes it did not work out.
by
John Kennedy
on 01 April 2008 - 03:42
Not big on it, but I thought that the Czech wolf dogs looked pretty wild. Not as good as our gsds
by
ZVZW
on 01 April 2008 - 03:45
Sure, it worked out!
by
blueshep
on 01 April 2008 - 03:45
Funny stuff Abhay!
by
jletcher18
on 01 April 2008 - 03:55
ok, so the link to the czech wolfdog. thats some interesting stuff. makes you wonder if these dogs were used for breeding and called "german shepherds" and the part about them halving wolf in them left out?
john
by
Nicolesowner
on 01 April 2008 - 04:07
The pics are farking funny, but the topic of breeding GSD's with other large domestic or wild canines is NOT a joke. Many children have been torn to shreds by black and tan/siberian mixes that have been raised by human trash, and the crime was blamed on hybrid wolves until the DNA analysis proved that the dogs were completely domestic. Combining Wolf and GSD DNA may very well be a brilliant future for a new breed, but only if it is very carefully nurtured and regulated.
You must be logged in to reply to posts