Belgian Malinois > 20 wk old mal - some fear issues and likes to bark and certain people. (22 replies)
20 wk old mal - some fear issues and likes to bark and certain people.
by
heididuversa
on 17 June 2012 - 22:26
Well this is my first post. So hello Mal owners!!

My little Heidi is an amazing dog! we have been doing minimal obedience training tring to over come her scardy cat issue. Her lines dont have this issue, so i am not sure where it came from. (i am high strung - it might be my fault)
I thought i might ask others what helped there silly puppies.

I got heidi at 8 weeks - i didnt really socialize her till about 10 weeks - BIG MISTAKE-
once she had all her shots i noticed she would not meet a stranger with out barking, she refused any petting. No bitting, just warnings.

Her trainer had given me the basics to teach her, sit, stay, down, spin, shake, high five, all that was learned at 12 weeks

still pet stores and anyplace freaks her out,( Note we are improving.)

So as soon as i started her at the dog park on a regular schedule she improved 80%. but to this day a stranger can not pet her. If i leash her and they are setting down, she will tolerate a touch. If anyones address her "hello cute puppy" she goes off on bark alert

She has made a few aquaintances but no friends except her family.

we are going to the dog park 2-4 hours a day, different times for play and socializing with different people and even the same people.
We are also going to a different business or parking lot for walks. Helping her get over the nervous crazy scrare feelings.
At home depot she was shaking like a leaf so we dont go inside, we treat on the outside of it and are planning another inside trip after she starts her obience training monday.

I am hoping that will help, to work with a trainer besides mom.

I am not so upset over her fear, we will get through that, (advice is so welcome) mommy has massive anxiety and thinks if i work on mine she will work on hers.

but she tends to bark and some people in the dog park. follow them and bark till on end insite. if they sit she stops, i can leash her and she will let them say hello, but if they walk she flips.
If one person - I dont care for- and some random people. Like hats, glasses, if they came in with a back pack.

thoughts?

Fear and barking at people in dog park

sorry i cant write worth a darn.

Terra



by
heididuversa
on 17 June 2012 - 22:36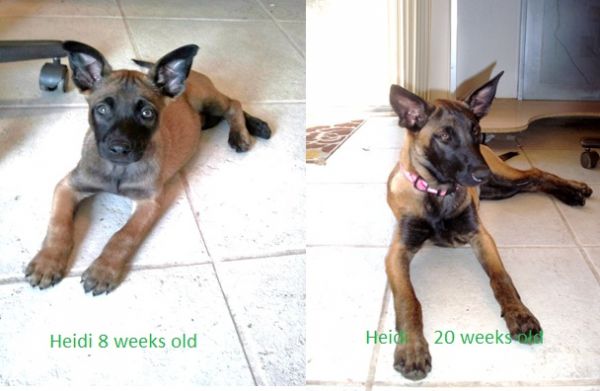 by
asomich
on 19 June 2012 - 05:11
Terra,
Sounds like you're learning a lesson the hard way - can't wait on shots to socialized this breed. You have a pet approach to your pup that is pretty ignorant of this breed. I'm glad that you came to this forum to gather informtion from working dog people.

First, most mals are not anxiety therapy service dogs. Think about it. They are bred to watch a police officer's back and react appropriately. This breed feeds off of its handler's energy. Your pup is a normal mal and responds to its fear by forward aggression. S

S

o if you have a bad day, or meet up with a person you don't like, your pup is going to be ready to fight. If you are anxious, you do not need to be around your dog. It is not fair to get her upset and you will negatively shape her temperament.

Letting your 20 week puppy loose to follow people and bark at them is irresponsible. You need to have her on a leash. Fast forward your pup 1 year and she may bite someone - especially if you don't like them or are afraid of them.

You have an unrealistic expectation that this breed will act like a golden retreiver with people, especially strangers. Your goal should be indifference toward people. If your pup is friendly, then thats ok too. That is the standard temperament for this breed. I don't let strangers pet my dogs. I don't let my dogs go up to sstrangers. When I'm with my friends, then I let them work it out - they have to want to pet my dogs and my dogs want to be petted. I feel that dogs whould be shown respect in social situations. Now the trial field and vet office are different. Being handled is part of the scenario.

I would not go to dog parks and let my pup interact with strange dogs and their strange owners. (Would you let your child play with strange kids with wierd parents?) I use outside of dogparks to socialize for dogs. I use parks, playgrounds, soccer, baseball games, stores, etc to socialize for people and different activities. Many times I put my pup in a crate and relax first. Then later we walk around. When I visit friends I take my pups with their crates. Not only do the pups get exposed, they get to see me cut up with my friends.

When socializing, I would let her sit, lay, watch, absorb until she becomes interested in moving on. I would calmly walk around keeping my eyes on my pup. I would focus on watching how she reacts and change my pace accordingly. At the same time, I am keeping an eye on people walking up and the activities surround us. If people walk up, I politely tell them that she is in training and to leave us alone. When she starts to bark, redirect her by quickly turning and walking away in the opposite direction. You may have to pull on the leash and use your voice and RUN away. Make your body movements jerky and interesting so she will focus on you and follow you. Force yourself to be happy and fun and not worry if she barks.

Keep zig zaggin arouKee



When she is comfortable with an environment then I would use a toy and interact and play with her. I would try doing simple obedience with real meat or cheese only if she is not barking. If she is barking, then she is too scared to do obedience - she cant learn anyway. I would be careful going to pet stores with unruly dogs and people who try to forcefully pet your dog without permission. That will really scare your pup. If she is too scared to walk into a store, then carry her in, walk thru and find a quieter place to set her down.

I would repeat your socialization for a certain environment every 3 to 5 days. If she is ok one time, don't think that she will be ok the next. Alot of this is mental maturity. I would expect to actively work on socialization until she is at least a year and a half. As she gets older, you can stretch it out to 5 to 7 day cycles. Expect her to go thru a couple of fear periods where she really seems to regress. Also, expect another fear period around her heat cycle.

Hope this helps. Annamarie
by
asomich
on 19 June 2012 - 05:36
Terra,
invite your friends over to help socialize your pup. Just let her hang around and wait until she goes up to them. Have them give her treats at first. Then you visit your friends at their house or meet them at a place without other people. The next step would be to meet them at a people park. Have your friends pretend to be a veterinarian and handle your dog. You can also take your dog to a groomer for a bath and toenail trim.




Good Luck, Annamarie







by
asomich
on 19 June 2012 - 06:17
Another thing - using the dog park as a way to exercise your dog will not work. You need to walk or run/bicycle (wait until her bones have done most of their growing) or play ball (throw to where it ends by rolling on the ground - don't bounce to where dog jumps and can get hurt) . Playing fetch with the ball really develops a relationship. Obedience training gives her alot of mental stimulation. Look into RAlly obedience. You may want to look into agility or dock diving too.



by
asomich
on 19 June 2012 - 14:46
This is alot of info to remember to type. I want to give more information on socializing. When my pups get barky with other dogs, then they are expressing fear with dogs. So then I go to the dog park but stay outside the fence and slowly walk around. It is too much for the pup to have a strange dog force itself on him. Also, I can't control the other dog and I don't know the other dogs temperament. When I'm at the dogpark I want 1) dog to not be fearful and bark at other dogs 2) ignore other dogs after checking them out 3) focus attention on me to play and do obedience. I make sure my pup is ok with large and small dogs - ones that are different looking from another malinois. Now if I want my dog to play with other dogs, then I get together with my friends and their dogs for a play group - just like you do with children. I know the dogs, their temperments, their health conditions. My friends and I work together to redirect or correct our dogs if little spats start up. We control the way they play. Also, this is when I let my pups get attention from other people. My friends know the proper way to treat my pups and I trust them. Also, I can relax more and not have to be on the defensive of protecting my pup from strangers and unruly dogs.
by
heididuversa
on 19 June 2012 - 19:26
Thank you for a large response.

I shall digest it slowly.

We did start training yesturday

by
asomich
on 20 June 2012 - 01:17
Terra,
I passed on info that you will not get from the average dog trainer. This is specific to this breed and to working breeds in general. Unfortunately, your Heidi is not a pet breed. She may be "pet quality" from a working litter, meaning she may not be able to do protection sport (french or mondio ring, schutzhund) or police work. Or she may be the only working quality from a low quality litter. I do not know because you have not given information on her background and her breeder. Anyway, sounds like she is normal for a malinois pup and requires the same attention to socialization that a normal working litter requires. It sounds like you are overwhelmed with the amount of work that you will have to do and the kind of dog that you have ended up with. Maybe a more low key, less reactive breed who can easily fit in social situations with a carefree happy attitude is more your style. Also sounds like mals are not the right personality fit for you. Now is not too late to find this pup a new home with someone who will not find living with this pup stressful. Contact her breeder - a good responsible breeder will take her back. If you are not having fun and you don't like her, Heidi will know and become even more reactive. You need to make the commitment to this dog or place her with someone who can make her successful. If you have the strength and confidence to work with her, it will be well worth it. When she is mentally mature, you will find that this pup will be so into you and she will be able to give you the stability and comfort that you need. But right now, she can't. So do the right thing for both you and her.
Annamarie


by
Rcarde
on 20 June 2012 - 19:23
I agree with asomich what your describing is a typical malinois, and no offense but your describing the exact reason why this breed is being watered down and overall quality is suffering you want a pet get a lab you want a working dog get a Mal, don't get me wrong I'm totally for a social dog and promote it to the fullest but these dogs were bred to work a stroll in the dog park is NOT work and sounds like you bit off more than you can chew either link up with a real trainer who has experience with working breeds or think of rehomeing before its too late and someone gets hurt sorry if I sound harsh but it's the truth Mals are meant to work leave them for that
by
heididuversa
on 24 June 2012 - 15:06
well we switched trainers and what I thought was fear in her was mild anxiety shaking in her and we kicked up her obidence training to 3 days a week with a trainer that is a kennel master with the army at lackland.
I do have time and yes i am kind of over whelmed but it was mainly cause I wasnt getting the attention i needed from the person that was to be helping me.

Now with the help I am getting I am not worried.



by
asomich
on 24 June 2012 - 19:36
To all people new to the Malinois:
1) Do your homework on the breed BEFORE purchasing the pup
2) Find a good trainer BEFORE purchasing the pup
3) Purchase the pup from a reputable breeder that will give you support

OP:
I'm sorry, but anxiety is fear. I think you need to be socializing your pup EVERY day. You need to be doing puppy obedience 5 to 15 min EVERY day. You need to be playing with your pup to build a relationship EVERY day. Socializing and doing obedience are different things.

Are you sure that your new trainer from Lackland did not tell you to socialize the pup? Are you sure you're telling us everything he said? What did he say after he evaluated your pup? Lackland has a puppy foster program to get their pups socialized. Your post just doesn't make sense.

I take it that you're in San Antonio. I'm in Houston. Let's get together and I'll help you out. I have 2-11 week male pups that I am working with. They are barking at everything that looks new and different. You can see how I handle them. You won't have to pay me. PM me!

by
jeffc
on 27 June 2012 - 23:07
Hi Terra- I rescued about an 8 month old Mal just over a year ago, and have faced some of the same issues. I suspect some of my dogs problems were abuse related, but here's what has worked for me so far:
patience, repetition, patience, repetition, patience repetition.
Let her gain confidence with people at home, in her own territory where she is most confident, then little by little expand her territory- wait till she's at home at the dog park, then around the block and out in the neighborhood, and do the shopping center absolutely last- it's the most complicated, alien, and stressfull environment she'll face.

by
heididuversa
on 28 July 2012 - 01:00
So it is over a month later.

Heidi who came from my friend, malniois breeder and employeer at this time. She employeed me 3 days a week to work at the kennel with 5 other mals. So my understanding is better, plus i am employeed with a k9 protection company at this time (2 jobs) and I am learning from that source that was a master kennel trainer at Lackland. Heidi goes to work with me as well:) My guestions to this forum was to get a second opinon, or 4th. My explinations and writting skills are horrible. I cant ever get anything out correctly.
not sure how to share her lines? She is akc reg and i have her parents info but not sure how to translate it to some one else.

Do i need help at this time? from the forum, not more than support. we have improved 90%. She went to board and train and was evaluated here in Sacramento. Most the issues she has are a mix of my own anxiety over her, that is now being managed and it seems some of the pups from this litter are just this way. I am attedning group trainings so Heidi and myself can learn and observe, be in the mix with other people and dogs in a group environment that isnt the dog park. We only did that because her board and train trainer ask me to so she can observe us and see how we are doing.

Heidi has made 2 friends at my home, plus is not not barking at people that visit. I do have to correct her if she makes a tiny bark, but if they ignore her she goes up and befriends them after a hour or so. She was able to lay with the kids and chew on her bone just yesturday. A month ago she wouldn't let the kids walk with out nipping at them.

Actually today, we went to get our hair cut, target and to the grocery store. She was excellent for a 6 month old puppy. not a sound came out of her. the worst thing she did was tighten up the leash a couple times.



by
asomich
on 28 July 2012 - 21:30
So why did you waste this forum's time if you already had access to the breeder and experienced trainers? Sounds like you were going to do what you wanted to do in the first place! Or is that you got a nervy pup from your employer and didn't want to complain to him or her?
by
heididuversa
on 30 July 2012 - 03:22
I came to this forum when i didnt have access to help. When my breeder was out of town, for 3 weeks. I have since got the help needed.
I think that your advice was spot on, but your tone was very harsh.

i greatly appricate your replies but i will not continue my membership here.



by
asomich
on 30 July 2012 - 04:59
You tell the forum after the fact that you work for a malinois breeder and also at a k9 protection kennel. You have access to folks that have malinois and working dog knowledge. You tell us after the fact that you live in a part of the country where there are a ton of sport clubs and decoys (and malinois). You should have gotten your butt out to a club to get hands on help. You should have been trying to study and learn as much as you could on your own. If you could find this forum, you could have found all the free Michael Ellis streaming videos on www.leerburg.com. Your breeder was gone for 3 weeks, but you should have been socializing your puppy before he left. So I don't buy that. Besides, you should have been responsible enough on your own to not depend on just one person for help. But you presented yourself as a pet person with a new working malinois pup, without a clue in the world and without the wherewithal to raise it. My issue with you is that you deliberately misrepresented yourself. Most people who respond to newbie (or so we thought that was what you were) questions and spend alot of time and thought in our replies, do so because we love the breed and we want people to have success with it. We like to help people and enjoy teaching them. We believe that they HONESTLY need help. And then you come back to the forum and say that you just wanted us for a second or fourth opinion. I have the right to be disgusted that I wasted my time with you. You set this forum up.
by
asomich
on 30 July 2012 - 05:22
Are you a teenager? You need to have your parents read this thread. Have your breeder friend/employer read it too.
by
shag1602
on 02 August 2012 - 18:54
asomich- I read your responses and I greatly appreciate them. Please do not feel that your responses that were thought out, went unappreciated. You're very knowledgeable about the breed. My husband did the leg work and thought that a Mal would be a great dog for our family. I was in favor of a lab or golden, but agreed because this was his dream dog. If you really want to know the whole story I can go into it, but basically he decided to get our dog from Ruidoso Malinois...yes, RUIDOSO MALINOIS. She was older than we were originally told, untrained, underweight, UNSOCIALIZED and terrified of everything that moved all the way down to the wind blowing the branches in a tree. She even approached a fire hydrant catiously when we got her home and took her on a walk. My husband wanted to throw in the towel and send her to a rescue in AZ, but I stuck with her. With some help from local trainers and patience and understanding from myself she has improved immensely. I truely believe she was abused by the handler there...she is was terrified of men, but has befriended some of our male friends and the time frame to achieve this has gotten smaller and smaller. If there is a man carrying anything stick-like she cowers and tries to get away-bat, tennis racket, fishing rod, trash picker upper, rake, broom etc. God forbid they wave it in the air.
I have used the tactics you speak of in your first response and have seen amazing results with my girl. And I completely agree with everything that you say regarding them being tolerant in indifferent to people rather than friendly. She will never be friendly to strangers and that is fine with me. She is an excellent dog for myself and my child when we are out. I don't want strangers approaching us. She even creates her little bubble around us barking her warning bark if we are out in the mesa walking and my husband approaches us trying to catch up with us on our walk. She is excellent and the journey that we have made, although rocky and not what we expected has been a learning experience. A good one. It has been fun to see her improve over time. We will have her one year in October.

Thank you for your responses. Any other advice would be greatly appreciated. How do I maker her feel more like a working dog? Like that she is serving her purpose. She does tricks, but I need ideas of things that she will enjoy. She is a pleaser and I just want to capture her mind and make her work. any videos? Any one you recommend in the San Diego area?
by
asomich
on 03 August 2012 - 21:48

Ruidosa, from a pedigree standpoint, had or has good lines. Their dogs should genetically be pretty stable. But you can take any well bred mal and let it sit in a kennel (even a shelter kennel) or backyard and not socialize it and the poor dog acts like it's been beaten because it is so afraid of what it doesn't know.

"barking her warning bark if we are out in the mesa walking and my husband approaches us trying to catch up with us on our walk." - is this fearful stay away barking or i'm happy excited to see you barking?



Right now I would say that you may need to work on making your husband your dog's buddy if the barking is fearful barking. Let her wait to get fed from him. Have him feed her by hand. Have him do some obedience with her. Have him actively play with her. If she is fine with the playing, slowing add some rough housing with it. Try playing ball or tug. Michael Ellis has an exellent dvd on just that. She needs to bond more with your husband. If she has to have only one meal late at night waiting for him, don't worry about it. The food drive will be that much better. Have her sit (in her crate) with him while he is on the computer or watching tv.

Then you two need to brainstorm about how to get her around men, nothing younger than high school kids. If it was my pup, I would first go to a pet store and ask men to pet my dog. I would not feed her before and give the guys a treat to give her. If she is too afraid to handle that, don't overload her. Just have her sit or down near the entrance or register and let folks pass by. She may never be able to handle strange men touching her (ha ha). Then I'm thinking softball games, the basketball court at your neighborhood park, etc. I would just take her crate, a lawn chair, cooler, ipad, etc and just park it. Let her lay in the crate and just watch. Then after you have been there for a while, take her out and walk around near the men. If she is ok with that, then ask them to give her a treat. Maybe you can find a home depot, bowling alley, etc that will let you take her in. Bass Pro Shop is wonderful for socializing. People who work and buy there really like dogs. Your goal is just indifference at this point. Don't fret too much - she is what she is at this point.



I really like the Michael Ellis dvd's. I would start with the The Power Of Training Dogs With Food

" and "The " and " is


If you want to play tug and use the tug as reward in your training, then The Power of Playing Tug with your Dog is good.
http://leerburg.com/flix/player.php/143/The_Power_of_Playing_Tug_with_Your_Dog_Commercial




Bowwowflix is like netflix:
http://www.bowwowflix.com/detail.php?id=132

There is alot of good free stuff on Leerburg. You can save alot of time and money educating yourself. then when you do spend time with a trainer, you will start at a further point in your training plan.



http://leerburg.com/flix/category.php?categoryid=30



For fun I would do agility, or dock diving, or nose work http://www.k9nosework.com/
If you don't have time for an organized sport, then try to do things like them on your own. The more exposure your dog has to different things, the more confident she will become.

A lot of mals have stick or swinging object issues. I would first start out by having you desensitize her. when she is fine with you doing it, then have your kid do it, then your husband do it. Swing something around when she is eating. Don't do it too close. then do it when she is in her crate. Then open the crate door and do it. then do it when she is sitting in a "safe" place in the house - like under the table or on the sofa. If she runs back to the crate, then you know that is too much. Hopefully you can build it up to your husband swinging an object. With the working dogs, we desensitize them to the schH stick or bamboo stick. I will slice it over their head with it while playing and stroke them with it while they are eatting. When they are fine with that then I will thump them on the side while we are playing. You may never get to that state with your girl, but you can probably improve things.

These are just ideas to get you started. Just take it slow. I'm sure that you can brainstorm more and better alternatives. Good luck.


..



by
Pepvol
on 04 August 2012 - 05:56
WOW ... Asomich , I don't think you have any idea how you come across to anybody reading here . You're the one who sounds like a spoiled teenager , unbelievable , I wouldn't take a dog from you if you gave it to me .
You must be logged in to reply to posts