Is it too early?
by
Dixiebelle
on 19 July 2012 - 06:20
We have brought into our family a GS puppy who is now 3 months old. I know the breed pretty well but I was wondering is it too early to start giving him some joint vitamins? I have a lab as well who went through 11 surgeries on his hip and I have a lot of joint vitamins and supplements laying around. Liam (GS pup) whines a lot at night and I don't know if it is simply because he is a puppy and he whines when he is really tired or if he is hurting. I have taken him and got his hips looked at but they say nothing is wrong with them. I have also looked into his background and no none hip issues. I wanted to have him on these anyway but I wasn't going to start them until he was around 6 months old or so. Is it too early to start adding them to his food? He has grown a lot since we have gotten him, I don't think the previous owners were taking care of him because he was the runt. They came across as the type who only really wanted the star puppy. He is worm free (now) so I know that isn't the problem. Just looking for some advise on anything else I could possible do or check for as well. Thank you everyone for your help in advance.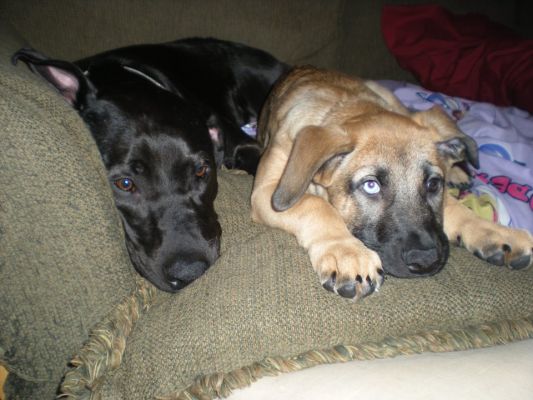 by
Hundmutter
on 19 July 2012 - 08:08
More likely the whining in the night is 'cos he's still awake, bored and/or lonely. If that could be true, is there anything
you can do to change it (apart from running back down to him whenever he cries !) Toys ?

Most supplements say not to give them to puppies younger than six months; and if this is just wanting to use them up
'cos you have some left, please look really carefully at expiry dates before you do !
IMO I don't usually offer any supplements to any dogs until they are 'grown up' and/or demonstrating symptoms that
give me specific reason to think they could use something extra. Sometimes over-supplementing can be just as
damaging to a dog's growth as NOT feeding properly.

by
NigerDeltaMann
on 19 July 2012 - 09:14
". . .I don't think the previous owners were taking care of him because he was the runt". They could be taking care, but sometimes the runt in the litter grows bigger n looks better than his other siblings. I usually have problems picking the "pick-of-the-litter", except on repeat-breedings. Your pup could simply be a low-drive puppy, which is usual with, especially, pet quality. Sometimes, he could just be bored. Play with him, always take him outside and hand him a favourite toy(mind you, a favourite toy means a toy you alway play with him, with lots of rewards, so he's tied to that particular toy). Good luck to both of you.
by
SitasMom
on 19 July 2012 - 11:56
studies show that to prevent hd/ed caused by environment.......

slower growth from balanced lower protein food (not puppy diets)
plenty of self regulated exercise on slightly hilly land
sunshine for vitamin d
non slippery floors
no running up and down stairs or jumping out of trucks


by
Dixiebelle
on 19 July 2012 - 20:14
Thanks guys. I love the fact that there is a place where we can go to talk about stuff like this. On a plus note we went the whole night without whinning. I got a call from a friend badk hom who raises GSDs and she said she had a whole liter that did the same thing. She said to take up the toys at night because with hers they were so tired but wanted to still play that they would just get crancky. I tried it last night. He played with his brother for like 30 minutes until it was no fun anymore because he was asleep. Then came up and curled in between my legs and was snoring within minutes. Another thing that came to mind when I was reading the responses is yes the runts do usually grow to be the biggest so I'm wondering if it wasn't just growing pains because he has tripled in size since we got him or because he started teething. I stepped on his first little puppy tooth this morning. I hope we can get through another night with no crying. It breaks my heart. Thanks again for the responces. I really appreciate it!!
by
yellowrose of Texas
on 20 July 2012 - 05:04
No glucosamine/CHON supplements needed for a longtime

my vet laughed one day when a vet in TYLER told my puppy buyer her dogs ears would never stand, so he can for 75.00 stint them and his hips are gonna be bad so I will prescribe a 65.00 bottle of Glucosamine/chond. and then his ears afer filthy so I will for 30.00 flush and fix that.

4 month old gsd pup...for a rabies vaccination was all she went in for..which I am against but some people follow the state law when it is unfair and unneeded..NOT me I will not give a rabies under 6 months for any reason.

SO she called me from parking lot in tears...my pup has HD...what...she told me the story and I almost laughed in her ear...told her get out of that office..

I called my OFA vet in Edom , and he said HA HA HA>>if she needs to give away 65.00 dollars send her over here and I will sell her a bottle to let go down the drain...

NO such thing nor never give a pup calcium pills either...give raw meats, veggied, fish and fish and bones and bones and raw not cooked bones..


YR
by
Hundmutter
on 20 July 2012 - 08:32
YR Yeah some vets do seem to 'try it on' with folk to make money, don't they ?

You must be logged in to reply to posts