Belgian Malinois > If a Mal + Mal could produce a Tervueren.... (22 replies)
If a Mal + Mal could produce a Tervueren....
by
hardred
on 04 May 2012 - 11:58
I just learned from a Magazine that a Mal + a Mal could actually produce a Tervueren... but a terv + another terv cannot produce a mal. Hmmm I forgot the magazine's name...I'll check it later...anyway... why did they need to classify Terv as another type of breed of Belgian if two mals could produce a terv? I know that the difference between the two is just the coat,... cheers :)
by
judron55
on 04 May 2012 - 13:14
you can have any variety in a litter........no matter what coat length or color you breed....witnessed it first hand
by
Kaffirdog
on 04 May 2012 - 13:18
Terv to Terv cannot produce a Mali as you can only get the long coat when you breed two long coats together, same as in GSDs. You can certainly get Terv from 2 Malis as many of them carry the longcoat gene from the days the types could interbreed.

Margaret N-J
by
hardred
on 04 May 2012 - 13:25
yeah I've heard about that...sometimes you get 2 terv in one litter or stffs... it's just a bit confussing that when you register your pups some would be classified as mals and the two are terv.. so if you sell it.. you'll see on her pedigree, terv. - both parent are mals. a diffrent breed.. hehe

actually my dog is black sable mal. but she looked more of a terv when she got a bit older. her coat is a bit longer compared to other mals. cheers :)
by
hardred
on 04 May 2012 - 13:29
hmmmmm I seeee....thanks :) judron55 & Marge cheers :)
by
ciara1
on 04 May 2012 - 21:23
I love the Tervueren... that was my very first herding dog...
by
jemi
on 04 May 2012 - 23:19
have not studied dog genetics, only chicken....but these may help

there are varieties or variation in every breed and a lot of it if you allow them to happen as in color. Every change from their usual type and form, and color will start as a mutation from their gene or genes, presence of diluter genes, and some modifier gene action. Mutations could be dominant or recessive. Dominant to dominant can produce throwbacks or types similar to their ancestors , while recessive to recessive will not, only they will change thru mutation. These are some of the reasons why you can see dogs in all forms and sizes, and of all the animals, dogs and chickens have the most mutations in their genes from the original wild type genes since they were domisticated by man. That is from the wolf, and red jungle fowls with wild type genes we can see hundreds of different breeds now, from small sizes to giants. And their uniformity became possible thru tandem repeat or re-pairing of these genes.

All of these new genes were assigned with gene symbols and usually behave monogenetically or single, and pleiotropic meaning two or more genes influencing one character traits, they have a specific location in the chromosomes and most of these behave or follows the Mendelian expression of inheritance.

Now the temperament, courage, and instinct of a specific breed are quantitative and polygenic. They are a combination of several genes working together, their location in the chromosome is unknown, and they don't have an assigned genetic symbol. They are additive and becomes concentrated like if you breed a mean rotweiler to a mean bitch and you do this for generations, your rots will become meaner than somebody else's rot. The same will happen to hunting dogs, retrivers and etc, where their behavioral traits become magnified in degree if your selecction is aimed towards a specific behavioral trait or traits.

Breeding is always a package of form and function. If you are not strict enough you will either perfect the form and loose the function or vice versa. There are show dogs that look perfect but can not function the task that they are originally bred for, and dogs that can not be shown but can work. But it is a breeder's pride and joy to have both in every individual in his breeding.

I am talking about gamefowls or chicken here, but could be applied to dogs too, maybe.







by
malndobe
on 05 May 2012 - 05:01
The confusion is being caused in part by the AKC and it's breed clubs.

In Europe and many other countries, there is one breed, the Belgian Shepherd Dog, with 4 recognized varieties, the Malinois (short coat, fawn/black), Tervuren (long coat, fawn/black), Groenendael (long coat, black) and Laekenois (wire coat, fawn/black). It's also possible to get dogs that fall outside of these varieties like a short haired black dog, or a wire/curly coated black dog. Also within the varieties I listed the main colors, but you can get grey/black Tervurens, blue Malinois (blue instead of black), and some other colors. It's similar to Labs that come in Chocolate, Yellow and Black. Or the GSD with it's many coat colors and various lengths. Some are GSD - Sable, GSD - Black/Tan, GSD - Saddle Back, etc (don't kill me if I called a color pattern the wrong name LOL)

In the countries that consider the dogs one breed they are registered "as they fall". IE if I breed two Malinois and I get a long haired fawn/black pup, it's registered as a BSD - Tervuren variety. If I breed two Tervs and get a long haired solid black pup it's registered as a BSD - Groenendael. Some of these countries allow intervariety breeding, ie a Terv to a Groen, a Mal to a Terv, etc Others only allow same variety breeding, Terv to Terv, Groen to Groen.

In the AKC the breed was spit up into multiple breeds back in the 50's for political reasons. Basically people with one variety didn't want to have to compete against the other varieties in the show ring. AKC said "OK, it's your breed, we'll do what you want". But at the same time AKC said "if they are different breeds, then it's not possible for one breed to have pups of another breed in it's litters. If you can't breed 2 Dobes and get a Rott, then you can't breed 2 Malinois and get a Terv". The genetics of course say otherwise, but in AKC's eyes since the Tervs and Malinois are now separate breeds, if you get a long haired pup in a Malinois litter it's just an incorrectly coated Malinois, not a Terv. If you export it to Canada, Europe, Mexico, etc though it suddenly becomes a Terv.

If you really want to give yourself a headache start asking yourself how AKC handles things like an imported dog with a pedigree that isn't all one variety. Or isn't the same variety as it's parents. Or even better, imported siblings who happen to be different varieties. Now you have siblings registered by AKC as different breeds LOL
by
jemi
on 05 May 2012 - 12:24
yeah there are some confusion. Also I am pretty sure there are some intermediate individuals. Dogs with longer hair than the standard Mals, but with shorter hair than the Tervs, kind of in between.

I also notice in the pics, the Malinois being shown or the "show line" have somewhat smaller ears with longer necks than the "working lines". And working lines have bulkier build, closely resembling german shepherd dogs but just square in build, or maybe they just built muscles in daily workouts?


by
malndobe
on 06 May 2012 - 05:28
The intermediate individuals are still genetically long or short haired dogs, it's just that the hair length past the long and short has modifiers. The easiest way to tell if a dog is genetically long or short haired though is to look at the hair around the base of the ears, then the tail and legs. Longer "furnishings" in these are will tell you if the dog is long or short haired.

The working line long hairs tend to have less coat than the show bred dogs, which are bred for more and more coat. If you look at historical photos ot eh dogs though, the original dogs didn't carry that much coat. More like a long haired BC than the current Collie type coat some have.

Show line dogs are bred to conform to a specific look. Working line dogs are generally bred more for the work and less to conform to a cookie cutter appearance so you will get more variation in the dogs. They still general fall within the standard, just not the look the show ring perfers. There is some trend to breed for a heavier boned/bodied dog for the work, but some of it is also simply the muscles built up when working. It's not usual for my dogs to loose about 10% of their body weight once they retire due to muscle loss. For example my 13 year old female Cali was 72 pounds when she was competing in Ring, now she's 65ish. That's all muscle since she still carries the same amount of "rib cover" as she did when working.
by
jemi
on 06 May 2012 - 14:42
malndobe,....it's getting clear to me now. thanks a lot.
by
MVF
on 07 May 2012 - 05:57
In the US, after years of separation, they do appear to be separate breeds, however. Your chances of getting a intense working Terv are much lower than getting that drive in a mal. If you find a long-haired mal that passes as a terv, please let me know! He's going to be a better worker than most tervs in the US.
by
Judy P
on 08 May 2012 - 02:23
My last litter of Mals was from an imported female bred to a first generation AKC male and I had some beautiful long coats. But with AKC they were all registered as Mals
by
hardred
on 08 May 2012 - 10:59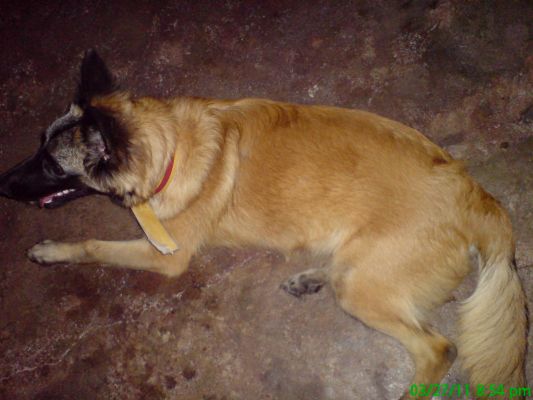 this is my dog...this picture was taken when she was just 6 months old. her hair on her belly, her legs and her ears are longer now. sometimes I think she looked more of a terv than a typical mal,. her father is MHELRIX OF MELBOURNE, where I guess she got her long beautiful hair.
by
jemi
on 08 May 2012 - 17:36
yes, she has longer hair than a typical malinois. just look for a short haired stud for her if you prefer the short hair mals.
by
malndobe
on 08 May 2012 - 23:50
Your Malinois is actually a minimally coated Terv. The tufts around the ears and the feathering on the tail are the clues.

Personally I like this coat, and have had a number of them over the years.
by
hardred
on 09 May 2012 - 09:10
I guess tervs and mals are both eligent and beautiful dogs, so it doesn't matter if she would produce some tervs in her litter someday.. she's 1 and half years old now, but I think that she's still a baby though I know that she's like 6-8 years old in dog years.. sometimes I tell her "you're still a baby so don't make your own babies yet ok? hahaha"
by
jemi
on 10 May 2012 - 11:37
just watch her, you know kids now. They will do things without you knowing hehe.

So the rule is most or all Malinois will grow a bit longer hair as they grow old compared to when they were younger? Or not all of them?



by
hardred
on 11 May 2012 - 08:28
maybe some...in my dog's case, her hair was already beautiful when she's young, but there was this month that she looked very different because it's like her hair went very very short. then her hair started to grow longer when she reached 6 months, and from then on, I started noticing longer hair strands growing at the back of her ears and belly and thighs.. and her tail too. then but the breeder where I got her said some of her siblings have very very short hair, and some have longer hair.

Now my dog is starting to shed...again... so everyday I will be catching hair in my room...and my clothes will be full of hair, and my furnitures too.. huh... time to vaccuum her hahahaha
I've read in a magazine that you're a dog person if......You do not use vaccuum because your dog hates it... Not in my case...when she see me preparing the vaccuum, she would even run to me like "Alright, it's time for my massage I'm excited!" really she's not afraid.. and after literally using vaccuum to her body... she would never leave like "I want more!!!" I'm actually the one annoyed with the sound of the vaccuum..hehehe i really hate it. so noisy.
You must be logged in to reply to posts