Belgian Malinois > is she normal?..... (22 replies)
is she normal?.....
by
jemi
on 29 April 2012 - 21:42
I have a female malinois 7 months old from my cousin...She just keep on running and jumping around in my fenced yard the whole time that she is awake,....no stopping. I thought malinois are energetic but needs stimulation from the owner to move around. Is that a normal characterestic of a malinois or she is just a hyperactive dog?
by
GSDguy08
on 29 April 2012 - 21:46
What kind of exercise is she getting?
by
Hired Dog
on 29 April 2012 - 22:09
First let me say that the Malinois is my favorite breed and I have been involved with it since 1980. Having said that, I also am well aware that the breed suffers from nerve issues and thoe nerve issues need expression, hence what you see the dog doing. No, it does not need you to stimulate it, its a Malinois...one of my best friend's dogs, a bitch, would run/pace the yard the entire time it was outside and there was no stopping it...again, nerve issues. What lines is your dog out of, that may help answer this question better.
by
jemi
on 29 April 2012 - 22:22
she is not trained but does simple sit, stand, and in where she will run back to her house. My cousin gave her to me because I mentioned once that I want a pet dog to play around with. One more thing is I can not pick up some small things because she will just spring towards me acting like she will bite my hand, and I can not even point at something because she will go crazy right away and will most of the time jump up my hands with a snapping bite sound. And she is mad on everything that moves, insects, birds, small animals, and all even planes that passes by is a target. I really want to teach her to fetch, but am scared that she will bite my hand when I pick up something to throw away. She also drag me several meters in the neck-high grasses when she chase a stray cat, and she always have that grumbling angry sound.
by
Hired Dog
on 29 April 2012 - 22:41
Give this dog to someone who will be able to deal with it, someone who understands Malinois. If this dog is sound mentally, its too much of a dog for you, and its only 7 months old...
If the dog does indeed have a nerve issue, its too much dog for you again to handle. I am not sure where you are from, but, there may be someone around you that knows the breed. Malinois suck as pets, especially in the wrong hands and this is not the dog for you to play around with...you also sound very young!
by
jemi
on 29 April 2012 - 22:42
Hired Dog..........I'm not really sure what line is she because this is my first experience with this kind of dog, I will ask her (my cousin). When she said that she will give me a dog, what I have in mind is a cuddly and gentle dog.








by
jemi
on 29 April 2012 - 23:05

maybe it is not a nerve issue because she doesn't act scared. In fact she is very playful, but very out of control. She will crazily run around people in circle and acts very manicly happy, but it won't take long before she starts biting our heels. Maybe you are right, I'm too young for this dog. Will find somebody to train her to behave, if not I'll just give her away. Thanks
by
jemi
on 29 April 2012 - 23:26
hired dog,,here she is. Can we tell what line is she out of.....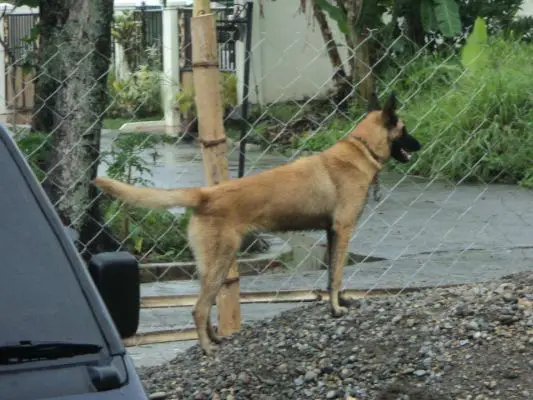 by
Hired Dog
on 30 April 2012 - 00:05
No, of course I cannot tell what lines the dog is out of...if I were pressed to make an educated guess, I would say there is French predigree in there and maybe some Belgian, but, without a pedigree, no one could tell you for sure.
Malinois are THE epitome of all working dogs, they are not bred to be cuddly or cute, I have preached this for 33 years, but, I appreciate the fact that you seem to be smart and will either look for a trainer or place this dog in a proper home. If you do find a pedigree, I would love to see it, take care!
by
asomich
on 30 April 2012 - 02:34
Jemi,

From what you have described so far, we do not have enough info to say she has a nerve issue. The snapping teeth is normal. The growling sound while she is playing or chasing birds/leaves or playing tug is normal . Nipping your heels is normal. Bumping and banging into you is normal. Jumping at the ball or stick in your hand (because she is so excited she can't wait) is normal. If she growls at people, then that may or may not be a nerve issue. Nerve is relative to who you are talking to. Most pet people think that malinois display nervy behavior. The working dog people have different descriptions for reactive behavior, with the worst being "nervy". Chasing small animals is normal. So far she sounds like a typical malinois puppy. Make sure you get her out and about - expose her to different places, people, sounds, noises, animals, dogs, etc. We call this socialization. If you do not socialize her enough, you could create a nervy temperament.

Since you seem to want a gentle and cuddly dog, then I suggest that find a new home for her before she gets too old. Find someone who likes this type of dog. Find someone who can play ball with her and take her running or biking. It would be the best thing for her and for you. Right now you sound exasperated, and even a little scared, of what sounds like a normal malinois puppy. Also, she may be a little too big for you.

Annamarie


by
malndobe
on 30 April 2012 - 04:25
I agree with the other posters who said this is the wrong dog for you. Maturity and training will help some with the energy and jumping, snapping, etc behaviors but you have to be willing to put in a lot of time training, and she will still be a high drive energetic dog at the end, just with better manners.

This isn't a bad age to find her a new home, she's still young which will make it easier. Be careful where you send her though, so the cycle doesn't just repeat itself, she's already on her second home because of being "to much". You might contact ABMC Rescue and ask if they can help you find her a new home, they can help "vet" the homes to make sure its someone who can handle a Malinois, make sure she gets into a home prepared for her. Becareful about just giving her away though, or she may just wind up with someone looking to make a buck off her, there is a new trend with people looking for cheap Malinois to "flip", I see them finding free or cheap dogs, and 2 weeks later the same dog is being posted for sale for 2000+ on some website, sometimes this site.

Where are you located? There might be someone in your area who can evaluate her and help you find a suitable home.
by
reedman222
on 30 April 2012 - 14:43
Jemi,she sounds like a VERY NORMAL MALINOIS! With that said, get the paperwork from your relative, and find her a WORKING HOME NOW! What I mean by this is a home that the dog can work i.e. search and rescue, police dept., schutzhund trainer and so on. If I had room and the paperwork was normal, I would take her, she is beautiful!
by
jemi
on 30 April 2012 - 15:06
Ok guys,......I talked to my cousin's father, a vet who bred her. He said that she was bred specifically as a guard dog and her parents are extremely teritorial and very alert, because he sells guard dogs for security and police work and said they are trainable. So we will find someone to teach her some manners.....When we had some construction at our place we put her in a temporary cage and sometimes leash for about 2 weeks but still walks her an hour a day. She acts crazy most of the time, standing on two feet looking around if she notices something. and she will start barking and running around furiously banging her body against her cage's side walls, step in reverse and will dart forward with all her force, very disturbing sight as if she will break her neck and all the bones in her body. She's not even 7 months at that time.....Ah, before I forget, I am in the Philippines.

My uncle said, he dropped her from his breeding program because she is too light colored for him and he prefers the reddish in color as his standard.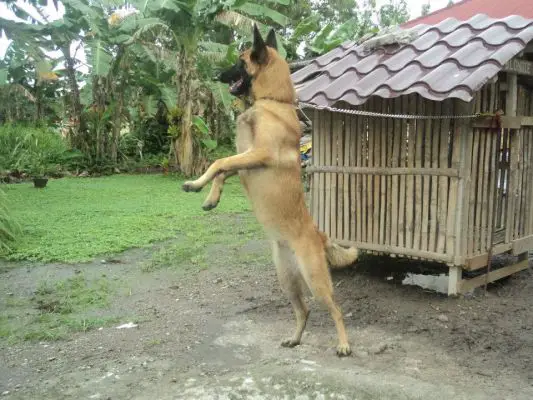 by
jemi
on 30 April 2012 - 15:09
here's one more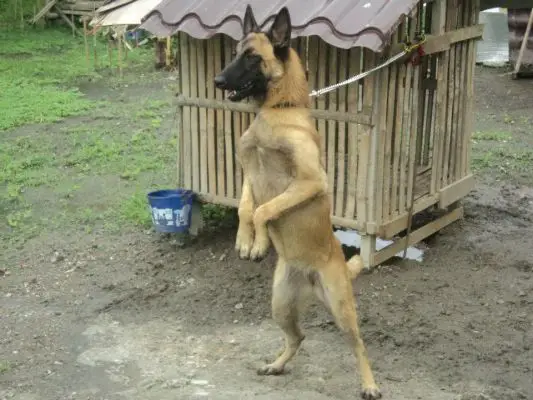 by
asomich
on 30 April 2012 - 18:24
So your cousin or your uncle dumped their reject on you. How sad for the dog and terrible for you. You wanted a small gentle cuddly dog and you are frustrated with this active malinois puppy. Your cousin and your uncle are very very irresponsible. Is your uncle really a veterinarian? Your uncle does not sound like a good breeder (if this is really a true story). A good breeder would be concerned about finding the right home for one of his dogs.

There are people in the Phillipines who breed very nice malinois and are very active in Mondio Ring sport. Please contact someone and get some help finding a good home for your pup. It sounds like your uncle does not want to help you.

Here is the Mondio Ring website.
http://www.philmondioring.com/v1/
Here is their facebook page.
http://www.facebook.com/pages/Philippine-Mondio-Ring-Association/132482520135167




by
live4schutzhund
on 01 May 2012 - 00:18
Donate the dog to a police officer or something or a nearby schutzhund club. Your going to make that dog banana nuts crazy on that chain on top of allowing the dog to punk you out.

Very wrong dog for you.
by
jemi
on 01 May 2012 - 20:29
asomich....I don't really think that this puppy is a reject. Just their preference to the color. If they prefer the light color and gave me the reddish ones instead, I will not consider it a reject either. Or else, all the darker malinois breeders will think that the lighter malinois breeders have nothing but rejects and vice versa. Maybe if she is sickly and a runt, she is a reject in the truest sense. My uncle is a good and quiet person, I can say that because they have a happy family and can be seen in their way of life, and yes he is a vet.

I can only assume that they gave her away thinking that she will be given some little training to be a house member and do some tricks like fetch and a guard dog to protect, and it is a very common practice in the Philippines. Dogs are to guard the property.

I only ask this site because this is my or our first time with this kind of dog, and it shocked us. We did not know that this kind of dog have endless energy. Anyway, most of the advice here are sensible. To give her some exercise, introduce her socially, some training and etc...and I appreciate that and we'll give her a chance to channel her energy into something else.

She was on chain for only two weeks due to the ongoing construction at our place a month ago, because she might stray in the streets or somewhere and hurt herself.






by
asomich
on 02 May 2012 - 15:58
In your uncle's mind, this dog is a "reject" for what he wants to breed because of her color. He "dumped" this dog on you instead of finding it a working home (if it is working quality) or a suitable guard/active pet home. He took advantage of you not knowing much about this breed - probably, because if you knew, you would not have taken the pup. You need to ask yourself: Why is he not helping me with this dog? Why am I having to get information from strangers in a foreign country?


The best thing is to find a home for this dog with people who want this kind of dog. Remember, you said you did not want this kind of dog. You are complaining about things that are normal for this breed of dog. Do not try to keep this dog out of respect for your uncle or to prove him wrong. You asked for experienced people's advice. Now do what is best for both you and the dog.

I'm done with this topic. Thanks.

by
hardred
on 03 May 2012 - 15:44
your dog is so cute... her color is..yes light...but it's just as cute and as beautiful as any other Mals. you mentioned that you are in the Phil. right? I'm also from the Phil.. what place are you? I have a mal. with (tarot's bloodline)...
by
ciara1
on 03 May 2012 - 20:33
You have a beautiful dog...
You must be logged in to reply to posts