German Shepherd Dog > Your thoughts and comments on this beauty please. (18 replies)
Your thoughts and comments on this beauty please.
by
shaz1
on 25 July 2012 - 19:10
Hi all I have been searching for a while now for a young female and after numerous disappointments from various breeders in Europe who misguide and hide important information. I have come across and am thinking of committing to this beauty http://www.pedigreedatabase.com/german_shepherd_dog/classifieds/161908.html I am no expert on Gsd's so please please give your honest comments. I really do need your input. I have requested for details of documents, x rays reports, health guarantee and more pictures and videos. Can you tell me which documents there should be and also if there is any further information i should request. Thank you in advance. Best regards Shaz
by
SchaeferhundSchH
on 25 July 2012 - 19:27
Something looks off about her feet. Her front feet are very flat and look like the hair is quite thin. The rear leg closest to camera is cut off slightly. It looks red like blood, or stains like the dog was licking her feet a lot.

What are your intentions with this dog?
Why does her mother not have any health testing listed on the website? Make sure she does infact have x-rays and they are documented with the SV or the OFA.

The pedigree database is a fantastic tool, but its holes in the pedigree like this:
http://www.pedigreedatabase.com/german_shepherd_dog/dog.html?id=521206
that concern me

How much are they asking for this female and how much training, showing, accomplishments, health testing, has she done?

If she is titled, ask for a copy of the scorebook. If X-rays, make sure the name on the X-ray matches the dogs registered name so you know they didn't have a "stand in" for that dog if her hips were poor.
Ask for proof of dention. Why selling her?

If you plan to show, breed, title her I would have many more questions.
by
GSDPACK
on 25 July 2012 - 19:45
If you are looking for a long coar showline female, I know somebody who has one for sale nice one too. You can get hold of the owner deal with her.

the feet do look weird.
by
SitasMom
on 25 July 2012 - 20:01
Pasterns should be at 22 degrees from vertical hers are 45 or more degrees, this causes her to be behind on her front. For a pet it might not be a problem, but for a working or show dog it will detract from her abilities to place well. As for a breeding female,,, everything is genetic...
by
Dawulf
on 25 July 2012 - 20:02
Almost looks as though she has been walking in mudd and it just happened to dry on her paws? I agree with the fact that her feet are a bit odd...


by
shaz1
on 25 July 2012 - 20:06
Thanks guys. I have seen a video of her and she seems ok http://videa.hu/videok/allatok/clio-OQQ1r9rcLjZ8I0Kh I am not interested in showing her but to keep as a pedergree pet and for protection /guard. GSDpack please send me your friends details. Thanks again
by
1GSD1
on 25 July 2012 - 20:57
Her right pastern looks fine to me. She is being stretched past what she is comfortable with on her left side and I would say putting more weight on that left front for balance.

By all means though buy from someone that has sold online before with a good rep if you can't go yourself.

It pains me to see so many dogs of this breed bought, sold and traded all over the world. We know how much they bond to their owners.
by
GSDPACK
on 25 July 2012 - 21:01
shaz I apologize, she has been sold. She has only normal coat female available.
by
shaz1
on 25 July 2012 - 21:31
GSDPACK thanks for your efforts. The breeder is from Hungary and he also has this female http://www.pedigreedatabase.com/german_shepherd_dog/classifieds/161388.html Which is the better of the two? I am waiting for Copy of the documents and health verifications. What papers should a dig between age 6-13 months have? Thanks.
by
Barenfell
on 26 July 2012 - 01:34
First of all, I'm not sure why anyone would want to buy a dog from an unknown party sight unseen, unless 1) they were confident in the reputation of the breeder, and 2) the dog in question would add something to their current breeding program. Admittedly you say you're not an expert on GSD's, and it seems like your main criteria is a well-bred pet, so IMO you're taking quite a risk unnecessarily. Personally, I'd leave importing dogs to the breeders who have already established a relationship with the kennels that they're dealing with, or use a buyer's agent that can check out the dog(s) personally.

Many breeders have longcoats, some as their primary breeding preference, or otherwise as a by-product of their bloodlines since many showline dogs carry for coat. Have you checked any breeders local to you, where you could actually meet the dog...especially older dogs/pups who have already bonded with someone else, and whose temperaments are pretty much set?

If you're in the States, here's a link to a breeder who seems to specialize in coated showline dogs. They are located in Connecticut. http://www.longcoatgermanshepherddog.com/index.html
I know nothing about them, other than what I've seen on their website, but it might be an alternative for you. And since they seem to compete at a high level with their dogs, you may be able to get references from other breeders who have met them and know their dogs.

Good luck in your search.
by
shaz1
on 26 July 2012 - 04:30
Barenfell: Thnaks for the advice. I am based in Pakistan and have not been able to find a suitable puppy/ dog. There are only a few good pedegree dogs ( GSD) and not many for sale also the people here keep them as hobby/ pets and hence dont have the right information about them. I would say that 99.9% of the dogs here have no papers or regular health checks. I am the type that once I take to a dog then thats for life no matter how they turn out to be ( hence I would rather import a female between 6-12 months). So for me its a catch 22, do I take my chances with a dog from here who's pedegree/ bloodline is dubious and has had no proper health care ( maybe the annual vaccines, if that!!) or do i take my chances on importing!!

Ideally, as you suggest it would be better to see the puppy/ dog in person but I just don't have the time and neither the expenses. Thanks for your advice.
by
shaz1
on 26 July 2012 - 04:42
Here are some more pictures of clio from the second link i downloaded, and the papers that the breeder can provide. Its in hungarian and i don't have a clue as to whether its correct or not, is it this paper which is known as a' pink papers'. Please help. Thanks and regards.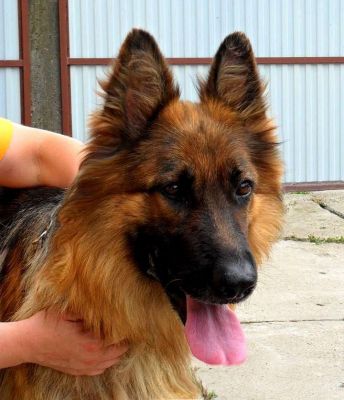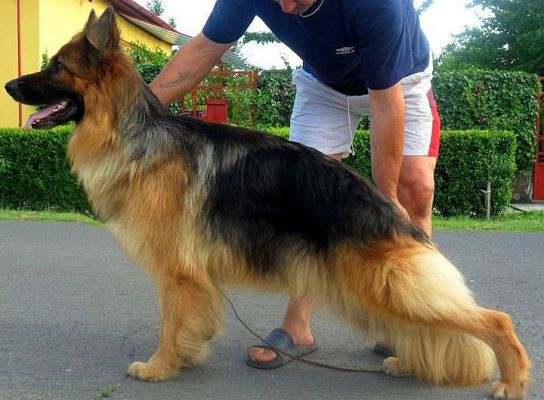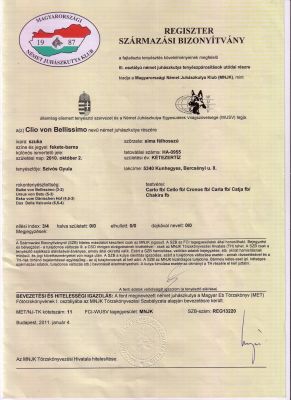 by
shaz1
on 26 July 2012 - 05:55
Hi all,

Just to update you's on the above two dogs on sale from the same breeder in hungary. He has emailed me and stated that I ask too many questions and that he was selling the dog to me at a cheap price and that I should buy from someone else!!! And I have thanked him for his advise and will do accordingly.

So the search continues for a loang coated female between 4-12 months...............
by
Sunsilver
on 26 July 2012 - 14:25
When buying a dog, there is no such thing as 'too many questions'. To me, it would show the dog was going to a good home, where the buyer sincerely cared about it. (Okay, have to make allowances for whackos who expect the puppy to be already fully trained....) I think you dodged a bullet here!

I have seen SO many incidents on the PDB where someone imported a dog from Europe, and things went south: papers not delivered, or dog was misrepresented, or even another puppy was sent in place of the one the buyer was expecting. There are a LOT of shysters out there, and some of these European countries are in very poor shape financially, so breeders will do whatever they can to sell their dogs.

Personally, I would not buy a dog unless I REALLY REALLY knew and trusted the breeder, or could see it in the flesh before purchasing.

Caveat emptor, as they say!
by
Rik
on 26 July 2012 - 15:24
I was going to make some comments but SS prettty much expressed my thoughts.

Buying unseen/unkown can be risky and costly. I have a friend who has bought 2 adult dogs from a couple different well known breeders. One dog has as yet undiagnosed digestive problems (and several thousand dollars have been spent) and the other has very poor character and a vaginal tract too small for natural breeding.

jmo,
Rik
by
Weezy
on 26 July 2012 - 17:41
I Agree with Sunsilver and Rik. The rip offs continue and seem to be getting worse. I know of some folks that are going through No papers and adult females purchased and their breeding issues. Either not breeding natural, pups die at birth and Bitches with no milk, some still no papers, or papers not in order.

Seems to be happening even with established kennels sending out these dogs with all sorts of promises/hype and not standing behind it.

Shaz1, I agree, you may have just dodged a bullet. I had one guy here in the states I contacted about an imported dog for sale, he was very short, blunt and didn't like me asking questions either, He Said "do I want this dog or not"---I said -since it is so inconvenient for him to talk to me and answer my questions, I did not want his dog. Idiot.
Weezy.
by
SchaeferhundSchH
on 26 July 2012 - 17:53
I cannot believe they told you that you were asking too many questions!!!! UNBELIEVABLE!!!

I agree, bullet has been dodged! consider yourself very lucky!
by
Escobar
on 27 July 2012 - 21:39
Where are you looking at buying from?
Buying over the internet is so extremly risky and no such thing as a good cheap dog.. Nobody does you any favors over the internet :)

Those two dogs you represented were not good looking to me..

Find a trustworthy person on the forum and contact them for help. Try Ibrahim, I don't want to offend and claim he is from somewhere close to you.
Without knowing him at all, he seems like a respectable person and knows his things, but then again the internet is a tricky place.

Best of luck, and I hope I don't see a thread in a few months where you claimed you were ripped off.

If you are looking at Europe, here are a few kennels that I like, don't know the owners, haven't been there, haven't seen their dogs, I just like these kennels.

Don't buy in Eastern Europe, is my advice. If you can find a nice breeder in Germany, Denmark, Sweden, Norway or those places, that's where I would go personally.

http://gildewangens.weebly.com/

http://www.thunderdust.se/

http://gramanns.se/

http://www.kirschenbach.de/index.php?option=com_content&task=view&lang=en&id=19&Itemid=39




by
marjorie
on 27 July 2012 - 23:56
--- > Just to update you's on the above two dogs on sale from the same breeder in hungary. He has emailed me and stated that I ask too many questions and that he was selling the dog to me at a cheap price and that I should buy from someone else!!!

Consider yourself lucky! Honestly, I wasnt all that enamored of either dog and with the kind of attitude displayed by the breeder- there is only one word to say.... R-U-N!!!!! LOL!



Marjorie http://www.gsdbbr.org The German Shepherd Dog Breed Betterment Registry (a health registry for registered German Shepherds)
BE PROACTIVE!
http://mzjf.com --> The Degenerative Myelopathy Support Group http://www.mzjf.info/hgate Heaven's Gate
You must be logged in to reply to posts