A small brag
by
RLHAR
on 11 July 2012 - 23:19
Had a very full day, especially for my working line boy.

Started out with a visit down to a local island shopping complex, very close quarter boardwalks with a kids festival going on. I was down there with my male and my son so my son could enjoy the festival. Lots of children around, quite crowded in a small area that we had to navigate through. My boy never once glanced at other people or showed the least bit of hesitation or concern about the crowd as we moved around folks.

At one point he and I were sitting on a bench waiting for my son, I had my male in a platz and was people watching. I glanced over just in time to see a 9 month old come toddling over on unstable feet, only to tip forward at the last second and brace himself on my male's haunch. With a happy squeal at having his little fingers in dog fur, he was about to crawl up the 'doggie' just as his grandfather came to scoop him up. My male never moved a muscle from his platz.

Later we went into a dog store that was having a 'Yappy Hour' lots of ill mannered dogs running around including little yippy dogs but my guy just ignored them, pausing to sit beside me as we shopped. He never moved from 'basic' at my side, unless someone came up and asked to pet him and I gave permission at which point he stepped forward to recieve his scritches.

So when we got home I took him down to the beach to give him a good run. He was all over very rough water, never turning an ear as he jumped waves and retrieved his ball, even with a pit mix and a golden retriever came over the dunes and ran down to him. He just continued to 'Bring!' his ball back, swinging into 'Fuss' position to 'Out' the ball and go again.

Finally, to round off his day, as we were coming back from the beach, we had to walk in front of an ocean rescue/fire house. Just as we were walking in front of the driveway, the big hook and ladder truck was being dispatched. I quickly hurried up to the corner of the driveway but that was as far as I could get clear before the big truck came screaming out of the stations, sirens, horn and engine at full blast.

Once again my boy sat obediently at basic beside me, never pulled back or away when the truck turned about 5 feet away from us and tore on down the road.

We waited for the ambulance and the fire chief to chase after the hook and ladder, before continuing on our way.
by
Nans gsd
on 11 July 2012 - 23:29
Wow, what a good, good, boy; did you mention how old he is?/ Just curious as your ;training has been very very successful. Keep up the good work. Nan
by
RLHAR
on 12 July 2012 - 00:23
He is 2 going on 3 this fall, Nan. He has a BH and we are working to a SchH I this fall.

And thank you, yes! He was a very, good boy today. Got lots of time to run on the beach.
by
fawndallas
on 12 July 2012 - 00:37
No small brag. Fantastic job. Any pics?
by
RLHAR
on 12 July 2012 - 00:44
I'm afraid I had my hands full keeping an eye on my son. My husband headed home two days ago so I was doing single parent duty in a busy crowd.

Unless you just mean pics of my male in general? Those I have a few of, yes.

by
fawndallas
on 12 July 2012 - 01:03
Dog pics of any kind are always welcome. :-)
by
yellowrose of Texas
on 12 July 2012 - 01:35
Great brag...you always do a good job anyway...Let the rest of the girls see some pics..MAYBE you can do it again and take your camera...I always forget the camera...and miss good pics..

YR
by
RLHAR
on 12 July 2012 - 04:28
Oh my, thank you, YR!

Here are some pictures of my male! Snow pictures to help off set the heat of summer!!

Playing with my son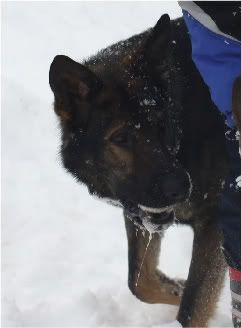 With his BH medal.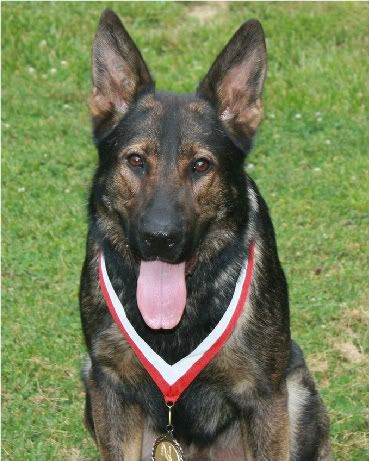 Hanging out in the pool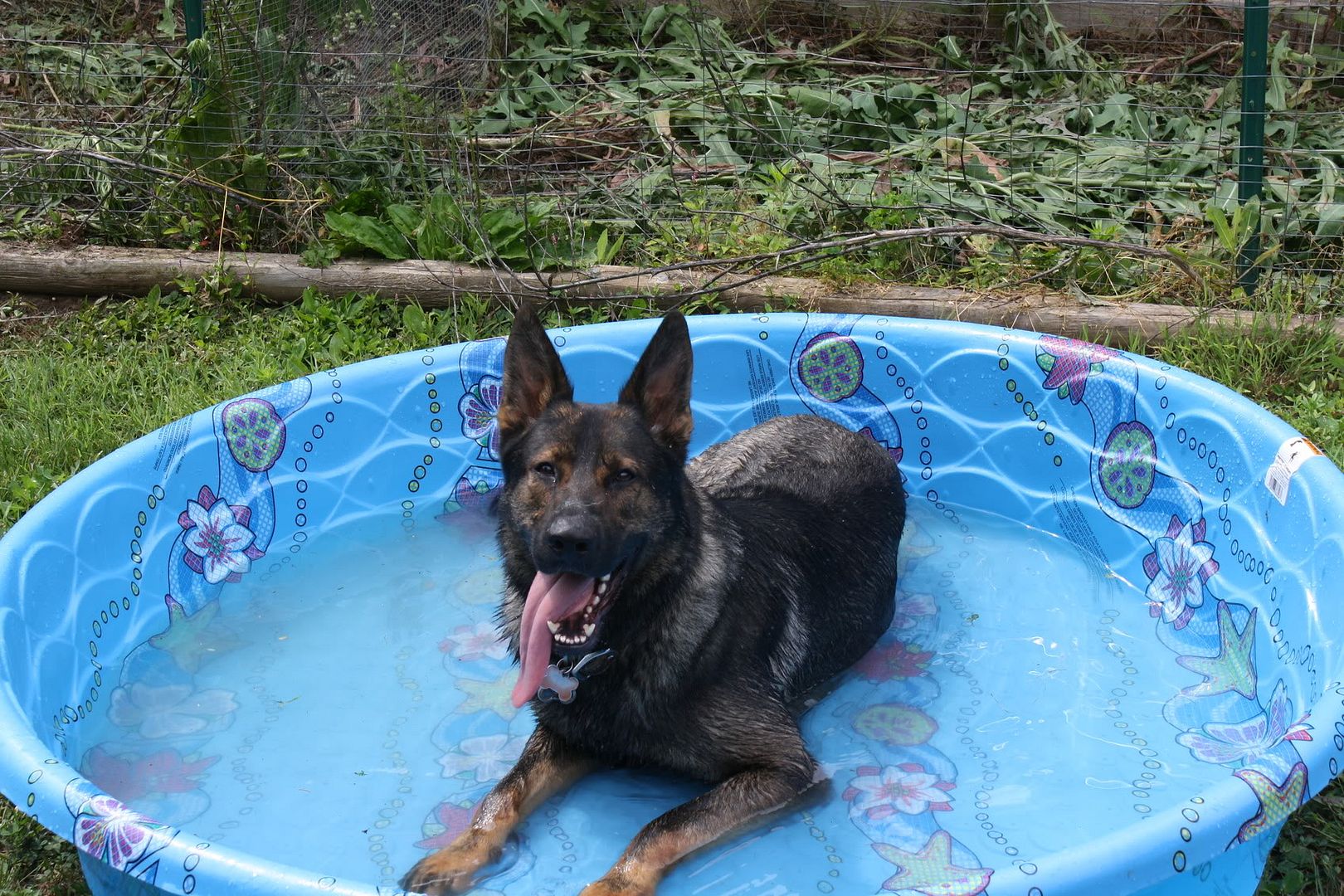 Doing a little bite work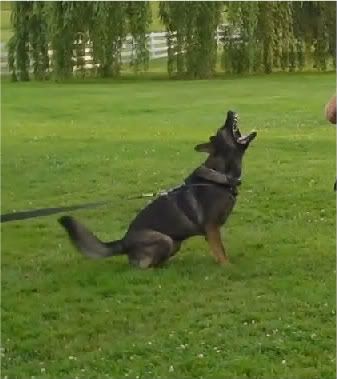 And more snow. This is my avatar picture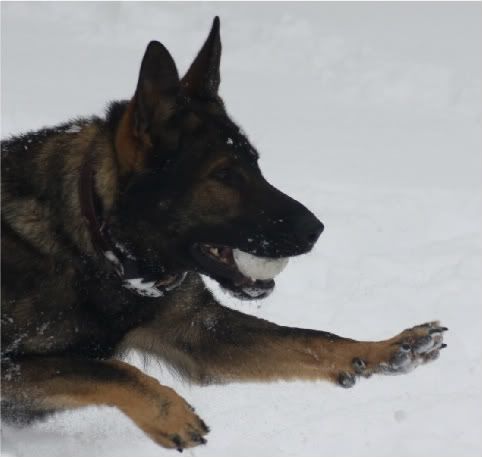 by
Jyl
on 12 July 2012 - 05:25
I dont think he is a good fit for you... so go ahead and send him my way, I will take him off your hands...



Just kidding, VERY NICE dog with a solid temperment. Just like the breed should be. You have done an awesome job with him and should be proud. He is beautiful too boot!
by
Hundmutter
on 12 July 2012 - 06:30
Congratulations - a good looking dog and very well trained & tempered; a credit to you and the Breed.
by
Eldee
on 12 July 2012 - 12:23
I especially like the fact that you said he brings his ball back. Please, please tell me how you got him to do this. My wild child is pretty good about everything you just said, however, please tell me how you taught him to bring the ball back and release. No matter what I do no matter what I try, she gives it a great chase then drops it and waits for another one to be thrown. I now have 15 orange road hockey balls and this is her game. Run, chase, drop and wait.
by
beetree
on 12 July 2012 - 12:33
Eldee, you mean she chases down the ball, and drops it without bringing it back to you? If you have 15 that is too many! The game is called, 2 Ball, LOL

Throw the one ball, and maybe try to entice her with the 2nd one, if she isn't interested in the 2nd one, hide it behind your back, even. Might need a treat or something to encourage the idea. Even attach a long line at first? Depends on how ornery she is.

Do not give her the 2nd ball until she brings back the first, and then drops it. Usually this game is used to teach the release, you just need to tweak it a bit.

Good luck.



RHLAR, very nice story and pictures.

by
fawndallas
on 12 July 2012 - 13:38
Good looking dog. Great job on the training. You set the bar very high on how a well trained dog should be. I will do my very best to reach your bar as I move forward in dog training.
by
RLHAR
on 12 July 2012 - 15:39
Thank you, everybody!

The praise, of course, rests with the dog. He just has a phenomenal temperment and it was definitely proved out this trip.

As for his training, I do not mean to start any sort of discussion here but the training I do on him is the training for Schutzhund.

Nothing above or beyond the training for all three phases of the sport.
by
Eldee
on 12 July 2012 - 19:57
Yes, she chases down the ball and never ever brings it back to me. I'll say bring it back, she says screw you sister it's mine. I yell drop it she drops it. I say bring it back, she drops it. i am getting lots of excersize though.
You must be logged in to reply to posts