This is a placeholder text
Group text
by NatureDragon on 30 October 2019 - 02:10
How long does it take generally for AKC papers to come for a GSD puppy litter? The sire is already registered with AKC, and dam has had her DNA already sent into and accepted by AKC but has foreign(outside of USA) registration and is in the process of getting her AKC registration. I already have the puppy and she is approx 9 weeks old. Her siblings are for sale on this site too.

by Western Rider on 30 October 2019 - 04:10
You will not get papers until the dam has full AKC registration.
Normally it would take maybe 3 weeks if all paperwork is in order. 
by NatureDragon on 30 October 2019 - 10:10
Thank you for the information Western Rider.


by Q Man on 31 October 2019 - 10:10
Are the Sire and Dam both "Imports"? Have their AKC DNA's been accepted and done?
I personally...when registering a "Import"...with AKC will wait til I have that done and back in my hands before I send in a AKC DNA...because on the AKC DNA kit it will ask for the dog's AKC Reg #...and if you don't have that and send it in there's a chance that the two won't be matched up...

~Bob~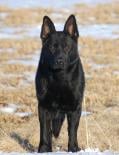 by Jenni78 on 31 October 2019 - 18:10
True, Bob. But you can call AKC and ask them to track it down and they will.

Just recently I had a situation where I sent in a bad sample. I guess I didn't get enough cheek cells and had to resubmit. I hope my buyers don't think I am messing with them over paperwork, but the import and DNA game can be a real pain.
by NatureDragon on 31 October 2019 - 19:10
No the sire was born in usa and he is AKC registered. and he has a page here on pedigree data base.
I was told that the dam has already had her DNA accepted by AKC. She came from a kennel in europe (Apanta rei) so I think she probably came with european registration papers when she came to north america.
---
---
Contact information
Disclaimer
Privacy Statement
Copyright Information
Terms of Service
Cookie policy
↑ Back to top