by denissoldan on 03 December 2017 - 07:12

by Hundmutter on 03 December 2017 - 08:12
Oh, just WOW! Denis. What a determined little tyke. An 'easy-on-the-eye' puppy, too.
[Your crouching while teaching heel work will doubtless wreak havoc with your knees eventually - but it does seem to help reduce that ghastly goosestepping of the front legs one sees everywhere these days.]

by apple on 06 December 2017 - 12:12
I like the approach to continuous reinforcement during the early learning of the heeling. Any guesses as to what he is using as a reinforcer on his palm? I'm thinking peanut butter, but can think of other things that would work.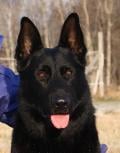 by arra on 07 December 2017 - 19:12
good pup, very nice work and well done video Denis. You are welcome at my kennel in Canada any time as a puppy trainer :)

by denissoldan on 18 December 2017 - 09:12
Thanks so much :-)
You must be logged in to reply to posts
---
---
---
---
Contact information
Disclaimer
Privacy Statement
Copyright Information
Terms of Service
Cookie policy
↑ Back to top