by
EuroShepherd
on 03 July 2012 - 09:21

The ears look perfectly fine. What is your concern about them?

Don't be alarmed if/when the ears go back down or flop in funny ways. Usually GSD ears will go soft during their teething period (when they are loosing their puppy teeth and the adult teeth are coming in.) They firm up again after they are finished teething.
by
Ambrola
on 03 July 2012 - 09:28
I am not worried, just know they stood up so soon? Why can't I see the picture?
by
EuroShepherd
on 03 July 2012 - 13:35

It just means he has strong ears, I've seen GSD pup ears coming up as early as 4 weeks, but usually I see them come up after 10 weeks, mostly a genetic thing.
The photo was posted wrong, I was able to view it when I copied everything but the [IMG] and http:// parts and pasted it into my browser.
by
Jurlay
on 03 July 2012 - 16:00
Aww, he's adorable. He looks like my first GS pup I had years ago....

Oh, and you need to add the image link to here without the [IMG] codes =). I took a screenshot of it to help you out.
by
Ambrola
on 03 July 2012 - 16:21
Lets try again.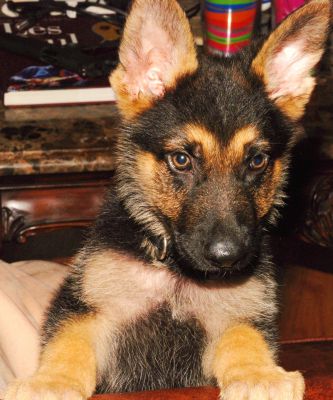 by
Ambrola
on 03 July 2012 - 16:25
The pics were to large. I love this little fellow, although he has kept me up the last couple of nights. He has already started to let me know when he has to potty. He hasn't had but a few accidents. I hung a bell on the door I take him out of and shake it everytime we go out. Hope he catches on.
by
Ambrola
on 04 July 2012 - 15:46
Heres a better picture. What do you do to stop him from bitting? I know he is teething, but he bites to hard??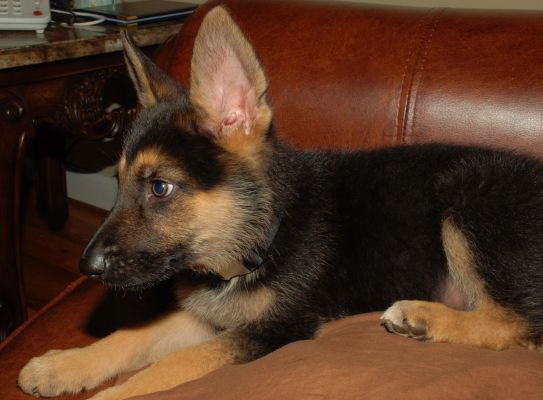 by
magdalenasins
on 04 July 2012 - 16:34
Redirect to a toy, they don't start teething until 4 months-ish. Then redirect to bigger toys lol.
by
Ambrola
on 04 July 2012 - 18:32
If he's not teething now, I'll never make it through it. I am bleeding now!! He has chewed my phone cables. PC cables, well, just about everything in the house. But I still love him. Everybody's mad at me because I will not let them play with him. I don't want him to be a over friendy GS. Just the family, but I have an inground pool, and there's always a bunch of people here. If I let him get too socialized, he want be any good for protection will he?
by
magdalenasins
on 04 July 2012 - 19:58
Buy a crate, learn to use it...No one has to pet your puppy but the people that will be in contact with him most (if anyone but you, your choice!). He can be pet by 3890573857 people and still be a good PP dog IF he has the nerves to be a good PP dog, who pets him won't change that.


Keep redirecting him and give him lots of bones to chew on, frozen carrots, kongs with yogurt in them...Good luck, sounds like a keeper if you are bleeding lol. :)

If you are not using a crate and he is out tie him to you with a leash and keep an eye on him, just NUH UH him if he starts to chew on something he shouldn't and give him something appropriate. And get a trainer. :)
by
Markobytes
on 04 July 2012 - 21:55
Exercise that tires him out will help, have him chase soft toys on the end of a rope, allow him to catch the toy then relax it when he drops it let him chase it again or put it up. This is the start of a relationship where he trusts and needs you, don't jerk objects out of his mouth, exchange. Puppy proof his environment, give him a proper outlet for his energy. Now is the critical time for socialization, protection should come naturally but needs training to direct and control it. Supervise the contact with others, don't let others discipline your dog, no one should chase him, have him get in the habit to follow you now as he will not want to in a few months. Ignore bad behaviours like jumping reward instantly when he gets off. Learn about training with markers. So much more... In addition to the other good chew items recommended I would add bullysticks he will spend hours chewing. If you are bleeding a lot, you have a good dog.
by
Ambrola
on 04 July 2012 - 22:01
Thanks for the advise guys. I keep him in a crate, and have plenty of chew toys. He will start crying if he can't see me. I guess all the middle of the nite outside potty training has caused that. I will keep it up, and see how it goes. He sleeps alot, is this normal??
by
Markobytes
on 04 July 2012 - 22:05
He is probably recharging his batteries, I'm glad you are going out with him.
by
fawndallas
on 04 July 2012 - 22:05
Lol.... Odd to hear "if you are bleeding a lot, you have a good dog.". 6 months ago i would have thought y'all were crazy, now...... I see what you are talking about.
by
magdalenasins
on 05 July 2012 - 11:08
Don't worry, we're still crazy!
by
Ambrola
on 08 July 2012 - 23:27
Is it ok to play tug of war with the pup? Also, he has a bad habit of bitting your feet when you are walking around the house. My wife got it pretty bad and I can't let this go on. What do you do??
by
Markobytes
on 09 July 2012 - 03:06
Yes it is ok to play tug of war. You have to be careful not to tug too hard at his age and through teething as it can pull out teeth and misalign the adult teeth. You could play tug let him win, praise him, then you back up encouraging him to bring it back to you, you then tug a little so as to keep the toy alive but still not take it from him this can build trust and can be the start of fetch when he knows drop. There are other ways to do this the biggest thing is you are going to initiate and control the game as he grows up. He will really look forward to his obedience sessions if you follow them with play. You need to be proactive and try to forsee those times when he harasses your wife, put him in a crate for a time out, puppies are some times cranky when they are over tired and may need the opportunity to sleep. Raising a puppy some times can be tough but the investment you put into it will pay off for the rest of his life. You have to pull the energy out of you and keep him busy, these next couple of months are very important , he will be a good citizen if you can tire him out. Punishment at his age can damage the relationship you have with him, save the punishment for when he gets older then see it as a correction for deliberately blowing you off, then the correction should be swift, firm, fair, consistent and delivered with no animosity and forgotten the moment that it achieves it's goal. If you stay mad at them you will only cause conflict as the dog does not have the association over time the way we do. Get him into a puppy class that teaches with treats, it is not to early to teach him.
You must be logged in to reply to posts